Somber memorials for George Floyd as protesters demand police reforms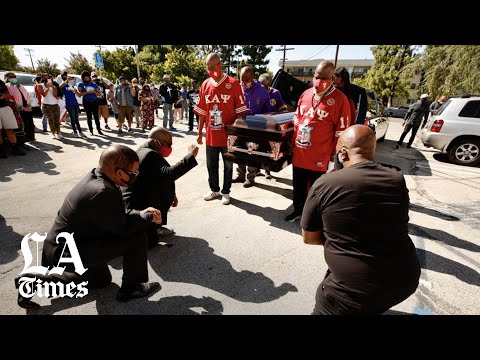 The protests over the police killing of George Floyd took a sober turn Monday with memorials across the city as well as calls for fundamental changes in policing in Los Angeles.
To commemorate Floyd's public viewing service in Houston, four car processions were organized around Southern California. They departed from Leimert Park, Long Beach, Reseda and Santa Ana, and converged on downtown L.A. for a noontime rally.
Some of the processions were led by hearses. One car had the names of dozens of people killed by police written on its windshield, images on social media showed.
Four coffins are displayed in downtown Los Angeles in memory of George Floyd and others killed by police.
(Genaro Molina/Los Angeles Times)
Pastor Eddie Anderson, foreground, joins hundreds at a funeral procession memorial service and to honor George Floyd in Downtown Los Angeles.
(Genaro Molina/Los Angeles Times)
Hundreds join a Black Lives Matter-LA memorial service and funeral procession honor George Floyd and demanding justice for those killed by the hands of the police in Los Angeles on June 8, 2020. Interfaith leaders, labor, people of color, immigrants and victims of police brutality attended. The memorial services consisted of four funeral processions beginning in South Los Angeles, Long Beach, Orange County, and the San Fernando Valley. The processions converged in downtown Los Angeles at the crossing of 1st St and Broadway Blvd.. (Genaro Molina / Los Angeles Times)
(Genaro Molina/Los Angeles Times)
Participants honor George Floyd during a memorial service in downtown Los Angeles.
(Genaro Molina/Los Angeles Times)
Michael Ashley, left, joins hundreds at a memorial service for George Floyd in downtown Los Angeles.
(Genaro Molina/Los Angeles Times)
A coffin is carried at a memorial service honoring George Floyd in downtown Los Angeles.
(Genaro Molina/Los Angeles Times)
Melina Abdullah, co-founder of Black Lives-LA addresses the crowd during a memorial service for George Floyd.
(Genaro Molina/Los Angeles Times)
At Monday's demonstration in L.A., Dewayne Winrow, left, James Thomas and Fluke Fluker take a knee before an empty casket in memory of George Floyd.
(Al Seib/Los Angeles Times)
Hospital Chaplain Charles Clemons puts an arm around son John, 7, during a prayer at Reseda Church of Christ.
(Al Seib/Los Angeles Times)
People place an empty casket, in memory of George Floyd, into a hearse at Reseda Church of Christ before forming a vehicle procession to a memorial service in downtown Los Angeles on Monday.
(Al Seib/Los Angeles Times)
A hearse leads a procession of cars on the 101 Freeway toward downtown Los Angeles.
(Al Seib/Los Angeles Times)
Makeda Harding waits for a car caravan to depart Leimert Park on Monday.
(Christina House/Los Angeles Times)
A demonstrator rides in the procession departing Leimert Park for the memorial service in honor of George Floyd.
(Christina House/Los Angeles Times)
Morris Griffin walks between rows of cars at Leimert Park.
(Christina House/Los Angeles Times)
Nickey Bennett, center, and her children, from left, Calliope, 8, Nixon, 10, Roxi, 14, and Caiden Reed, 17, turn out to support those at Leimert Park.
(Christina House/Los Angeles Times)
Nickey Bennett, right, hugs daughter Roxi Reed at Leimert Park as a car procession departs in honor of George Floyd, who was killed by police.
(Christina House/Los Angeles Times)
The crowd at Leimert Park shows their support as the procession begins.
(Christina House/Los Angeles Times)
A hearse leads the caravan from Leimert Park for downtown Los Angeles on Monday.
(Christina House/Los Angeles Times)
Once the caravans reached downtown and people exited their vehicles, mourners could be seen carrying floral arrangements. At the intersection of Broadway and 1st Street, four hearses were parked in the middle of the street, surrounded by hundreds of protesters.
Those gathered clapped as a woman gave a speech about defunding the police, and she led them in a repeating chant of Floyd's and Breonna Taylor's names. Taylor was shot and killed in her Louisville, Ky., apartment by a police officer in March. No charges have been filed in connection with her death.
"Do not let this system of white supremacy define who you are and take you away from your community," the speaker said. "You have to fight for all black people, and that means all black people."
Near the front of the stage, four caskets were covered in flowers. They had photos next to each — one for Floyd, Taylor, Ahmaud Arbery and Ryan Charles Twyman. Arbery was fatally shot by a white father and son as he jogged in a Georgia neighborhood in February. Twyman was shot and killed by sheriff's deputies at a South Los Angeles apartment complex last year.
Family members of people fatally shot by police gave emotional speeches about losing their loved ones and fighting for justice.
The mother of Eric Rivera, who was killed by police in Wilmington in 2017, spoke about how her son was shot, run over and left in the street, his body uncovered.
"I gotta come out, and I gotta fight for my justice," she told the crowd.
Santa Ana resident Samuel Justiss Vance, 64, clapped and chanted along with the crowd. Vance, a member of the Orange County Racial Justice Collaborative, said it was his third day protesting since the movement began nearly two weeks ago. He said he's been involved in fighting for equality since the 1960s.
"Our rights are never secured," he said, describing the never-ending struggle for equality as he stood in the crowd, the hot afternoon sun beating down. "This is a continuum."
His reason for being there? "Christ said, 'Blessed are the peacemakers,'" he said. "And so I am here today."
At 1:50 p.m., the caskets were returned to the hearse and a small procession followed.
Pat, 57, sat off to the side of the crowd. In her lap was her dog, Kenji, and a handwritten sign that read, "Love is the answer. No justice: no peace."
The Los Angeles resident, who declined to give her last name for privacy reasons, said she came out because there is strength in numbers.
"The murdered, the injustices, the incarcerations have gone on for generations — not decades, generations," she said.
The native Angeleno said that police brutality was often talked about in the black community, but it took a killing as brutal as Floyd's for everyone else to understand. This time felt different, she said, because the world was paying attention.
"Because of his death, this movement has been born," she said, gesturing to the crowd around her.
Just before 3 p.m., the protesters marched to City Hall, chanting, "Black lives, they matter here."
In unison they asked those inside — where a budget meeting was being held — to defund the police.
For William Boyi II, the movement is personal. His brother was beaten by officers in Florida, he said.
"This keeps happening, and until we dismantle the police, it'll keep happening," he said. "We just can't afford one more death. We're done going through this."
For three decades, L.A. has expanded the LAPD. Now, it wants to cut back
The protesters then headed down Spring and Figueroa streets and through the 2nd Street tunnel — where their voices were amplified.
Leaders asked them to take a knee, and for a moment, the deafening chants were silenced as they took a moment to remember Floyd.
On a nearby tunnel wall someone had written, "Riot every cop."
The crowd arrived back at City Hall about 4 p.m., with many of those in attendance taking refuge in the shade as speakers continued.
Police presence was light, with officers appearing mostly at intersections to direct the protesters.
At several points the crowd chanted, "How do you spell 'racist'?"
"LAPD" came the response.
Before George Floyd, 46, died at the hands of Minneapolis police, he had managed to extricate himself from the Houston projects.
Leaders of United Teachers Los Angeles said Monday they support a movement to eliminate the Los Angeles School Police Department, a force of about 400 that serves the L.A. Unified School District and accounts for about $70 million of the district's $7.9 billion budget.
"We have to dismantle white supremacy. We must ... defund the police and bring in the mental health services that our students need," said Cecily Myart-Cruz, the incoming president of UTLA, which represents about 30,000 teachers, nurses, counselors and other staff in the school district.
The union's board of directors voted last week, 35-2, to "start a process" that will ultimately lead to a larger union vote on whether or not to push the school board to "take money out of the school police department and put it directly into mental health support, counselors, academic counselors," current UTLA President Alex Caputo-Pearl said. "We can have 800 mental health supporters by using that money."
The movement to defund school police has been a concern of education equity advocates for years. But the nationwide protests over the death of Floyd and calls to defund the Los Angeles Police Department and some others throughout the country reinvigorated their calls in the past days.
Floyd's death has become a rallying point for many who say that police abuses against black people have persisted unchecked for too long, prompting sweeping protests across the U.S. and elsewhere around the world.
"This is a movement," said activist AJ Lovelace, gesturing to City Hall. "They thought we were going to get tired and give up. And we're still here."
In Los Angeles, demonstrations remained peaceful over the weekend.
They included a huge march in Hollywood that drew an estimated 20,000 people Sunday and a caravan of motorcycles, demonstrators and cowboys that made its way through Compton.
The Compton Cowboys joined a caravan of motorcycles and demonstrators as part of a growing national movement to end police brutality and systemic racism.
At 9 a.m. on Tuesday, the downtown Cathedral of Our Lady of the Angels will toll its bells for 8 minutes and 46 seconds — the length of time
Officer Derek Chauvin pressed his knee against Floyd's neck.
The Archdiocese of Los Angeles invited all its parishes to do the same.
"We need to make sure that George Floyd did not die for no reason. We should honor the sacrifice of his life by removing racism and hate from our hearts and renewing our commitment to fulfill our nation's sacred promise — to be a beloved community of life, liberty and equality for all," Archbishop José H. Gomez said in a statement.
Times staff writers Kevin Rector, Richard Winton contributed to this report.
Sign up for Essential California for news, features and recommendations from the L.A. Times and beyond in your inbox six days a week.
You may occasionally receive promotional content from the Los Angeles Times.