Top medical officer for California prisons ousted amid worsening coronavirus outbreak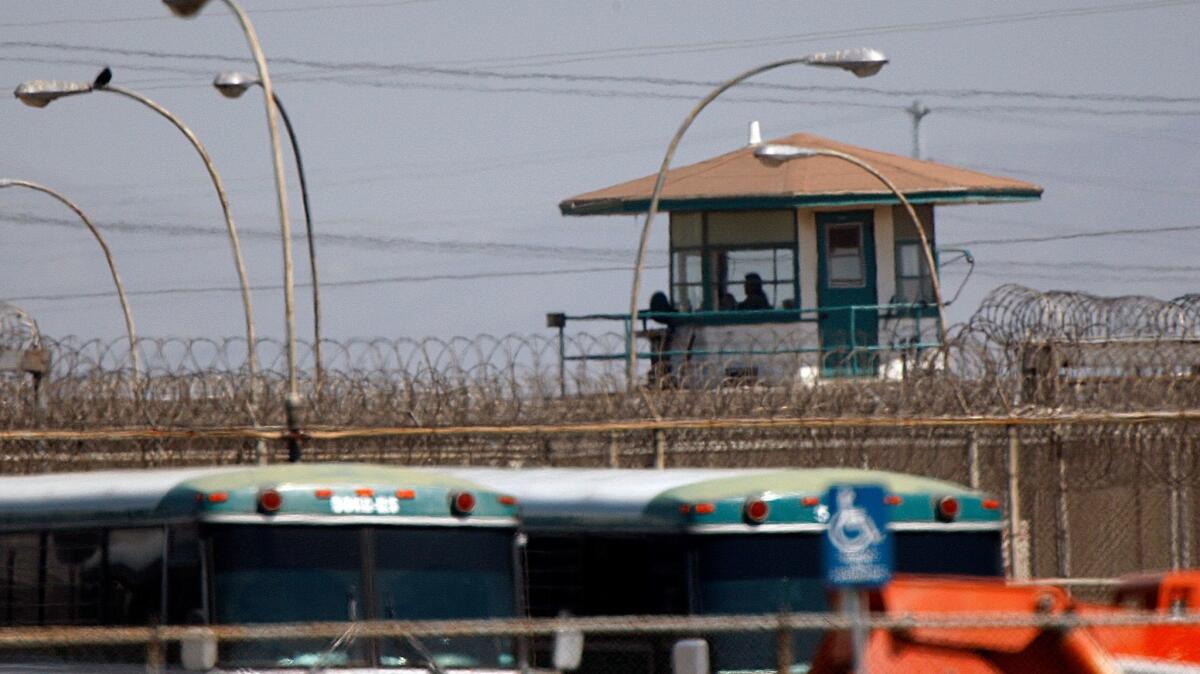 As COVID-19 infections spread rapidly through California's prisons, authorities on Monday announced the replacement of the state correction system's top medical officer, and Gov. Gavin Newsom criticized an earlier decision to transfer hundreds of inmates from a Chino facility that had been battling an outbreak.
The leadership shakeup occurred as corrections officials reported three more deaths over the July 4 weekend among inmates at San Quentin State Prison, where more than one-third of inmates have tested positive. The death toll is now at six.
Most of the facility's COVID-19 infections were reported in the last two weeks, more than a month after 121 inmates were transferred there in late May from the California Institution for Men in Chino, where more than 900 inmates have tested positive in the last three months.
"They should not have been transferred," Newsom said in his public address.
The governor described combating the outbreak at the state's prison system as "a top priority for our administration." He said he hoped San Quentin would be able to reduce its inmate count from more than 4,000 on March 1 to 3,082 in the next few weeks.
"We don't want to just send people out to park benches and homeless shelters," Newsom said. "We have to make sure we responsibly move people out."
On Monday, the federal court-appointed receiver overseeing medical care at the state's prisons announced the removal of Dr. R. Steven Tharratt as the prison system's statewide medical director. Tharratt, who was appointed to that post by the receiver in 2010, will now serve as a special healthcare advisor to the receiver.
Statewide, at least 28 inmates have died of COVID-related illnesses. More than 2,400 are currently infected.
"We are in unprecedented times as we deal with the challenges of the COVID-19 pandemic," the receiver, J. Clark Kelso, said in a statement. "In order to meet current response needs while also working toward further delegation of medical care back to state control, it has become evident that a reorganization is necessary for long-term sustainability."
After California Institution for Men in Chino inmates were transferred, nearly one-third of San Quentin prisoners test positive for the coronavirus.
Last week, Assemblyman Marc Levine (D-San Rafael) called for Kelso's removal and described the shifting of inmates without contemporaneous testing as "the worst prison health screw-up in state history."
In late May, corrections officials announced that nearly 700 inmates from the Chino prison would be transferred to a dozen other corrections facilities around the state. Those selected for transfer had medical histories that made them especially vulnerable to COVID-19.
At the time, the Chino prison had reported more than 600 cases of COVID-19 and nine deaths among its inmates, who are in close quarters in dormitory housing.
The 121 inmates who boarded buses for San Quentin on May 30 had all tested negative while at the Chino prison, but few had been tested in the two weeks prior to the move. At San Quentin, where there were no confirmed COVID-positive inmates at the time, the newly arrived prisoners were checked for signs of illness and had their temperatures taken.
While kept separate from the rest of the inmate population, the new arrivals used the same showers and ate in the same mess hall as the other prisoners. On June 4, San Quentin reported four positive cases among inmates and immediately halted further transfers.
The transfers did alleviate the outbreak in Chino, which on Monday reported 119 active cases and a total of 16 deaths. But the virus spread elsewhere, hitting San Quentin, California's oldest prison, especially hard.
More than 500 inmates at the prison in Marin County have tested positive for COVID-19, many of them after transferring from the men's prison in Chino, the site of a massive coronavirus outbreak.
San Quentin now has 1,381 infected inmates, including 920 new cases in the last 14 days, according to the California Department of Corrections and Rehabilitation's COVID-19 tracker.
The positive cases translate to more than one-third of the prison's inmate population of about 3,450, which includes 721 inmates on death row. San Quentin also reported 165 confirmed infections among employees, the highest of any of the state's prisons.
Last week, Marin County reported that Richard Stitely, 71, a death-row inmate found dead in his cell on June 24, had tested positive for COVID-19. On Friday, the department announced the deaths of death-row inmates Scott Thomas Erskine, 57, and Manuel Machado Alvarez, 59, followed the next day by Dewayne Michael Carey, 59. Authorities have yet to identify two more inmates who died Sunday.
All died at an outside hospital "from what appear to be complications related to COVID-19," the department said. Local hospitals have been inundated with intensive care patients from the prison, Marin County officials said last week.
The transfer of inmates from Chino grew out of a legal agreement involving the California attorney general, the state corrections department and the nonprofit advocacy group Prison Law Office as a way to protect vulnerable inmates.
Until late May, California Correctional Health Care Services had opposed such transfers, saying that "mass movement of high-risk inmates between institutions without outbreaks is ill-advised and potentially dangerous" and noting that it "carries significant risk of spreading transmission of the disease between institutions."
But according to federal court filings, the prior approach of keeping inmates with underlying health issues in an infected facility had failed to keep them safe.
"Since [the California corrections department's] current and past measures have failed to stem outbreaks and stop the spread, it is imperative that vulnerable patients receive additional protection immediately," the attorney general and the Prison Law Office argued in a brief.
U.S. District Judge Jon S. Tigar, who is presiding over a federal lawsuit brought on behalf of inmates that seeks to force California to create a detailed plan to change the way prisoners are housed, cited the state's handling of infections Sunday in a court memorandum.
"San Quentin provides a signal example of what can happen when an outbreak overwhelms an institution," he said. "The number of inmate infections is undoubtedly even higher, because hundreds of inmates have refused to be tested."
At a hearing Monday, he said the prison spread likely will affect surrounding communities' hospital capacities. He said it was his understanding that 20 of 45 COVID-19 patients being treated in Alameda County hospitals are from San Quentin.
Tigar indicated that he was likely to order California to set aside sufficient cells and staff to cope with infections at each institution. The judge did not appear to be inclined to order prisoners released or to have a three-judge panel consider such a move, but he asked whether the state could make it happen because there may come a point where there is no other option.
"People are dying every day," Tigar said.
Public health experts echoed his concerns.
Peter Chin-Hong, an infectious disease specialist at UC San Francisco, said that prisons, especially San Quentin in the Bay Area, will likely have an impact on hospitals in the coming weeks as inmates and staff need greater levels of care.
"As the inmates start to get sicker and require hospitalization, not only are Bay Area hospitals going to feel it, hospitals across the state are going to feel it," said Chin-Hong, who also worries that stocks of drugs such as Remdesivir will run out.
"It's really shocking. It's scary," he said. "It's like a California wildfire, and you need to put it out, but putting it out is hard to do, and in the meantime, it's spreading."
Times Staff Writers Anita Chabria, Phil Willon and Stuart Leavenworth contributed to this report.
Sign up for Essential California for news, features and recommendations from the L.A. Times and beyond in your inbox six days a week.
You may occasionally receive promotional content from the Los Angeles Times.