Tory Lanez charged in shooting of Megan Thee Stallion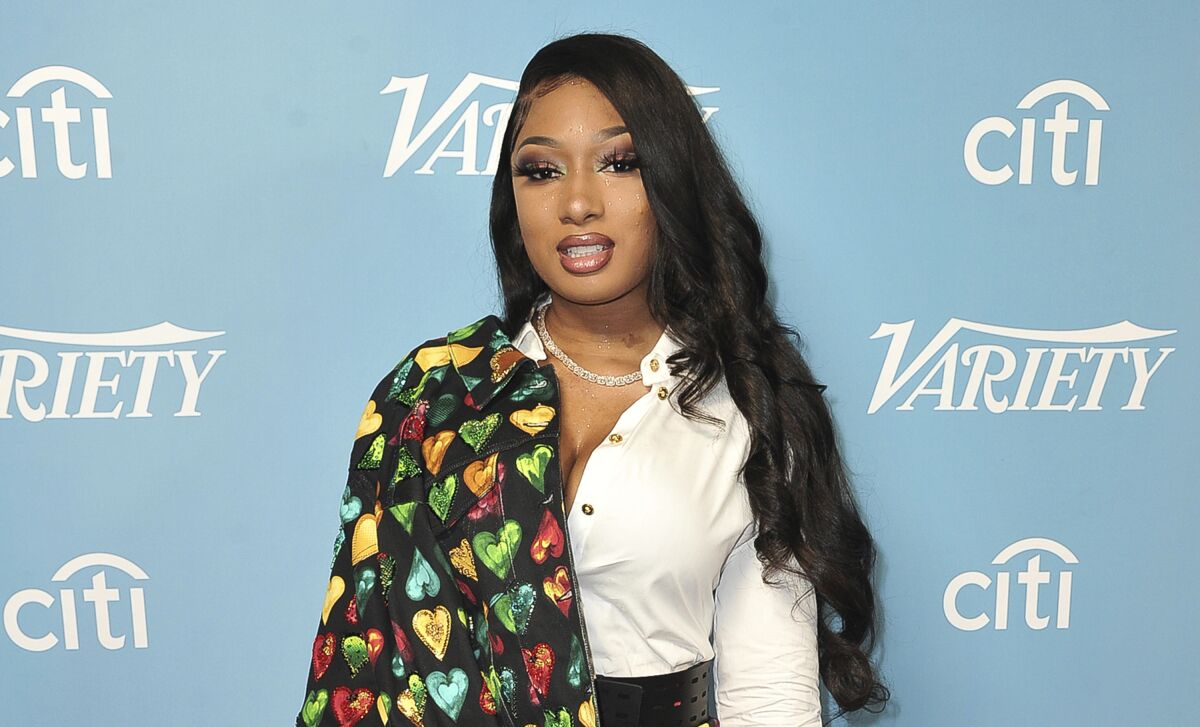 Rapper Tory Lanez was charged Thursday with assaulting Megan Thee Stallion in a July incident in which the female recording artist reported she was shot in the foot.
Daystar Peterson, also known as Tory Lanez, is accused of one felony count each of assault with a semiautomatic firearm, personal use of a firearm and carrying a loaded, unregistered firearm in a vehicle.
Prosecutors say Lanez and a 25-year-old victim got into an argument while riding in an SUV in the Hollywood Hills. The victim exited the vehicle, and Lanez allegedly shot several times at her feet, wounding her. The victim is identified in charging documents as Megan P. Stallion, who was born Megan Pete.
Rapper Megan Thee Stallion thanked her fans and slammed her haters in a tearful Instagram Live video after suffering gunshot wounds in both her feet.
If convicted, Lanez faces a maximum sentence of 22 years and eight months in state prison.
The case remains under investigation by the Los Angeles Police Department's Hollywood Division.
Medical records reviewed by The Times show that Stallion underwent a surgical procedure to remove a foreign object from her heel hours after the July 12 incident. She had a 4-by-4-centimeter wound, records show.
The "WAP" and "Savage" rapper was treated at Cedars-Sinai Medical Center. She reported that she "felt pain in both feet."
Stallion did not initially identify Lanez as the person who shot her after a night of partying. But in August, she took to her Instagram Live account to accuse the fellow hip-hop artist.
Stallion said it was time for Lanez to admit to shooting her.
"Yes ... Tory shot me. You shot me, and you got your publicist and your people going to these blogs lying," the 25-year-old rapper said. "Stop lying. Why lie? I don't understand."
Stallion acknowledged that when police first responded to a report of a shooting and found the two recording artists outside an SUV, she did not tell officers she had been shot because she was afraid of the legal repercussions and afraid for her safety.
"I didn't tell the police nothing because I didn't want us to get in no more trouble," she said in the video, explaining that she feared being shot by the police if they heard of a gun in the vehicle.
She also said she wanted to spare Lanez the trouble and did not explain how she was injured. Initially, she told officials she thought it was a glass cut, not realizing the nature of the wound. She was barefoot at the time.
Lanez was arrested on suspicion of possession of a concealed weapon after the vehicle he was in was stopped by the LAPD. Video from the scene showed Lanez and Stallion limping barefoot. Lanez was released on bail.
L.A. County prosecutors on July 24 received a felony assault with a firearm investigation from the LAPD but sent it back for further investigation.
Stallion is one of the most influential and popular rappers to emerge in the last few years. Hailing from Houston, the emcee made her name for brash, technically exacting rapping and preternatural self-confidence (the widely memed phrase "Hot Girl Summer" came from her).
She's also a force on the pop charts, with two No. 1 singles in 2020 — a remix of her single "Savage," with a guest turn from Beyoncé, and her collaboration with Cardi B, "WAP." The latter — a lively and X-rated ode to female sexuality — earned more than 240 million views on YouTube for its racy, star-packed video, and 350 million plays on Spotify.
Most recently, she commanded the "Saturday Night Live" stage with a powerful performance emphasizing America's failure to defend Black women like Breonna Taylor. The rapper played clips of speeches from Malcolm X — "The most disrespected, unprotected, neglected person in America is the Black woman" — and contemporary activist Tamika Mallory.
"We need to protect our Black women and love our Black women, because at the end of the day, we need our Black women," Stallion said onstage. "We need to protect our Black men and stand up for our Black men, because at the end of the day, we're tired of seeing hashtags of our Black men."
Lanez, from suburban Toronto, straddled hip-hop and R&B. Signed to superproducer Benny Blanco's Interscope imprint Mad Love, he made his studio debut in 2016, and his 2019 album "Chixtape 5" hit No. 2 on the Billboard 200.
After months of social media gossip, Lanez responded to Stallion's allegations with a hastily released independent 2020 album, "Daystar," which directly addressed the shooting and became a weapon for his defense where he rapped his denial that he shot Stallion.
"How the f— you get shot in your foot, don't hit no bones or tendons," he sang on "Money Over Fallouts." He continued: "Megan people trying to frame me for a shooting / But them boys ain't clean enough...Girl, you had the nerve to write that statement on that affidavit knowing I ain't do it but I'm coming at my truest."
On the track "Queen and Slim," Lanez said: "I wasn't the wrong one that night, you was just too drunk to even see it … I've never even had an argument with ya." On the track "In the Air" he raps "I've never hit no woman," and says the situation is a test from God: "He's usin' Megan as a vessel and a test of faith."
The album mostly repelled rap fans for seeming to capitalize on the controversy. Some rap-focused media outlets like Highsnobiety, which said it would refrain from covering his career in perpetuity, calling "Daystar" "the most toxic album of the year."
After he allegedly shot her, Canadian rapper Tory Lanez texted "WAP" hitmaker Megan Thee Stallion that he "got too drunk," according to TMZ.
Lanez, 28, has not made any other statements about the incident. But Stallion, in her comments, said she believed his publicist and people had been lying about the incident to deflect blame.
Stallion, her friend, Lanez and his security guard were in an SUV after a party at a home owned by Kylie Jenner in the early hours of July 12. Stallion said an argument erupted and that she decided to walk away. She said she was minutes from the house she was staying in. She then alleged that as she walked away, Lanez fired at her from the back seat.
"You shot me. I didn't get cut by no glass. But I tell you why they are saying that," Stallion said.
On that night in July, L.A. police officers swarmed the 1800 block of Nichols Canyon about 4:30 a.m. after receiving a report of gunfire. According to the LAPD, "witnesses to the incident provided a description of a suspect(s) and their vehicle." Officers stopped a vehicle matching the description, detained multiple people and eventually arrested Lanez, according to a statement.
In a video of the aftermath, Lanez and Stallion can be seen in handcuffs as officers try to determine what happened.
Stallion repeatedly said she expected to fully recover. In subsequent posts, she said the shooting and surgery were "super scary" and "the worst experience of my life," and she felt blessed that the gunfire hit where it did.
Times staff writer August Brown contributed to this report.
---
The stories shaping California
Get up to speed with our Essential California newsletter, sent six days a week.
You may occasionally receive promotional content from the Los Angeles Times.