San Francisco Mayor London Breed expresses regret for her own French Laundry outing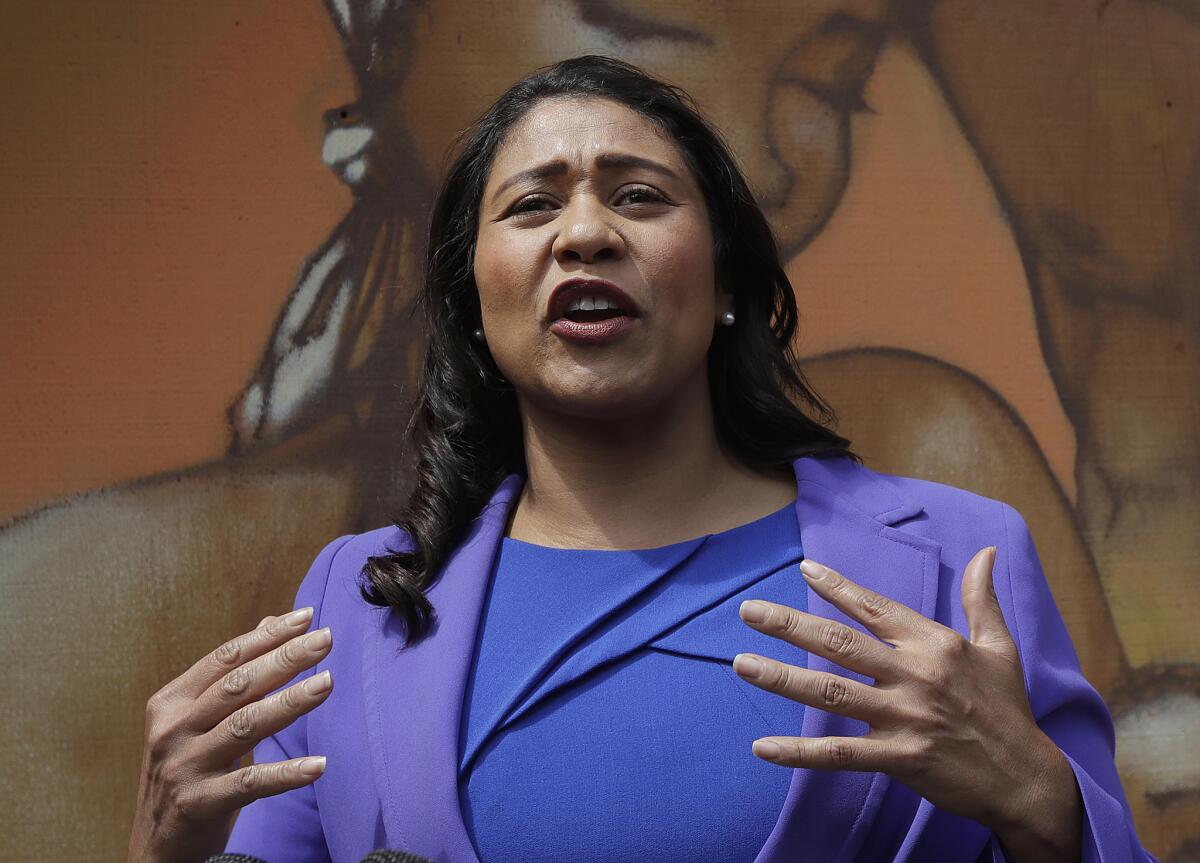 SAN FRANCISCO —
Days after it was revealed that San Francisco Mayor London Breed dined at the French Laundry restaurant following Gov. Gavin Newsom's visit there, the mayor acknowledged Thursday it was "fair" that she be criticized for contradicting some of her messaging on social gatherings during the COVID-19 pandemic.
"It doesn't matter whether something is technically allowed or not — I need to hold myself to a higher standard and I will do better," the mayor said on Twitter.
Breed, who has castigated and cajoled residents to obey health orders following the coronavirus outbreak, joined seven others at the luxe Napa County restaurant on Nov. 7, the evening after Newsom's infamous party there.
Breed's dinner, first reported by the San Francisco Chronicle, violated no health rules. At the time, both indoor and outdoor dining was permitted in San Francisco and Napa County. Her party dined in a semi-enclosed space.
But the revelation that Breed mixed close together with people outside her household at the famed and ultra-pricey restaurant seemed to go against warnings she and the city issued a week earlier urging San Francisco residents not to gather as normal for Halloween or for Dia de los Muertos.
It also became yet another in a litany of cases nationwide in which public officials preaching safety measures have been caught in situations that at the least displayed poor optics.
In California, House Speaker Nancy Pelosi got her hair done early in the pandemic in violation of San Francisco's health rules. San Jose Mayor Sam Liccardo gathered outdoors for Thanksgiving with family from five households. Los Angeles Supervisor Sheila Kuehl ate outdoors at a Santa Monica restaurant only hours after voting to uphold an outdoor dining ban that took effect the following day.
Those incidents involved Democratic officer holders, but there has been plenty of schadenfreude to go around. While some critics railed at the seeming hypocrisy of the Democrats, conservatives have had their own comeuppance when office holders were infected with COVID-19 after ridiculing the rules or refusing to enforce them. One of the latest is Sacramento County Sheriff Scott Jones, who tested positive Tuesday and has been isolating since, the sheriff's department said.
Breed's foray at the French Laundry stood out because she has won acclaim for her leadership during the pandemic. She has publicly expressed exasperation when San Franciscans failed to follow the rules, and she is known to be cautious when leaving her home.
During an online forum months ago on the psychological impact of the pandemic, the unmarried mayor confided that she had not been hugged once since the contagion began.
Breed also has made relieving hunger triggered by the pandemic a top priority. In San Francisco, as elsewhere, lines have formed for blocks of people waiting for free groceries.
The French Laundry, which has three Michelin stars, is one of the most expensive restaurants in California, with reservations hard to get. A Napa County tourist guide advises dinners to be prepared to spend $1,000 on dinner for two.
Breed's office said she was "taking a few days off after the election" when she went to the Yountville restaurant to celebrate the 60th birthday of her friend Glorietti Lo Lui , vice president of San Francisco Symphony's board of governors, member of the Asian Art Commission and the wife of a hotel developer.
Breed's office said she paid for her own meal and described the gathering as a small birthday dinner. Han Li, a reporter for a Chinese-language newspaper in San Francisco, tweeted that Lui told him the dinner involved three households.
"Exclusive: Just randomly met Gorretti Lui 吕罗婉雯 in Chinatown while she's grocery shopping," he tweeted. "She told me the dinner with Mayor Breed was a private family birthday dinner, three households in total. She said the worst damage now for her is everybody knows she's 60 years old."
Breed's office noted that the dinner occurred at a time when San Francisco was in the yellow tier and Napa County in the orange, when the health rules were laxer.
Now both are in the most restricted purple tier, with the virus surging.
"What I especially regret is that the urgency of our public health message in this moment has never been more dire and my actions have distracted from that," she said on Twitter.
Another distraction has been the fallout of a federal corruption probe of City Hall, started before Breed became mayor.
Harlan Kelly, head of the city's Public Utilities Commission, resigned last month after being charged with taking bribes. City Administrator Naomi Kelly, Harlan's wife, took a voluntary leave of absence this week to deal with his arrest. Other department heads and outside business people also have been charged.
On top of all that, San Francisco's coronavirus cases continue to climb.
"We're in a much different place than even just a few weeks ago," Breed said in her tweet, "and we need everyone to do their part, starting with me."
Sign up for Essential California for news, features and recommendations from the L.A. Times and beyond in your inbox six days a week.
You may occasionally receive promotional content from the Los Angeles Times.