Arson suspect arrested in Pacific Palisades fire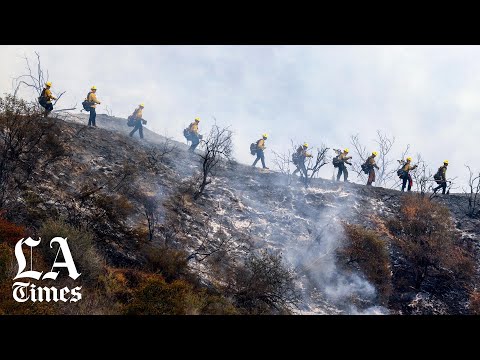 The Pacific Palisades fire, which is still active, forced at least 1,000 people to evacuate their homes over the weekend.
An arson investigation into the Pacific Palisades fire, which started late Friday, has led to the arrest of a suspect, authorities said Monday.
Two people were questioned Saturday night about the fire, which has forced the evacuation of about 1,000 residents. One person was released, and the other — a man who has not been identified — was arrested Sunday afternoon, Los Angeles Fire Department Chief Ralph Terrazas said at a briefing at Will Rogers State Beach.
"The person in custody, we feel we have the right person," Terrazas said.
The man was being treated for minor smoke inhalation, authorities said. A source told The Times that the suspect is a person experiencing homelessness who set multiple fires in the area in a deliberate act of arson.
When asked at the briefing whether the suspect was homeless, Terrazas answered: "I don't know."
A Los Angeles Police Department helicopter pilot spotted the suspect setting fires on Friday, but investigators were unable to locate the man on the ground because of smoke and heavy brush, according to law enforcement and fire department officials.
Reports and photos of an "arson suspect" surfaced Saturday on the Citizen App, which promoted a $30,000 reward for information leading to an arrest. Los Angeles County sheriff's deputies briefly detained the man in the photo around midnight but later let him go. Sources told The Times that he was not the individual who had been spotted earlier setting fires.
But it was too late; the Citizen App received a torrent of criticisms on Twitter for falsely accusing the man.
"OK, I've turned against the Citizen app," tweeted comedian Kathy Griffin. "The hosts are offering a $30K reward for completely unsubstantiated evidence regarding a homeless guy who they think started the #Palisadesfire. Now people are trying to hunt him down. No proof it was even arson much less this guy. Gross."
A different man checked into a local hospital Sunday with smoke inhalation issues. The LAPD pilot later identified that man as the person seen igniting multiple fires.
The official span of the fire is still at 1,325 acres, but it was unclear whether the blaze had spread overnight because the morning cloud cover temporarily grounded helicopters from flying over the burn area, authorities said.
Shortly after noon, however, the marine layer cleared enough for water-dropping helicopters to resume their routes, the L.A. County Fire Department said.
"We expect relatively cool temperatures and good overnight humidity recoveries," the National Weather Service in Los Angeles tweeted.
More than 500 personnel are actively fighting the fire, according to Terrazas, who said no lives or homes have been lost. One firefighter suffered a minor injury. He asked that hikers stay away from the canyons.
The fire was first reported Friday when "information from an LAPD helicopter who saw something from the sky" came in, Terrazas said. The chopper pilot noticed the fire burning in more than one place, and any time you have multiple points of origin, the chief said, that is suspicious.
The blaze ignited about 10 p.m. Friday in the 1800 block of North Michael Lane in a remote neighborhood of Pacific Palisades, steps away from the Trailer Canyon Trailhead, LAFD officials said. Cornered in a hard-to-reach terrain of the canyon, the fire grew to 15 acres overnight. Firefighting helicopters swarmed into the area, dropping water on the blaze.
But at 4:30 p.m. Saturday, another fire emerged north of the original burn, LAFD reported, exploding to 750 acres by nightfall. The blaze was concentrated among thick chaparral dried out from a lack of rainfall, authorities said. Firefighters clambered over canyons in the Pacific Palisades to fight back the flames, but most of the containment measures came from helicopters.
Experts have warned that warmer temperatures, longer and drier droughts and more intense bursts of precipitation have primed the West for a long, active year of fire.
By Sunday afternoon, the fire swelled to 1,325 acres and forced the evacuations of about 1,000 people near Topanga Canyon Road. More than 500 Topanga residences still face potential threat, L.A. County fire officials said. The blaze has not crossed vital roads, ridges or rivers that protect homes, officials said.
Officials urged community members to sign up for emergency alerts from Los Angeles at NotifyLA.org.
As the fire continued unabated, L.A. Mayor Eric Garcetti said he expected firefighters would be battling it for two or three more days. The city of Los Angeles is not imminently threatened by the blaze, he added.
"If that changes, you will be the first to know," Garcetti said, "by signing up for those alerts."
L.A. City Councilman Mike Bonin spoke at the briefing about how to remain fire safe, recommending residents coordinate a meeting place with family members and notify those who routinely visit their homes — such as gardeners or housekeepers — of possible evacuations.
"We are looking at a very long and difficult fire season," Bonin said. "If you see a fire, you see something suspicious, make sure to alert LAFD, make sure to alert LAPD."
Protesters who had gathered at the briefing booed and jeered the councilman, chanting: "Recall Bonin." The group has lambasted Bonin for a growing problem of homeless camps in Venice, where numerous fires have been started, including two dozen set in a single day. Bonin has proposed that homeless camping be allowed at public beaches parking lots and parks.
Los Angeles County and city firefighting units received help from neighboring Ventura County Fire Department, Malibu Search and Rescue and Orange County Fire Authority, as well as the California Department of Forestry and Fire Protection.
Topanga Canyon Boulevard from Pacific Coast Highway to Mulholland Drive remained close to commuters Monday morning. Topanga Elementary Charter School was closed for in-person classes Monday, according to Los Angeles Unified School District board member Nick Melvoin.
A large animal evacuation center has been set up at Pierce College. Small animals can be taken to the Agoura Animal Care Center.
Terrazas noted that the drizzle, high humidity and low windspeed Sunday morning didn't affect the spread of the fire. Some of the vegetation in the area hasn't burned for 50-plus years, he said.
"Yesterday, when I woke up, it was raining. And it was raining out here. And the fire still burned. And that's unusual," Terrazas said Monday. "That tells you that the drought, that the years that have gone by since the last fire — sometimes as long as 75 years — have changed the equation."
Sign up for Essential California for news, features and recommendations from the L.A. Times and beyond in your inbox six days a week.
You may occasionally receive promotional content from the Los Angeles Times.