L.A. City Council president seeks to suspend Ridley-Thomas following indictment
Los Angeles City Council President Nury Martinez introduced a motion Tuesday to suspend Councilman Mark Ridley-Thomas days after federal authorities indicted him on federal bribery charges.
The motion, seconded by Councilman Mitch O'Farrell, calls for the council to "immediately suspend [Ridley-Thomas] from the office of Councilmember of the 10th district of the Los Angeles City Council."
Council members will hold a special session on Wednesday to consider the suspension. If it's approved by the council, Ridley-Thomas would be barred from attending council and committee meetings, executing contracts, using discretionary funds and engaging in constituent services.
The motion comes a day after Ridley-Thomas sent a letter to the council announcing that he would "step back" from participation in City Council meetings and committees. Ridley-Thomas, who has denied any wrongdoing, has also said he will not resign and will fight the federal charges against him.
Among those who are dedicated to alleviating homelessness in Los Angeles, the news of the indictment of City Councilman Mark Ridley-Thomas brought only sadness and dismay.
Martinez's motion says the City Charter allows the council to "suspend any elected officer against whom felony criminal proceedings" have begun.
"As acknowledged in the letter sent by Councilmember Mark Ridley-Thomas, the City Council must be able to 'conduct its business with minimal distractions,'" Martinez's motion reads. "Council members have a full duty to serve this city and their districts and to make decisions on behalf of the people that elected them into office. Any action that erodes public trust or calls into question the integrity of the institution requires the Council to act to preserve that trust."
Her motion also notes that an individual is presumed innocent until proven guilty.
Sophie Gilchrist, a spokesperson for Martinez, declined to comment further.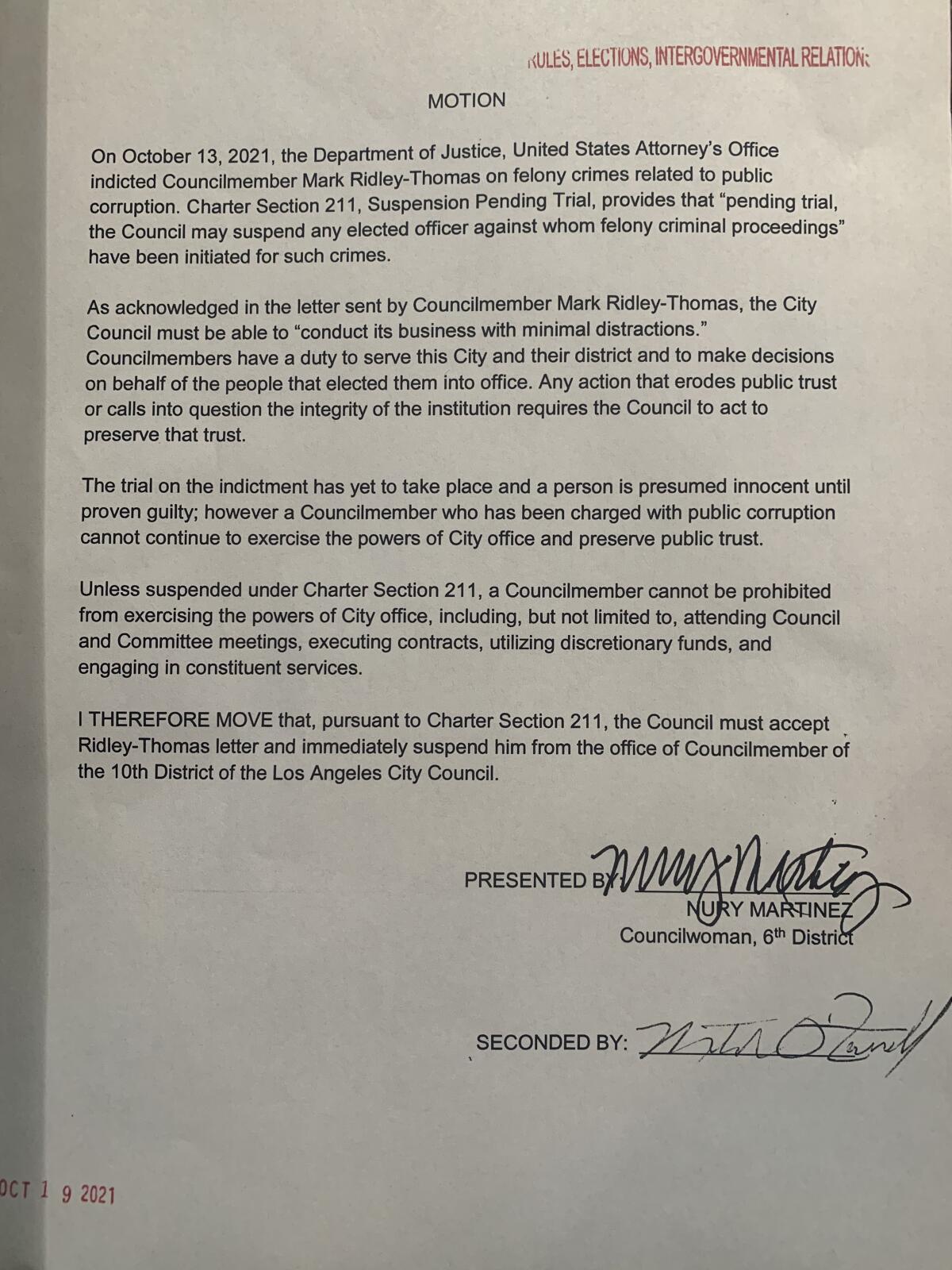 Ridley-Thomas, whose district includes neighborhoods in South L.A. and Mid-City, didn't attend Tuesday's City Council meeting. A representative for the councilman didn't immediately respond to a request for comment.
Ridley-Thomas is scheduled to be arraigned at a federal court hearing Wednesday.
Also Tuesday, City Controller Ron Galperin said he would use his authority to stop Ridley-Thomas's salary payments and benefits if the City Council approves the motion to suspend Ridley-Thomas. City Council members receive an annual salary of $223,829.
"The fact that yet another Los Angeles elected official is facing criminal corruption charges is an appalling stain on our democracy," Galperin, who is running for county supervisor, said in a statement. "No one indicted for public corruption and suspended by the City Council should receive a taxpayer-funded salary."
The council took the similar action of suspending then-City Councilman Jose Huizar last year after he was arrested and charged in a sprawling corruption case. In that instance, Galperin also moved to stop payments to Huizar.
Ridley-Thomas is accused of conspiring with Marilyn Louise Flynn, former dean of USC's School of Social Work, to steer county money to the university in return for admission of his son Sebastian into graduate school, with a full-tuition scholarship, and a paid professorship. The 20-count indictment includes charges of conspiracy, bribery and wire fraud.
L.A. City Councilman Mark Ridley-Thomas said he wouldn't resign and plans to fight the charges of bribery that were revealed earlier this week.
Councilman O'Farrell, whose district includes Glassell Park, Echo Park, and East Hollywood, told The Times that Ridley-Thomas's decision to step back was appropriate He also said the council would make sure that residents of the 10th District "receive the same level of attention and services as everyone else."
Councilman Kevin de León didn't say how he planned to vote Wednesday but predicted the "vast majority" of council members would vote to suspend Ridley-Thomas.
"Allegations of corruption are like wildfire, reducing our civic pride to ashes and leaving a cloud of distrust and doubt in their wake," said de León, who is running for mayor.
"In moments like this, it is our responsibility to put the needs of our constituents first — and right now that means doing what's necessary to make sure they have a City Hall they can trust."
Councilman Joe Buscaino, who is also running for mayor, said he would vote to suspend Ridley-Thomas. He also said he would urge him to resign so the councilman "can focus on his future and his family."
Sign up for Essential California for news, features and recommendations from the L.A. Times and beyond in your inbox six days a week.
You may occasionally receive promotional content from the Los Angeles Times.