'It's really devastating': A tiny California town is underwater after storm deluge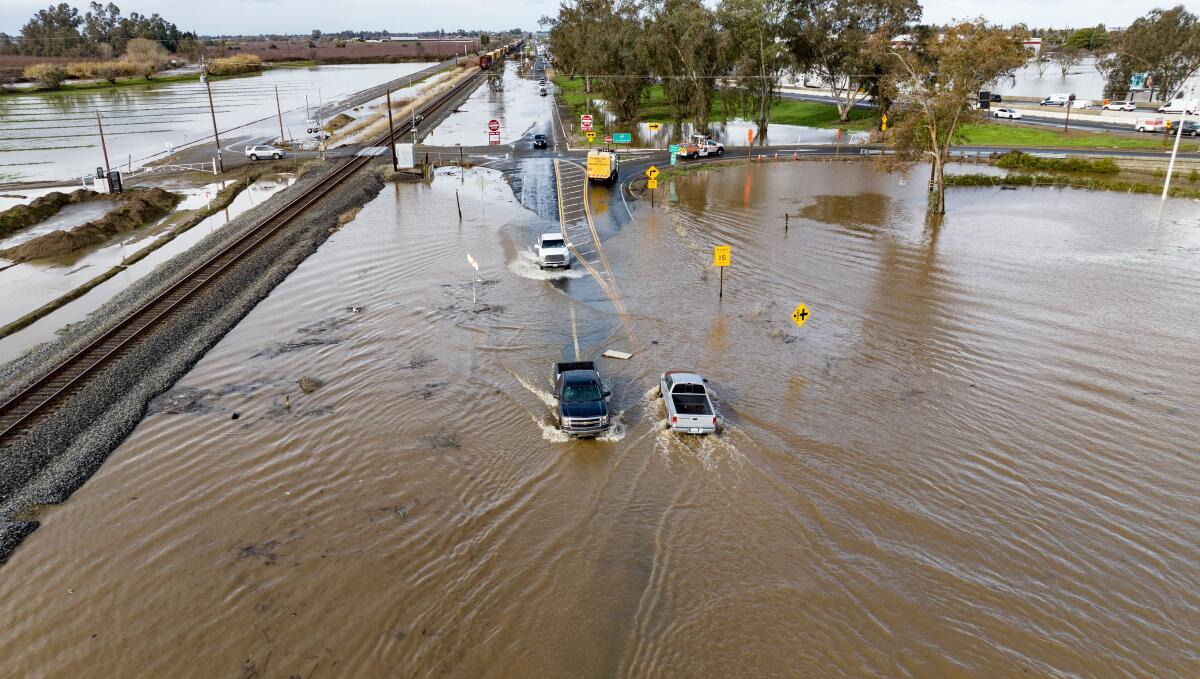 The entire community of Planada, a town of about 4,000 people just east of Merced, was evacuated Tuesday morning amid rising waters from a breached levee.
By late morning, street after street was flooded with brown water that sent cars bobbing along like boats, drifting near half-submerged stop signs.
Merced County Supervisor Rodrigo Espinosa, who represents the area, said he spent Monday evening trying to lay sandbags in a fruitless attempt to hold back the water.
But after several hours, as the water kept rising, it became clear the whole community would have to be evacuated.
Back-to-back storms across California have killed 17, including two motorists who died in a crash, and caused damage that could cost over $1 billion.
"We didn't think it was going to be that bad," he said of the flood risk. "And there are two more storms coming."
The rural town is among numerous communities hit hard by days of relentless rain in California.
"The county is just putting sand everywhere," Espinosa said. "But sand can't do much anymore."
Alex Martinez, 29, who grew up in Planada but now lives in Merced, rushed over in his truck to help family members evacuate.
As he waited for them to load their cars, he launched a drone camera to fly east over the town. It revealed much destruction, with a grain silo rising above it all like a spaceship landing on a ruined landscape.
"It's really devastating," said his fiancée, Monica Manzo, 30, who also grew up in Planada. She said she was grateful there had been no reports of deaths in the town, although the storm has claimed at least 17 lives throughout the state.
Five years after mudslides killed 23 people, the entire town of Montecito was evacuated after rain pounded California. A recent independent study found floods and mudslides are no stranger to the small coastal town.
Once the water recedes, there will be more problems. About 90% of the residents in the unincorporated community are renters, very few of whom are likely to have flood insurance, officials said.
"Where are all those people going to go?" asked Espinosa, noting that the area already faces a housing crisis.
"You almost feel hopeless," said Martinez, imagining all the people in his community who are now homeless.
Here are the many highways and freeways that are shut down across California as a result of the powerful storm —and tips for driving safely in the muck.
Katie Bass, 35, a Fresno resident who owns San Joaquin Drug in Planada, was able to drive to her store Tuesday morning on Highway 140.
The pharmacy wasn't damaged, but the power was out. Bass had to get all of the vaccines and insulin out "before they got ruined," she said.
"Down the street everything was flooded, but a few of my employees were evacuated late last night," she said. "My other employees in Merced can't get to the pharmacy at all."
Bass has lived in the Central Valley most of her life and compared the recent storms to those in the 1990s, when Bear Creek was evacuated.
"I don't ever remember Planada being affected like this," she said. "We've had this pharmacy since 2000. It was always other issues, but never a flood. We had to make sure we had flood insurance, and I don't think it's something we ever thought about."
Sign up for Essential California for news, features and recommendations from the L.A. Times and beyond in your inbox six days a week.
You may occasionally receive promotional content from the Los Angeles Times.