Delays, cancellations at LAX, John Wayne, Long Beach airports after FAA computer outage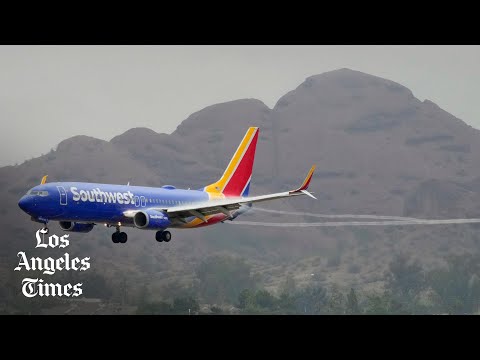 Delays are reported at Los Angeles International, John Wayne and Long Beach airports after the FAA temporarily grounds U.S. flights because of a system outage.
Air travel in California and across the country was scrambled Wednesday morning when a systems outage forced the Federal Aviation Administration to temporarily ground planes, forcing thousands of delays.
The agency blamed the chaos on "an overnight outage to the FAA's Notice to Air Missions system that provides safety information to flight crews."
"Our preliminary work has traced the outage to a damaged database file," a subsequent statement said.
Nearly 11,000 flights across multiple carriers were delayed or canceled within, into, or out of the country, according to FlightAware, a flight tracking website. In contrast, about 6,000 were delayed or canceled Tuesday, according to the website.
The White House initially said that there was no evidence of a cyberattack behind the outage that disrupted travel plans for millions of passengers. President Biden said Wednesday morning that he's directed the Department of Transportation to investigate.
Several Southern California airports reported delays, though spokespeople for the airports said early Wednesday they may have dodged significant issues because their facilities have limited activity or were shut down when the system failure occurred.
At Los Angeles International Airport, roughly 43% of the schedule was affected as of 4:30 p.m. Wednesday, said Heath Montgomery, an airport spokesperson. From midnight Wednesday to midnight Thursday, 584 inbound and outbound flights were delayed, and 25 were canceled, he said.
"The timing of the outage was important because schedules are light between midnight and 5 a.m., he said. "In the middle of the day we started to see the trickle-down effect" from the turmoil on the East Coast, where most of the delays took place, he said.
The outage differed from the cascade of cancellations last month, when a winter storm — and a meltdown at Southwest Airlines — snarled travelers' holiday plans and left them stranded at airports around the country.
Thousands of flights across the U.S. were canceled or delayed Wednesday after a system that offers safety information to pilots failed.
"It looks like airlines are taking the delays and trying to get those flights moving at some point versus outright canceling them," Montgomery said.
The domestic departures area at Terminal 5, which serves Jet Blue, American and Spirit airlines, appeared ordinary and orderly Wednesday morning. Fliers waited in quiet lines to check in, passengers rushed through the terminal wheeling suitcases and a handful of travelers sat throughout the floor, heads down and earphones in, with bags piled beside them.
Huyen Nguyen and her boyfriend, Son Nguyen, pushed a cart with their suitcases through LAX's Terminal 5 toward Spirit Airlines ticketing counter on Wednesday morning. They were on their way to the airport when they learned that their 10:45 a.m. Spirit flight back to Detroit was delayed until noon, which had a domino effect on their itinerary and would cause them to miss their connecting flight in Las Vegas, Huyen Nguyen, 24, said.
They rebooked a nonstop flight at 4:45 p.m. free of charge. The couple, who learned about the delay from the Spirit Airlines app, originally thought the disruptions were weather related after days of storms lashed California.
"I'm hoping this flight doesn't delay either, because it looks like it was already [pushed back]," Huyen Nguyen said. "I'm just hoping it sticks to that time."
Many Southwest Airlines passengers are still waiting to be reimbursed for costs they incurred during last month's meltdown.
Mrunali Sheth sat cross-legged on a counter by a window surrounded by her family and several luggage carts as she and her sister-in-law, who were traveling to Mumbai, India, with a connection in New York, rearranged their itinerary. They heard about the FAA outage on the car radio as they drove to LAX from their home in Buena Park at around 7:15 a.m., but had just checked their flights: Everything was on time, Sheth said.
When they arrived at LAX, however, Sheth discovered their Jet Blue flight to New York was delayed nearly three hours, causing them to miss their connecting Etihad Airways flight to Mumbai. A desk agent tried to help, but ultimately the Sheths had to call customer service. After several hours, the women snagged other flights, the first one leaving at midnight. Neither Jet Blue nor Etihad charged them, Sheth said.
"I will get one less day, but it's not in my hands," Sheth, who was going to Mumbai to visit her father, said. But it's a headache for her sister-in-law, who was busy on the phone and had a packed itinerary in India, Sheth said.
Other fliers appeared lucky. Cathy Keen was traveling to Austin, Texas, on a 12:18 p.m. American Airlines flight to see her younger sister, who is battling a terminal illness. Her gate had been changed several times, but her flight was otherwise on time.
"I'm glad my flight isn't canceled, because I have to get there," said Keen, 76, a former flight attendant from Glendale.
Ontario International Airport reported nine departures and 12 arrivals that had delays from 30 to 40 minutes, Steve Lambert, spokesperson for Ontario airport, said. Southwest, Alaska, United and Hawaiian airlines were among those experiencing disruptions, he said.
"We don't have flights in the early, early morning period, so we were probably not impacted quite as much," Lambert said.
A combination of bad weather, outdated technology and vulnerable flight schedules played into the mess at Southwest Airlines.
Curfews at John Wayne and Long Beach airports also spared the facilities from the brunt of the failure, according to spokespeople for the airports.
Still, the locations felt the disruptions.
At Long Beach Airport, four outbound flights were canceled because of the failure, said Kate Kuykendall, an airport spokesperson. As of 5 p.m. Wednesday, FlightAware showed 39 total delays at the airport. "We are feeling good about the rest of the day and about tomorrow," Kuykendall said.
John Wayne Airport also reported minimal disruptions Wednesday. The first outbound flight departed at 7 a.m., AnnaSophia Servin, an airport spokesperson, said.
"This morning all flights originating [from John Wayne] can depart as scheduled," Servin said. There were some delays regarding arrivals that also affected departure schedules through the day, Servin said.
"I have not received any reports or preparations to receive flights later than our curfew allows," Servin said.
Hollywood Burbank Airport had 18 cancellations and 60 delays, but operations were otherwise normal, spokesperson Mike Christensen said.
The FAA had ordered all departing flights grounded early Wednesday morning but lifted that order just before 6 a.m. after several hours.
The groundings affected almost all aircraft, including shipping and passenger flights. Most delays were concentrated along the East Coast, but on social media, travelers reported delayed or grounded flights at airports around the country, including LAX.
The chaos is expected to grow as backups compound. More than 21,000 flights were scheduled to take off in the U.S. Wednesday, mostly domestic trips, and about 1,840 international flights expected to fly to the U.S., according to aviation data firm Cirium.
Southwest executives have issued public apologies and its front-line workers have taken the brunt of customer fury, but the board of directors is missing in action
Airports in Chicago, L.A., New York and Atlanta saw between 30% and 40% of flights delayed.
"We are going to see the ripple effects from that, this morning's delays through the system during the day," Transportation Secretary Pete Buttigieg said in an interview on CNN. "Now we have to understand how this could have happened in the first place. Why the usual redundancies that would stop it from being that disruptive did not stop it from being disruptive this time."
Longtime aviation insiders could not recall an outage of such magnitude caused by a technology breakdown. Some compared it to the nationwide shutdown of airspace after the terror attacks of September 2001.
"Periodically there have been local issues here or there, but this is pretty significant historically," said Tim Campbell, a former senior vice president of air operations at American Airlines and now a consultant in Minneapolis.
The FAA said it was continuing to look into the cause of the initial problem.
Flights for the U.S. military's Air Mobility Command were not affected.
Biden said Wednesday morning that he was briefed by Buttigieg.
"I just spoke to Buttigieg. They don't know what the cause is. But I was on the phone with him about 10 minutes," Biden said. "I told him to report directly to me when they find out."
Buttigieg said on CNN that the order to ground all departing flights was done out of an abundance of caution but that mass disruptions to U.S. air travel were not acceptable.
"We need to design a system that does not have this kind of vulnerability," Buttigieg said.
Times staff writer Terry Castleman and the Associated Press contributed to this report.
Sign up for Essential California for news, features and recommendations from the L.A. Times and beyond in your inbox six days a week.
You may occasionally receive promotional content from the Los Angeles Times.