Accused Half Moon Bay gunman says he suffered 'years of bullying' as authorities investigate 'deplorable' farm conditions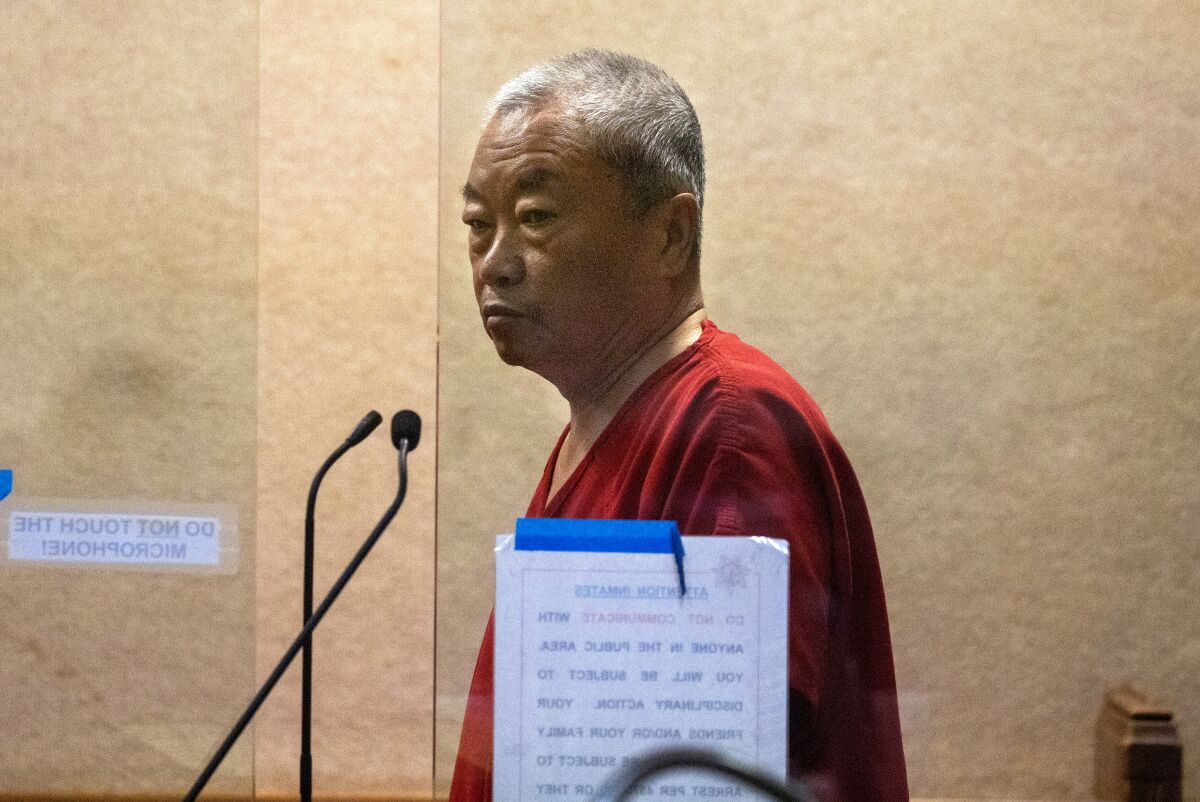 HALF MOON BAY, Calif. —
Amid a state investigation into workplace conditions at the San Mateo County farms where seven people were killed this week, the farmworker charged in the massacre said he had experienced "years of bullying" and working long hours before opening fire.
Chunli Zhao, 66, in a jailhouse interview with NBC Bay Area, admitted that he took a semiautomatic handgun and opened fire on his co-workers Monday.
San Mateo County Dist. Atty. Stephen M. Wagstaffe told The Times in an interview that although he could not go into details in the case, the suspect's comments to the TV station were "consistent with what he told law enforcement."
In the 15-minute interview, the alleged gunman also said he had been suffering from "some sort of mental illness" and was "not in his right mind" at the time of the shooting.
Marciano Jimenez Martinez was also "a good son, brother, uncle and a great friend." He and six others killed in the Half Moon Bay shootings are recalled by loved ones.
He said he planned to turn himself in to law enforcement when he drove to the San Mateo County Sheriff's Office and was writing a note in his car before he was taken into custody.
NBC Bay Area's Janelle Wang said the suspect also told her he regretted the deadly incident.
State officials Thursday said they had opened investigations into labor and workplace practices at the two sites of Monday's fatal shootings, casting a spotlight on the lives of California's farmworkers, who often live and work in dangerous conditions.
The investigation comes after Gov. Gavin Newsom visited the beachside community Tuesday. Newsom spoke with the victims' families and co-workers about the deadly shooting and their workplace environment.
Without getting into specifics, Newsom said some farmworkers were "living in shipping containers" and working for $9 an hour, well below the state minimum wage of $15.50.
"No healthcare, no support, no services, but [they're] taking care of our health, providing a service to us each and every day," he said at the news conference.
Chunli Zhao, suspected of fatally shooting seven people in Half Moon Bay, has been charged with seven counts of murder, prosecutors said Wednesday.
A spokesperson for Newsom called the workers' conditions "simply deplorable" in a statement.
"Our country relies on their back-breaking work, yet Congress cannot even provide them the stability of raising their families and working in this country without fear of deportation, which contributes to their vulnerability in the workplace," Daniel Villaseñor, deputy press secretary for Newsom's office, said in the statement. "California is investigating the farms involved in the Half Moon Bay shooting to ensure workers are treated fairly and with the compassion they deserve."
California's Division of Occupational Safety and Health and the labor commissioner's office confirmed they're investigating the two Half Moon Bay-area work sites for potential labor and workplace safety and health violations.
Both agencies "want to ensure that employees are being afforded all the protections of California labor laws," according to a statement.
Half Moon Bay is a rural beach town where the bedrock industry is vegetable and flower farms, though many, particularly the flower farms, have closed in recent years, affecting job opportunities. Farm owners have also pointed to the state's extreme weather, with floods and heavy winds, devastating their fields and the surrounding infrastructure.
After a series of violent storms, California farmworkers must cope with flooded homes, dangerous job conditions and lost wages.
About 2,500 to 3,000 farmworkers live in the town at any given time, officials said. Many settle in the wealthy community after finding steady work, often living in mobile homes or trailers on the farms where they're employed — just a short drive, but out of sight, of the town's multimillion-dollar coastal homes.
The two farms subject to the probe are California Terra Garden along State Route 92, the site of the first attack, and Concord Farms on Cabrillo Highway, where the second attack occurred.
Court records show that the deadly shooting Monday was not the first time an employee at California Terra Garden had attempted to shoot a co-worker on the farm grounds.
On July 1, 49-year-old Martin Medina allegedly confronted one of his co-workers at around 11:30 p.m., banging on the door of his home and threatening to kill him.
Dist. Atty. Wagstaffe told The Times that Medina allegedly fired a gun into the home. The bullet went through the glass of the door and into another trailer next door. No one was struck, but Medina was later taken into custody and charged with attempted murder.
Both Medina and the victim were managers at the farm, and Wagstaffe said the confrontation was sparked by a workplace dispute. Despite the location, Wagstaffe said the incident and the people involved were not connected to Monday's shooting.
The "commonality," he said, was "they occurred in the same area and the same farm."
David Oates, a crisis public relations expert hired by California Terra Garden, declined to comment on the state investigation but told The Times an official with the state labor commissioner's office was at the farm Wednesday.
Newsom's characterization of low pay and poor living conditions for workers doesn't "reflect the conditions at California Terra Gardens," he said.
The company typically employs about 35 people, and about eight families live on site in mobile trailer homes that are permitted and inspected by the county, Oates said.
The families pay about $300 a month for rent, are compensated at a rate of $16.50 to $24 an hour and receive health benefits, he said.
"We treat them like family members," he said, adding that some of the families had lived on the property since before California Terra Garden acquired the farm in March 2020. It was formerly known as Mountain Mushroom Farm.
Officials with Concord Farms did not immediately respond to requests for comment.
Eric DeBode, executive director at Abundant Grace Coastside Worker in Half Moon Bay, said his charitable organization primarily serves the homeless population of the Half Moon Bay area but also farmworkers. The organization runs a farm whose produce is given for free to the very people working low-wage farming jobs that produce much of the area's food.
A "large portion of folks we serve," DeBode said, "are making the food we eat and aren't able to afford it themselves."
On Thursday, another organization serving farmworkers and other community members was overflowing with goods in the wake of the massacre.
Volunteers were stacking boxes of produce, snacks, eggs, milk and frozen chickens at Ayudando Latinos a Soñar. The group had gathered mounds of clothing, and its food pantry was overflowing from the community response.
A man emerged from a Lexus outside the group's small, bright yellow building and dropped a bag on a table with a thud. "You said you needed underwear," he said before returning to his car.
The community's interest will wane eventually, said volunteer Victoria Sanchez De Alba. But, she said, unacceptable housing conditions for workers will remain: "Why can't we hold these farm owners accountable?"
She added that, oftentimes when housing violations are reported, "officials red-tag the housing and the families get displaced."
DeBode called the housing conditions on the farms "shocking" and "deplorable," adding that farmworkers and the tourists who come to the area "are living in two different worlds."
Monday's rampage stunned the entire community. The gunman opened fire at the two rural locations, killing seven people and injuring one in what authorities have characterized as a case of workplace violence.
The suspect, who officials said had worked at and resided in trailers at California Terra Garden, was "a co-worker or former co-worker of the victims at each shooting site," the San Mateo County Sheriff's Office said.
He faces felony charges that could make him eligible for the death penalty, authorities said.
The shooting, which came less than 48 hours after a mass shooting in Monterey Park that killed 11 people, has drawn attention to what advocates say is a well-known secret: Farms across the state — and the United States — often thrive on the labor of poor and vulnerable agricultural workers, many of whom are undocumented and unaware of their rights.
Local authorities in recent days have pledged to improve working conditions at area farms.
Wagstaffe at a news conference Wednesday described the "squalor" that employees live in, and said the county executive told him in a phone call that morning, "Now we know about it, and we have to act on it."
Times staff writer Susanne Rust contributed to this report.
The stories shaping California
Get up to speed with our Essential California newsletter, sent six days a week.
You may occasionally receive promotional content from the Los Angeles Times.