Flood fear across Central California as snow melts and a new storm moves in
Large swaths of the Central Valley face elevated flood risks as rivers have swelled from melting snowpack after record storms hit California this winter.
Flooding has spurred evacuation orders and warnings from the National Weather Service, with still more rain forecast for early next week.
Federal authorities said it could be a dire spring in some areas below the Sierra Nevada due to the combination of melting snow and high soil moisture. Officials said it was unclear how bad the flooding might be but warned communities to be on guard, especially if warm temperatures lead to rapid snowmelt.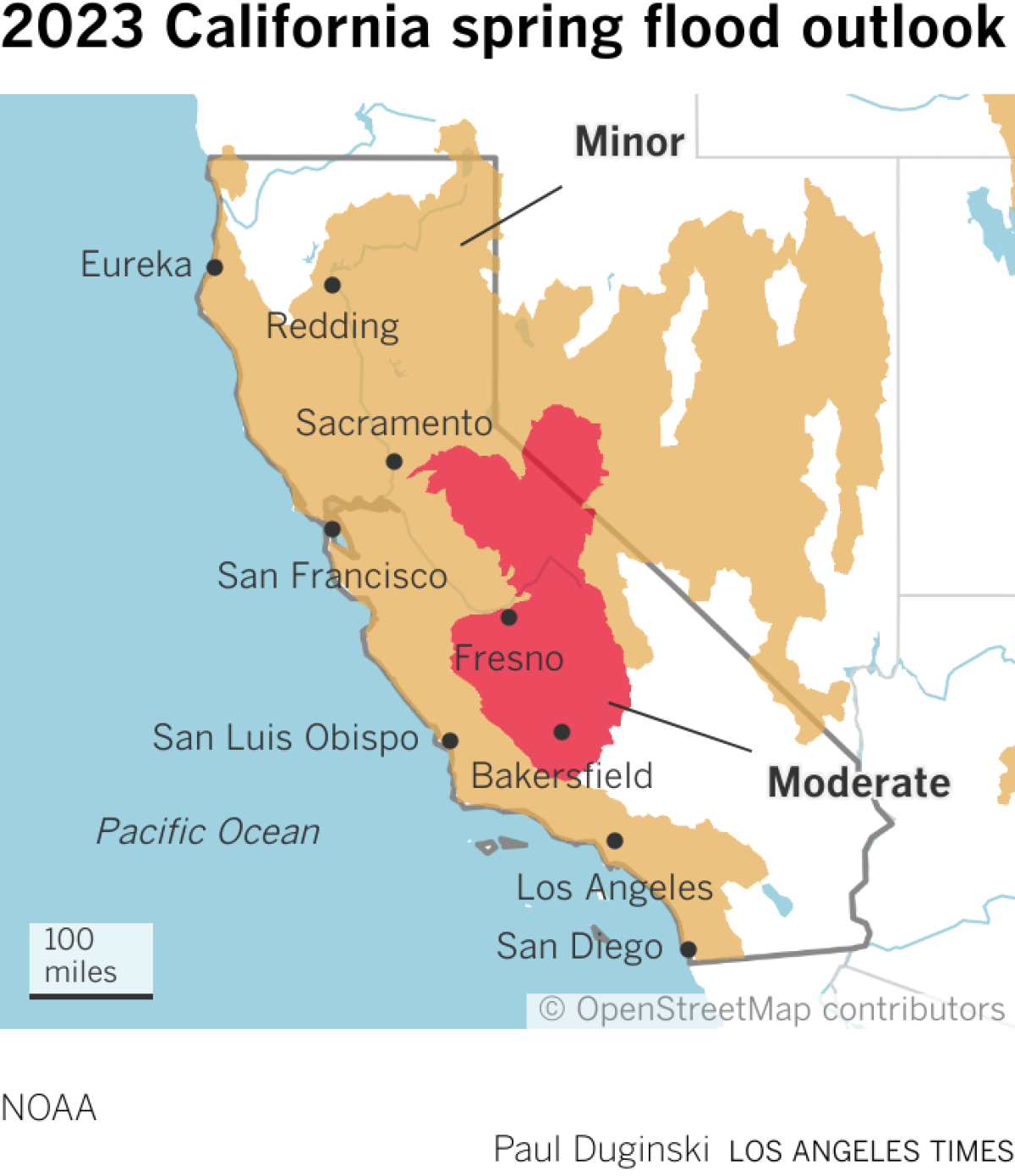 In Porterville, residents in two areas along the swollen Tule River have been ordered to evacuate, and the stretch of river between them, spanning about five miles, is under an evacuation warning.
Overflow from nearby Lake Success has already flooded dozens of homes in the area. Snowmelt from the mountains is feeding the frigid floodwater, which was waist-high Wednesday in some homes near a breach in the Tule River.
"Right now the dam is in good working order — there's no threat to the structure of the dam — but we have significant water coming off of the spillway," Carrie Monteiro, a spokeswoman for the Tulare County Emergency Operations Center, said Wednesday of Schafer Dam on Lake Success.
Four buildings in San Clemente have been deemed unsafe after heavy rains caused a massive landslide along the coast Wednesday, forcing many evacuations.
The city of Porterville declared a state of emergency as crews from the Army Corps of Engineers worked to shore up the dam, using a helicopter to drop sandbags.
Earlier this week, as the Tule River breached a levee south of Corcoran, nearby farmers loaded two old pickups with dirt and drove them into the watery breach to partially plug the hole where water was pouring into a pistachio orchard. A video of the gambit was viewed over 1.5 million times on Twitter.
Cannon Michael, a farmer who wasn't among the group that sent the trucks sailing off the levee's edge, later shared a photo of the repaired levee after another farmer used heavy machinery to pile dirt over the trucks.
The Orange County Fire Authority evacuated three apartment buildings Wednesday morning due to a slide in the 1500 block of Buena Vista.
Michael said the farmer didn't immediately have rocks or cement to anchor a levee repair, so he used the old trucks.
"It was just sort of desperation and use what you had," Michael said. He said each of the trucks was probably worth a few thousand dollars but the potential damage to the pistachio orchard would have been much greater.
As rivers and creeks have flooded, various levees have breached in the San Joaquin Valley. In this case, using trucks as anchors has worked, at least as a temporary fix, Michael said.
"It may not hold up through the long term," Michael said. "They're still at risk, essentially, because there's more floodwaters coming."
On Friday morning, the National Weather Service issued a flood warning for the San Joaquin River west of Modesto near Vernalis.
"Turn around, don't drown when encountering flooded roads," the warning said. "Most flood deaths occur in vehicles."
Visalia is under a state of emergency through Monday due to the potential for flooding from a near-capacity Lake Kaweah.
The lake sits between Three Rivers and Woodlake, where significant flooding has already occurred. Some residents in the area question whether new housing developments that replaced orchards and a creek bed are to blame.
Though recent storms have cut California's drought by half, record snowpack will increase the threat of spring flooding, forecasters say.
A new storm, which would be the 12th atmospheric river to hit the state this rainy season, is forecast to bring precipitation to Central and Southern California starting Sunday through Wednesday. Peak rainfall and snow are expected Tuesday.
In Central California, residents can expect about half an inch of rain along the west side of the San Joaquin Valley, said Jim Bagnall, a meteorologist with the weather service in Hanford. The valley's east side will see 1 to 2 inches, and the foothills will see 2 to 4 inches, he said.
This water, combined with snow falling on the already blanketed Sierra Nevada, could add to flood concerns.
In Southern California, residents should expect a "long period of steady light to moderate rain" totaling 1 to 3 inches, said Ryan Kittell, a meteorologist with the weather service in Oxnard.
By Wednesday, snow will accumulate at elevations around 3,000 to 4,000 feet, including at the Tejon Pass.
Photos from the California Department of Water Resources show how water levels rose at Lake Oroville and Lake Folsom reservoirs after winter storms.
On Thursday, the National Oceanic and Atmospheric Administration's spring flood outlook reported that drought conditions would continue to improve in much of the state, but the potential for flooding will worsen in the face of heavy snowpack and elevated soil moisture.
"Approximately 44% of the U.S. is at risk for flooding this spring," said Ed Clark, director of NOAA's National Water Center. "California's historic snowpack, coupled with spring rain, is heightening the potential for spring floods."
The NOAA report forecast moderate flooding in the Central Valley and Sierra, and minor flooding in nearly all of Northern California and along the coast.
Some communities have already been hard hit. Pajaro, in Monterey County, was flooded after a levee breached late Friday night. The flooding displaced hundreds of people in the primarily migrant town, with no clear timeline for returning. It also raised significant concerns about crop yields in the heavily agricultural region this year.
A similar series of storms in January breached levees along the Cosumnes River near Sacramento, flooding low-lying fields and roadways and contributing to the deaths of at least three people.
Times staff writer Hayley Smith contributed to this report.

The stories shaping California
Get up to speed with our Essential California newsletter, sent six days a week.
You may occasionally receive promotional content from the Los Angeles Times.