(Photo Illustration by Diana Ramirez/De Los; Photos by Alejandro R. Jimenez/For De Los)
It was late September when Pedro Tovar's mom called to tell him he was a Latin Grammy-nominated songwriter. He was still riding off the high of his band Eslabón Armado becoming the first Mexican regional act to perform on "Good Morning America."
"It was unexpected," Tovar said of his two nominations for Eslabón Armado's smash hit "Ella Baila Sola," a swooning romantic ballad featuring Peso Pluma that's up for song of the year and regional Mexican song. The band also is slated to perform live for the first time at the Latin Grammys, taking place in Sevilla, Spain, on Thursday.
The Mexican regional group from Northern California drew the sad paisas in Los Angeles and beyond to Crypto.Com Arena
"I don't normally see many [regional Mexican] artists getting general-field nominations," added Tovar. "[I'm] excited to be representing Mexico at the awards show."
An elegant cut from Eslabón Armado's 2023 album, "Desvelado," the song about a beautiful girl dancing alone has proven to be mighty enough to contend with not one but three juicy breakup songs by Colombian pop queen Shakira, not to mention Grupo Frontera's cumbia hit with the prodigious Bad Bunny.
Eslabón Armado and Peso Pluma's 'Ella Baila Sola' is the first Mexican regional song to reach the top 10 of the Billboard Hot 100 chart.
Since its March release, "Ella Baila Sola" rose to No. 1 on the Billboard Global 200 chart this spring, a first for any Mexican artist. And on the Billboard Hot 100, "Ella Baila Sola" waltzed to No. 4, becoming the only regional Mexican song to make the top 10 of the chart since its inception in 1958. The song has now gone 21 times platinum.
"It was really the most easy and natural thing to write," Tovar told The Times.
On a crisp November afternoon, I met the members of Eslabón Armado on the verdant slopes of the Canyon Crest Country Club in Riverside, where they celebrated the honors with a game of golf.
It's a hobby that Tovar picked up last year; and after playing with friends at the Topgolf entertainment center in Ontario, he decided to get lessons from a pro. Tovar demonstrated a proper open stance — then yelled, "Don't look!" — before swinging the club and sending a golf ball sailing across the green.
He drew cheers from his bandmates: 20-year-old bassist Brian Tovar, his younger brother; acoustic guitarist and backup singer Ulises González, 22; and 12-string guitarist Damián Pacheco, 22, who previously backed corridos tumbados star Natanael Cano.
González, who lives in Sacramento, and Pacheco, who hails from Phoenix, fly to meet the Tovars for a few days at a time to write music. As Pedro decompresses on the golf course, they zip around the country club in their golf carts as a few bewildered seniors look on.
"Our photographer flipped a golf cart once and got this huge gash," recounted Pacheco, adding that Chris, said photographer, reportedly is fine. "Pedro is the one who plays — we just get bored."
Sporting amber Louis Vuitton sunglasses, Nelly Tovar, mother and band manager, beams at the boys as they pose for photos on the course. More than two decades ago, she and her husband immigrated from Jalisco and Colima, respectively, taking jobs in landscaping and property management. They raised their sons and 12-year-old daughter in Modesto and its surrounding towns.
Pedro learned to play corridos on guitar from YouTube at the age of 13. He got good enough to play them back to a growing number of online followers. At the behest of their parents, Pedro taught Brian the bass.
"I was always more of an athlete," said Brian, who grew up playing soccer and earned a black belt in karate. "[Once] my brother taught me basic scales, I was able to learn the upright bass."
Pedro founded Eslabón Armado in 2017 with Brian and their longtime friend Gabriel Hidalgo, who played guitar for the group until 2020.
"My husband said, 'We're going to support them and buy everything they need for a group,'" recalled Nelly in Spanish. "The speakers, cables, microphones, you name it. Pedro couldn't believe it, I couldn't believe it. I asked my husband, 'But what about the rent?'"
Pedro Tovar had plans to work at a warehouse after graduating high school that year — that is, until Eslabón Armado was scouted by Ángel del Villar, chief executive of the L.A.-based regional Mexican label DEL Records. Del Villar happened upon the band's videos on YouTube in 2020 and promptly messaged them with an invite to the label headquarters.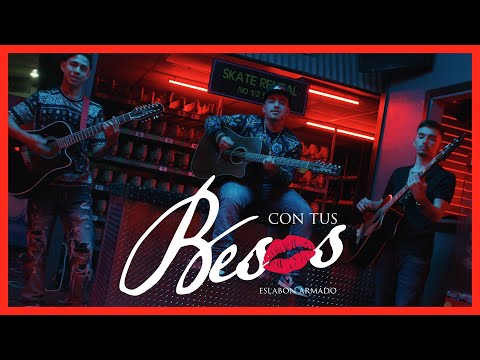 "About a month later, we were signed," said Pedro. The band released their first three albums in 2020 — "Tu Veneno Mortal," "Vibras de Noche" and "Corta Venas" — and they all topped Billboard's regional Mexican albums chart.
Now, the family owns a SoCal home with a horse ranch, which Pedro purchased with earnings from those records. "I wanted to be a lawyer, but then I got married," said Nelly, who stepped in as the band's mom-ager. "Now I make sure my kids get a fair deal.
"The name Eslabón Armado [translates] to a link in a chain that never breaks," she explained, "and it's never going to break."
However laid-back and unassuming he is in a polo shirt and khaki shorts, Pedro crafts love songs with the intensity of a heart that's been smoldering for centuries. He credits his fervid lyricism in part to being born under the tropical sign of Cancer. His favorite movie is "The Notebook," and he likes to reserve hotels overlooking the ocean, which he believes can help with the flow of his songwriting.
"The only time I wrote a song for a girl was 'Ando Más Que Mal,'" said Pedro of the slinking ballad from "Corta Venas," in which he croons in Spanish, "Thanks for killing my soul." Quick to divert attention away from his own love life, he explains, "I had this weird moment when I started watching a lot of sad, romantic movies. ... I just imagine what people are going through and start writing from there."
You're reading Latinx Files
Fidel Martinez delves into the latest stories that capture the multitudes within the American Latinx community.
You may occasionally receive promotional content from the Los Angeles Times.
The Tovar brothers listen to playlists featuring indie staples like the Smiths, the Marías and Clairo. "We like sad guitar music," said Brian. Pedro also takes inspiration from hip-hop's king of controversy, Kanye West, who, despite his polarizing antics in public, inspired Pedro to develop confidence in taking risks as an artist.
"Kanye's musical creativity is super inspiring and innovative," he said, citing Ye's Grammys performances from the late aughts. (You can see Pedro borrow a touch of the rapper's swagger in the band's recent performance on "The Tonight Show Starring Jimmy Fallon.")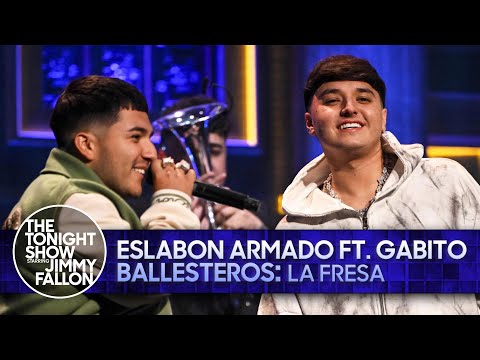 Yet the band's true northern star is the late sierreño icon Ariel Camacho: a rough-around-the-edges troubadour from Sinaloa who spun great stories of narcos, farmers and heartsick bad boys.
"He was a big inspiration in my love for romantic music," said Pedro.
Camacho was only 22 when he died in a car crash in 2015. Camacho inspired an onslaught of Gen-Z hitmakers who have honored his life by mainstreaming corridos and sierreño songs. Now, under the banner of "sad sierreño," artists like Eslabón Armado, Yahritza y Su Esencia, Ivan Cornejo and DannyLux specialize in poignant folk songs with lyrics that speak to the socio-emotional conditions of Mexican American teens.
It's been a rough month for Yahritza y Su Esencia, whose comments in past interviews about Mexico have resulted in controversy. In a De Los exclusive, the band clears the air.
"[Camacho] did so much for the [sierreño] sound, which really brings out the guitars in the mix," said guitarist González, who quit a job in construction with his father to join the band full-time in 2021.
"The shirts he wore, the hats he would wear, I wore them too. Now, it's crazy to me that we're on the same record label that he used to be on. We are living out his dream," said González.
Camacho was also a point of convergence between Eslabón Armado and 24-year-old corrido singer Peso Pluma. Pedro offered to share "Ella Baila Sola" with Peso in part to see if he could tame the tough-guy persona he's built in his music.
"I didn't want to do a corrido, because I'm not really into that," said Pedro. "I wanted to see if he could [pull off] a romantic, lovey-dovey song. So I was like, 'Step into my world!'"
With the Latin Grammys marking the band's inaugural appearance outside the U.S., the world of Eslabón Armado is expanding.
Next year they plan to perform their first shows in Mexico, where the Tovar siblings say they haven't been since grade school. There, the band will regale audiences with songs from their upcoming album — Pedro says they'll be more upbeat, to better match the rowdy "backyard party vibes" of their live shows, and to connect with the culture that taught them the joy of music.
"Every time I'm onstage, I say '¡Viva Mexico! ¡Viva la raza Latina!'" he said. "Because being Mexican in the music industry, and kids being inspired by my music is pretty sick. But at the end of the day, I'm just happy to support my family and to do what I love."