Jen Beagin's novel 'Big Swiss' is a hot Hollywood property. It's also a timeless comedy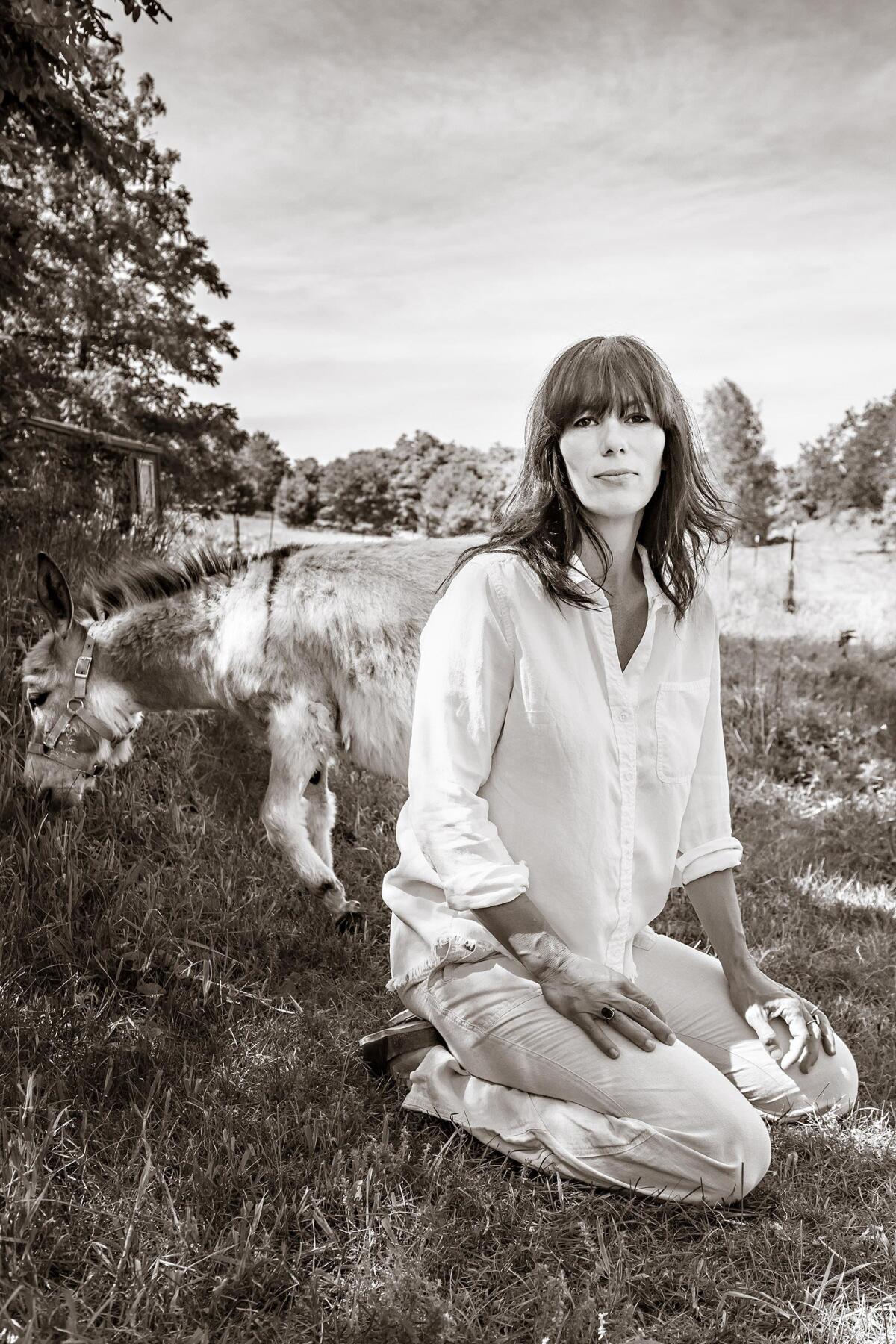 Review
Big Swiss
By Jen Beagin
Scribner: 336 pages, $27

If you buy books linked on our site, The Times may earn a commission from Bookshop.org, whose fees support independent bookstores.
At the center of the house where Greta, the 40-something narrator of Jen Beagin's eccentric and wise new novel, "Big Swiss," lives with her longtime friend and flaky landlady Sabine, is a beehive. It's not just that Sabine's thoughts revolve around it and not just that it's right above the hearth. This hive is situated between the ceiling of the kitchen and the floor of the bedroom above it. Its "fifty or sixty thousand" inhabitants provide both a potent metaphor and an oddly anodyne threat to a household where thrillingly expensive window treatments bulge with stink bugs and the centuries-old walls are no match for the upstate New York chill.
Greta doesn't mind any of this, at least not much. She's recently relocated from Los Angeles to the Bobo burg of Hudson, N.Y., whose main claim to fame — before the bistros rolled in — was its status as the first incorporated city in the U.S. After bunking in with Sabine, she finds work as a transcriptionist for the town's only sex therapist, Om.
Thus, Greta hears tales of adultery and ortolans, of a man who imagines his penis speaking to him in the voice of James Earl Jones and another who fears his foreskin is growing back. As she slouches around Hudson with her terrier, Piñon, Greta fantasizes about the people she can identify from the tapes. We figure out early that she has few scruples about spreading gossip. She likes titillation, and she'd like it even better if it happened in real life and not just through her headphones.
Beagin widens her lens to take in this cast of locals and upstate parvenus even as she stays focused on Greta's rising fever. When Greta hears a woman's German-accented voice relaying to Om the memory of a brutal attack, her ears perk up with longing. Once she's identified that voice as belonging to a tall, incandescently beautiful new resident named Flavia, she starts thinking of her as "Big Swiss."
Over lunch and cocktails, the satirical and melancholy novelist unpacks his raucous new Hudson Valley pandemic-era novel, "Our Country Friends."
The author flits between Greta and her new paramour in subtle ways: Greta thinks of Flavia's voice as "sweet enough to suck on, to sleep with in your mouth," while Flavia tells Om, "My voice is like a blade. When I pick out pastries at the bakery, it sounds like I'm ordering someone's execution." The juxtapositions force us to wonder whether Flavia is truly a goddess or just a means of escape. Has Greta found an offbeat kind of paradise with an exotic lover in Hudson, or is she merely running from her past?
After their meet-cute at the dog park, the women begin a torrid affair with myriad complications — from Greta's hidden identity to Flavia's marriage to a man. If Susan Choi or Ottessa Moshfegh were writing this novel, it might be either more earnest or more off-putting, but in Beagin's hands, the entire situation remains clean and pillowy, like one of Flavia's high-quality duvets.
Yes, Greta is violating patient privacy, lying to her lover, who is lying to her husband. Yes, she has no backup plan for her life, financial or professional or philosophical. But Beagin loves Greta and everyone else around her, loves the people who jump off society's hamster wheels and shoot for happiness where they can find it, whether through a terrier, an unnatural sense of curiosity or sex so wild that, as Flavia tells her, "you look like you're … mutating."
Some of this adoration might stem from Beagin's own residence in Hudson, a small city 100 miles north of Manhattan where everyone has big ideas about how life should be lived — as if by eschewing the metropolis downriver they have ascended to a higher plane of being.
There are no zealots like converts, and among the many appealing things about "Big Swiss" is how accurately the author hoists these weekenders and early retirees on their own handcrafted kebab skewers. Hudson, Greta tells us, "was overflowing with people who'd successfully reinvented themselves."
'Less Is Lost' is a sequel to Andrew Sean Greer's Pulitzer Prize-winning novel, He describes the road trip that inspired it — and the joys of travel.
Sabine, who perpetually reinvents herself in far-off places, leaves Greta in charge of a recently arrived pair of mini donkeys — whose caretaker solemnly tells them that they can't be separated or they'll die. Greta and Flavia, meanwhile, get down with the busy-ness of the bees in the house. Flavia goes so far as to invite Greta to her home, forcing her to sit through an awkward fondue dinner with Luke, who knows nothing of his wife's predilection for female parts. (Flavia, by the way, is an OB-GYN.)
While "Big Swiss" is one of the funniest books of the last few years, Beagin can handle darkness, just as she did in her earlier award-winning novels "Pretend I'm Dead" and "Vacuum in the Dark." Flavia's attacker stalks her all the way upstate, just as Sabine and Greta discover that their beehive contains something unexpected — and alarming. If there's rot at the heart of things, how can Greta atone? Is she even capable of making amends to all the people she's hurt?
Like Flavia, Greta has trauma in her past — and in this hilarious, humanistic account of people coping with unexpected and even unwanted life transitions, she will make strides toward figuring out why she does what she does. Lest this sound like the disbursement of Life Lessons, the author doesn't judge Flavia and Greta for seizing joy where they find it.
Nina LaCour's first novel for adults, "Yerba Buena," follows a promising and complicated lesbian love story in the mold of Sarah Waters.
There is ample joy to be found in "Big Swiss." It has already been snapped up for an HBO series starring Jodie Comer. Beagin may soon be hotter than a farm-to-table restaurant in a bougie upstate town, but her work will be around much longer. Shelve her latest novel alongside those of Richard Russo, Nora Ephron, Armistead Maupin, Jess Walter and other comic novelists whose works are both timely and ultimately transcendent.
Patrick is a freelance critic who tweets @TheBookMaven.
Get the latest news, events and more from the Los Angeles Times Book Club, and help us get L.A. reading and talking.
You may occasionally receive promotional content from the Los Angeles Times.