The real stakes of the Sundance jury walkout making headlines
Welcome to a special Sundance Daily edition of the Wide Shot, a newsletter about the business of entertainment. Sign up here to get it in your inbox.
Today's forecast
What to expect at the fest for Sunday, Jan. 22
An incident during the premiere of U.S. dramatic competition selection "Magazine Dreams" set off a raft of eye-catching headlines on Saturday: "Sundance Jurors Walk Out of 'Magazine Dreams' Premiere." But that phrase, which brings to mind dramatic images of a mass exodus, could be replaced by an equally accurate, if less provocative, alternative: "Failure of Device Raises Questions About Festival Accessibility."
When a wireless closed-captioning device for jury member Marlee Matlin, the first deaf performer to win an Academy Award, did not function at the start of the screening, Matlin and her fellow jurors, Jeremy O. Harris and Eliza Hittman, who have been watching all the competition titles together, left the theater so they could watch it together later. A source close to the festival said the closed-captioning device worked during a tech check earlier in the day and also worked for a screening attended by the jury in the same venue later that night. (Matlin declined a request for comment.)
In a statement, Sundance Institute CEO Joana Vicente said, "Our accessibility efforts are, admittedly, always evolving and feedback helps drive it forward for the community as a whole. … Our team has been working hard in this area but there is always more work to do. We all still need to do more as we learn and consider the community at large. We are committed to improving experiences & belonging for all festival attendees. We consider accessibility as one of the primary drivers of institutional excellence and this work is done in partnership with film teams."
The incident, which reportedly prompted the jury to send a letter to U.S. dramatic competition filmmakers requesting the use of an open-caption digital cinema package — basically the digital equivalent of a film reel — has sparked a broader discussion about accessibility at Sundance and other festivals. What are the barriers that prevent an event like Sundance from making sure all films are truly accessible to deaf audiences? Who bears the responsibility for ensuring that accessibility? And what does the controversy sparked by the failure of Matlin's device mean for open captioning at future editions?
Open captions, which are visible to all members of the audience, have reportedly received pushback due to the potentially prohibitive cost for independent films with limited budgets — though competition films such as "Mutt" and "A Thousand and One" will now screen with open captions, according to Indiewire. But in an industry that touts its progressive bona fides, highlights of the calendar like Sundance — which counts major corporations such as Acura among its sponsors — could conceivably find a way to diffuse those costs and remain at the cutting edge of accessible moviegoing.
As to what happens next for "Magazine Dreams," a source close to the film told The Times that they hope a technical issue does not color the response to the film, but acknowledged that the device's malfunction is out of their control. Actor Taylour Paige, who appears in the film, took a more direct tone in her comment on a since-deleted post about the matter on Indiewire's Instagram account: "this isn't our films fault and spreading information that's both hurtful and harmful for what?"
"Magazine Dreams," which also played Sunday morning, next screens Wednesday at 5:45 p.m. MT at the Ray Theatre. —Mark Olsen and Tracy Brown
READ MORE: Psychological thrillers 'Fair Play' and 'Magazine Dreams' jolt Sundance competition to life
The Wide Shot is going to Sundance!
We're sending daily dispatches from Park City throughout the festival's first weekend. Sign up here for all things Sundance, plus a regular diet of news, analysis and insights on the business of Hollywood, from streaming wars to production.
You may occasionally receive promotional content from the Los Angeles Times.
The queue
The movies worth standing in line for
Some of the first words you hear in "Against the Tide" — "Fear not, fear not!" — are spoken during a joyous family ceremony to welcome a new child. But that entreaty feels more bleakly ironic with each repetition in Sarvnik Kaur's beautifully composed and movingly intimate documentary about two fishermen who have grown up together in Bombay's Indigenous Koli community. As close as brothers, they have long parted company where their work is concerned: The poorer Rakesh follows the traditional, sustainable methods handed down by past generations, while the richer Ganesh has embraced environmentally destructive modern techniques, including LED light-fishing technology. That causes more than its share of brotherly acrimony, though the aching sadness of "Against the Tide" comes from the realization that, in an ocean already ravaged by the unchecked greed of human industry, both men's efforts may well be futile. (Screening Room, Sundance Mountain Resort, 12 p.m. MT) — Justin Chang
Some films just need to be experienced at a theater in the company of other people, and Nida Manzoor's debut feature "Polite Society" is absolutely one of those films. This vibrant genre mash-up follows teenager and aspiring stunt performer Ria Khan (a delightful Priya Kansara), who refuses to believe that her older sister Lena's (Ritu Arya) decision to get married to a (rich and admittedly attractive) man she's been dating for less than a month is as joyous an occasion as everybody else insists it is. Besides being crushed that Lena appears to have given up on her dreams of becoming an artist, Ria is certain something nefarious is afoot and is determined to prove it. And she's been practicing a mean jump-spinning back kick for anybody who dares to get in her way — even if that's Lena herself. This hilarious and heartfelt coming-of-age movie packs plenty of gravity-defying martial arts, over-the-top teenage dramatics and even a dash of social horror. (Redstone Cinemas, 12 p.m. MST) —Tracy Brown
READ MORE: Brandon Cronenberg breaks down 'Infinity Pool,' the most disturbing film at Sundance
Working lunch
Catch up with movers and shakers from around the fest
Eugenio Derbez, whose Sundance film "Radical" premiered Thursday at Eccles Theatre, didn't always want to be a producer, exactly.
"I started producing because it was a need," the comedian-turned-filmmaker said during a Saturday panel, part of Sundance's Cinema Cafe series. "I realized that even when I was writing and acting, there was still someone controlling the thing. And it was not my voice, my real voice."
Derbez — who appeared on the panel with producers Diane Becker ("King Coal") and Tommy Oliver ("Fancy Dance," "Young. Wild. Free.") — is a familiar face for Sundance audiences, having co-starred as a tough-love music teacher in the 2021 festival darling and 2022 best picture Oscar-winner "CODA." In "Radical," he returns to an educator role, playing a sixth-grade teacher at an underperforming school in Mexico.
His transition from being a Mexican comic actor in Spanish-language productions to becoming a cross-cultural commercial producer was a lesson in when to say "no" in the face of demands from studios and financiers. While trying to line up distribution and funding for his career-making hit, "Instructions Not Included," he butted heads with a Sony executive who wanted to finance the film, but only if he agreed to change the ending.
Derbez refused, despite the challenges he'd faced to find backing for the project, he said. The movie, starring and directed by Derbez, ended up being released in the U.S. years later, in 2013, by Pantelion Films, which focuses on Latino audiences. It grossed $100.5 million in global box office sales, including $44.5 million in North America, an extraordinary result for a Spanish-language film.
"The guy who told me to change the ending contacted me just the week after the opening, and he said, 'I'm sorry, I was wrong,'" Derbez said.
"Does he still have a job?" quipped moderator Effie Brown, a producer in her own right, known for movies including "Dear White People."
"He invited me for dinner," Derbez said of the unnamed studio player. "He said, 'I'm sorry, I was wrong. And I would like to work with you.'"
Derbez, speaking to an audience filled with many aspiring and early-career filmmakers, wasn't making a case for being obstinate or arrogant in the face of criticism and notes, though. "You need to know the difference between saying 'no' because you're defending your point of view, and being stubborn."
Oliver, a prolific producer and financier who has four movies at Sundance, made the case for being pragmatic while also taking strong stances to protect the art.
"You figure out the things that you absolutely understand are the essence of your story, and then you fight for those," Oliver said. "And the other things, it's fine to let go, because you don't want to just look up, and it's been 20 years, and you haven't made something." —Ryan Faughnder
Happy hour
The panels, talks, parties and more where you'll find us in Park City today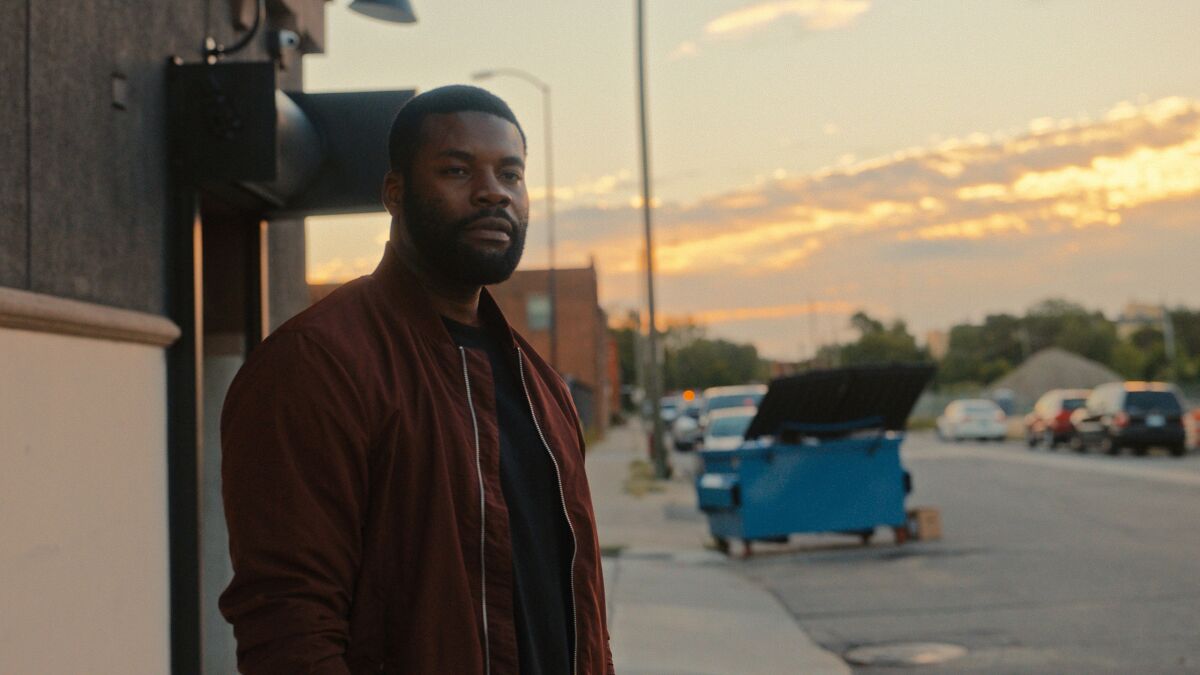 With intimacy coordinators and nudity riders becoming an increasingly common feature of film and TV production, Sundance Institute's Sunday afternoon talk "Power of Story: On Intimacy" (Egyptian Theatre, 3:15 p.m. MT) feels particularly relevant, especially for a generation of filmmakers striving to create new standards for safe sets. The panel promises to consider "What does intimacy look like in an artistic collaboration, and how do we develop the tools to communicate and navigate a space of great closeness in a complex professional setting where intimacy is being created for an audience?" — key questions, creatively and logistically, for anyone seeking to capture the truth of human relationships while keeping professional boundaries intact.
And one year after documentary "Jihad Rehab" sparked a furor (and an apology from organizers) over its depiction of Muslims and indeed its very inclusion in the festival, the Muslim Public Affairs Council (MPAC) Hollywood Bureau's return to in-person programming with Party at the Park (950 Iron Horse Dr., 7-10 p.m.) offers a vital opportunity to hear directly from Muslim creatives about their craft — and about how it can help dismantle tired cultural tropes. Among this year's notables are MPAC Hollywood Bureau's director, Sue Obeidi; Evelyn Alsultany, author of "Broken: The Failed Promise of Muslim Inclusion"; filmmaker Qasim Basir, of NEXT title "To Live and Die and Live"; and more. The event is alcohol-free and open to the public. Register here. —Matt Brennan
Photo booth
Zar Amir Ebrahimi, star of Sundance selection "Shayda" and last year's winner of the best actress prize at Cannes for "Holy Spider," is just one of the familiar faces to drop in on the Times studio so far. Be sure to check out our full gallery of portraits from the fest, and join us as we ask "Cassandro's" Gael Garcia Bernal and the casts of "Cat Person" and "Shortcomings" some Very Important Questions.
---
The Wide Shot is going to Sundance!
We're sending daily dispatches from Park City throughout the festival's first weekend. Sign up here for all things Sundance, plus a regular diet of news, analysis and insights on the business of Hollywood, from streaming wars to production.
You may occasionally receive promotional content from the Los Angeles Times.