Inside WarnerMedia's dramatic shakeup: New boss, AT&T cost-cutting and a soft HBO Max Launch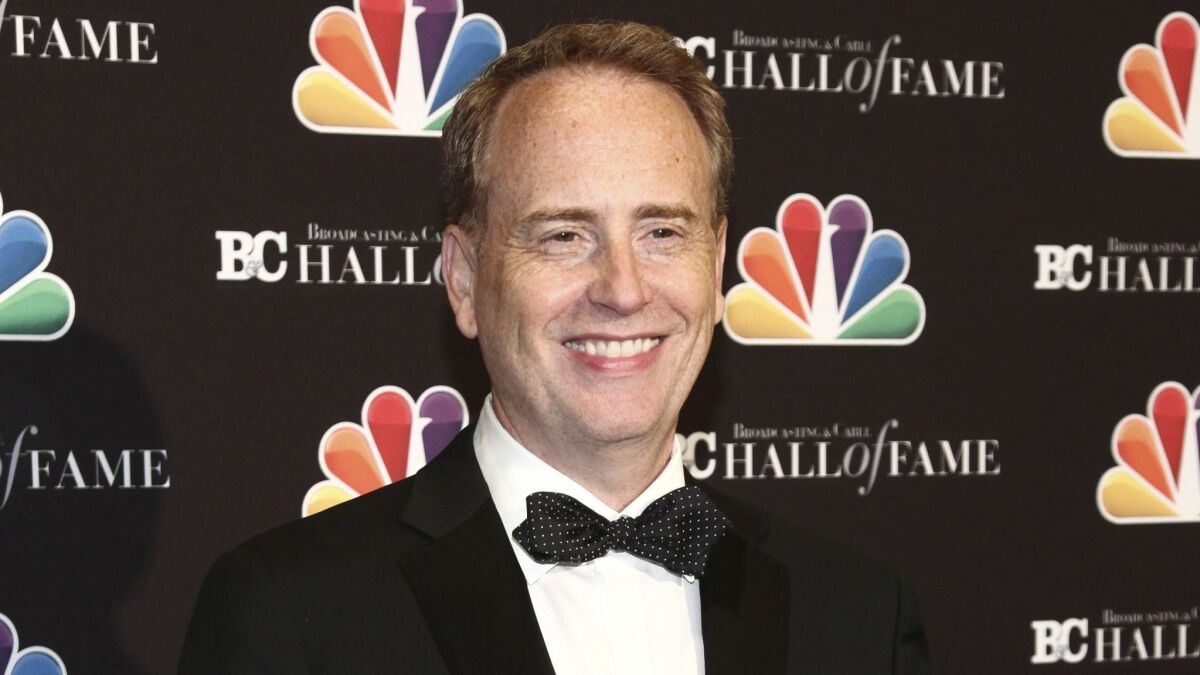 In a sweeping reorganization, WarnerMedia on Friday ousted two of its programming chiefs: Bob Greenblatt and Kevin Reilly.
The surprise move comes three months after Jason Kilar, the former chief of Hulu, took the helm of the AT&T-owned media company and after the debut of WarnerMedia's high-stakes streaming service, HBO Max, which has gotten off to a slow start.
In a memo to staff on Friday, the WarnerMedia chief executive acknowledged the shakeup was "neither timid nor without risk" but said he needed to make "changes that will help us operate more effectively and efficiently."
Another goal, Kilar said, was to give HBO Max more prominence within the corporate organization — because it is key to the company's future.
HBO Max has struggled to make a splash in the crowded streaming market. AT&T told investors last fall that at least 10 million subscribers would have HBO Max when it launched in May to take on Netflix. While 26 million HBO subscribers have access to HBO Max, the service had notched only 4.1 million subscribers by the end of June.
The launch was hampered by the app's $14.99-a-month subscription fee and confusion among consumers about how HBO Max differed from other HBO services already in the market. It also lacked a robust slate of buzzy originals — and has been constrained from adding much more to its lineup in recent months after TV and film production was interrupted in mid-March due to COVID-19 stay-at-home orders.
In contrast, NBCUniversal's ad-supported Peacock streaming service, which launched July 15, has attracted 10 million sign-ups. (Peacock costs $4.99 a month; an ad-free version is available for $9.99.) The competing family-oriented Disney+, which debuted last November ($6.99 a month, ad-free), has more than 60 million subscribers worldwide.
"Kudos to Disney+ ... but I feel very good about our opportunity, which, I would argue, is a larger opportunity," Kilar said in a Friday interview with The Times. "But it's a harder road, because big opportunities invite big competition. We are going down the path of creating a general entertainment service."
The big winner in Friday's shuffle was Ann Sarnoff, who only last summer was named chair and chief executive of the storied Warner Bros. film and TV studio.
Now, Sarnoff will lead the company's West Coast entertainment empire in a newly consolidated Studios and Networks Group. She takes over Greenblatt's portfolio and will oversee all of WarnerMedia's TV series and movie development and production, as well as its TV networks, including HBO, TNT and TBS.
Sarnoff made history when she became the first woman to lead the nearly 100-year-old Warner Bros. studio, known for "Casablanca" and the "Harry Potter" film franchise. Before joining WarnerMedia, she ran BBC Studios Americas. The Georgetown University and Harvard Business School alumna earlier in her career had key roles at Dow Jones, the Women's National Basketball Assn. and Nickelodeon.
Kilar said he faced a difficult choice in picking between Sarnoff, a business executive, and Greenblatt, a veteran programmer who joined WarnerMedia 18 months ago. However, Kilar said, he believed the company had room for just one entertainment division — and thus, just one entertainment chief.
"I easily could have made the decision to go with Bob," Kilar said. "He's got the talent, the executive vision, he's incredibly insightful and he's a damn good programmer. But I could only give that job to one person."
HBO Programming President Casey Bloys also gained more turf by picking up Reilly's responsibilities. In addition to programming the premium HBO channel, Bloys now will oversee content for HBO Max as well as cable TV channels TNT, TBS and TruTV.
"Casey's appointment is a big part of this too," Kilar said. "A lot of the programming on HBO Max that people love and are watching comes from Casey and his team. Let's be very blunt about that."
Greenblatt, Reilly and Keith Cocozza, who until Friday served as WarnerMedia's chief communications officer, declined to comment.
Kilar also tapped former deputy Andy Forssell, general manager of HBO Max, to run a newly created HBO Max business unit. More than a decade ago, Forssell helped Kilar build Hulu into one of the country's most popular streaming services. Forssell joined WarnerMedia in May 2019 after a stint at Otter Media, which AT&T purchased. Kilar said he wanted Sarnoff and Forssell to be partners in ensuring that HBO Max becomes a global success.
WarnerMedia will charge $14.99 a month for HBO Max, which will debut in May. Two years in the making, HBO Max is being designed to go head to head with Netflix, Amazon Prime Video, Hulu and Disney+, which rolls out next month.
WarnerMedia's shakeup comes just days before the company plans to begin making substantial cuts in its staff; it is expected on Monday to begin notifying employees about job cuts. Burbank-based Warner Bros. is expected to lose as much as 10% of its workforce, according to people familiar with the situation.
Dallas-based AT&T has been under pressure from investors to cut the mountain of debt — more than $160 billion — brought on by its acquisition of DirecTV and then WarnerMedia.
Kilar's memo affirmed existing and expanded roles for several other executives: Toby Emmerich will continue to run the Warner Bros. Motion Pictures Group. Peter Roth will continue to lead Warner Bros. Television Group. Christy Haubegger, chief enterprise inclusion officer, now will oversee the global marketing and communications team. In New York, CNN chief Jeff Zucker continues as chairman of WarnerMedia News and Sports.
"A lot of this is about leading into the future and focusing on the consumer," Kilar said in the interview, explaining that traditional media companies have been set up as wholesalers, licensing their programming to TV networks and cable TV distributors. With the advent of the internet, he noted, consumers have latched on to streaming services that create one-on-one relationships with them.
The reorganization comes a day after NBCUniversal consolidated its TV operations by folding two units into one.
Kilar's moves ripped up a structure put in place 17 months ago by John Stankey, who is now AT&T's chief executive.
With great fanfare, Stankey hired Greenblatt and entrusted him with programming HBO, HBO Max and the Turner channels. At the time, Stankey wanted to send a message to Hollywood that WarnerMedia was still in the prestige TV business after the abrupt departure of longtime HBO chief Richard Plepler. Greenblatt previously served as chairman of NBC Entertainment for seven years. Before that, he transformed Showtime, owned by ViacomCBS, into a destination for provocative programming.
Reilly, who previously ran the Fox network and NBC Entertainment, had three years remaining on his contract. Amid the upheaval at WarnerMedia last year, Reilly signed a new contract that was supposed to last through 2022.
Staff writer Ryan Faughnder contributed to this report.
---
Inside the business of entertainment
The Wide Shot brings you news, analysis and insights on everything from streaming wars to production — and what it all means for the future.
You may occasionally receive promotional content from the Los Angeles Times.