Netflix's Reed Hastings steps aside as co-CEO, stays on as executive chairman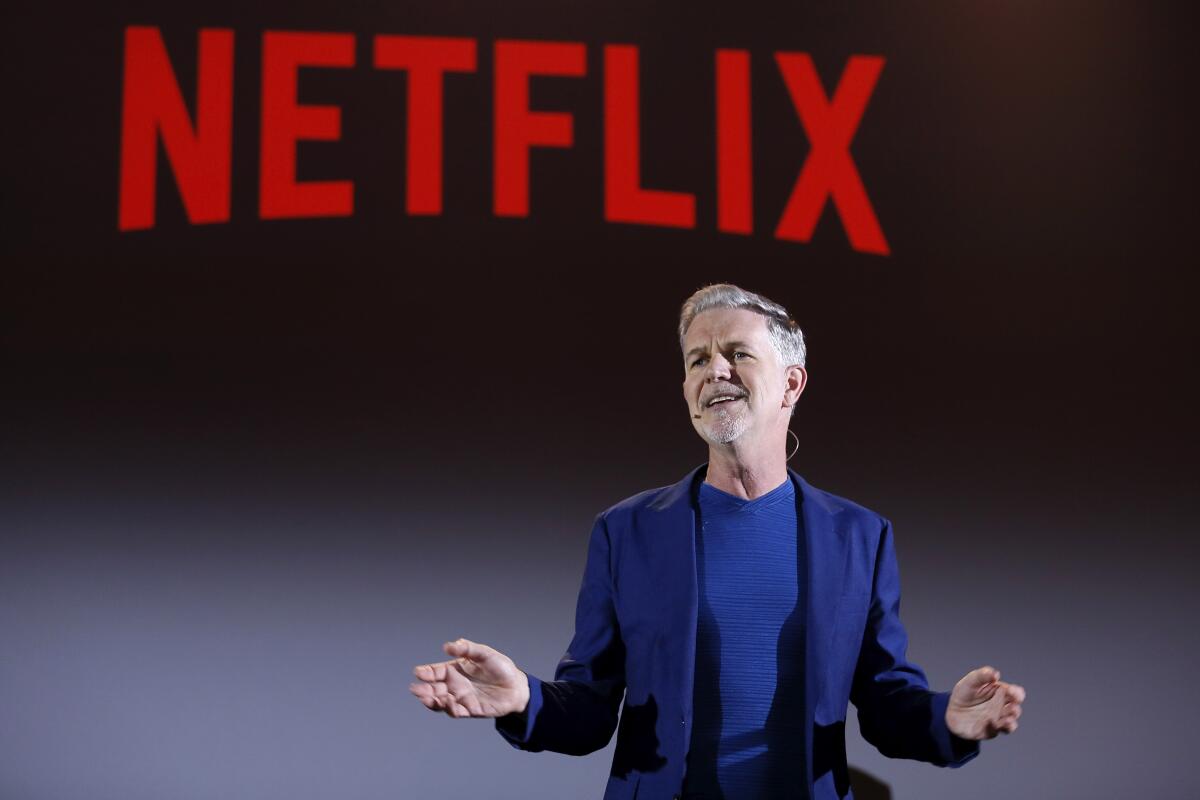 Reed Hastings is stepping aside as co-chief executive of Netflix, the streaming giant said Thursday, in a significant leadership change that the company says completes its succession plan.
Hastings, also a Netflix co-founder, is now the Los Gatos, Calif., company's executive chairman. Greg Peters, Netflix's chief operating officer, has been promoted to co-CEO, a title he now shares with Ted Sarandos, in a changing of the guard at the world's largest subscription streaming firm.
The move is the culmination of a gradual ceding of day-to-day authority by Hastings, who has been with the firm throughout its evolution from a DVD-by-mail upstart to a disruptive Hollywood powerhouse with a massive original content operation.
Hastings "leaves some big shoes for Greg and I to fill," Sarandos said in a recorded interview in which he discussed earnings. "Fortunately, we have four feet to do it with."
In a blog post, Hastings said he has increasingly delegated management of Netflix to Peters and Sarandos over the last 2½ years. Netflix said in a letter to shareholders that the transition "makes formal externally how we have been operating internally."
"It was a baptism by fire, given COVID and recent challenges within our business," Hastings said. "But they've both managed incredibly well, ensuring Netflix continues to improve and developing a clear path to reaccelerate our revenue and earnings growth. So the board and I believe it's the right time to complete my succession."
The change comes as Netflix tries to accelerate its growth, which slowed significantly last year, as it faced increasing competition in the marketplace from players including Walt Disney Co.'s Disney+ and Hulu, Apple's Apple TV+ and Warner Bros. Discovery's HBO Max. The early days of the pandemic caused a major surge in streaming sign-ups as consumers sheltered at home, but since then subscriber growth has slowed down, causing investors to question the business model.
The company reported slower revenue growth Thursday for its most recent quarter as streaming services look to trim costs amid a possible looming recession and the company takes steps to accelerate its business by rolling out a cheaper ad-supported plan and charging customers for password sharing.
The company said its fourth-quarter revenue increased 2% to $7.85 billion, missing analysts' estimates of $7.86 billion, according to FactSet. Its growth was slower than in previous quarters. Revenue jumped 6% to $7.9 billion in the third quarter. Fourth-quarter net income was $55 million, down from $607 million in the same period a year earlier.
Full-year revenue in 2022 totaled $31.6 billion, up 6% from the year before. That's a marked slowdown from 2021, when sales increased 19% to $29.7 billion.
"2022 was a tough year, with a bumpy start but a brighter finish," Netflix said in a letter to shareholders Thursday. "We believe we have a clear path to reaccelerate our revenue growth: continuing to improve all aspects of Netflix, launching paid sharing and building our ads offering. As always, our north stars remain pleasing our members and building even greater profitability over time."
Some of Netlfix's moves are bearing fruit. Netflix increased its subscribers by 7.7 million, to 231 million, customers during the quarter, beating analyst estimates of 4.57 million subscribers added. Popular shows that helped draw large audiences included November release "Wednesday," featuring characters from "The Addams Family"; the Rian Johnson murder-comedy movie "Glass Onion: A Knives Out Mystery," released in December; and the recent royal docuseries "Harry & Meghan."
"Wednesday" has become the third-most watched show of all time on Netflix, viewed more than 1.2 billion hours in its first 28 days on the streaming service, according to Netflix company data, behind only "Squid Game" and "Stranger Things 4." "Wednesday" has been renewed for a second season. Meanwhile, "Glass Onion" ranked as Netflix's fourth-most popular English-language movie, drawing 273 million hours of viewing time by audiences.
The results support Netflix executives' assurances to investors that their business has stabilized after losing subscribers in the first half of last year and laying off hundreds of staffers. Still, some analysts believe that the market for streaming services — which saw massive growth during the early days of the pandemic — may soon reach its saturation point.
As Netflix's stock declines and investors ramp up pressure to continue to expand its customer base, ads on Netflix will soon become a reality.
Netflix and Warner Bros. Discovery are canceling shows after previously renewing them for subsequent seasons, as they look to manage costs while still appealing to audiences.
The two men who will run the company moving forward, Peters and Sarandos, are longtime Netflix executives. Sarandos has been the chief architect of Netflix's original programming strategy, while Peters has been overseeing the building of the company's efforts in advertising, gaming and monetizing password sharing — seen as new areas to generate revenue.
"This is the right move at the right time," said Maribel Lopez, founder and principal analyst of Lopez Research, adding that Hastings was the CEO for subscriber growth, but now Netflix is transitioning to a leader focused on products meant to boost revenue per customer. "Running in a maturing market requires different skills than running a company for scale."
Sarandos was promoted to co-CEO in July 2020 and has moved past controversy in 2021 surrounding transphobic content in a Dave Chappelle special that upset Netflix employees. Key people in charge of Netflix's content strategy were rewarded with promotions and loftier titles Thursday. Bela Bajaria was named chief content officer. She was previously head of global TV. Scott Stuber, previously head of global films, is now chairman of Netflix film.
Succession planning has not always come easily to major media and entertainment companies. In 2020, Disney announced that longtime CEO Bob Iger was stepping down to become executive chairman and that his handpicked successor, Bob Chapek, would take on the CEO role. In November, the Disney board fired Chapek and replaced him with Iger for a two-year term.
There are challenges ahead for Netflix, including the continued ramp-up of competition in both the subscription and advertising markets.
"Reed has certainly won the war over the last two decades but the battles on content appeal relative to competitors and entering a very competitive AVOD (advertising video on demand) market will be intense," said Matthew Harrigan, a senior equity research analyst at Benchmark, who has a sell rating on the stock.
To attract cost-conscious consumers, Netflix in November rolled out a cheaper, ad-supported subscription in 12 countries. In the U.S., Netflix with ads costs $6.99 a month. It was the first time the streamer offered ads after years of being reluctant to do so. Its competitors, including HBO Max, Peacock and Paramount+, had already offered lower-cost video streaming options with ads.
Netflix said that it was pleased with the early results from its ad plans and that there was very little switching among its ad-free subscribers to the lower-cost plan with commercials.
"While it's still early days for ads and we have lots to do (in particular better targeting and measurement), we are pleased with our progress to date across every dimension: member experience, value to advertisers, and incremental contribution to our business," Netflix said in its letter to shareholders.
Some analysts believe Netflix is well positioned because big brands will be willing to spend to get access to the streamer's large audience. In a report from financial services firm Cowen & Co., 41% of 50 ad buyers it asked said they anticipate their largest client would advertise on Netflix this year.
Still, some analysts are skeptical about how popular Netflix's ad-supported plan will become.
Some industry analysts are scratching their heads over what they say was a missed opportunity for Netflix to capture more box office dollars had it gone with a wider theatrical run.
"I think it remains to be seen what happens," Harrigan said. "It isn't like they're doing something different than everyone else. They're actually playing catch-up on the advertising side."
Netflix's stock closed at $315.78 on Thursday, down 3%. In after-hours trading, the stock rose 7% to $338.95.
Inside the business of entertainment
The Wide Shot brings you news, analysis and insights on everything from streaming wars to production — and what it all means for the future.
You may occasionally receive promotional content from the Los Angeles Times.