Where to see 10 artists of Frieze around L.A. — ahead of the art fair
Frieze Los Angeles is rolling into town Feb. 17-20, with the contemporary art fair showcasing more than 100 international exhibitors in a tented enclosure next to the Beverly Hilton. The crowd promises to be nearly as colorful as the works for sale, studded with artists, collectors, celebrities, fashionistas and, perhaps, the occasional attendee in a cowboy hat with antlers and a fuzzy tail dangling from his bottom. (Hello, Frieze 2020.)
All of which may sound exciting for thrill-seekers or, for the COVID-cautious, terrifying.
The art fair will enforce COVID-safety protocols; but for anyone looking to get their Frieze fix on early, either to avoid the crowds or to get familiar with the artists before viewing or buying, here's where you can see some of the artists in exhibitions currently up around Los Angeles.
L.A. Louver
Leon Kossoff.
The late British artist's work
will be on view at L.A. Louver's Frieze booth, a presentation of paintings and drawings called "Masterworks From Los Angeles Collections." But why wait? The Venice gallery is currently showing a retrospective of the artist's work, "Leon Kossoff: A Life in Painting," through late March. In Kossoff's Expressionist reworkings, Times critic Christopher Knight
points out
that "it's often hard to tell whether we are witnessing a joyful bacchanal or a deadly massacre, a revelry or a riot." The exhibition, part of a three-city tour, includes more than 20 works — the largest gallery presentation
of the artist's work in more than 20 years — and features figurative work, landscapes and two "transcriptions," or interpretations, of 17th century works by Nicolas Poussin, an artist whose work Kossoff studied at London's National Gallery. The show is a good primer to the upcoming J. Paul Getty exhibition
"Poussin and the Dance,"
opening Feb 15.
More Info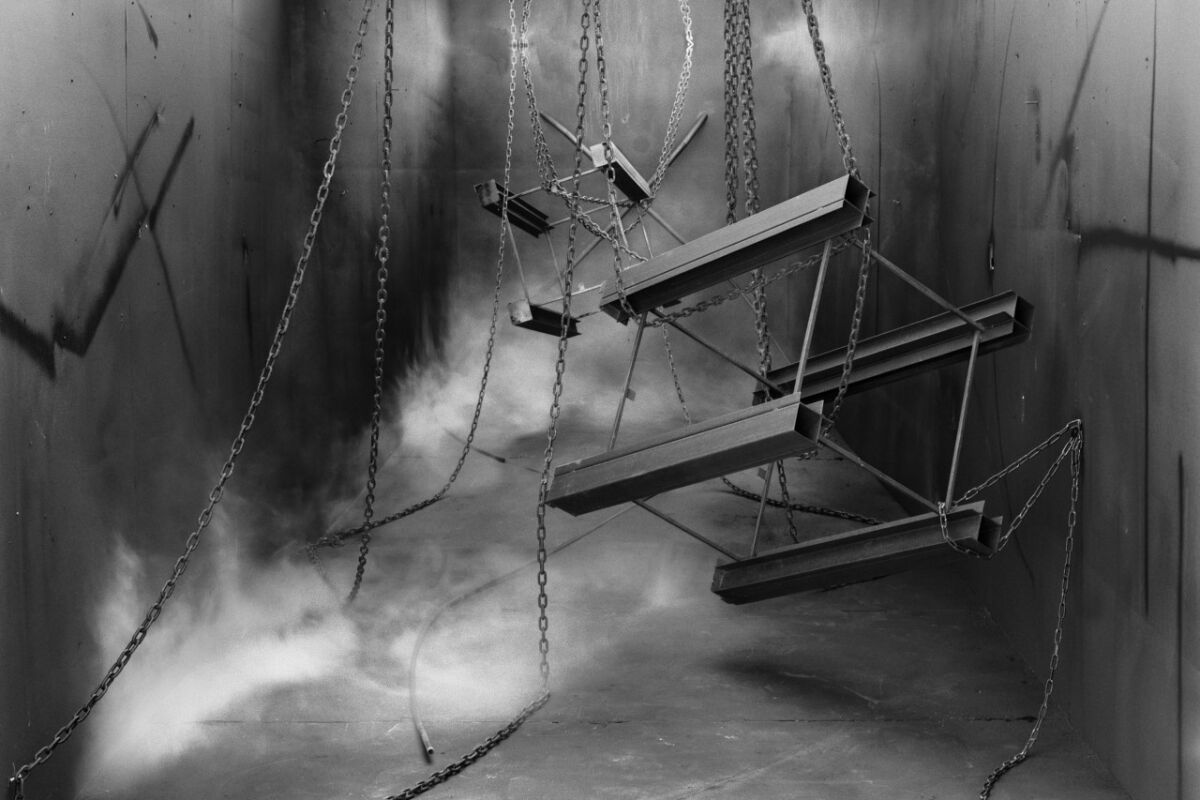 Luis De Jesus Los Angeles
Rodrigo Valenzuela.
Industry, automation and displacement, along with workers' struggles for unionization, are longtime interests of
Valenzuela
, whose photography and cast concrete sculptures will be on view at
Luis De Jesus Los Angeles' booth.
Get familiar with
the L.A.-based Chilean artist's photography first, however,
in "New Works for a Post-Worker's World," the downtown L.A. gallery's first solo presentation of his work. Valenzuela is an assistant professor at UCLA, and his black and white images in the current show, the gallery writes, "suggest the roaring steel mills of the past, quickly abandoned once outdated, while also offering a retro futuristic vision in which workers and machines devised a better plan than their mutually assured futility."
More Info
NeueHouse Bradbury
Anna Sew Hoy and Glen Wilson.
Various Small Fires' booth at Frieze will include a group exhibition of artists who are working globally and making sculpture, photography and paintings about living cross-culturally. Two of those artists,
Hoy
and
Wilson
, are both L.A. based and have separate work on view right now in a group exhibition at NeueHouse Bradbury called "Mystic Truths." That group exhibition, consisting of 14 artists from around the U.S., features paintings, sculpture, photography and video work
exploring surrealism, contrast and opposing truths. NeueHouse is a private membership club and working space but visitors to the exhibition can make a reservation at the bar, which is accessible to the public. And the iconic building where NeueHouse is located, the Bradbury, is an architectural landmark of L.A. that's worth the visit.
More Info
Los Angeles County Museum of Art
Kehinde Wiley, Calida Rawles, Catherine Opie at LACMA.
The Los Angeles County Museum of Art's substantial and stunning
"Black American Portraits"
exhibition, up through April 17,
features
140 works by 110 artists. Several of the artists in this exhibition will be showing work at Frieze, through different galleries.
Wiley
— whose 2018 portrait of
former
President Obama was also on view at LACMA in a
separate exhibition
that included Amy Sherald's portrait of former First Lady Michelle Obama — will be part of Roberts Projects' group exhibition at Frieze. The gallery will present a new portrait by Wiley. The L.A. based
Rawles
will be on view at Various Small Fires' booth, and
Opie
will be part of Regen Projects' Frieze presentation. But see them all first at LACMA — the exhibition is one of the museum's finest in a long while.
More Info
The Broad
Elliott Hundley and Lari Pittman at the Broad
—
along with Opie.
Regen Projects is also presenting work by
Hundley
and
Pittman
at Frieze. Both, along with Opie — all important L.A. artists — are part of the Broad museum's
"Since Unveiling: Selected Acquisitions of a Decade."
The exhibition features 53 works by 27 artists — including Mark Bradford, Cindy Sherman, Kara Walker and Kerry James Marshall — and highlights how the museum's collection of
postwar and contemporary art has grown over the last 10 years.
More Info
Château Shatto
Zeinab Saleh.
The London-based
Kenyan artist's
charcoal drawings over acrylic paint — works on paper —
will be part of a group exhibition at Château Shatto's Frieze booth, which will also include paintings by the Melbourne-based Helen Johnson and the Marfa, Texas-based Van Hanos as well as a large-scale, silicon sculpture by the New York-based Aria Dean. But the downtown L.A. gallery is currently exhibiting Saleh's first solo show in the U.S.,
"Softest place (on earth) [Extended mix]."
It features 18 works, both paintings and charcoal drawings, all observational abstracts.
More Info
Get our L.A. Goes Out newsletter, with the week's best events, to help you explore and experience our city.
You may occasionally receive promotional content from the Los Angeles Times.