The crime-thriller en français in 'The Night of the 12th'
Hello! I'm Mark Olsen. Welcome to another edition of your regular field guide to a world of Only Good Movies.
This week saw the reopening of Vidiots, in their new location in Eagle Rock. With a theater and a video store, the venue looks to be a vital addition to the local movie scene. I wrote all about it here.
Abel Ferrara in L.A. The American Cinematheque kicks off a 17-film retrospective of singular filmmaker Abel Ferrara tonight with a double feature of his early works "Ms .45" and "The Driller Killer," with a live score for "Ms .45" performed by Joe Delia. There will be a Ferrara Q&A between movies. The series also includes a live score for "The Addiction" plus a performance by Ferrara's band Flyz. While those are rare treats indeed, the real highlight of the series might be the for-true-sickos-only double feature of "Bad Lieutenant" and "Dangerous Game," a distillation of Ferrara's bracing confrontational style at its very best with the director in attendance. Other titles in the series include "King of New York," "Go Go Tales" and Ferrara's latest, "Padre Pio."
Concert films at the Academy. The sound systems at the Academy museum theaters are going to get a workout with the series "Summer of Music: Concert Films 1959-2020." Every title is worth seeing (in particular with the booming sound system of the museum's David Geffen Theater), notably "Homecoming: A Film By Beyoncé," "Sign O' The Times," "Depeche Mode 101," "The Cure in Orange," "Soul Power," "Amazing Grace," "The Last Waltz," "Songs for Drella" and "The Beatles: Get Back — The Rooftop Concert."
Korean Women Directors. The Academy Museum has also launched "A New Wave of K-Cinema: Korean Women Directors," a 10-film look at how contemporary female filmmakers have been responding to issues of gender and class politics, domestic violence and the conditions of modern life. Titles include "Little Forest," "Lucky Chan-sil," "Take Care of My Cat" and "Paju," and scheduled guests for the series include director Yim Soon-rye, director Kim Cho-hee, director Jung July, and actor Kim Si-eun.
Enjoying this newsletter? Consider subscribing to the Los Angeles Times
Your support helps us deliver the news that matters most. Become a subscriber.
'The Night of the 12th'
Announcing with a title card at the very beginning that the central crime will go unsolved, "The Night of the 12th" is not a typical police procedural. Director and co-written by Dominik Moll, the film won six prizes at France's César Awards, including best picture and director, for its exploration of the shocking murder of a young woman named Clara (Lula Cotton Frapier) in a small town. The film is in theaters now.
For The Times, Justin Chang wrote, "Even the seasoned crime-fiction aficionado will be reminded here of not just the trauma of murder but also its invasive, disruptive power, the way it brings even tangential secrets into the open and turns the police into professional airers of dirty laundry. What emerges from this particular case is an expansive study in collective misogyny — the kind of free-floating contempt for women that holds sway over Clara's small hometown as well as this institution of ostensible law and order."
For the New York Times, Nicolas Rapold wrote, "Despite all the best intentions, 'cracking a case' just doesn't happen sometimes, and the movie (based on a nonfiction book by Pauline Guéna) matter-of-factly avoids the magical thinking we've absorbed from decades of macho crime-fighting yarns. Instead, it's a matter of coping with long-term, slow-motion frustrations and failure — something sadly closer to a lot of common experience than save-the-day heroism."
For rogerebert.com, Sheila O'Malley wrote, "The case reveals cracks in the lives of the men working to solve it. The men working on Clara's case want to solve it. They work round the clock. But 'something is amiss,' all right. That it takes Yohan so long to speak those words out loud — and that when he does so, it is to a woman he just met and not his male colleagues — isn't part of the problem. It is the problem."
For Vulture, Bilge Ebiri wrote, "Movies like 'Zodiac' use their tales of serial killers on the loose — decades of unsolved murders, presumably by the same person — to suggest an inchoate, growing sense of evil that corrupts institutions and human relationships. 'The Night of the 12th' is more modest. It's only about one murder. What makes it so chilling, however, is the way it connects that crime, and its lack of a solution, to a profoundly diseased social dynamic. If other movies of this type end on the troubling idea that the killer could be anybody, 'The Night of the 12th' dares to suggest that the killer, in some ways, is all of us."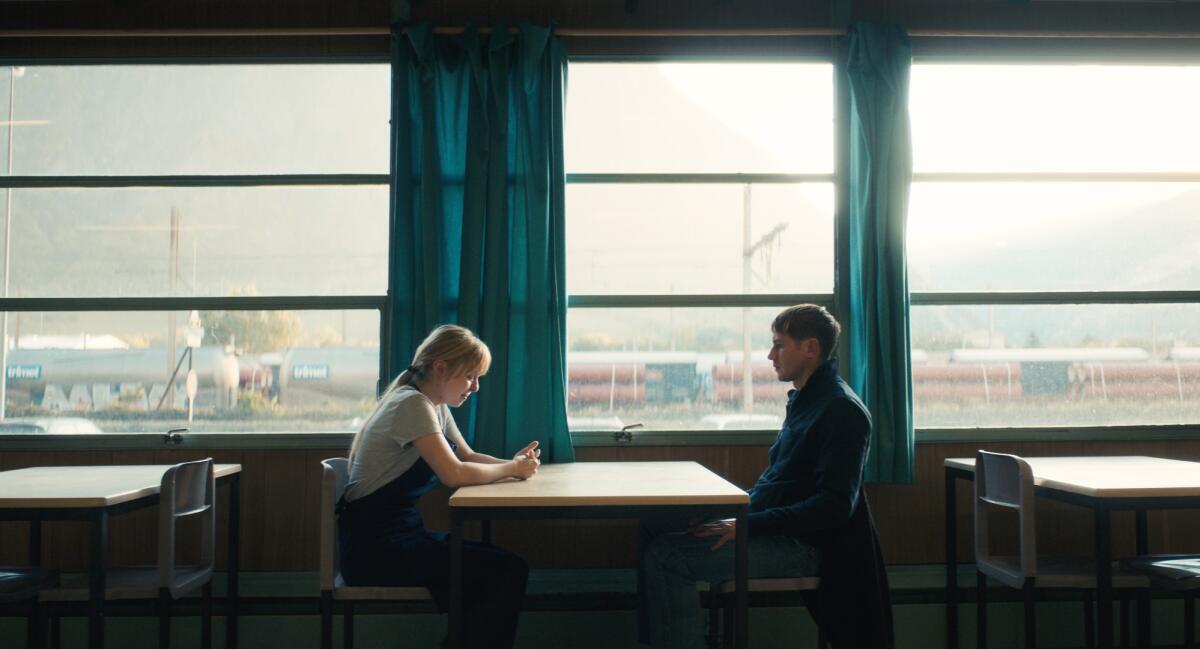 'Dalíland'
Director Mary Harron, whose films include "American Psycho," "The Notorious Bettie Page" and the Manson family story "Charlie Says," has always had a keen eye for alternative culture. She returns with "Dalíland," a look at the later life of artist Salvador Dalí. Played by Ben Kingsley (and in flashback moments by Ezra Miller), Dalí scrambles around early-'70s New York with his wife Gala (Barbara Sukowa), as seen through the eyes of a young assistant, James (Christopher Briney). The film is in theaters now.
For the Tribune News Service, Katie Walsh wrote, "It's easy to take for granted what's good about 'Dalíland,' namely Gala and Dalí as played by Sukowa and Kingsley. Sukowa's depiction of a Russian woman with a taste for drama and the finer things in life is over the top, but deadly accurate; Kingsley balances imperiousness and vulnerability beautifully and with an ease only he seems capable of achieving. Within the wild and wacky world of Dalíland, one never quite knows what's a carefully crafted performance of a persona and what's real, which is another layer to the conceptions of fame and identity in art that goes somewhat unexplored."
Jen Yamato spoke to Briney, one of the stars of the YA series "The Summer I Turned Pretty" making his film debut in the role of James. Of the role in "Dalíland," Briney said, "Being an observer is something that I really enjoy as a human — being an observer, a consumer of art. To be the filter through which people get to see Sir Ben and Dalí and his world and Mary's movie was the most exciting thing for me, to attempt to be the way into the story."
For the New York Times, Manohla Dargis wrote, "James isn't all that interesting, either, and there's too much of him in the movie. This isn't Briney's fault; he's pleasant to look at, and he manages his transition from tourist to accidental Dalí-wood guide well enough. It's just that once Dalí and Gala swan in, they immediately and rightly become the only characters you want to spend time with. They're entertaining, for one, having long settled into roles that feed their public profiles and public relations: She's the money-grubbing dominatrix while he alternately cowers, begs for her attention and upstages her. The relationship provides tension and mystery that the well-matched Kingsley and Sukowa complicate with gargoyle masks and shocks of vulnerability."
For the New Yorker, Richard Brody wrote, "The movie portrays Dalí not just as an artist but as someone playing the role of an artist — playing himself and turning his own character into a star on the world stage. His performance is mighty and relentless, and the movie requires an actor of comparable stature and flair to fill it: Ben Kingsley, who endows Dalí with the grandeur, the grandiosity, and the grandiloquence, the majestic self-absorption and the twinkling delight in the calculated and self-aware effectiveness of his own manner and mannerisms. In short, Kingsley unleashes the full force of his star power to rare effect. He persuasively conveys a real-life celebrity's all-consuming aura, bursting beyond the screen to embody his character's historic dimensions."
'The Angry Black Girl and Her Monster'
Written and directed by Bomani J. Story in her feature debut, "The Angry Black Girl and Her Monster" is a contemporary update of "Mary Shelley's Frankenstein." Precociously smart teenager Vicaria (Laya DeLeon Hayes) wants to cure death following the lost of her mother and brother to violence, so she sets out to bring her brother (Edem Atsu-Swanzy) back to life. The movie is in theaters now and on VOD.
For The Times, Sarah-Tai Black wrote, "While the film sets up its world in a promising way, offering Vicaria as a welcome intermediary in the brutality that too often attends working-class Black folks (especially Black boys and girls), we end up far too close to where we began: a wounded community in mourning and trying to survive in the wake of mass Black death. It's a story that has so much metamorphic and cathartic potential, such a breadth of freedom to reimagine ideas of life and death, as well as an opportunity to present a reparative and thrilling approach to both. Instead, 'The Angry Black Girl and Her Monster' settles for a two-step-forward, one-step-back mode of storytelling. While the capacity for life is returned to (most of) those who Vicaria cares for, it is, for me at least, no salve for the onscreen cruelty on which such a breakthrough depended."
For the New York Times, Kelli Weston wrote, "Fitting that Story should make his first feature a rendition of Mary Shelley's 1818 novel 'Frankenstein,' a famously fluid text that refuses classical genre divisions: It has all at once been deemed science fiction, gothic horror and women's fiction. But Shelley's monster always possessed a racial dimension that only a smattering of scholars have dared to confront. … The struggle, then, of cinema that concerns itself in any material way with the social conditions of Black life, is that it must account, too, for mass death. But fixing horror in the Black body is a tricky business, and 'The Angry Black Girl' stumbles in the same way its ancestor, 'Candyman' (1992), did."
Get the Indie Focus newsletter, Mark Olsen's weekly guide to the world of cinema.
You may occasionally receive promotional content from the Los Angeles Times.