For film lovers, Sundance matters as much as ever. Here are 19 (more) reasons why
PARK CITY, UTAH —
The 2023 Sundance Film Festival winds to a close this weekend, capping the festival's first in-person edition since the COVID-19 pandemic broke out in early 2020. Times film reporter Mark Olsen and film critic Justin Chang sat down to discuss what they saw and liked at the festival, and what it was like to be back on the ground in Park City for the first time in three years.
To commemorate next year's 40th edition of the Sundance Film Festival, we're spending 12 months looking at the lives of 7 members of this year's class.
Justin Chang: As we pore over the Sundance awards, Mark, I'm struck by a familiar response, albeit one I haven't experienced in three years: "Wow, that's a lot of movies — only a few of which I've seen." Sundance has four different competition sections — U.S. dramatic, U.S. documentary, world cinema dramatic, world cinema documentary — and few outside the festival's programming team could possibly see everything. Still, I'm glad I managed to catch several of the highlights, including the grand jury prizewinner, "A Thousand and One," A.V. Rockwell's stirring, deceptively straightforward-looking drama about a mother (a terrific Teyana Taylor) and her young son trying to get by over several years in Harlem, starting in the mid-1990s.
Rockwell's movie wasn't the flashiest entry in the U.S. dramatic competition, but that's partly what makes its victory so quietly satisfying. My personal jury of one might have differed from the actual jury in a few other respects: I'd have liked to see a prize go to Raven Jackson's "All Dirt Roads Taste of Salt," a rare example of a pure art film in this competition, and one of the few that — unlike some of the other honorees (and I'll leave it at that) — chose to tell its story in a primarily cinematic language, using images, textures and associations rather than spoon-feeding us reams and reams of dialogue.
Beyond the American narratives, I was pleased to see "The Eternal Memory," Maite Alberdi's touching portrait of the Chilean TV personality Augusto Góngora and his battle with Alzheimer's disease, take top honors in the world cinema documentary competition. The unsurprising winner of the audience award in that section was "20 Days in Mariupol," Mstyslav Chernov's thoroughly devastating assembly of footage that he and his fellow Ukrainian journalists shot in the port city of Mariupol, during the early days of a Russian invasion that continues unabated nearly a year later. It's hard to watch, and also vitally important that we do.
Mark Olsen: As we say every year, the world cinema titles at the festival are far too easy to overlook. Among the few films I saw from the section this year, Charlotte Regan's "Scrapper" was a clear standout, so it's no great shock it won the grand jury prize in the section. Starring Harris Dickinson ("Triangle of Sadness") and young Lola Campbell, the film's story of an estranged young father returning to care for his 12-year-old daughter after the death of her mother adds a heartfelt earnestness and whimsical sense of humor to what could have been a more dour drama.
As you point out, Justin, there is no way to see all the films in the competitions, let alone all the films in the festival. Throughout my time in Park City, back for the first time in three years, I found myself asking one essential question: "Is this weird?" There was the muscle memory of where the various venues are and how to get there, hopping on and off shuttle buses, navigating hazards of snow and ice, waiting in lines and settling into a theater seat in a cocoon of layers and coats. That all seemed normal enough. But layered over it was a feeling of anxiety, wondering if this was actually all a good idea, to be crammed together in tight indoor spaces with others. I have been to in-person festivals since the start of the COVID era, but something about the Sundance experience brought this to the forefront.
Then there is the fact that the industry itself feels so in-transition, as what the film business will look like moving forward seems shrouded in uncertainty. Who are these movies for and how will anyone see them is a looming question that one has to ask at pretty much the end of every screening. The addition of an online viewing platform as part of the festival did change the experience in ways I am still processing, as one could go by the schedule of what was playing in theaters, with excited crowds and filmmakers sharing in the emotions of the moment, or you could create an à la carte festival at home that for all its efficiency felt more removed and isolated.
Something like writer-director Angus MacLachlan's "A Little Prayer" felt like a welcome throwback to an old-school Sundance movie, an emotionally detailed character study simply told and charged by exquisite performances. There were few moments as impactful as the tenderly empathetic conversations between Jane Levy and David Strathairn as a woman in a bad marriage and her father-in-law who wants to help her somehow become unstuck. (It was also exciting to see the film among the festival's sales, going to Sony Pictures Classics, and to think there may still be room in the marketplace for a movie such as this.)
Babak Jalali's "Fremont" manages to make the deadpan sensibilities of classic American independent films into something fresh. Donya (Anaita Wali Zada, in a fantastic debut) was a translator for the U.S. government in her native Afghanistan and now finds herself adrift in rural Fremont, Calif., where her job at a fortune cookie factory becomes an unexpected outlet of expression. With supporting roles by Gregg Turkington as a therapist obsessed by Jack London's "White Fang" and "The Bear's" Jeremy Allen White as a melancholy auto mechanic, the film is a cross-cultural comedy that explores the freedom of being lost and the exhilaration of finding oneself.
Chang: I know what you mean, Mark, about the particular strangeness of returning to Sundance and resuming its familiar rituals. Maybe it's felt weirder because three years have passed; other festivals such as Cannes, Telluride and Toronto bounced back more quickly from COVID for a lot of reasons, their more temperate climes surely being one of them. And the online viewing platform you mention is surely another: It was a shrewd decision for the festival to maintain the digital option that helped it to survive and even find new audiences during the pandemic. At the same time, the greater ease, convenience and accessibility that it afforded so many critics, programmers, buyers and moviegoers couldn't help but feel like a concession to the dwindling screens and dispiriting economics of the industry.
I have written about my own personal impatience with the question, "Who is this film for?" — a necessary business consideration for sales agents and distributors, but one that sometimes reduces the potential and unpredictable power of movies, and overlooks the intelligence and curiosity of the audience. At the same time, I can't deny that "Past Lives," the remarkable debut feature of the playwright Celine Song, was very much for me — though hardly for me alone. For many of us, this soulfully written and superbly acted drama, set across 24 years in the lives of two Korean-born childhood sweethearts separated by time and distance, was easily the film of the festival. Beautifully acted by Greta Lee and Teo Yoo (with disarming support from John Magaro in a key role), it achieves a rare alchemy of contemplative distance and up-close-and-personal intimacy. The result was both the most achingly romantic movie I saw at Sundance and the most disarmingly philosophical.
Romance of a much more torrid and unruly nature could be found in "Passages," the latest and perhaps most tempestuous feature yet from the writer-director Ira Sachs. The title of his much-acclaimed "Love Is Strange" could just as well apply to this sexy and skillfully triangulated Paris-set drama, in which two sane, reasonable individuals (played by Ben Whishaw and Adèle Exarchopoulos) are caught up in the toxic spell of a monstrously egomaniacal film director. He's played by German actor Franz Rogowski, who's been quietly establishing himself as one of the finest actors working today ("Transit," "Great Freedom"), and who's seldom been so fearless or intense, so mesmerizingly abrasive, so prone to wearing mesh crop-tops (when he bothers to wear anything at all).
Both "Passages" and "Past Lives," like "A Little Prayer," premiered in Sundance's high-profile Premieres section. I'm curious, Mark, did you encounter any discoveries in other sections of the festival?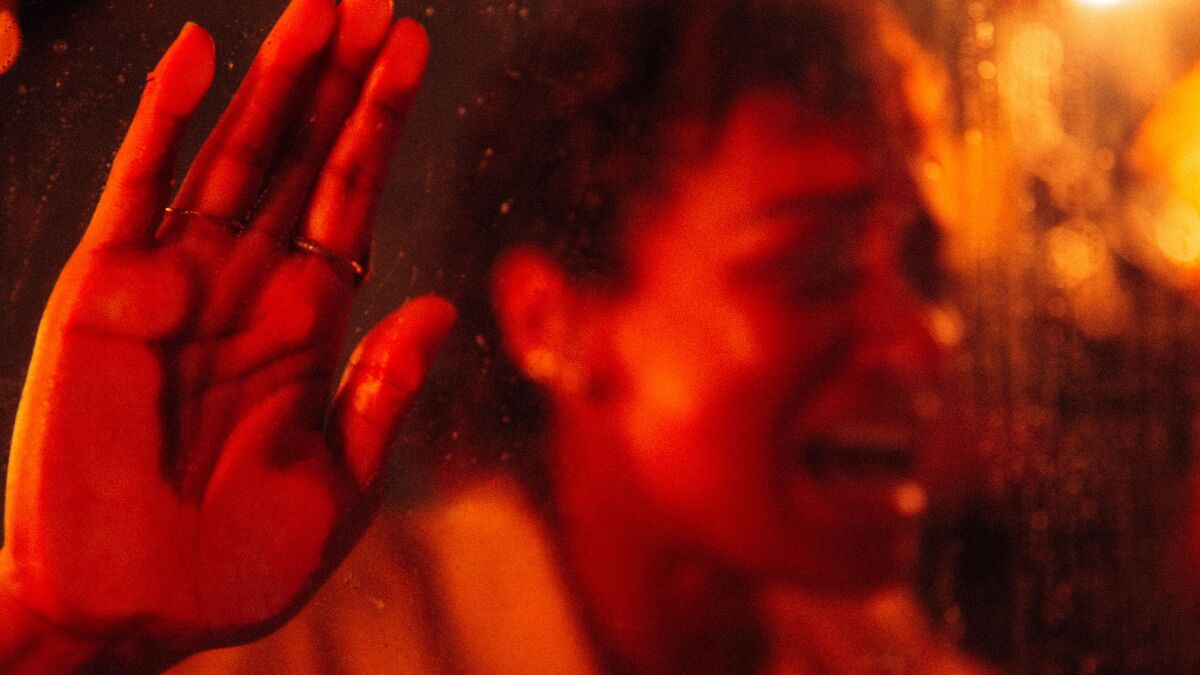 Olsen: The festival's Nextsection, where "Fremont" premiered, has long been the most reliably adventuresome section of the festival. There were a number of intriguing, form-defying documentaries this year, such as "Kim's Video," "The Tuba Thieves," "King Coal" and "Kokomo City" (winner of the Next Innovator Award) that one hopes can reach wider audiences beyond Park City.
If one is looking for a way to work through anxiety, then the horror-centric offerings of the Midnight section can often be a place of unexpected solace, a repository for bad feelings. This year's midnight selections ranged from Brandon Cronenberg's deeply disorienting sci-fi/horror hybrid "Infinity Pool" to the lively blend of martial arts action and family comedy in Nida Manzoor's "Polite Society."
Directed by the twin brother duo of Danny and Michael Philippou, "Talk to Me" is a horror-thriller with a very contemporary twist. Clasping onto the sculptural form of a hand of unknown provenance puts a person in contact with a spirit who briefly overtakes the host's body. A group of teenagers all do it at seances that are part ceremonies, mostly parties and record each other with their phones. But there is a danger of getting permanently possessed if the spell isn't broken fast enough and the border between this world and the spirit realm becomes increasingly unstable.
The Philippou brothers have a wildly successful YouTube channel, and the movie feels bracingly of-the-moment. One of the actors was on my flight out of Park City and having just watched the movie the night before, I was too freaked to even compliment them on the film. It made sense the movie was picked up during the festival by distributor A24, which has a way of tapping into the youth market like no other company.
Chang: A24's acquisition of "Talk to Me" speaks not only to their knowledge of their audience, but also perhaps to the ongoing viability of horror as a theatrical proposition (something we'll see tested this weekend when Neon releases "Infinity Pool"). There were other deals too, including Searchlight Pictures' $8-million pickup of Molly Gordon and Nick Lieberman's scrappy let's-put-on-a-show mockumentary, "Theater Camp." The movie is pretty hit-and-miss, though its ensemble acting prize from the U.S. dramatic competition jury was hard to begrudge.
Still, it was the streamers that shelled out the most in Park City this year. Apple, which scored a coup with its acquisition of future best picture Oscar winner "CODA" back in 2021, paid around $20 million for another music-themed crowd-pleaser called "Flora and Son." Directed by John Carney ("Once," "Sing Street") and graced by a terrifically funny lead turn by Eve Hewson, it'll slip easily enough onto home screens, though I was glad to have seen it with a crowd. Elsewhere, Netflix dropped $20 million on "Fair Play," Chloe Domont's wickedly barbed thriller set in the corridors of Wall Street power.
Olsen: All of this is maybe a very roundabout way of saying it was great to be back. The unexpected connections and interactions of an in-person festival simply can't be duplicated in a virtual world. (There isn't really enough room here to fully tell the tale of an Uber driver whose car got iced in after dropping someone off next door and ended up spending the better part of an evening in the condo of Team LAT waiting for a tow truck.) Why did so many movies feature fake-out disaster moments that turned out to be fantasy reveries? Perhaps we've all been living in our own heads for so long, the distinction between what's real and what's not has become deceptively mutable.
Chang: My head is certainly spinning. But as we bid farewell to Sundance, Mark, and parse what this year's bounty means for the precarious future of independent film, it feels essential that we acknowledge the memory of someone who loved and championed cinema of every kind — as a film festival programmer and director, as a curator, as a consultant, and as a writer and critic. I'm speaking of Noah Cowan, who died Jan. 25 at the age of 55, casting a pall over Park City and the entire film community to which he devoted so much. As I write this, I'm reminded of an awards jury he and I served on together more than a decade ago, and the wit, passion and critical acuity he brought to the discussion. I'm also reminded of the work he did to bring diverse national cinemas, especially Japanese and Indian cinema, to greater attention from North American audiences.
Those who knew him best — especially those who worked alongside him at the Toronto International Film Festival and the San Francisco Film Society, or at his nonprofit Global Film Initiative or the art-house distributor he founded, Cowboy Pictures — have their own memories and thoughts on what Noah meant to them, and to the movies. No one can replace him, or wear all the hats he wore, or do what he did so inimitably and tirelessly. But we can all try to follow his example regardless, by loving this difficult, exhilarating medium without compromise or apology, and by remembering that there is always something new and potentially great on the horizon.
Get our L.A. Goes Out newsletter, with the week's best events, to help you explore and experience our city.
You may occasionally receive promotional content from the Los Angeles Times.