Review: Full of big ideas, the political thriller '88' is too complex for its own good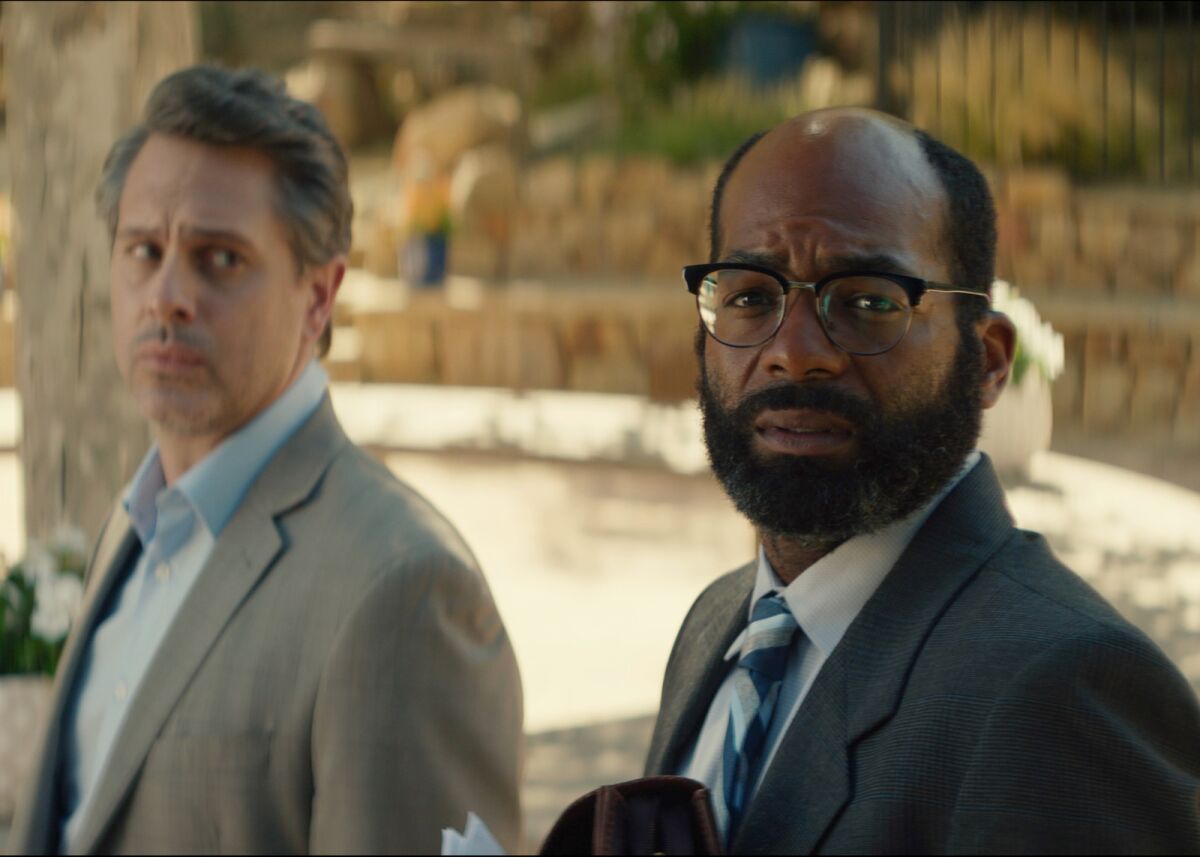 The political thriller "88" is a movie of ideas. Many, many ideas. It's a film with a lot on its mind and a great deal to say about a host of vital topics. Taken piece by piece, this is not necessarily a bad thing. But overall, the approach proves too cluttered and diffused, especially if the goal — as it should be here — is to build real dramatic tension.
The picture — written, directed and edited by Nigerian British filmmaker Eromose (2010's Idris Elba thriller "Legacy"), who was also a producer — is absorbing and intriguing when it stays focused on its primary plot. This involves a conspiracy uncovered by Femi Jackson (Brandon Victor Dixon), the new financial director of L.A.-based One USA, a super PAC working to elect Democratic presidential hopeful Harold Roundtree (Orlando Jones). The question: Did One USA's anxious head (Amy Sloan), eyes-on-the-prize deputy executive director (Michael J. Harney) and the unflappable, seemingly centrist Roundtree know about their PAC's shadowy funding? The answer: It's complicated.
Femi, with the help of his investment blogger friend, Ira (Thomas Sadoski), unravels the sinister and alarming source of the bulk of One USA's donations — and its arcane connection to the number 88. Meanwhile, Eromose packs in a blunt and expository series of history lessons covering Nazi Germany, the Holocaust, white supremacy, slavery, political corruption and hypocrisy, a multi-pronged look at racism, Nixon's war on drugs and more, complete with an intrusive array of archival photos and footage. There's even an animated sequence highlighting the 2010 Supreme Court decision (Citizens United vs. Federal Election Commission) that infamously opened the floodgates for unlimited spending on political campaigns.
You may want to take notes.
Elsewhere, in an illustrative if dispensable subplot, Femi's forthright, pregnant, bank employee wife, Maria (Naturi Naughton), is trying to secure a small-business loan for a former convicted drug dealer (Elimu Nelson), despite her company's policy denying credit to ex-felons. Again, although this is a significant area to explore (as is Femi's visually enhanced talk with young son Ola about encountering the police as a Black male), it leads to speechifying and narrative digression.
Femi and Ira's at times chilling journey to nail the awful truth about One USA's backing ahead of the presidential primaries is intercut with snippets of a moody TV interview between Roundtree and a Charlie Rose-like interviewer (William Fichtner) even-handedly grilling the smooth candidate. Though hardly a unique device, it's the kind of effective, innate way to present information that the film should have used more often.
An elusive meeting between Femi and elderly, ailing author, conspiracy theorist and onetime German national Hans Muller (Jonathan Weir) is also vividly rendered.
It all leads to a final showdown in which Femi and Ira face off against Roundtree and his glad-handing campaign manager (Jon Tenney), during which a disturbingly plausible theory on the intersection of race, politics, money and power comes to light.
Ultimately, though, this provocative, hard-working film, which was executive produced by popular syndicated radio and TV talk show host Charlamagne Tha God, leaves us hanging in a way that feels more performative than stirring.
As Femi, Dixon (TV's "Rent: Live" and "The Best Man: The Final Chapters") is smart, earnest and committed but, at least as directed, lacks the level of energy and charisma needed to best anchor this sort of investigative thriller. His character is also saddled with a few traits — he's a recovering alcoholic, often looks rumpled — that don't add the dimension they aim to. That said, we still root for Femi to win the day.
The rest of the ensemble cast is largely strong, especially Sadoski, Jones, Naughton and Fichtner. In addition, the film does an admirable job in the diversity department.
At its best, "88" evokes elements of such 1970s paranoid thrillers as "The Parallax View," "Three Days of the Condor" and even "All the President's Men," which posited that if you think our political system is sinister, you don't know the half of it.
'88'
Not rated



Running time: 2 hours, 2 minutes



Playing: Starts Feb. 17, Laemmle Monica Film Center, Santa Monica; Regal Foothill Towne Center, Foothill Ranch
Get our L.A. Goes Out newsletter, with the week's best events, to help you explore and experience our city.
You may occasionally receive promotional content from the Los Angeles Times.