Gallop to Dominique Knowles' new exhibit dedicated to his late horse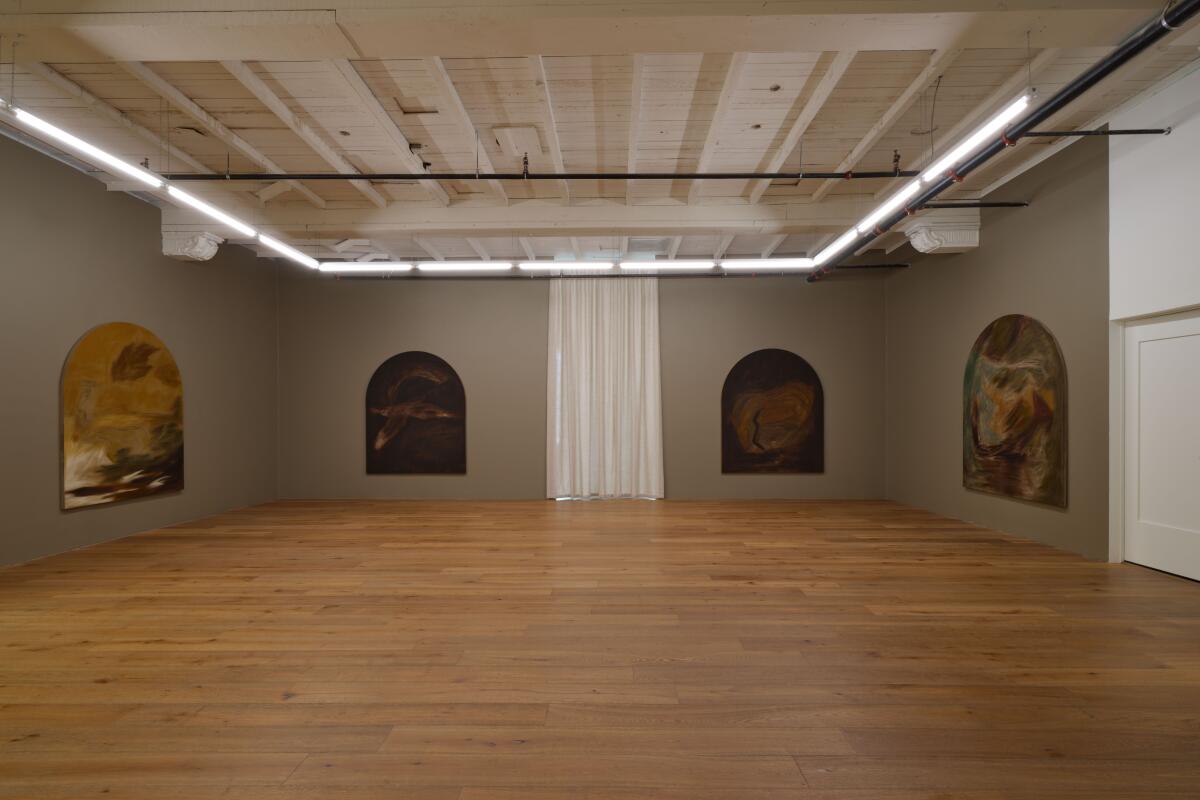 I sunk my teeth into Olivia Rodrigo's new single "Vampire" this weekend to distract myself from the Supreme Court's latest decisions. In the words of Robert Pattinson's Edward Cullen from "Twilight," "You better hold on tight, spider monkey." July is here and hopefully it's smoother than last month. I'm Steven Vargas, your L.A. Goes Out host, and here are the top events for this upcoming weekend recommended by the crew. (Sign up here for the newsletter.)
Weekly countdown
1. 'Dominique Knowles: My Beloved'
Artist Dominique Knowles honors his late horse that passed away in 2021 with an exhibition at Hannah Hoffman Gallery in Westlake. "My Beloved" features large-scale paintings depicting horses with brushstrokes that mimic the brushing of a horse's mane.
"Drawing the lines felt more like body art or performance, and you're sculpting and carving this horse out of the picture frame," Knowles told The Times about his life-size equestrian portraits. "It felt the same as when I was brushing the horse."
The exhibition has religious undertones, as seen in one painting that is shaped like an altar.
"I wanted to elaborate more on the atmospheric landscape, equestrian portrait and male nudes that I was painting in a way that I could construct a more sacred or cathedral or altar-like architecture into the paintings," Knowles told The Times.
In addition to crafting an altar out of the paintings, he also uses the walls of the gallery to enhance his work, using the architecture of the room to his advantage. Most exhibition spaces are starkly white, allowing the work on the walls to pop. However, Knowles thought the walls had more to say. "My Beloved" is adorned with grayish brown walls that allow the story of the paintings to flow from one work to the next.
"I really wanted it to be the same as moving from one page to the next and the brown allows the paintings to absorb into the back space of the wall," he said.
Knowles works with analogous colors, hues of brown. As the color seeps into the walls, the shadows and highlights of the paintings appear much softer than they would if displayed on white walls, he said. The exhibition is consumed "as one whole" narrative, Knowles said, making the end of the exhibit much more illuminating.
"My Beloved" runs until July 22 and the gallery is open from 11 a.m. to 5 p.m. Tuesday through Saturday. More details on the free exhibition can be found on Hannah Hoffman Gallery's website.
Get our L.A. Goes Out newsletter, with the week's best events, to help you explore and experience our city.
You may occasionally receive promotional content from the Los Angeles Times.
2. Dance in Focus Film Festival
The Music Center, in association with Dance Camera West, presents Dance in Focus Film Festival: Reflections. The event features autobiographical and self-portrait dance films, taking a page from the biographical ballet "Frida," choreographed by Annabelle Lopez Ochoa and coming to the the Music Center on July 14. The ballet is an homage to the life of prolific Mexican painter Frida Kahlo and will be performed by the Dutch National Ballet as part of a residency with the Music Center. The films being screened at the festival include "Moving Portraits" by Himerria Wortham and Raquel Cabrera, "Topia" by Jessie Lee Thorne and Justin Thorne and student film "The Whirlwind" by Kate Ketcham and Julia Ponce Díaz. The festival will hold screenings from July 12 to 16 at Jerry Moss Plaza and in the Dorothy Chandler Pavilion. More information on the free festival can be found on the Music Center's website.
3. 'Close to the Edge: The Birth of Hip-Hop Architecture'
Just in time for the 50th anniversary of hip-hop, the SoCal National Organization of Minority Architects, the A+D Museum and Helms Bakery District present "Close to the Edge: The Birth of Hip-Hop Architecture." The exhibition curated and designed by Sekou Cooke explores the world of hip-hop — from emceeing to b-boying — to explore its influence on design and architecture. For the exhibition, Cooke teamed up with the artist Prime for "an architecture show that is less about tracking ponderous architectural theories and more about the ways in which the aesthetics of music and graffiti have shaped the world we inhabit," Times art and design critic Carolina A. Miranda said of her recommendation. "Close to the Edge" is free and can be viewed from noon to 6 p.m. Thursday to Sunday. The exhibition runs until Sept. 17 and more information can be found on Helms Bakery District's website.
4. Summer of Paris Chamber Music Festival
Take in Paris without leaving L.A. at the New Hollywood String Quartet's upcoming show. The quartet and the Da Camera Society present the Summer of Paris Chamber Music Festival with compositions by Claude Debussy and Maurice Ravel. This fourth iteration of the fest, with the impressionist music of French composers from the early 20th century, comes recommended by Times classical music critic Mark Swed. Start your Parisian musical journey with a concert at 8 p.m. Thursday. The festival, which runs through Sunday, takes place at the Doheny Mansion in University Park and tickets range from $40 to $110. More information can be found on New Hollywood String Quartet's website.
5. 'Garden of Alla: The Alla Nazimova Story'
This multimedia solo show tells the story of a famous Broadway star and silent film legend who went on to become a trailblazing lesbian icon. Theatre West's production of "Garden of Alla: The Alla Nazimova Story" immerses the viewer into a live silent movie with dynamic video design by Adam Jesse Burns and a haunting score by Nick T. Moore. The solo show documents Nazimova's journey as a Jewish immigrant who escaped czarist Crimea and went on to become one of the first female directors and producers in Hollywood. The show, recommended by The Times' Jessica Gelt, opens Friday and runs until July 23 with shows at 8 p.m. Fridays and Saturdays, and at 2 p.m. Sundays. Tickets range from $30 to $40 at Theatre West's Hollywood Hills theater. More information can be found on the theater's website.
Bonus round: 'Temporal'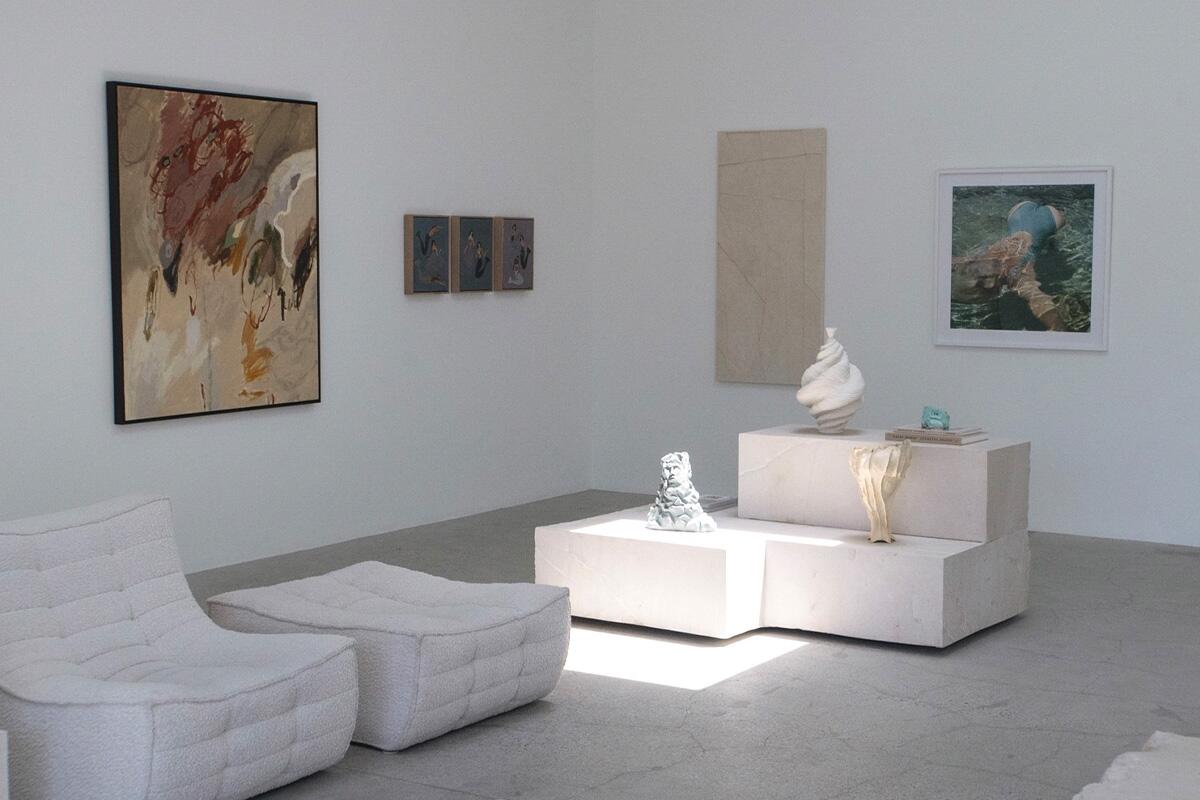 Tappan Gallery in Beverly Grove has a new group exhibition titled "Temporal" that brings together artistic work exploring the relationship between time and nature. Artists of various mediums, including paintings and ceramics, explore the intersection by capturing moments of stillness in nature, depicting frozen waves, sand and greenery. The gallery space is designed to resemble a family room, allowing visitors to envision the work in living spaces. "Temporal" runs until Sept. 17 and the free gallery is open from 11 a.m. to 6 p.m. Monday to Saturday. More information can be found on Tappan Gallery's website.
Your L.A. weekend, all mapped out
For a more comprehensive roundup of exhibitions, concerts, screenings, festivals and other events, check out Matt Cooper's Culture Guide. The mapped list is a go-to for those who make plans based on the commute, and it also can be filtered by event type and price.
Go out speed round
Go out before it closes: Odyssey Theatre in Sawtelle has a visiting production presented by Christopher Sepulveda and 3Gems Productions coming to a close this weekend. Greg Burdick's new play "Accommodation" follows a concerned parent who confronts a high school science teacher about not following state- and federal-mandated modifications for her son's learning disability. A simple conference quickly evolves into a high-stakes lawsuit. The remaining shows are at 8 p.m. Thursday through Saturday and at 2 p.m. Sunday. Tickets cost $32 to $42 and can be purchased on Odyssey Theatre's website.
Go out for free: The Future Perfect presents "Remembrance," a solo exhibition by Jane Yang-D'Haene featuring ceramic works that reflect heritage, memory and identity. Yang-D'Haene uses her sculptures to display Korean landscapes and folk art, digging into memories and generational artistic traditions. The exhibition can be viewed at the Goldwyn House in Hollywood Hills until Aug. 4. Details on the free exhibition and how to view it can be found on the Future Perfect's website.
Go out and learn: Oxy Arts in Eagle Rock presents a Raï dance workshop with Esraa Warda, coinciding with the gallery's latest group exhibition about queer and feminist resistance, "for the sake of dancing in the street." The free workshop teaches the movement of Raï — popular, grassroots music of western Algeria — instructing you on the fundamental rhythmic footwork associated with the art form of protest. The workshop at the Occidental College gallery is from 1 to 2 p.m. Saturday. Following the workshop will be a Raï dance performance at 6 p.m. by Warda and percussionist Fella Oudane. You can find more details and RSVP information on the Oxy Arts website.
Go out with the kids: Take the kids to Bubble World and get immersed in a playful adventure of the senses. Bubble World in Montebello includes 11 themed rooms filled with activities, mesmerizing landscapes and bubbles (of course). These bubbles come in all forms, from soap bubbles to balloons. Speaking of balloons, the event also includes a VR experience that takes you to new heights on a hot air balloon. The immersive experience runs until August and tickets range from $27.90 to $51.90. More information can be found on the event's website.
Go out on a date: Eight Ball Theatre's inaugural production, "The Fire at the Edge of the Earth," makes its way to the Hudson Guild Theatre in Hollywood this weekend. The two-man play uses a classic myth to focus on a heartfelt queer relationship on the verge of ending. The play offers an intimate look at the perseverance of queer love in a heteronormative world. "The Fire at the Edge of the Earth" opens Saturday and runs until July 30 with performances at 8:30 p.m. Saturdays and 2:30 p.m. Sundays. Tickets cost $21 and more information can be found on the event's website.
Go out all day: If you're a history buff looking to keep the Pride vibes going, check out Esotouric's upcoming tour "The Run: Gay Downtown History Walking Tour." The organization will guide you through landmark 20th century LGBTQ+ events centered along the Run, a circuit of queer-friendly spaces in downtown L.A. that offered a safe space at a time when homosexuality was illegal. The tour includes special guest historians Nathan Marsak and Bob Wolfe, who will help guide you through the locations of political organizing and discreet bars. The walk is from 10:30 a.m. to 1:30 p.m. Saturday and tickets are $50. More details on the event can be found on Esotouric's website.
Go out all weekend: Spend your weekend discovering new plays and up-and-coming writers with the Road Theatre Company's Summer Playwrights Festival. Starting Friday, the theater company in North Hollywood will present a series of 25 plays over the span of 10 days. These staged readings begin with "The Rimsky-Fogelman" by Andrew R. Heinze at 8 p.m. Friday and continue with eight more plays packed into Saturday and Sunday. Tickets are a suggested donation of $15 and more information can be found on the theater company's website.
Go out and wander: This traveling exhibition offers a historic look at Auschwitz, the Nazis' largest concentration camp. Through 700 original objects, the exhibition shares the stories of those who lived through one of the darkest chapters of history. Underneath the horrors of the exhibition documenting the cruelty of World War II is a message about safeguarding human dignity, empathy and tolerance. The exhibition at the Ronald Reagan Presidential Library in Simi Valley is organized by Neon Global and will be in Southern California until Aug. 13. Tickets range from $19.95 to $29.95 and more information is available on the exhibition's website.
Go out to a movie: If you're a fan of Jordan Peele's films, make your way to the Academy Museum of Motion Pictures in Mid-Wilshire for a special 70mm screening of "Nope." The event includes a pre-screening conversation with writer Harmony Holiday, filmmaker Nicole Miller, cultural critic Jared Sexton and moderator Mason Richards. The movie, starring Daniel Kaluuya and Keke Palmer, is an inventive collision of Western noir and science fiction, following a sibling duo seeking the truth behind their father's death. Tickets to the screening at 7:30 p.m. Thursday range from $5 to $10. More information can be found on the Academy Museum's website.
More from the crew here
If you're not feeling social this weekend, try one of these 13 chill L.A. parks for when you want to do absolutely nothing.
Got a new apartment or simply looking to revitalize your space? Here are the 18 best stores to find Midcentury Modern furniture in L.A.
Tinned fish isn't just Chicken of the Sea. It can also be a delicacy. Here are the best places in the city to expand your canned-seafood palate.
California is home to some of the greatest state parks. Here are 7 you can't miss.
I'm all ears!
That's all I've got for this week. Follow our feed of recommendations and itineraries on Instagram and Twitter, and if you have recs of your own, send them to steven.vargas@latimes.com.
Get our L.A. Goes Out newsletter, with the week's best events, to help you explore and experience our city.
You may occasionally receive promotional content from the Los Angeles Times.