How one studio is reverse engineering a video game using TikTok
Whether it's a hit TV show like HBO's "The Last of Us" or an interactive theme park land like Universal Studios' Super Nintendo World, video games are ripe for adaptation and reinterpretation.
But what if the game isn't established IP? What if the game hasn't even been released yet?
With "Ashfall," Liithos Chief Executive and founder Michael Mumbauer and VP of Creative John Garvin (who wrote and created the game) are banking on their characters and immersive world being strong enough to draw fans before any game-play. First, through a five-episode TikTok show that ends Sunday, then with a comic book that will launch in March. All this comes years before the game will be completed.
"Ashfall" explores a post-apocalyptic world set in the Pacific Northwest, where Seattle has been submerged in the ocean for hundreds of years. Climate catastrophe has changed the world and civilization has devolved into factions and enclaves. At the foot of erupting Mt. Rainier, Ash Naranjo is taken by the Order of Life Science, who give him prosthetic arms and other implants.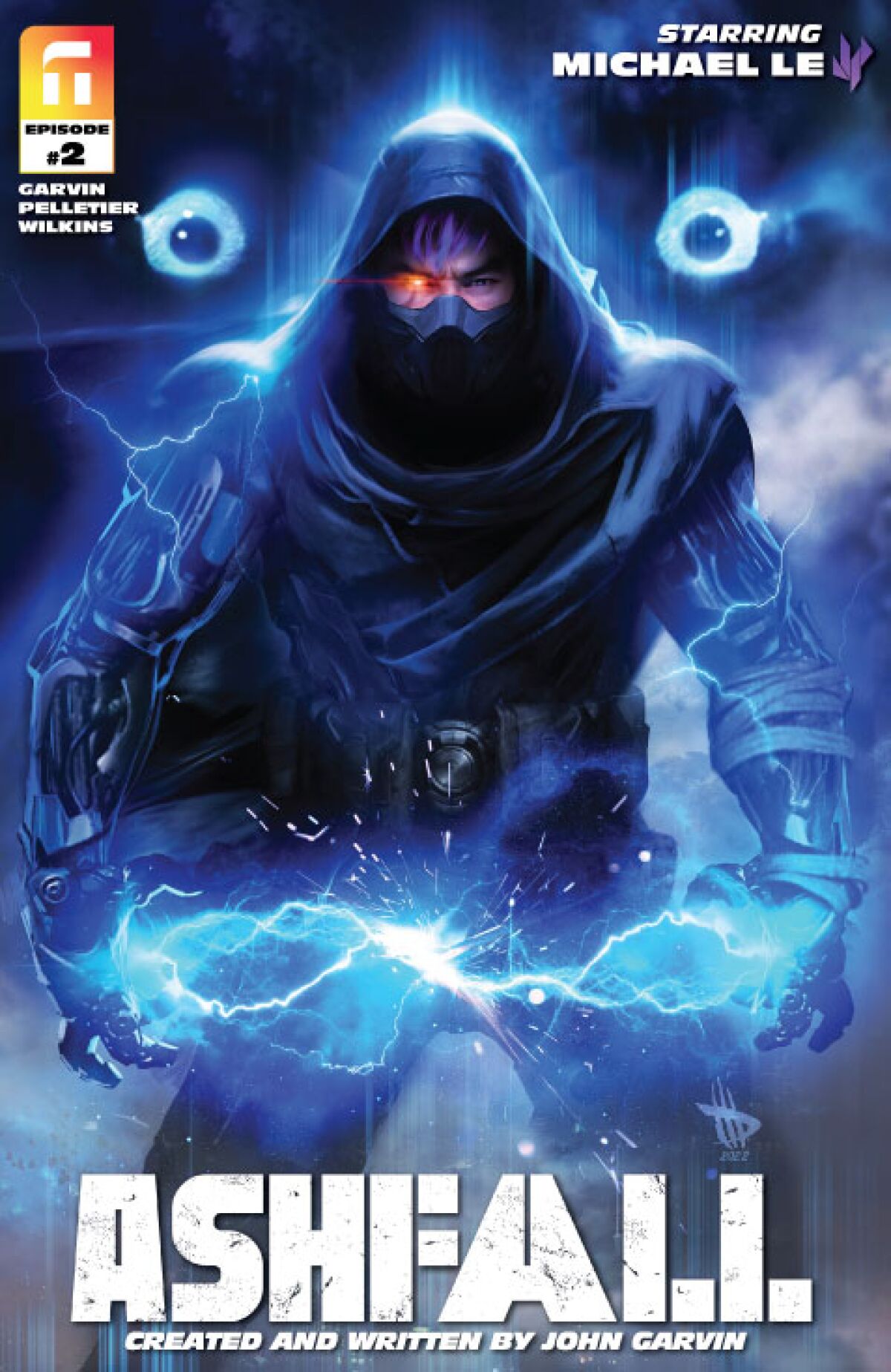 "For my last game, I literally wrote about 12,000 pages of script," says Garvin. "That's like the equivalent of 10 two-hour movies, and that's really what you need to fill up a game. You need lots of the same thing you need in any medium — plot, character development, theme. You've got to have something important to say."
With themes of climate change, ideological and political fighting, the mistreatment of people with disabilities and the general erosion of society, "Ashfall" touches on contemporary themes that may not be apparent on the surface.
"What I really want to do with 'Ashfall' is explore things that are important that are happening now. It's set a thousand years in the future so that we can get some distance on the things that I see are tearing us apart in the world today. They're fighting across every possible thing that people can disagree on. Ideological grounds, religious grounds. I see that that could be in our future — which terrifies me."
Mumbauer says he's invested in exploring new storytelling platforms. A video game and film industry veteran, he and his team brought to life popular characters like Nathan Drake from "Uncharted" and Joel and Ellie from "The Last of Us." After working for PlayStation for 13 years, he knows the game world and how to get players to connect. Now, the challenge is how to make that happen without having an actual game to play.
The first episode of the TikTok series "Ashfall," starring Michael Le.
"I look at challenges and say, 'TikTok is such a massive platform and it feels like it's such an opportunity platform for telling stories,'" says Mumbauer. "What if there was a way to do what Quibi tried to do, which is short-form storytelling, on a platform which already has an audience that's ready for it? And what if we did it with an influencer who already understands how to do it?"
Mumbauer enlisted Michael Le (who uses the handle @justmaiko), a social media influencer, dancer and storyteller with more than 52 million TikTok followers, to help create, with Garvin, a five-episode narrative series debuting weekly on Le's channel. The Liithos exec was already a fan of the TikToker, whose posts have generated millions of views, whether it's through his dance videos utilizing high-quality special effects or his anime-inspired content.
"I think it was experimental and we were already writing the comic book," Mumbauer says. "It felt like the natural way to position the comic adjacent to this because the game is gonna take years. So it felt like, 'What if we try to build this IP slightly in reverse. Even though we have a gaming background, what if we didn't start with gaming, but we landed on it?'"
The experimental gambit seems to have worked. The series has drawn more than 10 million views so far, before the last chapter drops Sunday. In creating it for TikTok, Mumbauer toned down his traditional film and video game effects and Garvin whittled down his concepts to bang out 1½-page scripts for the episodes.
"My thought process was give them all the meat and cut out every part of the fat. It's 15 seconds. It's quick and snappy. It's very 'get straight to the point,'" says Le. "It was really just how can I adapt myself into the story. It kind of blends what I typically do on TikTok with the world of 'Ashfall.' I turn into him. ... I'm learning to use these powers that Ash has, and then trying to find my brother."
Now that Le has established a look for Ash and his world, the comic book will have to follow. Right? With intellectual property, the conventional thinking is to cross-promote everything to establish a visual presence. But even that part of the world-building for "Ashfall" is being done in an unconventional way.
"I had to pitch to John: What if you look at this character like it's already been in the world for 75 years? In 'Batman,' over 75 years, Batman has had a lot of different looks. What is the same is the ears, the sigil and the cowl. What you see in the TikTok series isn't necessarily what you'll see in the comic book series, which isn't necessarily what you'll see in the game. There will be subtle nuances, but the core pieces are there, and that's what I think makes an iconic character," says Mumbauer.
"For artistic interpretation and being transmedia, I think there's a huge opportunity to reach different audiences. Somebody might not have my taste in art. So maybe the TikTok video will really get them excited about this in a way that the comic won't or even the game footage."
Get our L.A. Goes Out newsletter, with the week's best events, to help you explore and experience our city.
You may occasionally receive promotional content from the Los Angeles Times.