After the death of the Airliner, who are the next heirs to L.A.'s underground throne left behind by Low End Theory?
It would have been a perfect night for a funeral. Amid a freezing deluge of rain late last month, the 100-year-old Lincoln Heights bar known as the Airliner quietly faded into oblivion. But no formal eulogies or farewell celebrations honored its historic past as the sanctuary of the weekly beat scene club night Low End Theory. A goodbye party, headlined by the Glitch Mob's edIT (a former resident DJ), was abruptly canceled a few days before in favor of an '80s-vs.-'90s dance-off.
Despite its recent closing, the true death knell rang in 2018, when Low End Theory hosted its final voyage, featuring performances from Tyler, the Creator; Earl Sweatshirt; ASAP Rocky; and TOKiMONSTA — alongside Wednesday night regulars Daddy Kev, Nobody and D-Styles. That same year, the bar's proprietors sold to a new ownership group, who poured upwards of a half a million dollars into rehabilitating its famously shabby interior. Shortly thereafter, the pandemic struck.
After it fully reopened less than two years ago, the "reimagined" Airliner never regained its stature as a cultural epicenter. For someone who witnessed the Obama-era phenomenon of Low End Theory, the place seemed lobotomized. Others described it as haunted. The semilegal outdoor stage that once hosted spirit-bending space odysseys from Flying Lotus, Nosaj Thing and Ras G was replaced with a brunch patio serving vegan fried-tofu sandwiches and glibly named cocktails. The upstairs dance floor was mostly empty — a mournful counterweight to when the fire marshal was a zealous fixture and lines wrapped around the block for secret guests like Thom Yorke and Erykah Badu.
It was an aggressive reminder that lightning rarely strikes twice, and especially can't be summoned by expensive facelifts, craft beer on tap and $25 Airliner hats. In its final iteration, the century-old dive devolved into any other "nice" aspirationally minded bar in any other gentrifying neighborhood across America, replete with exposed brick, polished mirrors, half-ironic art and a nostalgic soundtrack. Its demise underscores a nagging question in L.A.'s local music scene following the pandemic freeze: What's next? What venues and spaces are incubating forward-thinking communities, and why does it feel like few underground scenes in the last half-decade have achieved the critical mass required to influence the culture at large?
"The environment for emerging artists is more competitive and difficult than ever," says Daddy Kev, the Harbor City-raised DJ, promoter, label boss and Grammy-winning mastering engineer who spearheaded Low End Theory's creation in 2006. Today, he hosts the weekly Scenario nights at the Love Song Bar downtown, which honors the tradition, albeit in a much smaller room.
He continues, "100,000 songs are being uploaded to Spotify a day, and if you're making challenging or thought-provoking music, you're operating at a disadvantage. It's harder than ever for indie artists to break through. The independent music middle class is evaporating in front of our eyes."
In its prime, Low End Theory torched the wasteland caricatures and coastal biases that chronically plagued perceptions of L.A. It was the antidote to bottle-service excess and shallow industry sheen. In this rickety sweatbox club, several micro-generations of musicians divined an experimental fusion of hip-hop, electronic, jazz, R&B and psychedelia. The impact radiated globally.
The scene's first breakout star, Flying Lotus, created his Brainfeeder label as a launchpad for the celestially gifted, releasing albums from Thundercat and Kamasi Washington — two homegrown virtuosos widely credited with helping to popularize jazz among millennials. The trio heavily sculpted the sound of Kendrick Lamar's "To Pimp a Butterfly," the most critically acclaimed hip-hop album of the 2010s. It was at Low End Theory that Odd Future first burned down a stage. Listening to Radiohead's 2011 "King of Limbs" revealed how its elegiac computer funk affected the band's frontman. Anderson .Paak may have swept last year's Grammys as one-half of Silk Sonic, but his reputation first ascended during levitations in Lincoln Heights. Even Prince sauntered in one winter night in 2015 to see what was happening.
But for the regular attendees and performers, the sense of community outstripped superstar cameos. The scene spun off a constellation of labels (Soulection, Wedidit, Friends of Friends), and parties that dominated the L.A. underground for much of the last decade. One of the most artistically vibrant has been Leaving Records, the avant-garde imprint begun by producer Matthew David McQueen (Matthewdavid), whose debut solo album was released on Brainfeeder in 2011.
In the intervening span, McQueen's explorations on the fringes of sound have made Leaving an oasis for everything from New Age to musique concrète to idiosyncratic R&B. Yet with his monthly, all-genre concert series, "listen to music outside in the daylight under a tree," Leaving has become a (gentle) force, drawing hundreds of serene people to Elysian Park on Saturday afternoons to savor music in Arcadian settings.
"It's innate in the human condition to try to find connection with nature," McQueen says. "It seems so obvious but it didn't seem like many people in the scene thought about that explicitly."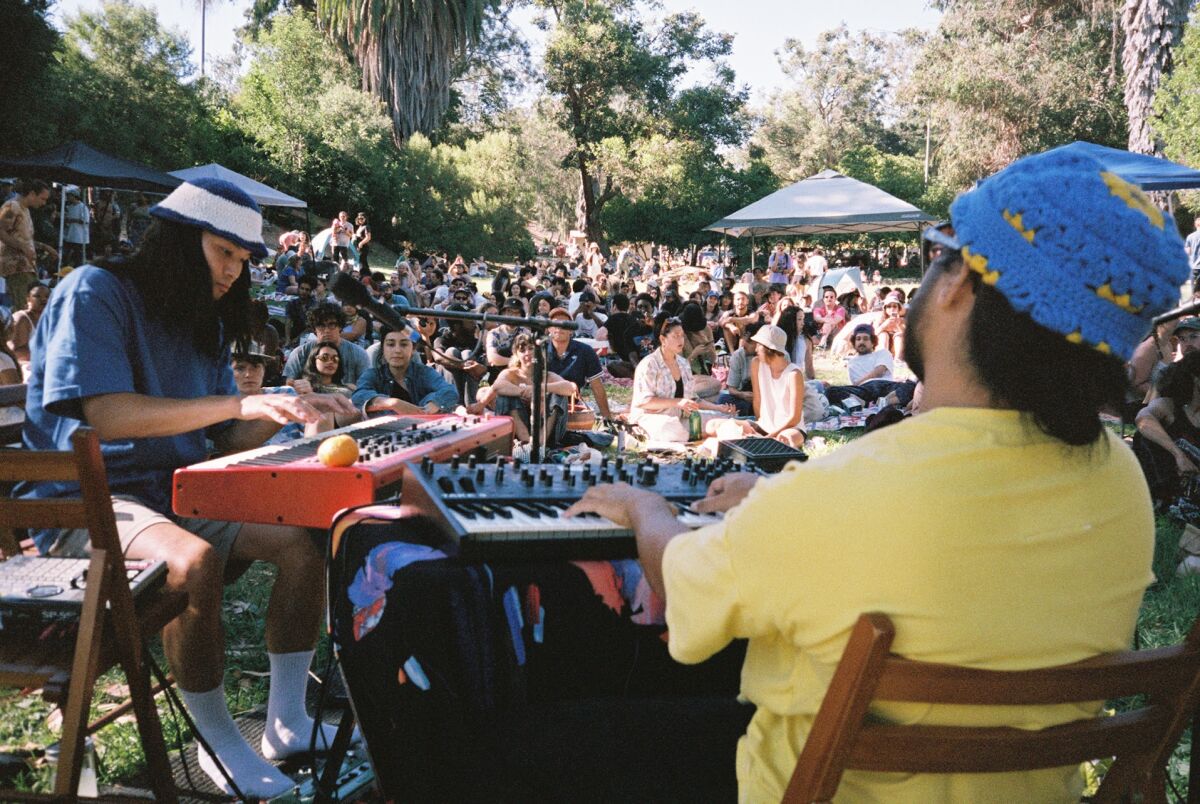 This epiphany led McQueen to found his free, family-friendly concert series in 2018 (donations are requested to pay musicians and cover the permitting costs). But it exploded in popularity following a pandemic hiatus. After people were cloistered inside, glued to screens, McQueen witnessed an insatiable demand for a new paradigm based on an ancient model. In the parlance of our times, the vibe had shifted. It coincided with a younger generation coming of age, one less statistically prone to hedonistic debauchery than their predecessors.
"Interest had been bubbling before, but the pandemic led people to get into their feelings and search for ways to relieve their anxiety," McQueen says. "It kickstarted a new resolve to seek wellness, relaxation and a musical community that shared those ideals."
The popularity of McQueen's series is no anomaly. He's worked in close tandem with naturalist and flautist Noah Klein, co-founder of the Floating Collective, whose meditative concerts and sound baths also have helped nurture a community dedicated to pairing ambient sounds with Arcadian settings.
While still subverting the algorithmic mainstream, the Leaving Records and Floating series provide an inverse of the more raucous affairs that defined the recent past. From roughly 2006 until 2016, there was a sense of cultural renaissance, where it felt like you could strike out in any direction in search of any subgenre and discover something startlingly innovative.
DāM-FunK's Funkmosphere supplied salvation in classic '80s boogie blended with modern funk. Downtown DIY punk crucible the Smell detonated with guitar riots from No Age, HEALTH and Mika Miko. The jubilantly chaotic Ham on Everything parties brought to town nearly every underground rap legend and rising star. Underground raves thrown by the Body High (DJDS, Todd Edwards) and Fade to Mind (Total Freedom, Kelela) crews offered a refined alternative to steroidal big-room EDM. At La Cita on Mustache Mondays, Ignacio "Nacho" Nava Jr. promoted a queer-centered space with elite DJs spinning house, cumbia and R&B. And if you stayed out late enough, the road inevitably led to Dinner House M — the late-night dance-and-drugs interzone that felt like a Wong Kar-wai film set on "Pinocchio's" Pleasure Island but located in Echo Park. When the cops shut it down, it inspired a civic day of mourning.
The cycle remains constant: Tastes change, venues close, artists graduate to bigger stages or seek more stable employment. But the replacement rate feels lower. Though most of the above club nights are nearly all defunct, they're still legendary to anyone with hazy memories of their existence. A rare few have nonetheless sustained longevity and relevance — most notably the hip-hop-centric Do-Over and the "pansexual party palace" A Club Called Rhonda. Over the last 15 years, both have expanded to throw parties all over the world without compromising their vision or taste. They remain among the final surviving nightlife links to a pre-social media world.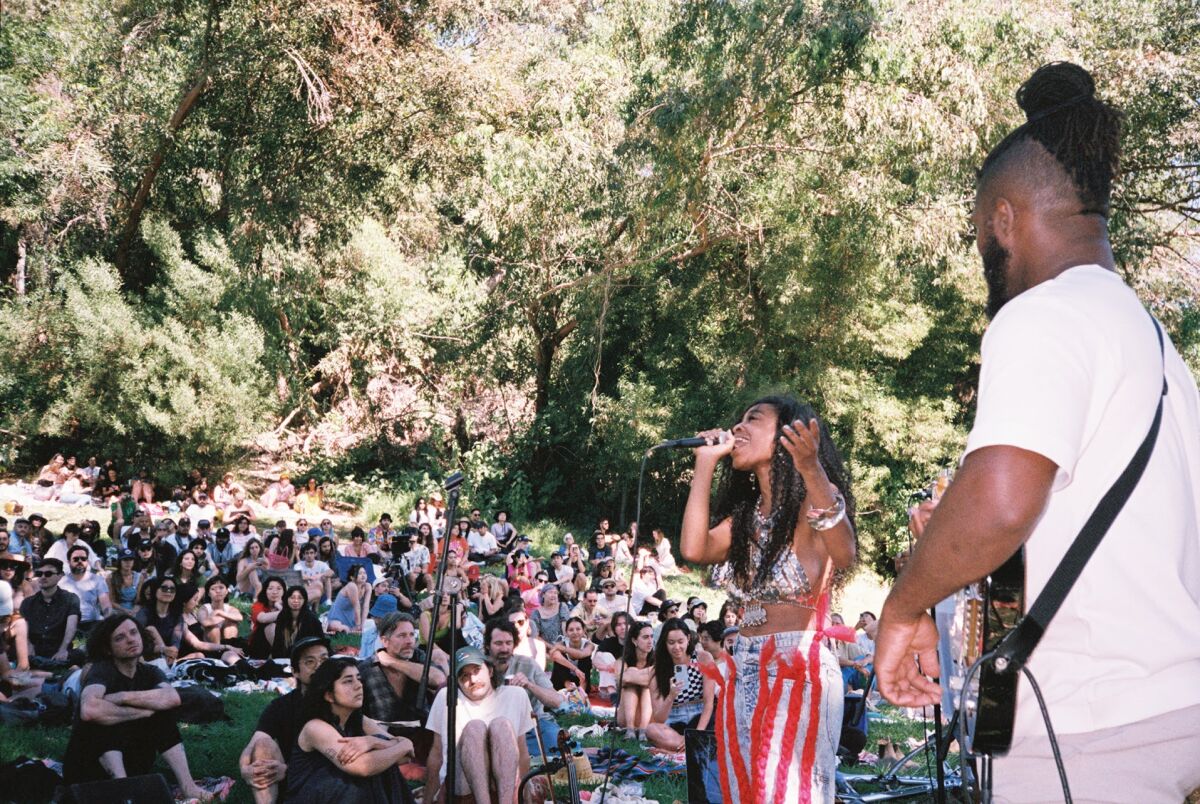 "There will always be the same thirst for kids to connect with underground music, but how it manifests is different," says Loren Granich, the co-founder of A Club Called Rhonda, who DJs as GODOLLARS.
A Club Called Rhonda launched in 2008 as an inclusive LGBTQ-centered party pairing classic house and techno with sophisticated but raw contemporary dance music. The idea was to foster a community à la New York's iconic disco Eden, Paradise Garage, and in turn, help connect attendees to a deeper psychic and sexual liberation. In Low End Theory, the culture Rhonda created found a kindred spirit.
Low End Theory was creating "you had to be there" moments, and that's what Rhonda is all about too. The visceral experience versus trying to package and present it as a product afterward. Reverence for pure experience isn't necessarily lost now, but it's not as much of a priority."
Over the last decade, the nightlife space has experienced unparalleled consolidation. AEG and Live Nation now control most major venues, leading to fierce bidding wars for proven headliners and the displacement of beloved local club nights. The effects trickle down to the rest of the industry. If established artists with powerful booking agents commanded sums unthinkable a decade ago, fledgling aspirants are afterthoughts. And with smaller indie venues unable to compete for big-name talent, they're less likely to take chances on sparsely attended scenes that need time to gestate. As a result, themed dance parties occupy more precious calendar space. After all, it's much easier to promote a DJ night centered around Bad Bunny or Rihanna than an obscure, boundary-challenging artist.
While it's tempting to single out any one factor, it's more accurate to think of things unraveling within a complex ecosystem. You can even point to the role played by the massive contractions in music media and local journalism. Over the last decade, alt-weeklies have become an endangered species and blogs have dwindled in importance. Knowledgeable chroniclers offer context and identify seismic talents. Without them, everything can feel lost in an amorphous sea of Instagram Stories and digital party fliers.
Of course, this is partially reductive. In a city of nearly 4 million, dozens of scenes simultaneously occur. Many are still developing after the pandemic halted momentum; many more are inevitably unknown. Besides Daddy Kev's Scenario night, the Beat Cinema crew keeps the torch alive. Led by Jazz Is Dead, the jazz scene thrives in ways unseen since 5th Street Dick's and the World Café inspired pilgrimages to Leimert Park. At ETA, Gold-Diggers and Tee Gee, flourishing communities exist around shape-shifting modal expeditions from Jeff Parker, Dave Harrington and the nascent Minaret Records crew. The Favela Worldwide parties tap into global sounds befitting a generation attuned to the sounds of the diaspora. And Little Tokyo's newest venue, Hello Stranger, has begun cultivating the next wave of modern funk with nights from XL Middleton's Mo' Funk imprint.
If this fallow period is part of a traditional boom-and-bust cycle, the best promise of the future lies in the success of Hood Rave, which has combined the party with the political. Founded in 2020 by Arlington Heights native, multidisciplinary artist and DJ Kumi James — and joined the next year by South L.A.-raised DJ Kita Clarke — Hood Rave has built a singular space in the underground. Functions are thrown in alternative spaces like barbershops, churches and car garages. The nights center Black femmes and Black queer people, offering inspired soundtracks and bookings, making it a next generation heir to the fabled '70s and '80s heyday of Jewel's Catch One.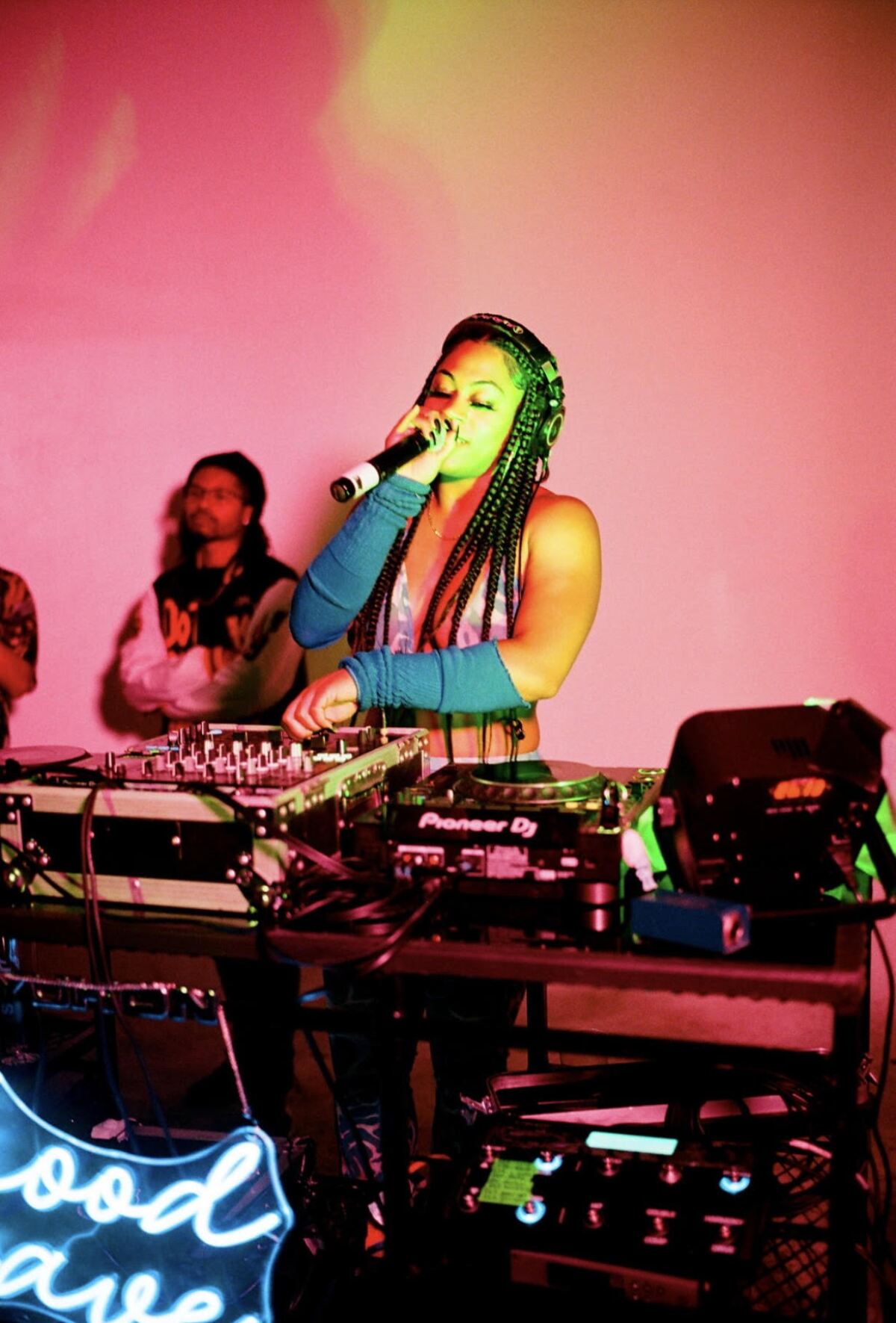 Hood Rave has gone from 75 attendees to more than 1,200 last Halloween. It has created something subversive that prioritizes dance culture without pandering to audiences seeking cliché playlist-core. Last month's Freaknik party went off to a soundtrack of Detroit ghettotech and Miami bass. The DJs are just as apt to play Angolan Kuduro as Southern rap or '90s Chicago house. It's not difficult to find someone to play those sounds, but it's an achievement to build a community spiritually aligned with the imagination and vision of the curators, willing to take the journey every time.
"Queer people have always been making underground spaces, but after COVID, there was something waning and people wanted something different," says James, who DJs as BAE BAE. "So many places try to curate things in a watered-down way, and we wanted to do something more unpredictable, wild and fun — and create an independent alternative where we can control the culture and the space."
Of course, the next step is to find a permanent home, their own version of what a venue like the Airliner once meant to L.A.
"We're working on getting a venue. It can be a hole-in-the-wall," James says. "We want to protect our community and build safer spaces where people aren't going to be harassed by security or misgendered at the door. We're going to start raising funds soon. We need a place to call our own."
Get our L.A. Goes Out newsletter, with the week's best events, to help you explore and experience our city.
You may occasionally receive promotional content from the Los Angeles Times.