'The Lost City' and 8 more films and TV shows to stream this weekend
Welcome to Screen Gab, the newsletter for everyone who skipped "The Lost City" the first time around.
With the Sandra Bullock/Channing Tatum vehicle moving to streaming, film critic Justin Chang explains why it's worth your time this weekend. Plus, Screen Gab editor Matt Brennan gets ready for the premiere of TV's newest Sally Rooney adaptation, "Conversations with Friends," by surveying five highlights from the vibrant Irish TV landscape.
All that and much more in Screen Gab no. 35. And, as always, we're looking for reader recommendations: Send your TV or streaming movie recommendations to screengab@latimes.com with your name and location. Submissions should be no longer than 200 words and are subject to editing for length and clarity.
The complete guide to home viewing
Get Screen Gab for weekly recommendations, analysis, interviews and irreverent discussion of the TV and streaming movies everyone's talking about.
You may occasionally receive promotional content from the Los Angeles Times.
ICYMI
Must-read stories you might have missed
The 1990s made the NBA a global phenomenon. The Showtime Lakers paved the way: From David Stern to the Chicago Bulls, the NBA attained a new level of prominence in the '90s. We mark the season finale of HBO's "Winning Time" with a discussion of how the Lakers of the '80s made it possible.
How Jessica Biel landed husband Justin Timberlake for a 'perfect' cameo in 'Candy': The team behind Hulu's true crime tale explains how Timberlake came to play a pivotal role in the series — the couple's first scripted scene together.
Amazon's 'Kids in the Hall' revival is an adventure in aging — with the same old bite: After 27 years, the sketch troupe returns with the original cast intact, accompanied by the poignant documentary history "Comedy Punks."
How Netflix's 'Lincoln Lawyer' 'pushed for more' of L.A.'s Latino life in the show: Manuel Garcia-Rulfo opens up to The Times about childhood summers in Jalisco, quitting acting and bringing cultural specificity to his character in David E. Kelley's new legal drama.
Turn on
Recommendations from the film and TV experts at The Times
In the Peacock comedy "Killing It," now streaming, Craig Robinson plays a sweet, straight-arrow and somewhat hapless Miamian who dreams of financial success and putting his family together. His latest scheme to make this happen is a saw palmetto farm (to service the growing prostate-shrinking industry); failing to secure a loan, he finds himself competing for prize money in a government-backed snake hunt (pythons are overrunning the Everglades), which brings him into contact with series co-star Claudia O'Doherty (Mary Bonnet on "Our Flag Means Death"), a cockeyed if happily undiagnosable character exploiting every aspect of the gig economy and living inside an A-frame billboard she tows around on the back of her car. Rell Battle plays Craig's larcenous brother, whose interlocking exploits are by turns helpful and disastrous to Craig. Look for Tim Heidecker and D'Arcy Carden as (unconnected) horrible rich people. The series casts a satirical eye on social media, capitalism, class and the political scene (the series is set in 2016, the year That happened). But though its tone can be bleak, even gruesome, its outlook is optimistic. Robinson is no less funny for playing a fully developed character, and everything funny out of O'Doherty's mouth feels twice as funny as it would from any other actor. —Robert Lloyd
Ten years ago, I unfortunately was nowhere near New York to see Sutton Foster as Reno Sweeney in the Cole Porter classic "Anything Goes," a role for which the Broadway mainstay won her second Tony Award. And last year, I regrettably was not in London to see her reprise that role for the first time in a decade. Thankfully, that West End production was filmed and is airing on PBS as part of its beloved "Great Performances" series. Foster — who has spent the past 10 years starring in multiple stage shows and the TV Land comedy "Younger" — returns to the golden age musical of love triangles, singing sailors and transatlantic tap dances without missing a beat. The show was directed by Kathleen Marshall and also stars Robert Lindsay, Felicity Kendal and Gary Wilmot. Alongside its premiere Friday at 9 p.m. on KOCE, it will be available on pbs.org/broadwayonpbs and the PBS Video app. —Ashley Lee
Catch up
Everything you need to know about the film or TV series everyone's talking about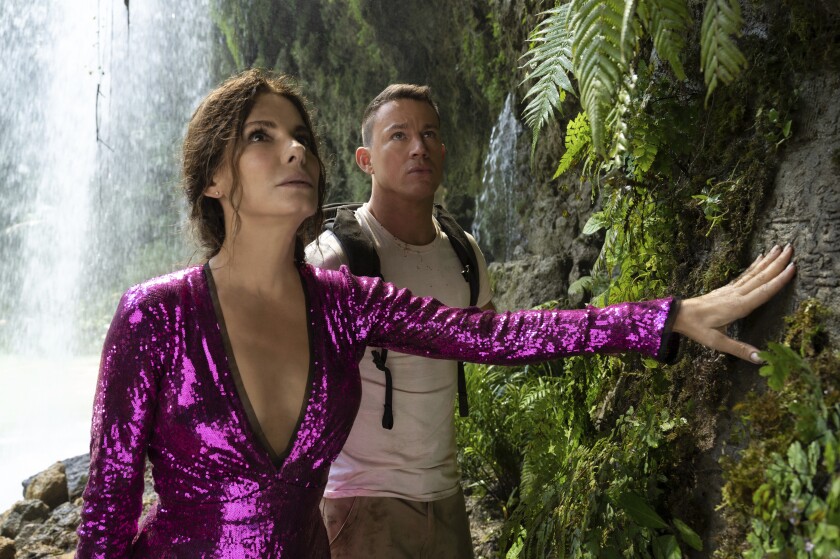 Midway through the tomb-raiding, car-crashing, butt-baring shenanigans of "The Lost City" (Paramount+) Channing Tatum pauses to remind Sandra Bullock not to judge a book by its cover. It's an apt cliché: She plays Loretta Sage, the author of a series of popular romance novels; he's Alan, the stud whose ripped chest and Fabio wig have helped sell her paperbacks to millions of happy readers. To Loretta, Alan is an incompetent himbo with delusions of grandeur and certainly the last fool she'd want to be stuck with on a wild and crazy jungle adventure. But like a lot of Tatum characters, he turns out to be smarter, deeper and more genuinely heroic than she expects.
So sure, don't judge a book by its cover. I should note, however, that I may have committed an equivalent offense when I opted to check out "The Lost City": The poster made it look kind of fun, and lo and behold, it is. It helps that the pairing of Bullock and Tatum is as delightful as you'd expect from two actors of such goofy charm and combustible energy. It also helps that the directors, Aaron and Adam Nee, have tailored this unapologetically derivative riff on "Romancing the Stone" to their stars' easygoing chemistry, taking what might have been a strained, clanging excuse for a mainstream action-comedy and investing it with, if not big belly laughs, then at least a refreshing sweetness of spirit. —Justin Chang
Break down
Times staffers chew on the pop culture of the moment — love it, hate it or somewhere in between
"Conversations with Friends," premiering Sunday on Hulu, sounds many notes: swoon-worthy romance, delicate slice of life, coming-of-age drama, millennial nostalgia piece. But the adaptation of Sally Rooney's first novel, directed by Lenny Abrahamson, is also a reminder of the vivacity of Irish television. Starring newcomer Alison Oliver and Sasha Lane as Frances and Bobbi, a pair of university students in Dublin who become entangled with married creatives Melissa (Jemima Kirke) and Nick (Joe Alwyn), the series may not be as profoundly place-specific as certain titles highlighted below, but it speaks to the ever-growing footprint of the isle's TV industry at a time when U.S. audiences are increasingly looking beyond London for English-language stories from around the globe. Here are five from the past decade to queue up, though classics like "Father Ted" (multiple platforms) and "Ballykissangel" (BritBox) will never steer you wrong.
"Moone Boy" (Hulu, Amazon Prime): Irish actor Chris O'Dowd has been a semi-familiar face on American screens since he turned up in "Bridesmaids" in 2011, but this idiosyncratic comedy, in which he plays the imaginary friend to an Irish lad (David Rawle) in west central Ireland in 1989, flew under the radar. That's easily rectified now, of course, thanks to the magic of streaming, six-episode seasons and a series that goes down mighty easy.
"The Fall" (multiple platforms): Before he was Christian Grey, before he was the lovelorn beefcake of "Barb and Star Go to Vista del Mar," Jamie Dornan played Paul Spector, an unconscionably attractive Belfast serial killer in the sights of Gillian Anderson's tautly controlled Det. Supt. Stella Gibson. It's a cat-and-mouse tale painted in the same grayscale as the North Atlantic — and it's just as chilling.
"Catastrophe" (Amazon Prime): I'm cheating, I know — Sharon Horgan and Rob Delany's raucously funny comedy of modern marriage and childbirth is mostly set in London. But with Horgan sharing the helm, Irish actor Jonathan Forbes playing her brother, Fergal, and an extraordinary Ireland-set episode in which the siblings deal with the hilarious/devastating fallout from their father's stroke, I've decided it counts. You won't quibble after you've burned through its four note-perfect seasons. Irish fatalism knows no borders!
"Derry Girls" (Netflix): Inspired by creator Lisa McGee's experience growing up in Northern Ireland in the 1990s, this irreverent comedy of teens and Troubles follows a group of friends at a Catholic girls' school in the titular border town. (If you're new to the series, keep an eye out for "Bridgerton's" Lady Whistledown, Nicola Coughlan, as Clare.) In addition to finding laughs in the region's religious and political conflict, and delightfully lampooning the British at every turn, "Derry Girls" is also a remarkably deft example of the Irish Catholic sense of humor, with at least one joke — about a meet-cute at the stations of the cross — leaving me muttering, "Jesus, Mary and Joseph, is this show funny!"
"Normal People" (Hulu): Though the novel it's based on came after "Conversations with Friends," "Normal People," which made instant stars of young actors Daisy Edgar-Jones and Paul Mescal, set the template for a Sally Rooney adaptation: 30-minute episodes; a restrained, impressionistic aesthetic; and exceptionally steamy, though never exploitative, sex scenes. Add to that Rooney's most pressing thematic concerns — communication in the digital age, the stumbling blocks of emergent adulthood — and you have the outlines of what one hopes will be a long and fruitful creative marriage. I've been ready for the "Beautiful World, Where Are You?" limited series basically since I closed the book. —Matt Brennan
What's next
Listings coordinator Matt Cooper highlights the TV shows and streaming movies to keep an eye on
Fri., May 13
"Bling Empire" (Netflix): Your friendly neighborhood crazy rich Asians are back in Season 2 of the L.A.-set reality series.
"Children Ruin Everything" (Roku Originals): This Canadian comedy stars Meaghan Rath and Aaron Abrams as young parents trying, and often failing, to keep it together.
"The Essex Serpent" (Apple TV+) Is it a mythical sea monster … or a case of mass hysteria? Claire Danes and Tom Hiddleston investigate in the new Victorian-era mystery drama.
"Firestarter" (Peacock): A young girl with pyrokinetic powers heats things up in the new 2022 adaptation of the Stephen King terror tale. With Zac Efron.
"Greatness Code" (Apple TV+): Olympic skier Lindsey Vonn and NASCAR's Bubba Wallace are among the top-tier athletes profiled in new episodes.
"The Kids in the Hall" (Prime Video): Our favorite Canadian comedy troupe returns to crush your head in a reboot of the sketch series.
"The Lincoln Lawyer" (Netflix): Have you been injured in an accident? Call Manuel Garcia-Rulfo's Mickey Haller in this new drama based on novelist Michael Connelly's L.A.-set crime thrillers.
"Senior Year" (Netflix): Not even 20 years in a coma can stop Rebel Wilson from finishing high school in the 2022 comedy. With Alicia Silverstone.
"Sneakerella" (Disney+): Gets your kicks in this new musical comedy based on the classic fairy tale.
"Respect" (Epix, 8 p.m.) Do we need to spell it out? Jennifer Hudson portrays the Queen of Soul in the 2021 Aretha Franklin biopic. With Forest Whitaker.
"Couples Therapy" (Showtime, 8 and 8:30 p.m.): Dr. Guralnik will see you now, in all-new episodes.
"Great Performances" (KOCE, 9 p.m.): Even a glimpse of stocking? Yes, "Anything Goes" in this classic Cole Porter musical. Sutton Foster stars.
"The Great Soul Food Cook-Off." (OWN, 10 p.m.; Discovery+): Host Kardea Brown puts Black chefs through their paces in the new series.
"New York Ninja" (TCM, 11 p.m.): A 2021 reconstruction of the unfinished martial arts flick from 1984.
Sat., May 14
"Road Trip Romance" (Hallmark Channel, 8 p.m.): Love means never having to say, "Are we there yet?" in this new TV movie.
"Fit to Kill" (Lifetime, 8 p.m.): A fashion designer's new assistant begins to wonder what became of her predecessors in the new TV movie.
"Love & Marriage: DC" (OWN, 9 p.m.): Meet three Black power couples who do their moving and shaking inside the Beltway in the new reality-TV spinoff.
Sun., May 15
"2022 Billboard Music Awards" (NBC, Peacock, 5 p.m.): Sean "Diddy" Combs hosts and Mary J. Blige collects a career achievement award at the annual shindig.
"Lucy Worsley Investigates" (KOCE, 8 p.m.): What fate befell "The Princes in the Tower"? That is the question in the premiere of the British historian's new series.
"The Time Traveler's Wife" (HBO, 9 p.m.): She can't tell if he's coming or going in this new fantasy drama based on Audrey Niffenegger's bestseller. "Game of Thrones'" Rose Leslie stars.
Mon., May 16
"Celebrity IOU" (HGTV, 9 p.m.): Lisa Kudrow does a good turn for a — ahem — friend in this new episode.
"Independent Lens" (KOCE, 10 p.m.): Teens on a Navajo reservation share their hopes and dreams in the 2021 documentary "Scenes From the Glittering World."
"Unfaithful: Caught in the Act" (VH1, 10 p.m.): Cheaters never prosper in this new reality series. 10 p.m. VH1
Tue., May 17
"Lionel Richie: The Library of Congress Gershwin Prize for Popular Song" (KOCE, 9 p.m.): They're partying all night long in honor of the Grammy winner in this special.
"Supermarket Stakeout" (Food Network, 10 p.m.): The culinary competition returns for Season 2.
Wed., May 18
"Love on the Spectrum U.S." (Netflix): Young adults with autism seek love, American-style, in this new spinoff of the Australian reality series.
"Lovestruck High" (Prime Video): Sexy British singles also seek love, American-style, in this new dating show. Lindsay Lohan narrates.
"The Masked Singer" (Fox, 8 p.m.): The winning celeb is revealed in the series' season finale.
"So You Think You Can Dance" (Fox, 9 p.m.): JoJo Siwa and "Glee's" Matthew Morrison join the judges' table in the season premiere.
"Nova" (KOCE, 9 p.m.): A new episode investigates the maritime mishap that shut down the Suez Canal for six days in March 2021.
"Buy It or Build It" (HGTV, 9 p.m.): Those are the two options presented to prospective homeowners in this new series.
"Colombia — Wild and Free" (KOCE, 10 p.m.): The country's flora and fauna are on full display in this two-part series.
"The Deep End" (Freeform, 10 p.m.): Spiritual seekers find themselves in over their heads in this new docuseries.
Thurs., May 19
"Angelyne" (Peacock): Emmy Rossum portrays the pink Corvette-driving L.A. icon famous for her shameless pursuit of fame in this new limited series.
"The G Word With Adam Conover" (Netflix): The host of "Adam Ruins Everything" sets his sights on the inner workings of the U.S. government in this new series.
"The Ipcress File" (AMC+, Sundance Now): Len Deighton's intrepid British spy Harry Palmer returns in this 1960s-set espionage drama. Joe Cole ("Peaky Blinders") stars.
"Kingdom Business" (BET+): Gospel music's Yolanda Adams plays a legendary singer and megachurch matriarch in this new limited series.
"Legendary" (HBO Max): Ballroom culture is back in vogue in a new cycle of the reality competition. Judges include Jameela Jamil and Keke Palmer.
"A Perfect Pairing" (Netflix): A wine company exec (Victoria Justice) hooks up with a hunky Aussie ranch hand in this 2022 rom-com.
"Daughter of Shanghai" (TCM, 5 p.m.): A salute to Anna May Wong continues and includes this 1937 revenge thriller.
"Law & Order" (NBC, 8 p.m.): The reboot of the franchise mothership ends its season.
"Interrogation Raw" (A&E, 10 p.m.): See cops putting the screws to criminal suspects in this new docuseries.
---
From the Oscars to the Emmys.
Get the Envelope newsletter for exclusive awards season coverage, behind-the-scenes stories from the Envelope podcast and columnist Glenn Whipp's must-read analysis.
You may occasionally receive promotional content from the Los Angeles Times.