The following story contains spoilers from the Netflix series "Hollywood."
"Sometimes I think folks in this town don't really understand the power they have," says Darren Criss in the second episode of "Hollywood." "Movies don't just show us how the world is, they show us how the world can be."
The same can be said of Ryan Murphy and Ian Brennan's limited series, which premiered Friday on Netflix. Set in the 1940s, the show introduces various actors, directors, agents and executives and the systemic biases they face across race, gender and sexuality.
Some characters are based on real-life figures, others are pure fiction. The show's invented story lines serve as wish fulfillment, while the more outlandish situations — whether mentioned in passing or included for comic effect — are often true.
To save you some Google searching, here's a handy list of what's fact and what's fiction in "Hollywood," episode by episode:
The Times was there as Ryan Murphy's new Netflix series, "Hollywood," filmed its rousing finale, set at the 1948 Oscars ceremony.
For the record:
1:28 p.m. May 2, 2020An earlier version of this story incorrectly stated that Vivien Leigh originated the lead role in "A Streetcar Named Desire." She played the role.
Episode 1: Did Golden Tip Gas really exist?
The first episode sees aspiring artists working at Golden Tip Gas, a service station run by Ernie (Dylan McDermott) that doubles as a high-end brothel. The establishment is based on Scotty Bowers, the U.S. Marine turned Hollywood pimp who operated out of a Hollywood Boulevard gas station (complete with an on-site trailer). In his 2012 memoir — later adapted into a "fun, dishy, uniquely nostalgic" documentary — Bowers boasted a client list that included composer Cole Porter and actor Rock Hudson, both of whom also appear in "Hollywood."
Episode 1: Are Jack Castello and Archie Coleman based on real people?
Though "Hollywood" features numerous fact-based characters, Jack (David Corenswet) and Archie (Jeremy Pope), introduced in the first episode, aren't among them. Neither are Raymond Ainsley (Darren Criss), Camille Washington (Laura Harrier), Claire Wood (Samara Weaving), Ellen Kincaid (Holland Taylor), Avis Amberg (Patti LuPone), Dick Samuels (Joe Mantello), Jeanne Crandall (Mira Sorvino) and Ace Amberg (Rob Reiner).
Episode 1: How did Peg Entwistle die?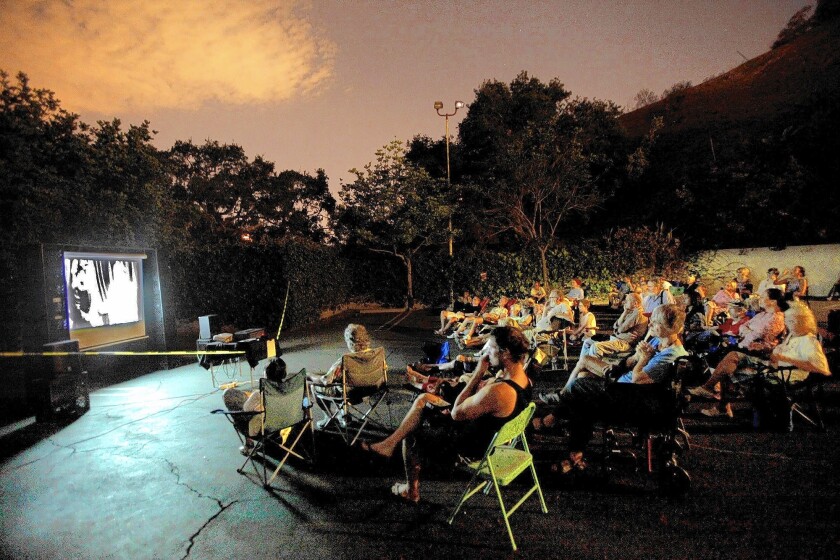 Archie explains that his script is about "the girl who jumped off the Hollywood Sign because the town wouldn't accept her." He's talking about Peg Entwistle, the British stage actress who moved to Los Angeles to try her hand at movies. When the blond-haired, blue-eyed hopeful learned that she was cut out of "Thirteen Women," her first and only film credit, she died by suicide at age 24 by jumping from the top of the H in "Hollywoodland." (The note left behind, included in the series, is verbatim.) Her last hours are the subject of a short film; feature-length projects about her — revisionist or otherwise — have been announced but have fallen through.
Episode 2: Did Anna May Wong lose a major role to a white actress?
The second episode illustrates how the career of Anna May Wong — Hollywood's first Chinese American movie star, portrayed here by Michelle Krusiec — was derailed after she delivered a stellar screen test for the adaptation of Pearl S. Buck's "The Good Earth," only to be offered the role of a concubine instead of the female lead, O-lan. "If you let me play O-lan, I'll be very glad," she told MGM then. "But you're asking me — with Chinese blood — to do the only unsympathetic role in the picture, featuring an all-American cast portraying Chinese characters."
The top billing instead went to Luise Rainer, a white actress whose performance led to an Oscar win — her second, making her the first actress to win more than one Academy Award. Meanwhile, Wong retreated from the film industry, turning to television, travel and politics. She was readying her big-screen return in "Flower Drum Song" when she died in 1961, at the age of 56.
Episode 2: Did Henry Willson sexually abuse his clients?
In the series, Jim Parsons plays the closeted agent who signs Rock Hudson after changing his name and forcing him to participate in sexual acts. It's true: Willson, who built a lucrative career on turning handsome unknowns into ultra-masculine heartthrobs, was known around town as a "casting couch agent," coercing aspiring talent into sexual relationships in exchange for career advancement. As accurately portrayed in later episodes, Willson fuels Hudson's career through etiquette lessons, teeth straightening and hiring muscle to threaten potential blackmailers. (A more fun fact: Parsons choreographed Willson's drag dance scene himself.)
Episode 3: Did George Cukor throw wild pool parties?
Yes, the director of "Dinner at Eight," "A Star Is Born" and "My Fair Lady" — whose homosexuality was an open secret — held private Sunday afternoon pool parties at his six-acre estate above Sunset Plaza. As Baroness d'Erlanger described it, "Mr. Cukor has all these wonderful parties for ladies in the afternoon. Then in the evening naughty men come around to eat the crumbs!" Doing the setting justice in "Hollywood" required four shooting locations.
Ryan Murphy and Ian Brennan rewrite the history of Hollywood in Netflix's "Hollywood," a progressive fantasy of motion pictures in 1947.
Episode 3: Was Vivien Leigh mentally ill?
After an elaborate dinner at Cukor's, "Gone With the Wind" star Vivien Leigh (portrayed by Katie McGuinness) tells Ernie that she and her husband, actor Laurence Olivier, are growing apart, and that she's eyeing the lead role in Tennessee Williams' new play "A Streetcar Named Desire." In real life, she plays that role onstage and onscreen — the latter earned her a second Oscar. However, her mood swings and erratic on-set behavior gave her a reputation for being "difficult" when, really, she had bipolar disorder.
Episode 4: Who was the first woman to lead a Hollywood studio?
When Reiner's Ace Amberg suffers a heart attack, his wife, LuPone's Avis Amberg, takes over for him as the head of the fictional Ace Studios. In reality, such a thing didn't happen until 1980, when Sherry Lansing was appointed president of 20th Century Fox Productions, making her the first woman to head a major studio.
Episode 4: Was Eleanor Roosevelt part of the film industry?
Harriet Sansom Harris portrays the former first lady, who recognized the power of Hollywood during and after her time in the White House. It makes sense that she'd encourage someone like Avis to embrace bolder filmmaking, since Roosevelt was against censorship and spoke out against the House Un-American Activities Committee's investigation of those with Communist leanings.
"The film industry is a great industry, with infinite possibilities for good and bad," Roosevelt wrote in 1947. "Its primary purpose is to entertain people. On the side, it can do many other things. It can popularize certain ideals, it can make education palatable. But in the long run, the judge who decides whether what it does is good or bad is the man or woman who attends the movies. In a democratic country I do not think the public will tolerate a removal of its right to decide what it thinks of the ideas and performances of those who make the movie industry work."
Episode 5: Did Disney really make a movie about cheerful slaves?
When LuPone's Avis is debating what kind of movie to make, Mantello's head of production, Dick Samuels, reminds her that people picketed Disney for releasing "Song of the South," "a movie where slaves were so happy, they didn't even want to leave the plantation." Blending live-action and animation, the 1946 movie — which was the fulfillment of Walt Disney's childhood dream to bring the Uncle Remus tales to the screen — earned an Oscar for its original song "Zip-a-Dee-Doo-Dah," plus an honorary award for James Baskett's performance as Uncle Remus.
"The portrayal of happy-go-lucky blacks, well nurtured on Southern plantations by benevolent whites, was already outdated when the film was first released in 1946," said Times writer James A. Snead in 1986, during yet another rerelease of the movie. He recalled the film's New York premiere, where picketers chanted, "We fought for Uncle Sam, not Uncle Tom," while the National Assn. for the Advancement of Colored People and the National Negro Congress called for boycotts.
The "racist piece of trash," as described by Avis, has yet to be released in this country on home video. It is not included on Disney+, the recently launched streaming service that includes nearly every title the company has ever released. (Splash Mountain, the theme-park ride based on the film, remains.)
Episode 6: When did Rock Hudson come out?
"I'm in love with you, Rock," Pope's Archie tells Jake Picking's Rock Hudson. "I want to live together, and I want to be your boyfriend." After the two share a kiss, the actor asks, "This is real?"
Sadly, no. Hudson — whose real name was Roy Fitzgerald and who needed 38 takes to successfully deliver his only line in his first movie — lived a double life as both the all-American, heterosexual heartthrob of "All That Heaven Allows," "Magnificent Obsession" and "Pillow Talk" and a closeted gay man. Willson kept up Hudson's façade by setting up public appearances with female dates, and even had Hudson marry his secretary for a few years. When Hudson's AIDS diagnosis became public in 1985, shortly before his death from the disease at age 59, it "implied for Hudson's public what for decades had been an open secret in Hollywood — his homosexuality."
Episode 7: Did a producer try to remove "Over the Rainbow" from "The Wizard of Oz"?
The editor of "Meg" reveals that he made a copy of the 1939 film to prevent "some idiot producer" from cutting the opening song. It's true that MGM mogul Louis B. Mayer wanted the tune trimmed, believing it was too sad and complex for young children. Another producer threatened to withdraw from the entire project in order to get the song to stay. It went on to win the Oscar for original song, and it topped Song of the Century lists by the Recording Industry Assn. of America, the National Endowment for the Arts and the American Film Institute.
Episode 7: Was Hattie McDaniel allowed into the Oscars?
Queen Latifah's Hattie McDaniel heartbreakingly tells Harrier's Camille Washington that when she arrived at the Academy Awards at the segregated Ambassador Hotel, where she was nominated for supporting actress for her performance in 1939's "Gone With the Wind," she was initially barred from attending the ceremony. "They told me I could wait in the lobby, and if I won, someone would come tell me, and then I could go in," she recalled. "Somebody leaked that I was gonna win, so just before they announced my name, they shuffled me in the back and sat me in there."
McDaniel, the daughter of two former slaves, was actually seated inside, but only because the film's producer David O. Selznick petitioned for her to be allowed in. She didn't sit with her costars but at a separate table with her date; she was the only black woman in the room. She became the first black Oscar winner, but it didn't dramatically change her career. Another black actor wouldn't take home an Oscar until 1964, when Sidney Poitier won for "Lilies of the Field."
---