If you've clicked through to this story thinking, "It is too damn soon to be talking about the Emmys," trust us, we agree. We just finished our fall TV preview last week. And yet the 72nd, pandemic-set edition of TV's biggest prize is now less than three weeks away, which means now is the time to start bingeing the nominated titles you may have missed.
To make that task easier, The Times TV team has recommended seven series we love from the pool of nominees — and though several of the most-nominated shows, including "Watchmen" (HBO), "The Marvelous Mrs. Maisel" (Amazon Prime) and "Ozark" (Netflix) didn't make the list, it might be prudent to catch up on those before you enter your (virtual) office pool. Wink, wink.
With profound change comes possibility: As we enter the 2020 fall season, TV has not only the opportunity, but the need, to do so. Here are some ways it might.
"A Black Lady Sketch Show" (HBO)
Created by Robin Thede, former head writer of "The Nightly Show With Larry Wilmore" and host of "The Rundown With Robin Thede," variety sketch series nominee "A Black Lady Sketch Show" is subversive, smart and above all a joy to watch. That is, of course, a testament to the talent and range of the stars — Thede, Ashley Nicole Black, Quinta Brunson and Gabrielle Dennis — who exemplify the revolutionary possibilities of a show that includes more than one (token) funny Black woman. On top of the humor, there is a tangible sense that everybody involved relished bringing each sketch to life. The six-episode first season was packed with standout sketches; my favorites include "Invisible Spy," "The Basic Ball," "Courtroom Kiki" and "Dance Biter." Additional "A Black Lady Sketch Show" nominations include directing in a variety series for Dime Davis and guest actress in a comedy series for Angela Bassett. — Tracy Brown
"Insecure" (HBO)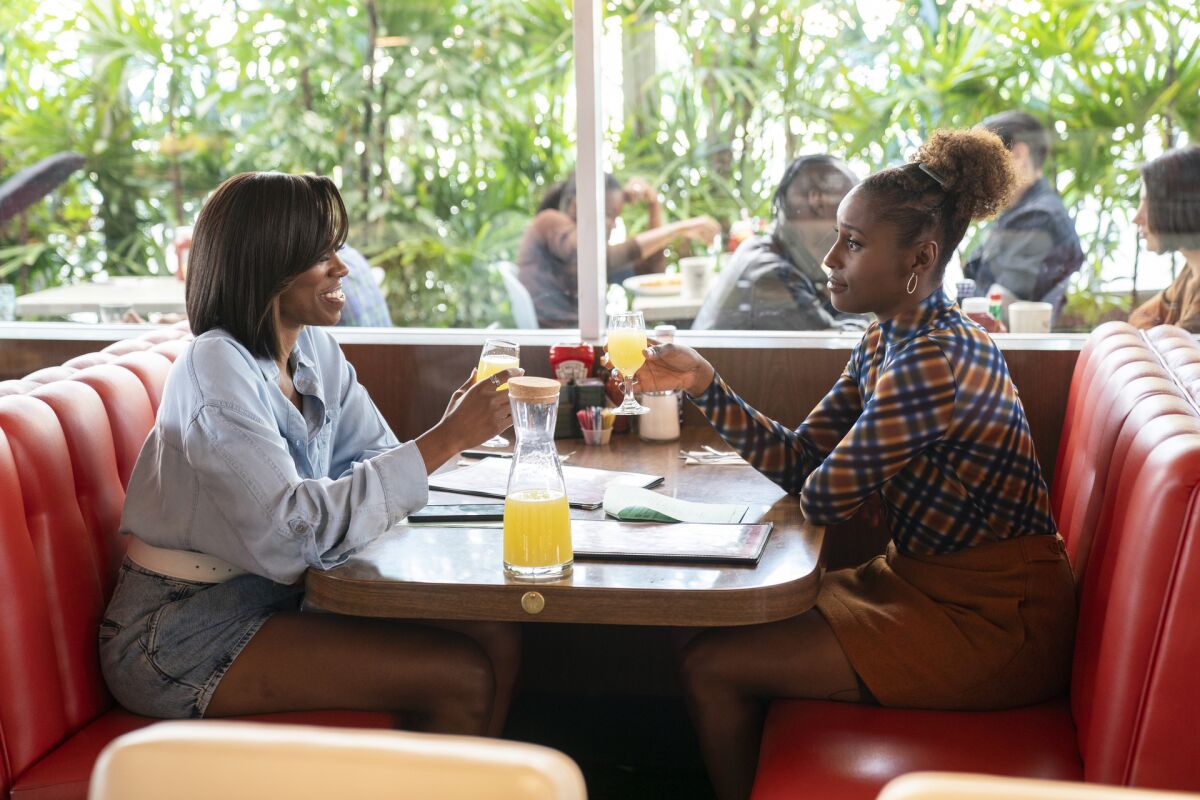 I am utterly confident that the fourth season of "Insecure" — which racked up eight Emmy nominations — is seriously its best yet. Among many other things, the latest batch of episodes charts the gradual fracturing of a years-long friendship, a unique kind of loss that most of us know all too well. And it's so authentically illustrated thanks to brilliantly lean writing, thoughtful cinematography, insightful music supervision and understated performances by Issa Rae and Yvonne Orji, both of whom nabbed nominations this year. Streaming these 10 half-hour episodes in one sitting is pre-Emmys time well spent. — Ashley Lee
"One Day at a Time" (Pop TV)
I've recommended giving the reboot of the classic family sitcom a watch before, but if you haven't gotten around to it, now is the time. The updated version, which is nominated for multi-cam picture editing for a comedy series at this year's Emmys, centers on the Alvarez family: Penelope (Justina Machado), a war veteran and single mother of two teenage children, Elena (Isabella Gomez) and Alex (Marcel Ruiz), and Penelope's meddling mother, Lydia (Rita Moreno), who lives with them. Then there's Schneider (Todd Grinnell), the lovable honorary member of the family. Presenting the Alvarez clan as a typical American family, it will make you laugh, it will make you cry, it will make you think — and it will make you wonder how Moreno and Machado have not been nominated for an Emmy.
Then there's the way the series fully encapsulates the spirit of 2020: perseverance in the face of uncertainty. After Netflix canceled it in 2019, following its third season, the Sony Pictures Television-produced sitcom was in limbo for some time before getting rescued by Pop TV. Then, a few months into production on its fourth season at its new home, the coronavirus hit, leaving just six of its 13 commissioned episodes complete when production shut down. And producers didn't let the pandemic keep them from finding a creative way to tackle an election-themed episode. If not having cable or Netflix is what's holding you back, the series will hit the primetime stage on Oct. 12, when CBS begins re-airing six episodes of its truncated fourth season (not including its animated special). —Yvonne Villarreal
To kick off our 2020 fall TV preview, the Times TV team selects the 15 shows we'll be watching this fall — and that you should be watching too.
"Ramy" (Hulu)
"Ramy" should have been nominated for comedy series, but perhaps the omission of streaming's sharpest show in the top humor category makes sense. Now in its second season, the Hulu series about a misguided Muslim American millennial (played by series creator and star Ramy Youssef) who's looking for spiritual guidance and affirmation in suburban New Jersey dives deeper than most dramas into themes of identity, assimilation and good ol' American self-loathing. Youssef is up for comedy director and performer. Mahershala Ali (who plays Sheikh Ali Malik in Season 2) is up for his supporting performance. Taboos are tackled with humor and insight across both seasons, inside a narrative that constantly challenges the norms of series TV. If you want something entirely fresh, brilliant and somewhat twisted to get you through yet another Emmy season, watch "Ramy." — Lorraine Ali
"Schitt's Creek" (Pop TV)
Up for 15 Emmys in its sixth and final year, this very funny Canadian small-town comedy is an emotional refuge in a fretful time. (Netflix, which reruns the series, has yet to stream the concluding season.) There are nominations in all four comedy acting categories (for Catherine O'Hara, Annie Murphy and son-and-father co-creators Dan and Eugene Levy) and for writing, directing, casting, hair, makeup and costume — all crucial to the series, fans will know. And there is a nomination for the series itself, which began as a riches-to-rags, fish-out-of-water comedy about a formerly wealthy family sharing adjoining rooms in a motel, and built into a surprisingly high-stakes story of acceptance, self-knowledge and love. The initial premise may seem familiar, but there is nothing trite about where they take it, and nothing stock about the characters. This is most obviously true of O'Hara's variously bewigged Moira Rose, an artiste in search of an audience, who speaks as no human ever has, but as much can be said of every cast member, major to minor. Their originality makes their quirks not just real, but really kind of moving. — Robert Lloyd
"Succession" (HBO)
"Succession" is my go-to pick whenever someone asks, "What should I be watching?" It's not exactly under the radar, but it captures our cultural moment better than just about anything on TV. Blending the caustic humor of "Veep" and the bloodthirsty dynastic struggle of "Game of Thrones" into a lavishly produced drama, "Succession" is a viciously funny drama about the 1% that invites sympathy and stirs repulsion in equal measure. Created by Jesse Armstrong, the series follows the Roy family, headed by patriarch Logan (Brian Cox), founder of Waystar Royco, a vast media and entertainment conglomerate whose holdings include a right-leaning cable news network. When Logan is hospitalized after a near-fatal brain hemorrhage, his adult children — all of whom struggle with major daddy issues — scramble for control of the company.
Season 2 in particular was a complete delight, introducing a wonderfully twisted new quasi-romance and ending with a finale as jaw-dropping and exhilarating as the "Mad Men" episode where Betty finally leaves Don. Particularly at a time when we are all cooped up at home, the Roy family's extravagant globe-trotting lifestyle — they dart from Scotland to Croatia to the Hamptons via yacht, private plane and helicopter — will seem more obscene than ever, but that's always been the point. Yes, "Succession" is genetically engineered to appeal to a certain type of coastal-dwelling media professional — ahem — but that doesn't mean it hasn't earned all the ecstatic praise. With just two 10-episode seasons to watch before the Emmys, you can easily catch up. But good luck getting the theme song out of your head. — Meredith Blake
"Unbelievable" (Netflix)
As my colleague Meredith Blake wrote shortly after its premiere in September 2019, Netflix's limited series, co-created by Susannah Grant, Ayelet Waldman and Michael Chabon, offers a revolutionary portrait of rape. Based on a true story, "Unbelievable" presages more recent series like "I'll Be Gone in the Dark" and "I May Destroy You" by de-centering the perpetrator and instead turning its careful, empathic energies to the survivor. It also turns the case's complex narrative, with two investigations in two states on two distinct timelines, into a forceful portrait of the additional trauma inflicted when we fail to believe those who come forward about being sexually assaulted. One focuses on Marie (played by the tremendous Kaitlyn Dever), a young woman in the Seattle area who is charged with filing a false police report after being raped by a home invader, the other on a pair of tenacious Colorado cops (Merritt Wever and Emmy nominee Toni Collette) in pursuit of a serial rapist, but it is their deft intertwining, equal parts brutal and brilliant, that makes "Unbelievable" unforgettable. And even though she was passed over in a notoriously tough category, I can't help but think Wever was robbed. — Matt Brennan
---