Even in the days before stay-at-home orders and COVID-19 case spikes, the waning days of the year were liable to leave you and your household with plenty of unstructured free time. So it's understandable if you're feeling antsy about filling the hours between opening presents and bidding sweet adieu to 2020.
The Times TV team is here to help. Whether you've already stuffed yourself full of Christmas classics or have decided to steer clear of forced holiday cheer, it's highly likely you'll need nonseasonal recommendations in your arsenal during the upcoming days, and we've compiled the following list of eight series the whole family can watch together without the adults being driven mad by the "Paw Patrol" theme or the 1,338th verse of "We Wish You a Merry Christmas." May the odds be ever in your favor, folks.
TV critic Robert Lloyd rounds up 38 Christmas movies and specials — from the age old to the brand new — sure to help you get in the spirit. Despite everything.
'American Housewife'
Creator Sarah Dunn's ABC comedy, which is in its fifth season, has the worst title of any show on TV. It's also one of those sitcoms that flies under the radar, not getting as much attention as "The Conners" or "Young Sheldon." But the comedy is a reliably good time, thanks to its consistently fresh writing and spot-on casting. As mother and wife Katie Otto, Katy Mixon has a gleam in her eye that is simultaneously warm and wicked. (Available on: ABC, Hulu)
—Greg Braxton
'Dancing With the Stars'
I'll be honest: Before 2020, it was pretty difficult for me to get through a two-hour episode of the ABC ballroom competition series, let alone an entire season. But the pandemic forced the production to rethink its format to involve as few cast and crew members as possible, and it is truly for the better: no guest judges with not-so-helpful feedback, no live audience obnoxiously cheering nonstop. Instead, the dance numbers — now amped up by spectacular special effects like projections, lighting design and pyrotechnics — make each performance visually rich and transportive and sure to entertain viewers of any age. Bonus: incoming host Tyra Banks' banter is often as laugh-out-loud random as her outfits. (Available on: ABC, Hulu)
—Ashley Lee
'Earth to Ned'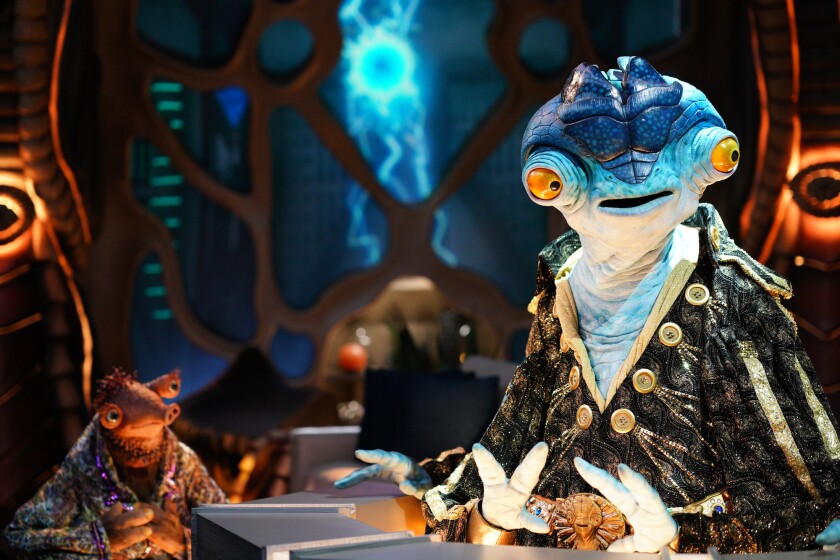 "Family friendly viewing" does not, or should not, mean "for kids" but rather "for kids and anyone else in the house who might be watching." In this Henson Co. series about a four-armed alien hosting a talk show (with human guests like Kristen Schaal, NeNe Leakes and Joel McHale) while he puts off invading the Earth, there are puppets for children of all ages and baseline silliness. But there are also dry ironies and throwaway cultural references, not only fit for adults but, like the works of Rocky and Bullwinkle and Bugs and Daffy before them, an education in attitude that is one of the best gifts you can give a child. New episodes arrive with the new year. (Available on: Disney+)
—Robert Lloyd
'Haute Dog'
If you come from a line of dog lovers, or even just a family who appreciates a good pun (or 12), then consider tuning into "Haute Dog" over the holidays. In the grand tradition of "The Great British Baking Show" and "Making It," this HBO Max competition series pits professional dog groomers against one another. And while there's a prize to be earned, the real joy is getting to know the various dog breeds, suddenly forming strong opinions about things you never knew you could care about — like the shape of a poodle's mustache — and watching an array of eccentric people who really love what they do. (Available on: HBO Max)
—Meredith Blake
From 'Storybots' to 'Octonauts,' we round up a dozen TV shows that will keep your kids occupied — without making you pull your hair out in the process.
'Hilda'
I have a weakness for cute creatures, and "Hilda" is packed with them. A young girl who's grown up in a house out in the wilderness with her mother, Hilda is much more comfortable sketching rock-like trolls, negotiating peace with tiny elves and hitching rides on the backs of flying round puppies than trying to make friends with children her age. But when her mother decides it's time for them to move to the city early in the first season, Hilda has to learn to adapt. And it turns out there are plenty of magical creatures within the urban landscape too. The show's embrace of the weird and whimsical is charming, but it's the touch of wistfulness that seeps through as we watch Hilda grow that makes it memorable. (Available on: Netflix)
—Tracy Brown
'The Mandalorian'
Baby Yoda has united families — and potentially stopped them from killing one another while cooped up at home in front of the television — since even before the start of the pandemic. Galactic bounty hunter turned hero Din Djarin (Pedro Pascal) and the painfully adorable "child" Grogu consistently deliver exasperated parents and their stir-crazy kids something to watch together. And though you're likely to binge "The Mandalorian's" two seasons and 16 episodes swiftly, each installment of the Disney+ original series, created by Jon Favreau, feels like a miniature "Star Wars" franchise feature, replete with complicated back stories, ample fight scenes, predictable dialogue and lavish special effects. Baby Yoda's spider-eating episode alone was worth the price of admission. (Available on: Disney+)
—Lorraine Ali

'Never Have I Ever'
This coming-of-age series, which hails from Mindy Kaling and Lang Fisher, was one of the year's most distinctive and moving comedies. Loosely based on Kaling's own upbringing as an Indian American teen with immigrant parents, the series centers on Devi Vishwakumar, a high schooler coping with her father's death on top of being totally and completely preoccupied with the pleasures and pressures of teenage life. The performance from newcomer Maitreyi Ramakrishnan, who beat out 15,000 hopefuls in an open casting call to play Devi, is one of the bright spots of 2020. And it's oddly perfect that former tennis pro John McEnroe serves as the narrator of Devi's inner dialogue — if there were a TV show based on my teenage years, Candice Bergen as Murphy Brown would have been my dream narrator. With 10 half-hour episodes to its first season, "Never Have I Ever" is a breezy binge for the family during those I-need-a-little-break-from-the-sound-of-your-voice moments. And, hey, our TV critic Lorraine Ali named it one of the best TV shows of the year. It's the kind of peer pressure worth giving in to. (Available on: Netflix)
—Yvonne Villarreal
'One Day at a Time'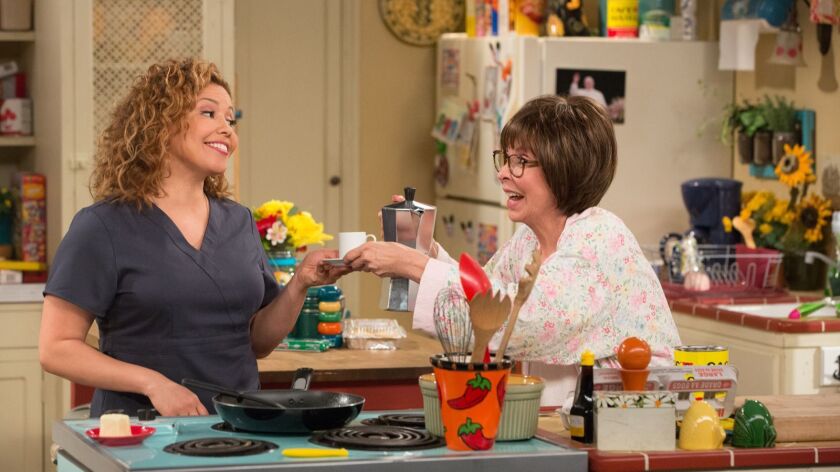 Originated at Netflix, controversially canceled after three seasons, saved by Pop TV, halted by the pandemic, reaired on CBS and ultimately canceled again — this time for good — the story of "One Day at a Time" is almost as compelling as the story in "One Day at a Time" — and that's saying something. Anchored by Justina Machado in a bravura comic performance as a single mom raising two kids in Los Angeles and the still-sublime Rita Moreno as her overbearing mother, this Cuban American update of the Norman Lear original received rightful praise for centering Latino and LGBTQ identities in an often hidebound genre. But its deft, winsomely emotional treatment of divorce, alcoholism, depression, PTSD and other subjects were equally strong proof that the venerable multicam sitcom could be freshened up for the age of streaming. Netflix and ViacomCBS might not have appreciated what they had in the slyly funny, always humane "One Day at a Time," which will surely be remembered as one of finest comedies of its generation. But you can. And there's no better time to share it with a loved one than right now. (Available on: Netflix, CBS All Access)
—Matt Brennan
---