The art project filling MacArthur Park Lake with thousands of painted spheres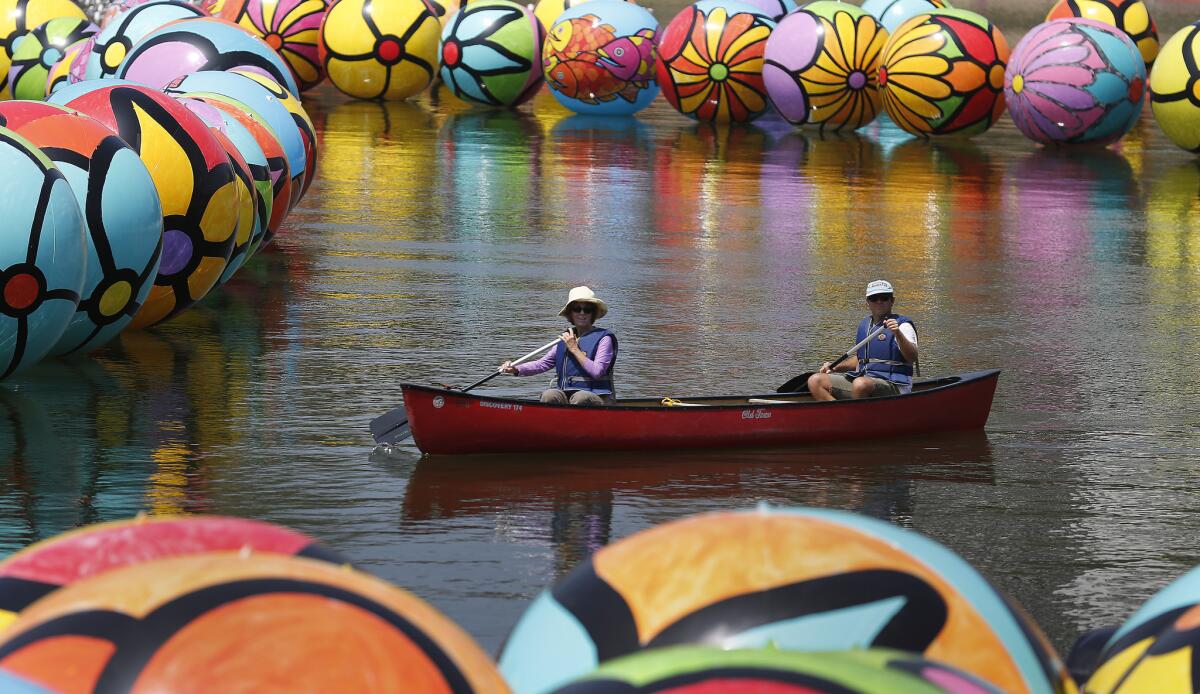 If all goes according to plan, by the time Tuesday morning rolls around, the lake at MacArthur Park will be bursting with an estimated 2,500 colorful spheres. Hand-painted by roughly 10,000 volunteers around the Los Angeles area — principally schoolchildren — the project, organized by the L.A.-based arts nonprofit Portraits of Hope, will add a big splash of color to one of the city's most storied civic areas.
On Saturday, Ed and Bernie Massey, the brother team that founded Portraits of Hope, along with Mayor Eric Garcetti, and a team of volunteers, began releasing the brightly painted spheres — draped with images of flowers and fish — into the lake's waters.
"This project involves everything that's good about Los Angeles," Garcetti told the Times. "Great weather, open space, creativity and social conscience."
This isn't the first time that Garcetti has tossed balls into water. This month he helped deposit thousands of "shade balls" into the Los Angeles Reservoir. But the purpose of this balls-to-the-water installation, said Bernie Massey, standing atop the lakeside dock where volunteers were inflating the giant 5-foot spheres, is to get Angelenos to think about one of its most important cultural monuments.
"You have this lake in the middle of the city, with the downtown skyline in the distance, but a lot of people don't come here anymore," he says. "Our philosophy is we take iconic symbols that people don't always think about, but that have relevance to the city, and we find ways to work with them."
"These days, unless you're from the vicinity, chances are you don't come to MacArthur Park," adds Ed Massey, Bernie's brother, and Portraits of Hope co-founder. "But this was a destination once."
The Masseys, both Angelenos, used to come to the park regularly as boys in the 1960s, when their Mexican mother was studying to get her court interpreter's license nearby.
"My mom would come here and take her classes and part of the deal was that I would get to go on the paddle boats after," recalls Ed. "As a kid, MacArthur Park, was always like, 'Wow!'"
Unfortunately, the paddle boats are no longer. The city suspended service a number of years ago due to budget cuts. And the area has had issues with gang violence (though that problem has abated in recent years). But the hope is that the "Spheres" project will draw visitors from all around Los Angeles and beyond to come see the installation.
Certainly, if the volunteers alone all showed up, that'd be a good start.
The pieces were produced by more than 10,000 volunteers around Los Angeles — many of them school kids, as well kids enrolled in programs at the Braille Institute, which provides services to the blind, Miller Children's Hospital in Long Beach and the Shriners Hospital for Children in Westlake, among various other charitable organizations.
Through the entire process, Bernie Massey says, kids learned about art, teamwork and civic involvement — not to mention the history of their city. "There is a strong educational component," he says.
In addition, Portraits of Hope worked with a team of businesses who supplied everything, from materials to transport, free of charge. This included Vista Paint, which donated specialized waterproof acrylic paints that will not come off in the water, to companies such as the engineering firm Arup and So Cal Ship Services, which helped with logistics. Various other charitable groups and corporate foundations supplied funds for the fabrication of the spheres, which were specially made for the project.
"If we had wanted to do this, it would have cost us around $1.5 million," Bernie Massey says. "But a lot of people donated time and materials and expertise."
Portraits of Hope has done other installations in Los Angeles in the past. In 2010, they worked together with area schoolchildren to decorate lifeguard towers for L.A. County beaches. And in 1999, they covered Beverly Hills High School's oil derrick in a wild floral design.
So far, the spheres have been well-received by the regulars at MacArthur Park.
María Castro has been hanging out at the park since she first immigrated to the U.S. from El Salvador more than 40 years ago.
She says the park has gotten grubbier since she first began visiting — less well-kept, it's rolling hills of grass dried out by the drought. The spheres, however, have changed its aspect.
"It's very festive," she says. "It's beautiful. It makes the park look much better."
Twitter: @cmonstah.
Get our L.A. Goes Out newsletter, with the week's best events, to help you explore and experience our city.
You may occasionally receive promotional content from the Los Angeles Times.