Review: Brooke Shields' 'Chicago' fun and ferocious at Hollywood Bowl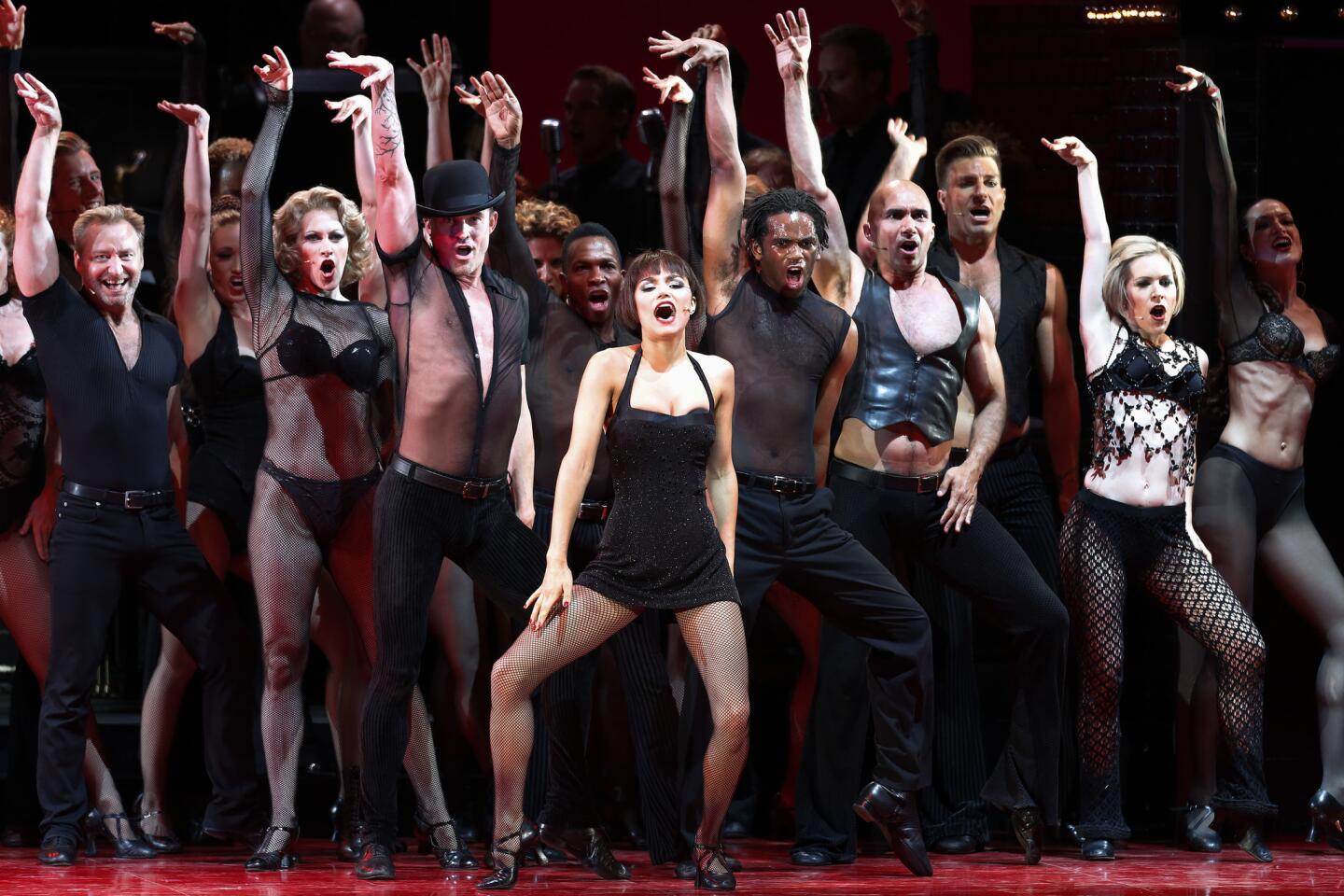 Samantha Barks, center, as Velma Kelly in the Los Angeles Philharmonic's performance of the musical "Chicago," directed by Brooke Shields, with musical director and conductor Rob Fisher at the Hollywood Bowl.
(Jay L. Clendenin / Los Angeles Times)
Ashlee Simpson as Roxie Hart, left, and Samantha Barks as Velma Kelly.
(Jay L. Clendenin / Los Angeles Times)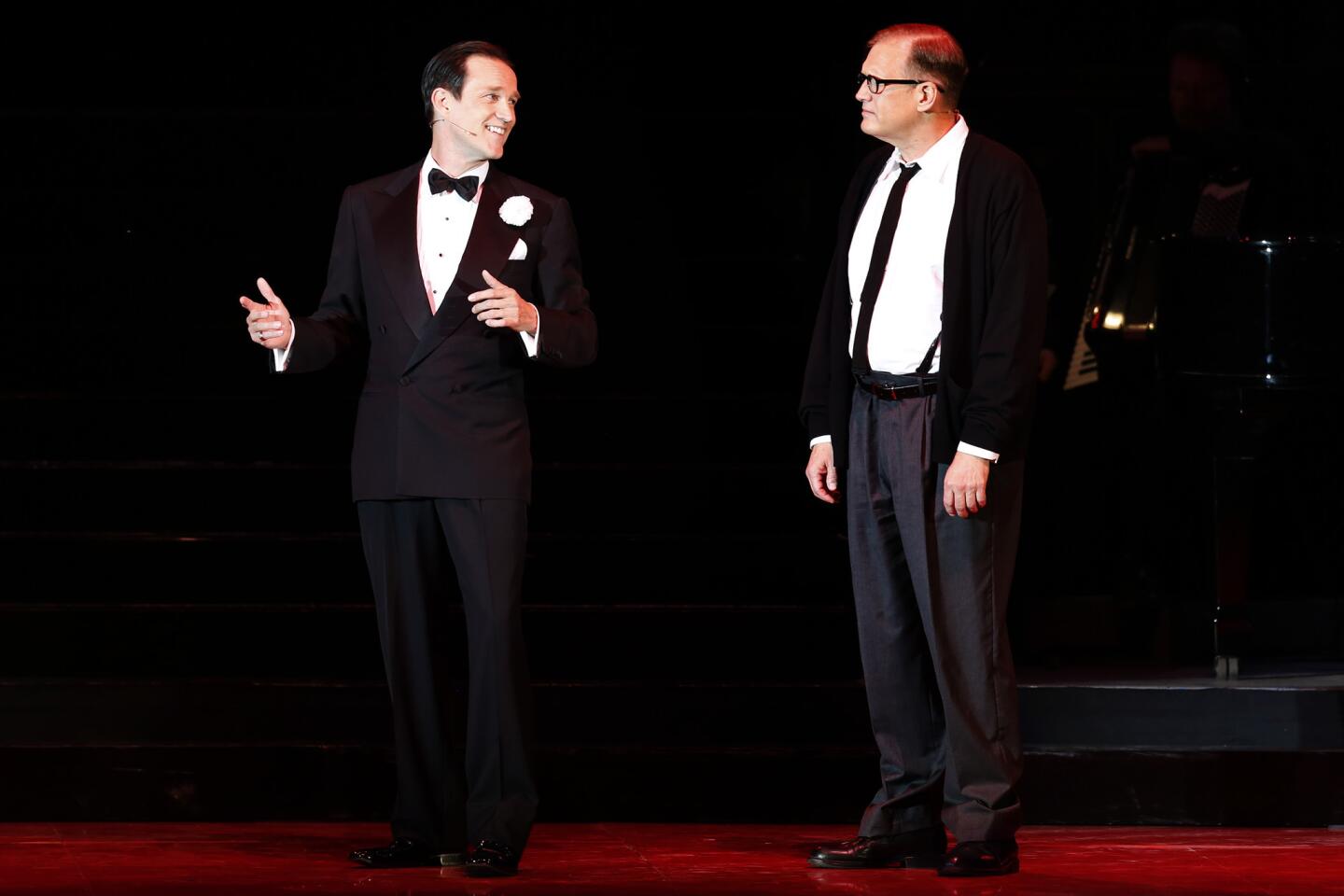 Stephen Moyer as William "Billy" Flynn, left, and Drew Carey as Amos Hart.
(Jay L. Clendenin / Los Angeles Times)
Ashlee Simpson as Roxie Hart.
(Jay L. Clendenin / Los Angeles Times)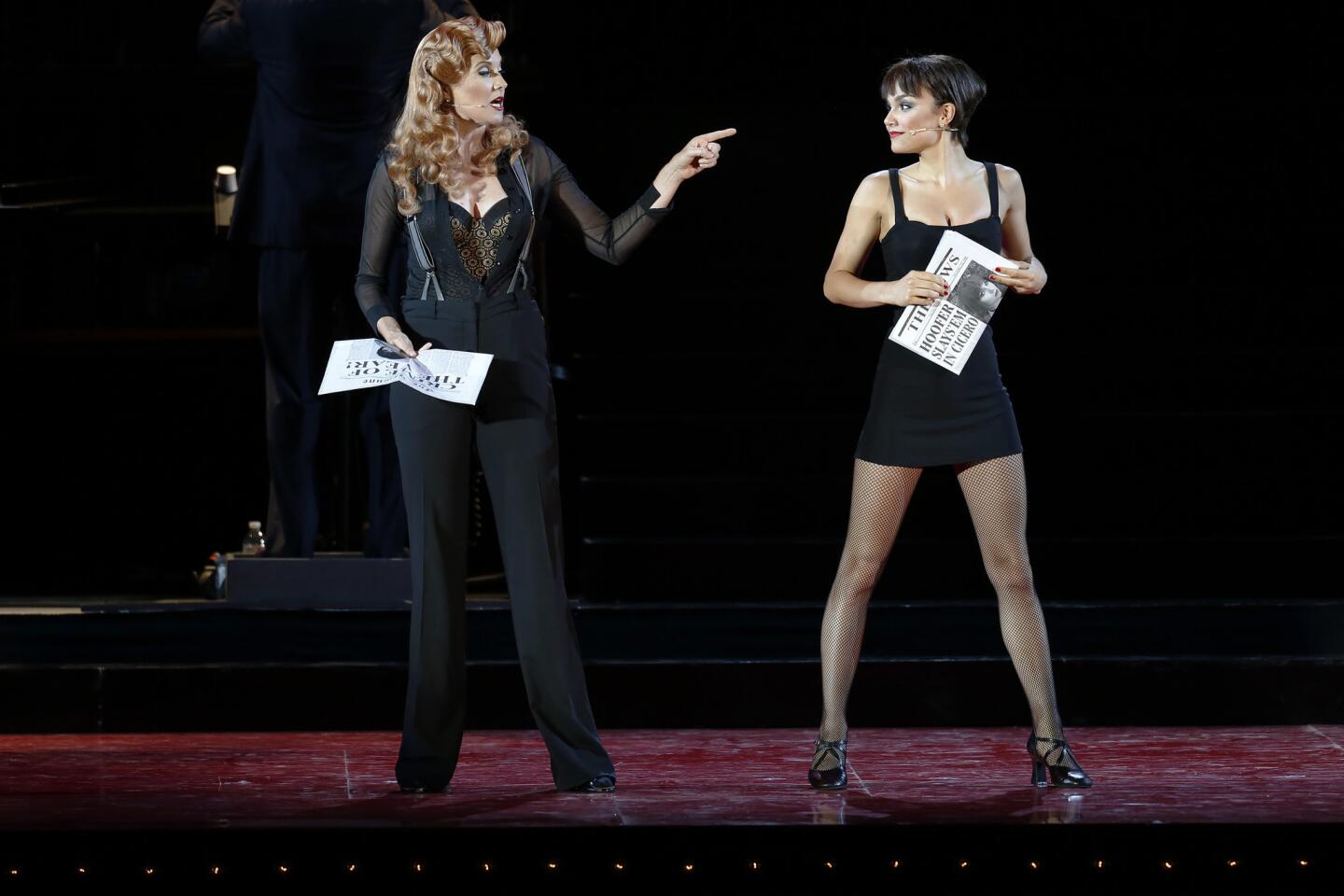 Lucy Lawless as Matron "Mama" Morton, left and Samantha Barks as Velma Kelly.
(Jay L. Clendenin / Los Angeles Times)
Stephen Moyer as William "Billy" Flynn and Ashlee Simpson as Roxie Hart, center.
(Jay L. Clendenin / Los Angeles Times)
"Chicago" is a perfect fit for the Hollywood Bowl for precisely the same reason the current New York production has become the longest-running musical revival in Broadway history: The show welcomes performers from all walks of the entertainment industry to unleash their jazz hands and release their inner vamps in roles that are pure catnip to theater lovers.
A director would have to be really determined to make a fiasco out of this gold mine of Kander and Ebb numbers, stitched together by book writers Fred Ebb and Bob Fosse, whose primary goal was to keep the show's pulse racing.
When the Bowl announced that Brooke Shields would be directing, I confess I felt a lump in my throat. In one of her many admirable reinventions, she's become a musical theater star Broadway producers go to when they need a replacement who can add box-office juice. Shields won favorable reviews for her work in "Wonderful Town" and "Cabaret" and even did a short stint as Roxie Hart in Walter Bobbie's unstoppable revolving-door production of "Chicago" in New York.
PHOTOS: Arts and culture in pictures by The Times
But there was reason to fret. This Bowl production marked Shields' professional directorial debut. And the cast was a grab bag of pop stars (Ashlee Simpson) and TV personalities (Drew Carey, Lucy Lawless, Stephen Moyer) who could no doubt use a commanding hand.
Fortunately, Shields had an experienced team to assist her in reproducing Bobbie's pared staging, which was less high concept than the original but choreographed "in the style of Bob Fosse by Ann Reinking" every bit as sleek and sexy. Two key collaborators, musical director and conductor Rob Fisher, a supervising music director of "Chicago" productions around the world, and choreographer Gregory Butler, an experienced "Chicago" dance captain and touring choreographer, ensured this Bowl offering sounded magnificent and moved with lurid panache.
I don't tend to hold Bowl musicals to the highest theatrical standard. The productions don't have the luxury of a lengthy rehearsal period and the assorted talents corralled to fill the seats of such a massive venue pose unique challenges. For me these offerings are chiefly an occasion to hear the score expertly performed by a full orchestra outdoors on a balmy summer night. The hope is always that the show will be colorfully and not too clumsily staged.
Friday night's opening, the first of three weekend performances, got off to a rambunctious start, with "All That Jazz" breaking down any puritanical resistance. John Kander's music, as disinhibiting as a bottle of the best bubbly, and the chorus of dancers dressed in tight black garments, plenty of sinew and even more skin (their look might be described as "come hither — or else!") revved the engines from zero to 60 in a show that demands you hop aboard or get left behind.
We hopped on happily.
TIMELINE: Summer's must see concerts
Now, dear readers, I must make a confession: Of course I've heard the name Ashlee Simpson, but I hadn't a clue about the source of her fame. My guess, which received a burst of derisive laughter from those in my box, was "American Idol." I was quickly set straight by my theatergoing companion that she's the younger sister of Jessica Simpson (note to self: Google this Simpson later), had a disastrous "Saturday Night Live" singing appearance and made a splash in "Chicago" in the West End and on Broadway.
Reprising her portrayal of Roxie Hart, the jazz baby who knocks off her lover and wants her milquetoast husband to take the rap, Simpson was terrific, turning out what was probably the most vivid performance in the production. Musical purists might quibble that she wasn't always in key and that she was better at airbrushing notes than sustaining them, but she airbrushed tantalizingly and with smoky personality.
Samantha Barks (who played Eponine in the recent Tom Hooper film version of "Les Misérables") made a potent impression as Velma Kelly, Roxie's prison rival on "murderess row" who's trying to exploit the tabloid publicity for her cabaret career. Barks, the more reliable performer, and Simpson, the more attention-grabbing presence, anchored the musical, as they needed to, so it wasn't such a big deal that the supporting cast was for the most part no more than perfectly adequate.
Moyer (best known for his alluring vampire role on "True Blood") has dashing good looks and an impressive voice, but he didn't quite have the manic charisma one expects from Billy Flynn, the showboating shyster who understands that a trial is pure showbiz. His performance was blandly appealing rather than crookedly enticing.
PHOTOS: Hollywood Bowl tidbits
Lucy Lawless (a.k.a. Xena, warrior princess) may not have brought anything fresh to the role of Matron "Mama" Morton, but she did the trick of teaching her jailbirds the wisdom of staying on Mama's good side in the fiendishly funny number "When You're Good to Mama."
Drew Carey, straying from his hosting duties on "The Price Is Right," was almost too right for Amos, Roxie's nondescript dupe of a husband. When Carey performed his character's signature "Mister Cellophane" number it was hard to keep him in focus.
A quick shout-out to D. Tablak, who played reporter Mary Sunshine and dazzled the Bowl audience with a glorious countertenor and winking cross-dressing secret.
Rob Marshall's 2002 movie version took home the Oscar, but there's nothing like seeing "Cell Block Tango" and "We Both Reached For the Gun" performed live. Hats off to Shields and her team for allowing us to savor these classic Kander and Ebb numbers under a canopy of stars.
Get our L.A. Goes Out newsletter, with the week's best events, to help you explore and experience our city.
You may occasionally receive promotional content from the Los Angeles Times.