Chris Johanson MOCA art show: life, death and the 'River of Time'
"Birdman" actress Emma Stone (center), took on Roundabout Theatre Company's "Cabaret." Pictured with Gayle Rankin, left, Andrea Goss, Kristin Olness, Stacey Sipowicz, Kaleigh Cronin and Jessica Pariseau.
(Joan Marcus / Roundabout Theatre)
Oscar winner Helen Mirren once again portrays Queen Elizabeth II in Peter Morgan's play "The Audience," directed by two-time Tony Award winner Stephen Daldry.
(Johan Persson / Associated Press)
Actress Carly Hughes and Sugarland singer Jennifer Nettles perform during a rehearsal for Broadway's "Chicago."
(Astrid Stawiarz / Getty Images)
Sienna Miller, center, and Alan Cumming, right, appear at the curtain call following her debut performance in Broadway's "Cabaret."
(Greg Allen / Invision / Associated Press)
"Nightcrawler" actor Jake Gyllenhaal, left, and Ruth Wilson stand onstage at the opening night curtain call of "Constellations" at the Samuel J. Friedman Theatre.
(Greg Allen / Invision / Associated Press)
Bradley Cooper, left, Alessandro Nivola and Patricia Clarkson perform in "The Elephant Man" at the Booth Theatre in New York.
(Joan Marcus / Associated Press)
"Wolverine" actor Hugh Jackman played The Man in "The River," a play by Jez Butterworth, directed by Ian Rickson, at Circle in the Square Theatre in New York.
(Richard Termine / Associated Press)
Film actors Ewan McGregor and Maggie Gyllenhaal made their Broadway debuts Oct. 30 in Tom Stoppard's "The Real Thing" in New York.
( Joan Marcus / Associated Press)
Four-time Oscar nominee Annette Bening is no stranger to the stage having started her acting career in theater. Above, Bening performs a compilation of four Ruth Draper vignettes in "Ruth Draper's Monologues," scheduled to run through May 18 at the Geffen Playhouse.
REVIEW: Annette Bening pays fine tribute in 'Ruth Draper's Monologues'
(Allen J. Schaben / Los Angeles Times)
"CSI" alum William Petersen made his
Los Angeles stage debut
in this year's "Slowgirl" at the Geffen Playhouse.
(Katie Falkenberg / Los Angeles Times)
Tom Hiddleston
returned to the stage
as the title character in Shakespeare's "Coriolanus" after playing Loki in "Thor," "The Avengers" and "Thor: The Dark World." The production opened at the Donmar Warehouse in London on Dec. 17 to glowing reviews and continues through Feb. 13.
(Johan Persson / Associated Press)
Ethan Hawke took on the
title role
in the Lincoln Center Theater's production of "Macbeth" that opened on Nov. 21, 2013, and closed Jan. 12.
(T Charles Erickson / Associated Press)
Daniel Radcliffe went from boy wizard in "Harry Potter" to baring all in a Broadway revival of Peter Shaffer's 1973 Tony-winning play "Equus."
The casting of the "Harry Potter" frontman as the psychologically disturbed stable boy caused a stir as the then 17-year-old would appear nude in one scene.
Radcliffe
wowed critics
and earned a Drama Desk nomination for his role.
(Uli Weber / Associated Press)
Jude Law, who played the title role in 2009, and most of the British cast transported the Donmar Warehouse production from the Wyndham's Theatre in London to Broadway's Broadhurst Theatre after a successful run.
(Johan Persson / Associated Press)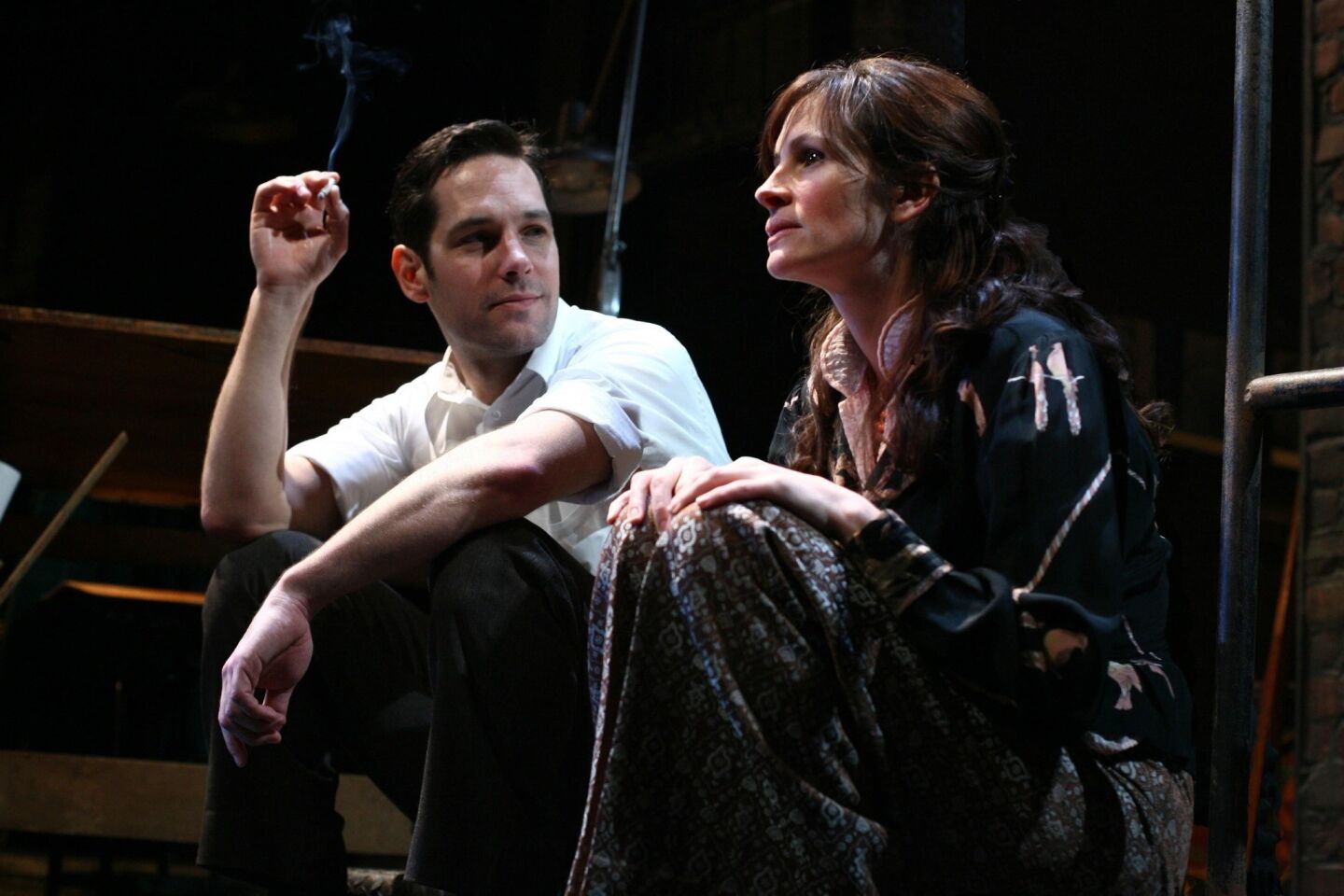 Julia Roberts made her Broadway debut in the revival of Richard Greenberg's "Three Days of Rain," which opened April 12, 2006. Paul Rudd, above, and Bradley Cooper also starred in the play that called for actors to play roles from two generations of family members.
(Joan Marcus / Associated Press)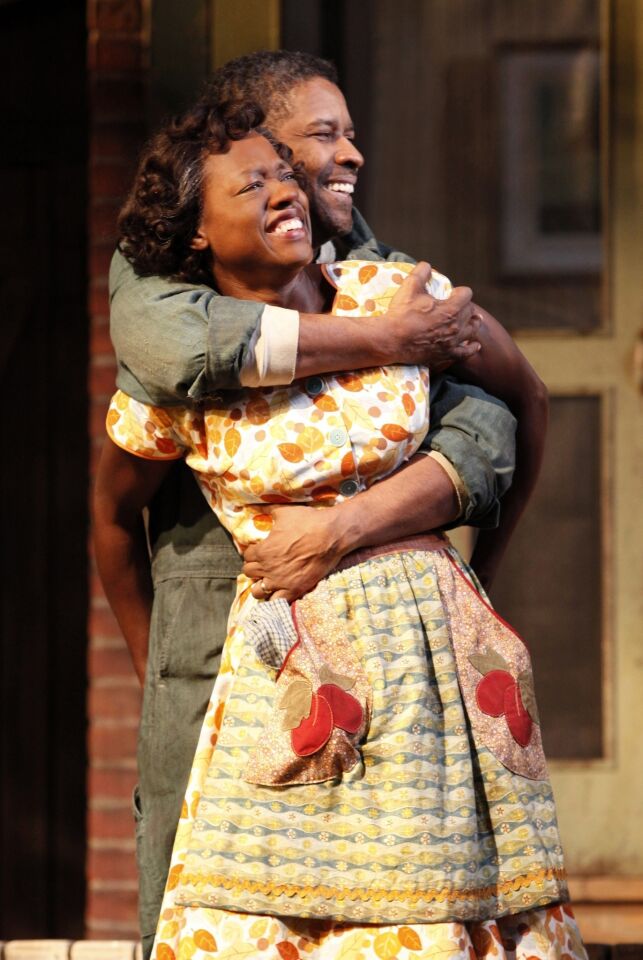 Oscar winner Denzel Washington and Oscar-nominated actress Viola Davis portrayed Troy Maxson and Troy's wife, Rose in the 2010 version of "Fences." Their portrayals in the August Wilson play netted the pair lead actor Tony Awards.
(Joan Marcus / Associated Press)
Daniel Craig and Hugh Jackman, both with impressive stage and screen credits, starred in Keith Huff's "A Steady Rain."
The two-person play, which cast the duo as a pair of cops, opened Sept. 29, 2009.
(Joan Marcus / AP)
Oscar-winner Al Pacino got to recite the famous "Hath not a Jew eyes" speech multiple times as Shylock in both the 2004 film and the 2010 Broadway production of "The Merchant of Venice."
(Joan Marcus / Associated Press)
Silver Lake-based artist Chris Johanson swiftly glides up to the entrance of the Museum of Contemporary Art's branch at Pacific Design Center on a skateboard. His fluid trajectory is not unlike the elevated swirls of blue wood that flow throughout the gallery space of his upcoming exhibition. His sunny yellow T-shirt and bright purple socks echo the color palette of the show, "Within the River of Time Is My Mind," which is awash in Chiclets-like pink, light blue, yellow and lavender.
The exhibition of paintings, sculpture and found wood installations, organized by guest curator Andrew Berardini and opening Saturday, is a simplified, physical representation of the deeper themes that Johanson says plague him: the time-space continuum, the flow of energy, death, ghosts. "But I'm trying to make the show not too bittersweet," Johanson says. "I want it to be really playful, a positive, peaceful show."
PHOTOS: Arts and culture in pictures by The Times
The theme of this exhibition, you've said, is "the personal river of life connected to the greater river of life." Toward that end, how do wood, water and time collide in this show?
I just like water, how it sounds. And how it takes you on a journey: It's just a nice, simple thing to me. I paint on found wood because there's so much of it everywhere. All those 2-by-4s are from an apartment complex that we found; they were tearing it down. There are these wood geometric shapes [in the show] painted blue, like waves. This loop of painted wood, 2-by-4s, will wrap around the whole installation. A circle. Time-wise, it's what we know: birth, your whole life, to death. Life, death, life, death, I've been thinking of those issues a lot.
Text is a recurring element in your work. Can you speak to the multiple functions it provides both in the creation process and on the canvas?
I want to share my thoughts. I really labor over the poetry of the words. I try to say complicated things in a simple way — [addressing] death, existential thought processes and anxiety. And I try to decompress that, move that away and bring in more peaceful thoughts. The repetitive quality of [placing words on canvas] creates serotonin in my brain. It's like a peaceful, meditative ritual. It's something I've been doing since I was a little kid. When I was a child, I couldn't focus; I didn't like school at all, that was not my thing. But I really liked to do this, art, it's always been a really good friend of mine.
You spent over a decade immersed in San Francisco's underground art and music scenes in the 1990s, painting and playing bass in a band. Yet you've also shown your work at museums internationally and in New York, including at MOCA director Jeffrey Deitch's gallery Deitch Projects in 2008. Where do you feel most at home?
The New York artwork, I'm not really into it — I'm into the world of art. I'm into all scenes. I've shown with [video artist] Bill Viola, and also what they call street art now. Some street art can be kind of bad, I think. But I'm probably more proud of being part of that scene — the cafe/have-a-show-in-a-garage art community — than being part of the commodified, capitalist giant art world scene. It's way more down-to-earth. I might not like all the art, but it's not very exclusive. I'm more interested in socialism than capitalism.
Why are all the paintings in this show at night?
Nighttime is restorative. Nighttime is a super yin time, and I really believe in that. I believe that without a balanced life you're playing with fire. It's a thing to be really mindful of. When you go to sleep every night, that's like your body's way of dealing with life and death. It's like a peaceful, gentle reminder of calming down. I've been doing portraits and non-abstract paintings of nighttime for the last four years. But this will probably be my last time around on that certain issue.
Peace, positivity and what you call "well-wishing" are such a big part of the show. Why?
My old art is really gnarly, it's really negative ... my art from the '90s. I would never make art like that ever again — people scoring drugs and ripping people off and guilt spirals and people sweating. But you change. I'm trying to have a positive life now — I am having a positive life. It was a slow process of becoming more positive from being a negative person. It was very conscious. I came to the decision by paying attention to my life and the natural rhythms of life I saw around me. There are schools of life around you every day.
'Within the River of Time Is My Mind'
Where: MOCA Pacific Design Center, West Hollywood
When: Public opening (with performance by Sonny and the Sunsets) is 6-9 p.m. Saturday; ends Sept. 22
Tickets: Free
Information: (213) 621-1794 or www.moca.org
---
Get our L.A. Goes Out newsletter, with the week's best events, to help you explore and experience our city.
You may occasionally receive promotional content from the Los Angeles Times.