Art critic Dave Hickey has never been shy about dissenting
In this downtown Los Angeles mural, a young girl swings from the word "PARK," formerly written as "PARKING." Just down the block from this area, a downtown resident group is looking to find a little more than $6 million to transform a parking lot into a community park with a playground.
(Genaro Molina / Los Angeles Times)
"Kissing Coppers," a life-size portrait of two policemen sharing a kiss, is one of Banksy's most famous artworks. The piece was created in 2004 on the walls of a pub in Brighton, England. It was then carved from the wall and sold to an anonymous buyer in Miami for $575,000 in 2014.
(Joe Raedle / Getty Images)
A visitor to Paris' Drouot auction house looks at Banksy's "Very Little Helps" prior to an October auction. The piece sold for about $7,200.
(Thiabult Camus / Associated Press)
After a daylong hiatus "due to police activity," Banksy stenciled an image of a man leaning on a wall, holding a batch of falling flowers. The creation went up on the side of the Hustler Club in Hell's Kitchen, Manhattan.
(John Moore / Getty Images)
This pop-up exhibition depicting the Occupy movement was a collaboration between Banksy and Brazilian twin street artists Os Gemeos. A Fox news report claimed Banksy paid $50,000 to hang his work from this property in New York, but Banksy said the space was donated by the owner.
(Michael Loccisano / Getty Images)
As part of Banksy's monthlong residency in New York, Banksy found clever use of a privately owned Brooklyn street scape. The artist drew the silhouettes of two kimono-clad women on a circular-like object, as if the pair were sitting on a bridge carrying parasols near a cherry blossom tree.
(Justin Lane / EPA)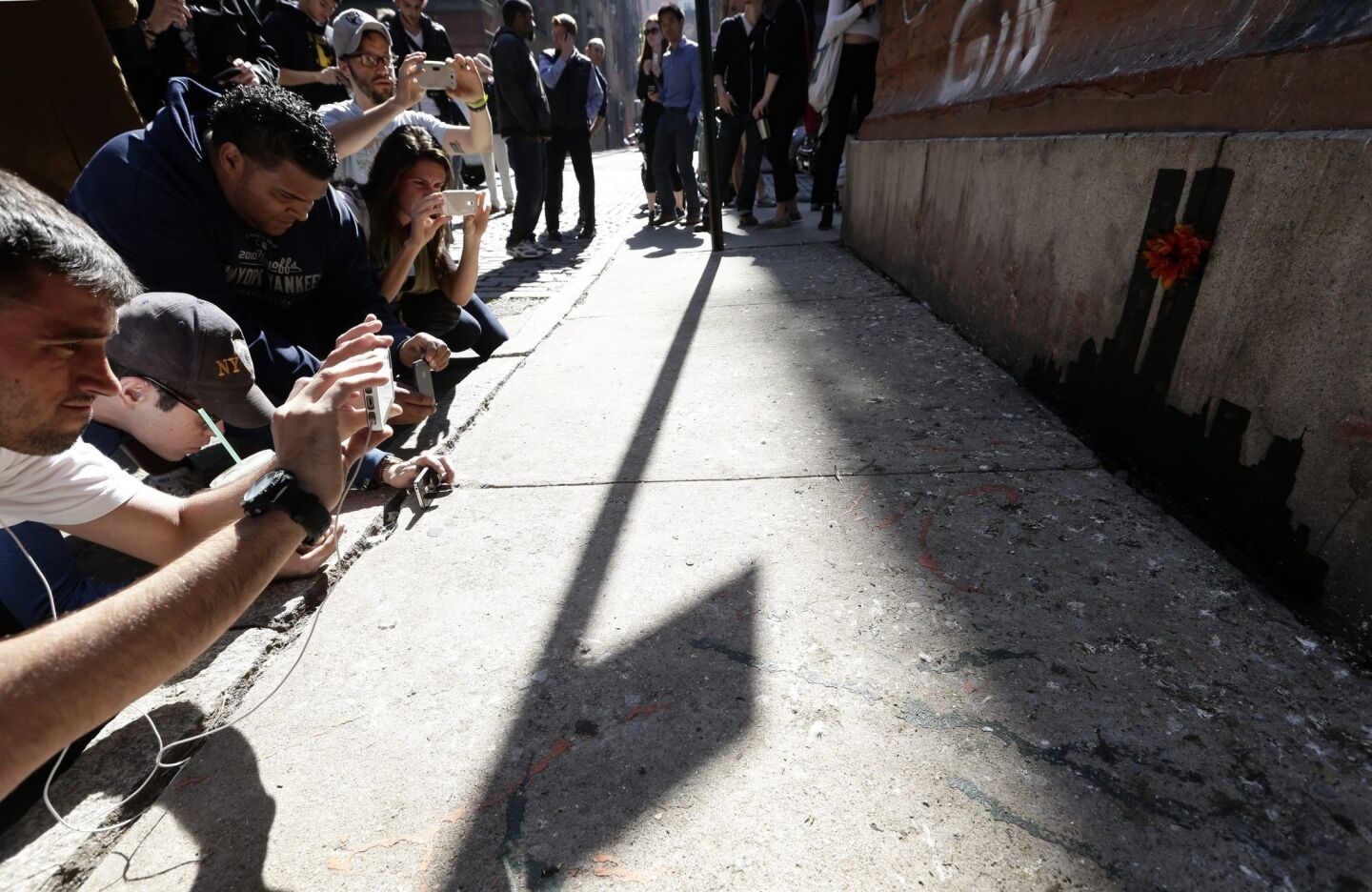 Banksy created a mini-tribute to the Twin Towers on the streets of Tribeca. The image portrays two buildings against the New York skyline, one accented with an orange chrysanthemum.
(Jason Szenes / EPA )
Trying art in motion, Banksy conceived a slaughterhouse delivery truck replete with squealing stuffed animals. The farmyard pigs and sheeps are on their way to death.
(Andrew Gombert / EPA )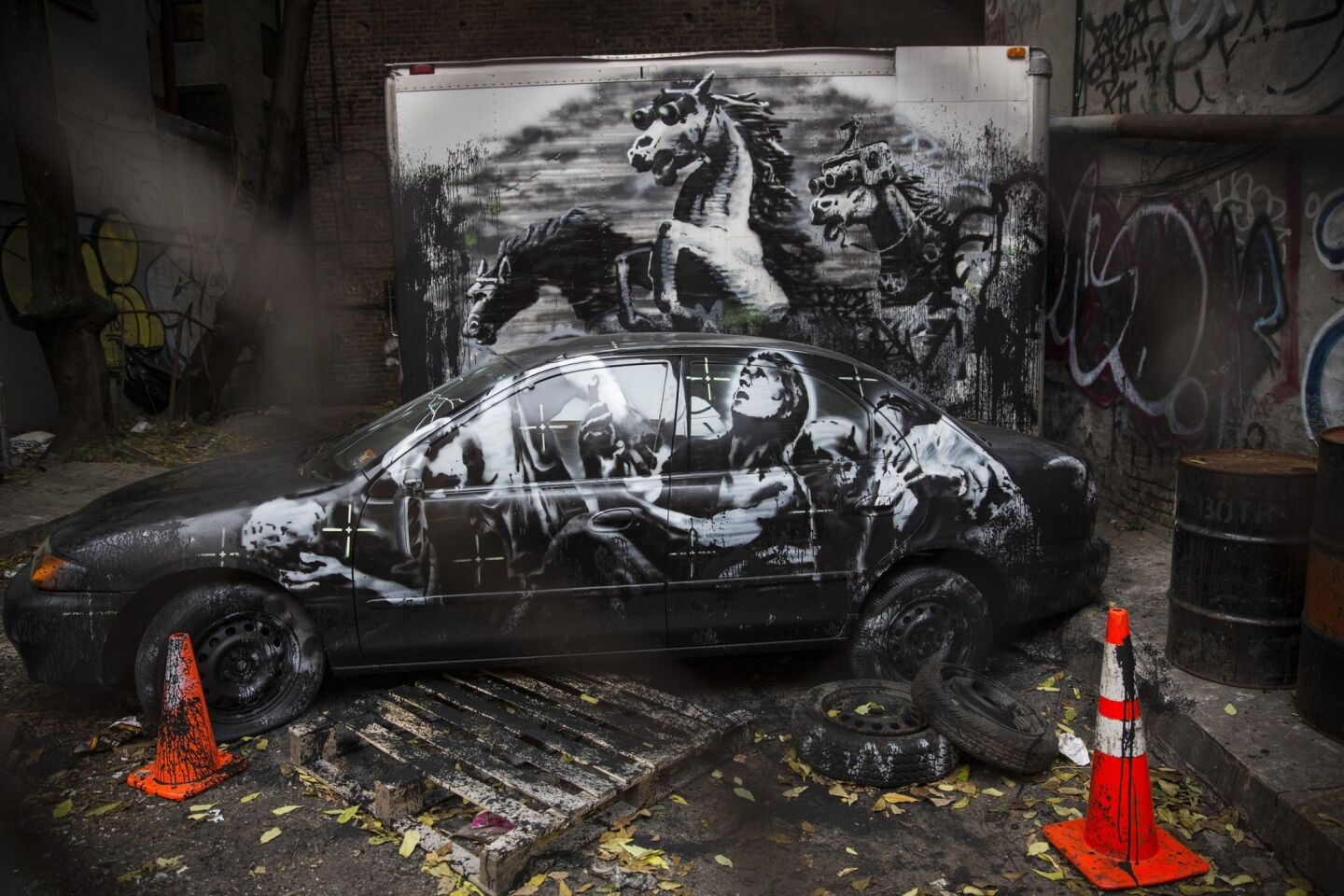 Seen through a fence in New York City, Banksy's trio of stampeding horses wear night-vision goggles while a group of men kneel before them. A tape recording of a 2007 U.S. airstrike plays in the background, revealing the killing of two children and a Reuters journalist.
(Andrew Burton / Getty Images)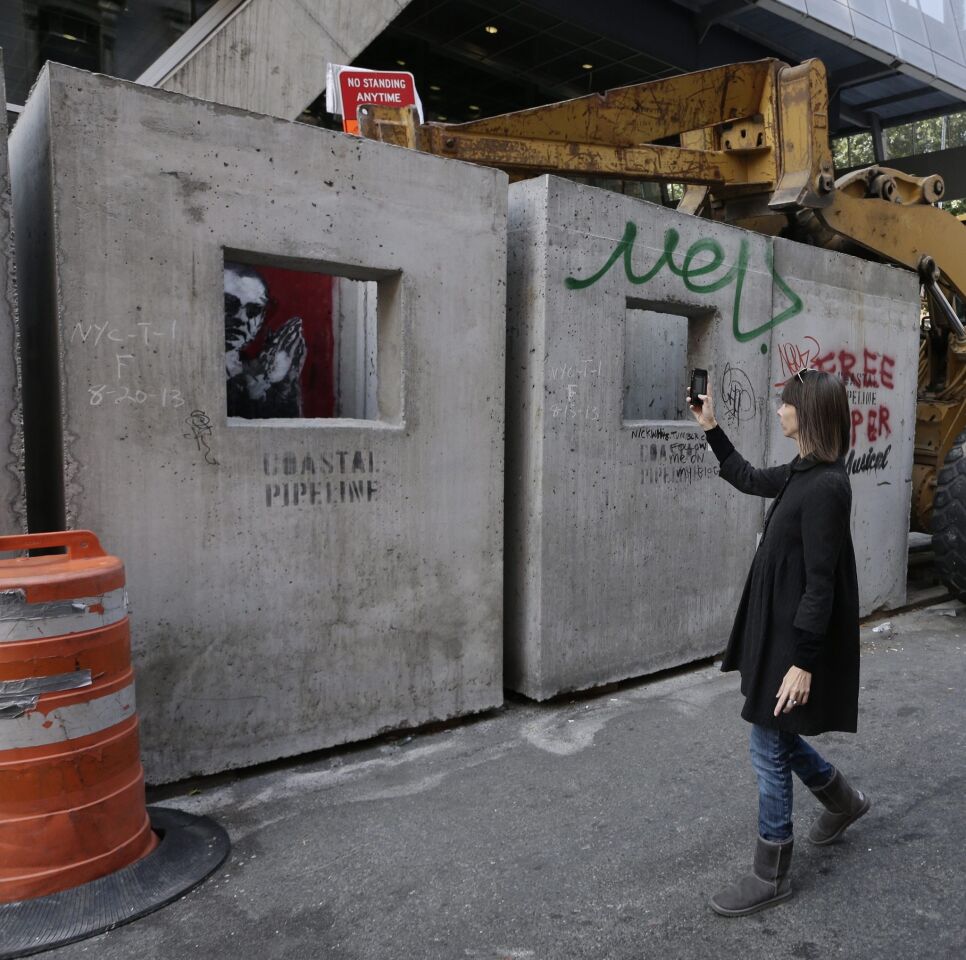 Located across the street from the First Ukrainian Assembly of God, this piece is based on a 1950s image by photographer Berni Schoenfield, depicting a Jesuit priest at a Martyr's Shrine. A portion of the original piece has been defaced by vandals.
(Jason Szenes / EPA )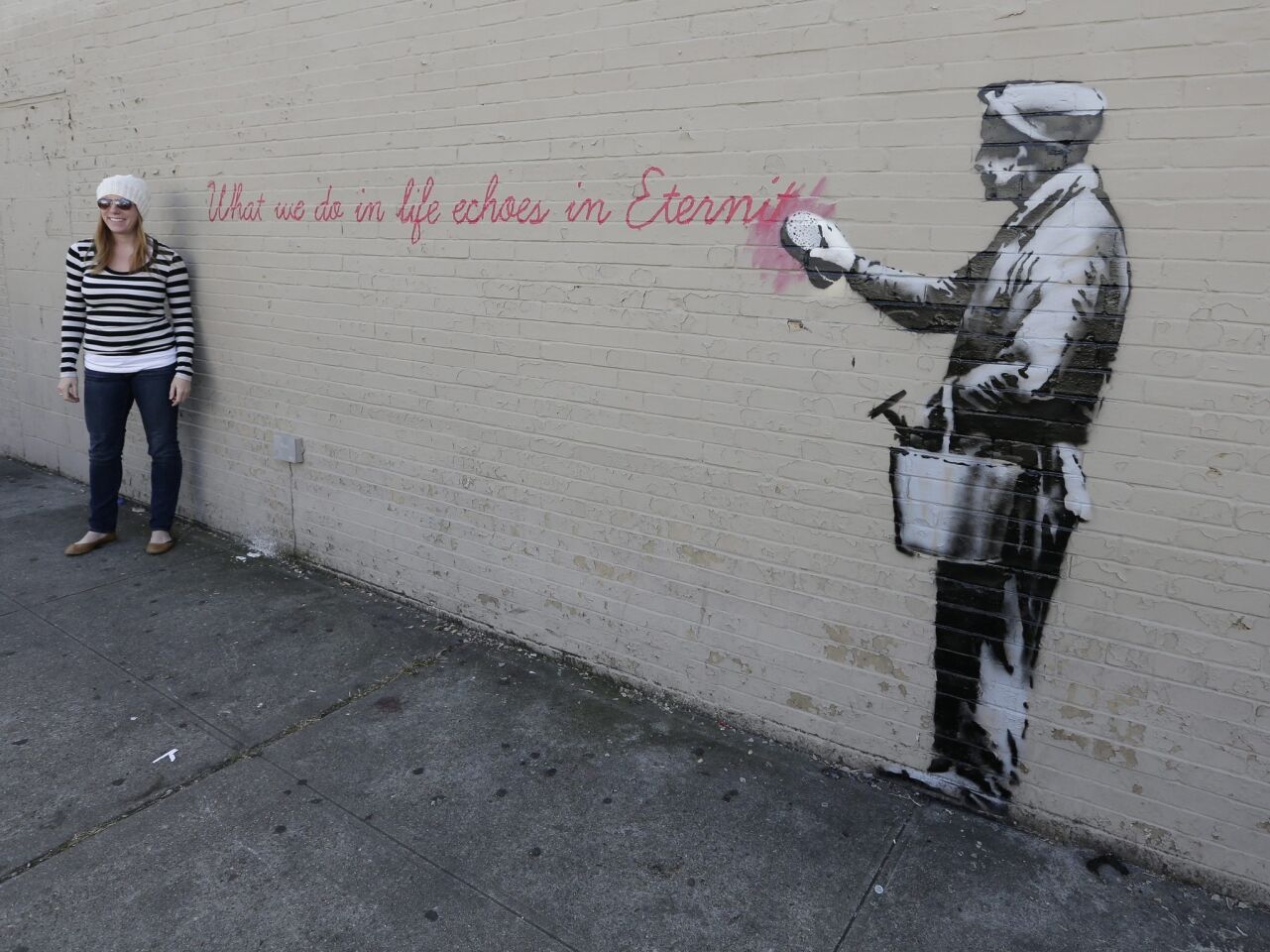 In this aerosol artwork spotted in Queens, New York, a man begins to scrub away the phrase "What we do in life echoes in Eternity" -- a quote picked up from the film "Gladiator."
(Jason Szenes / EPA)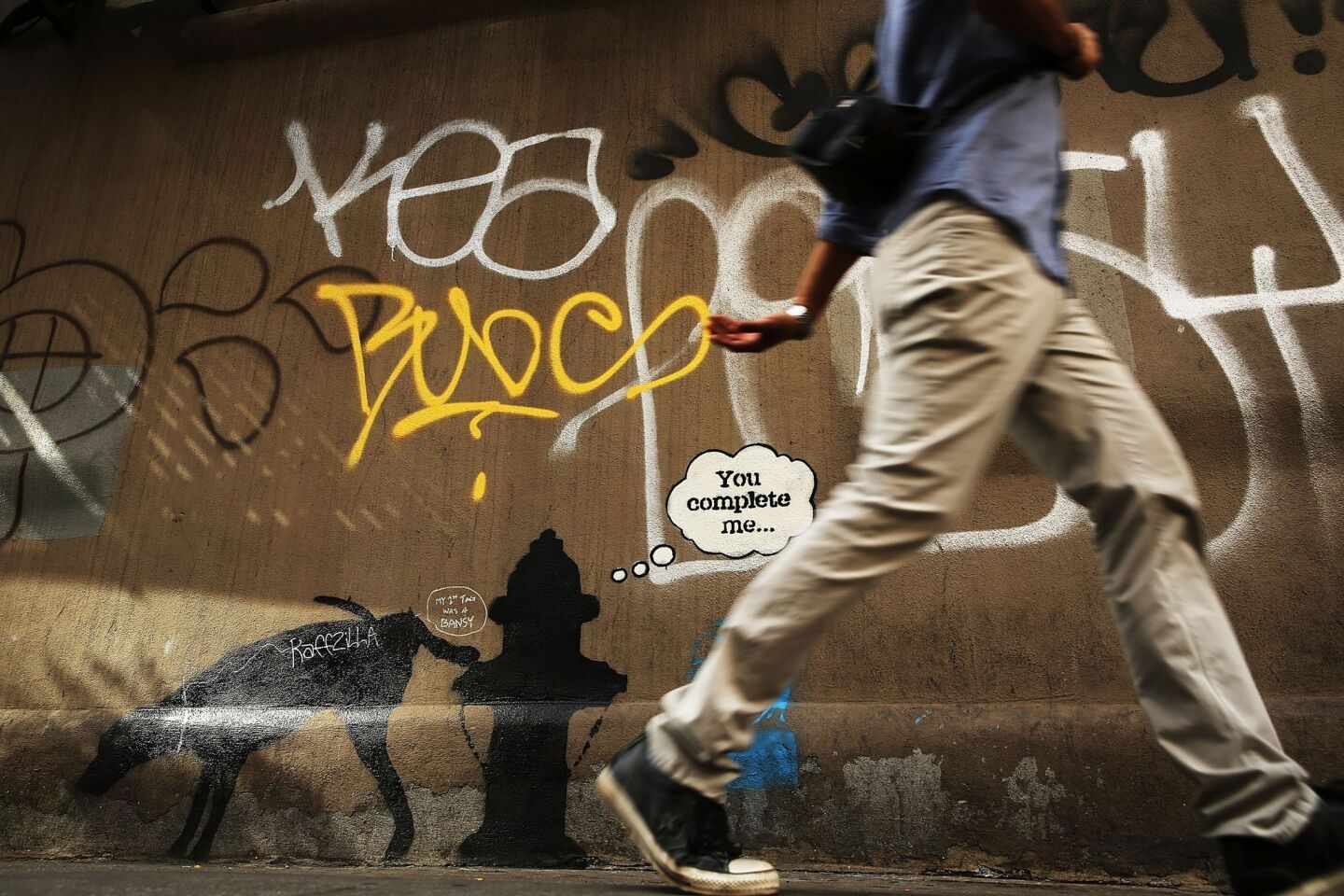 Stenciled on the streets of New York, a dog is seen urinating on a fire hydrant, with a thought bubble reading "You Complete Me..."
(Spencer Platt / Getty Images)
In the the Red Hook neighborhood of Brooklyn, a heart-shaped helium balloon is covered in bandages. The piece was defaced with red spray paint shortly after being completed. Banksy has painted a famous heart-shaped balloon before in his 2012 London piece "Girl With a Balloon."
(Andrew Burton / Getty Images)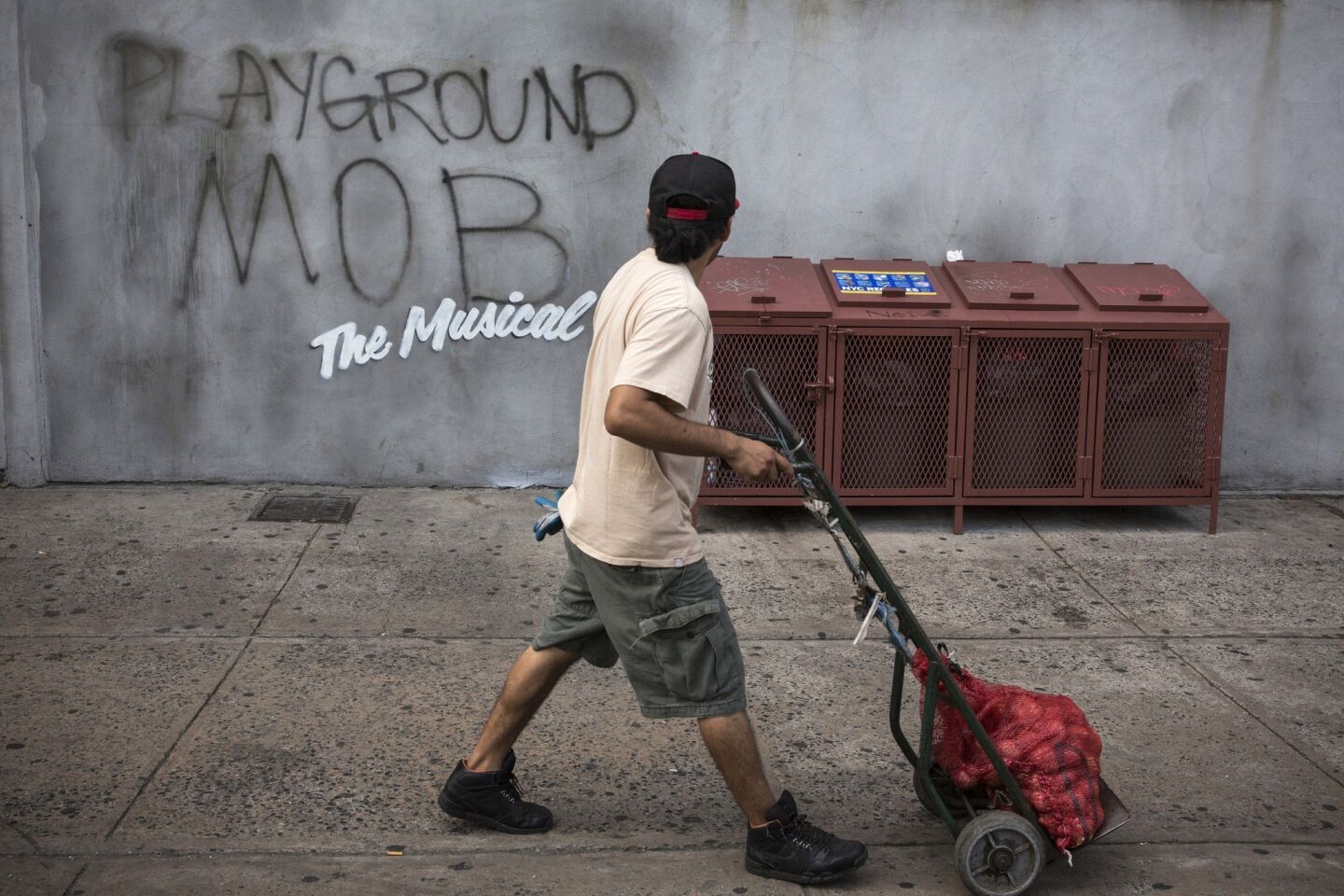 In this New York Lower East Side piece, Banksy added the words "The Musical" to existing graffiti that read "Playground Mob."
(Andrew Burton / Getty Images)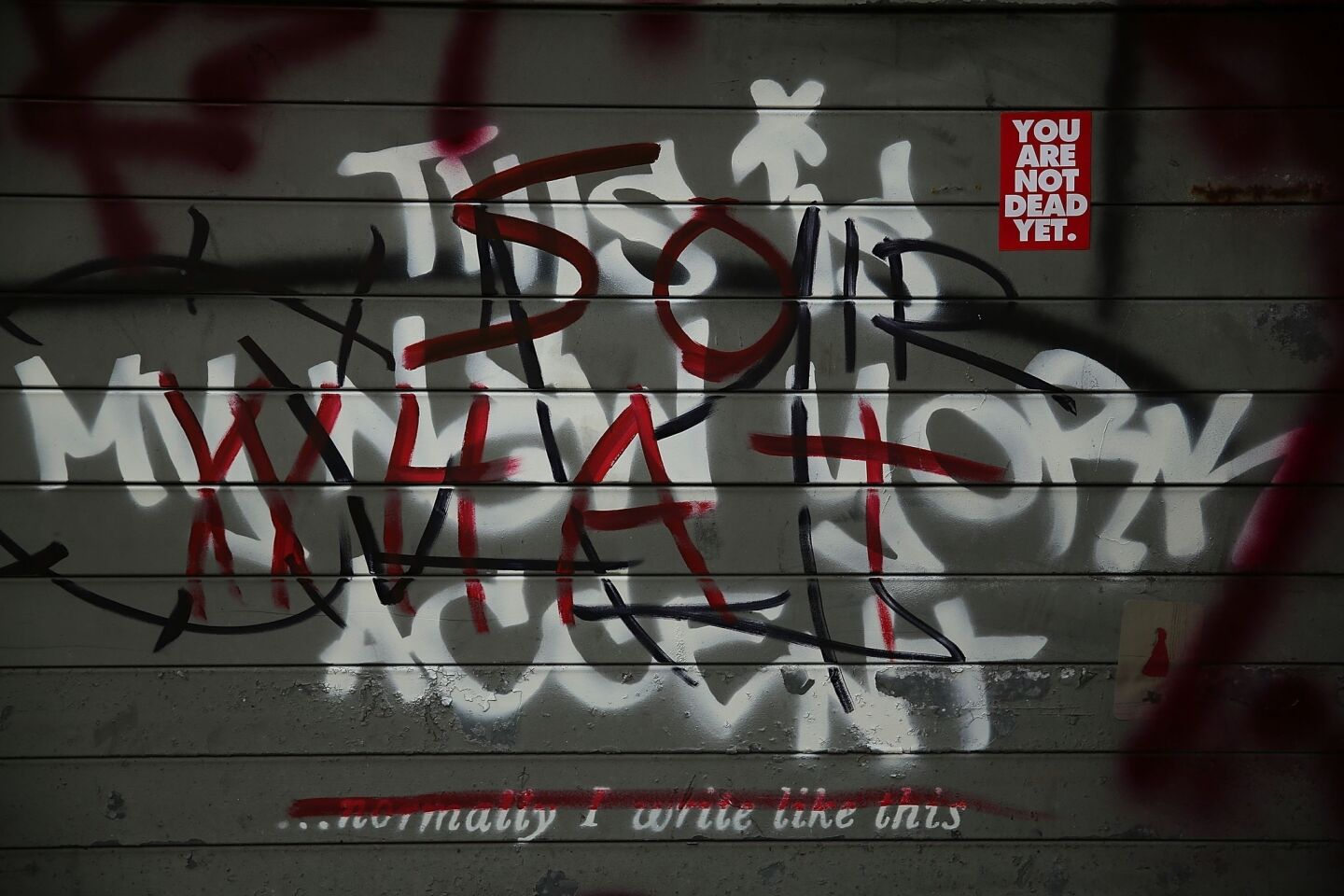 Banksy wrote the words "This is my New York accent" beneath a highly stylized "...normally I write like this." Like several other pieces, this one was later vandalized by graffiti.
(Spencer Platt / Getty Images)
Banksy's graffiti mural "Love Is in the Air" illustrates a black and white masked protester about to throw a bouquet of colorful flowers. The piece was up for auction at Bonhams in London.
(Justin Tallis / AFP / Getty Images)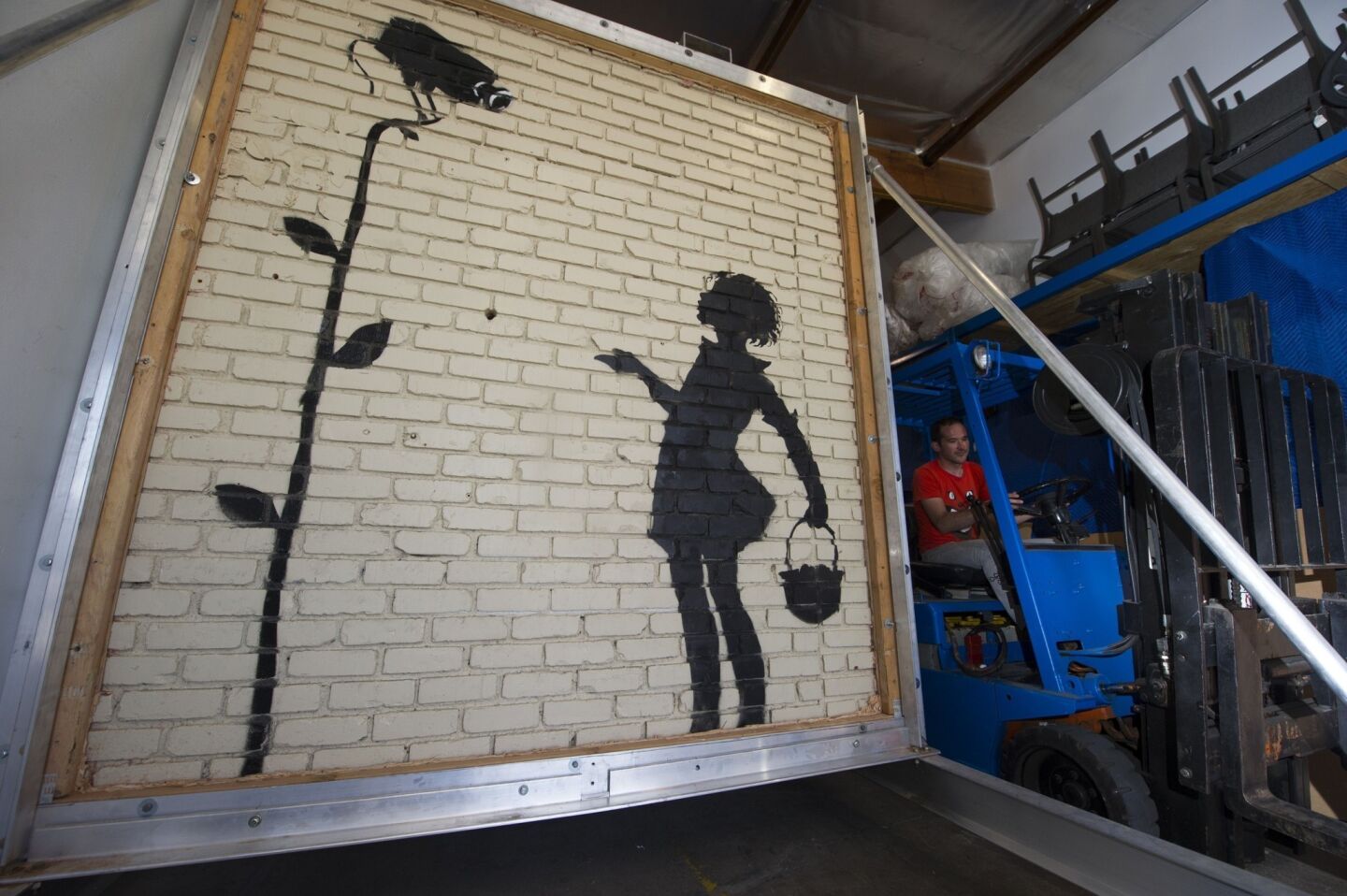 "Flower Girl" is a 9-by-8 foot mural on brick, originally located at an LA gas station. The owner of that gas station cut out that section of the wall and brought it to an auction. The mural depicts a girl holding a basket of flowers as a security camera blossoms on top of its stem.
( Robyn Beck / AFP / Getty Images )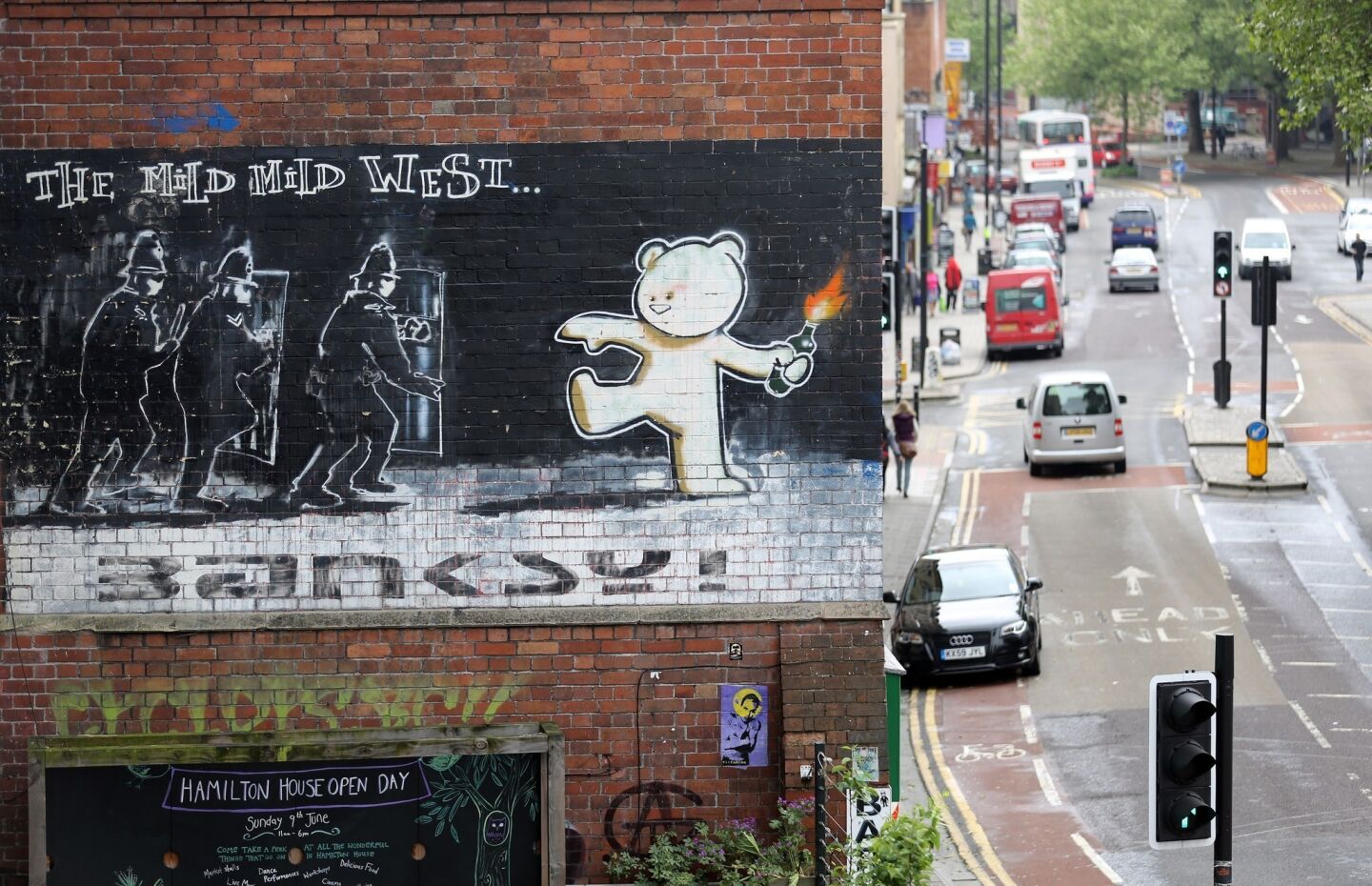 Seen in Bristol, England, this large piece portrays three police men approaching a teddy bear with a lit cocktail in his hand. For about nine years, the piece remained untouched but was then defaced with red paint.
(Matt Cardy / Getty Images)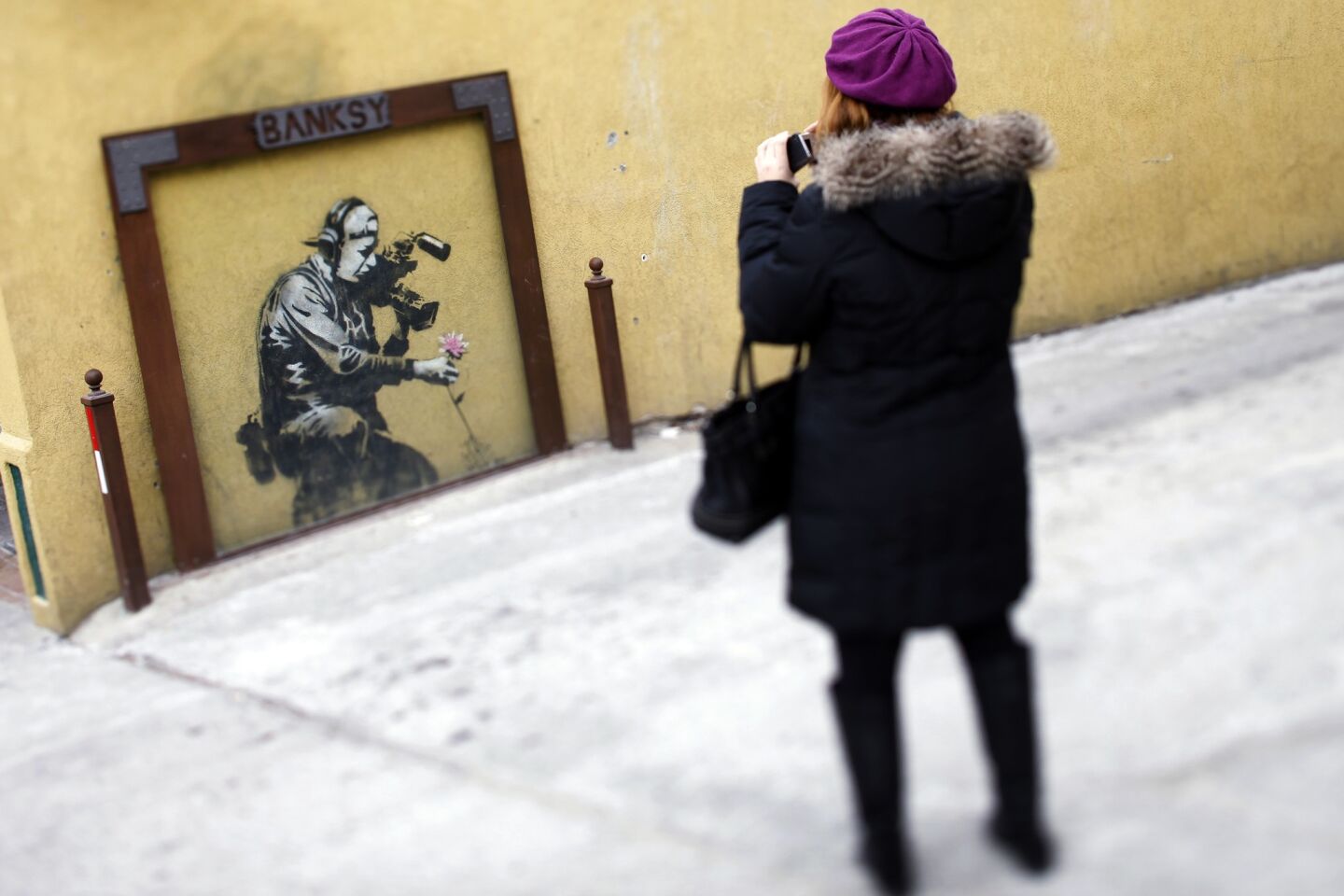 At the 2012 Sundance Film Festival, Banksy premiered his film "Exit Through the Gift Shop," about a man who desperately wanted to create a documentary on Banksy. During the fest in Park City, Utah, Banksy created an image of a filmmaker zooming in on a pink flower.
(Jay L. Clendenin / Los Angeles Times)
A cigarette dangles from the mouth of art iconoclast Dave Hickey as he cracks open the door of the Presidential Suite at downtown Los Angeles' Ace Hotel. Coffee cups, reading material and cigarette butts litter the room, which is dark except for one low-glowing lamp. The dim light silhouettes Hickey's sturdy, broad-chested frame as he shuffles toward the hotel room's patio.
"Come on in," he yells in a deep, Southern-inflected voice. "I'll be outside having a smoke. What is there to talk about anyway? Everyone's just stupid."
One thing to talk about — his remarks the night before at downtown's Grand Central Market, where Hickey set off a Twitter tempest while discussing his newest book, "Pirates and Farmers: Essays on Taste."
"Uh oh," tweeted art writer Carolina A. Miranda during the Wednesday event. "This is where Hickey starts talking about identity politics. Apparently, identity politics killed the art underground."
PHOTOS: The most fascinating arts stories of 2013
Brooklyn-based artist Nayland Blake tweeted in response to her running account, "As a multi racial homo egghead, I sincerely apologize for breaking the art world." Blake has several works in the Hammer Museum's upcoming "Take It or Leave It" show and is chair of the International Center of Photography-Bard MFA program.
On the phone the next morning, Hickey seemed unperturbed by the Twitter critics, though he did say it was "kind of tacky that people were tweeting during my performance." He added that he wouldn't back down from his comments, but did offer to explain himself.
"Look," he said, "identity politics broke up the underground, but I'm a champion of women artists. Why don't you come downtown and we'll talk about it?"
Later that afternoon on his hotel room's seventh-floor balcony, Hickey plops down on a chair, ensconced in a cloud of cigarette smoke and nostalgia. With his silver beard, loose black sweats and physical heft, the 75-year-old Hickey looks almost Orson Wellesian.
PHOTOS: Faces to watch 2014 | Art
Hickey's own self-description is "a sissy" and "an idiot" who puts his foot in his mouth. He's also "really darn smart" and entered college at age 15. He is "a feminist," "a serial monogamist" who's been married twice, "a big quitter" and, above all, "a pirate."
"Pirates," he says, "are people who don't care, who cross boundaries — outsiders."
"Dave's a cross between Ralph Waldo Emerson and Joe Cocker — profoundly American, profoundly democratic and profoundly independent-thinking," says art writer David Pagel, who appeared in conversation with Hickey at Art Los Angeles Contemporary last week. "He's almost a heretic in the church of art. He makes people mad because he wants them to think for themselves."
"[The tweeters] implied I wasn't feminist, which I am," Hickey says. "But identity politics tribalized the art underground and broke up the dissonant tone of it — a tribe of women, a tribe of black people, a tribe of gay people. It used to be all of us, together, just down in the dirt."
Stirring opinions, distilling art jargon into everyman language and igniting the passions, both positive and negative, of younger art goers — often with shocking comments and counterintuitive career turns — seems to be Hickey's specialty.
ART: Can you guess the high price?
At times, he's been a hard-living New York music and culture writer for Artforum, the Village Voice, Vanity Fair, Playboy and Rolling Stone; a Nashville musician; an art gallerist in Austin, Texas, and Manhattan; the executive editor of Art in America; and a rabble-rousing, Las Vegas-based academic. But he's best known for his books on art. Newsweek named Hickey's 1997 "Air Guitar: Essays on Art & Democracy" "one of the most important books of the century."
In 2012, he left his longtime Las Vegas home for Santa Fe, N.M., and very publicly declared he was retiring from art writing. But Hickey made a splashy return to Los Angeles and the art world last week with his "Pirates and Farmers" appearances.
And more is on the way. "Pagan America" is forthcoming from Simon and Schuster; "Connoisseur of Waves: More Essays on Art & Democracy" is from University of Chicago Press, as is a book that may surprise some of his critics, "25 Women: Essays on Their Work." He's also in the process of writing a mystery novel set in the Vegas poker world.
Clearly, one thing Hickey is not: retired.
"Oh, I just thought saying I was retiring would get me more work — and it did for a while," Hickey admits. "I retire all the time. I seriously intend to quit writing about art, though, as soon as all these little [assignments] dribble out. There's nothing worth writing about anymore."
CRITICS' PICKS: What to watch, where to go, what to eat
Still, Hickey seems to spend a lot of time considering — and publicly waxing about — the state of the contemporary art world.
"The art is about as good as it always is, but there's no discourse or negativity," Hickey says. "The middle-class drones don't want to go against anything, so there's no dissent out there. There's no unpopular art, so the art world is all pop art. It's boring."
With that, Hickey stubs out his cigarette with one hand and, as the butt still smolders, reaches for another Marlboro Lights 100 with his other.
"I don't like the Hammer, I don't like MOCA or LACMA," he continues. "They lack refinement and seriousness. They're all about tabloid headlines."
Now Hickey rummages through the mini-fridge. White light spills out, illuminating his cigarette smoke. He cracks open a 7-Up.
PHOTOS: Arts and culture in pictures by The Times
"I miss the art underground," he says and sighs. "The underground [of the '60s and '70s] was home for those who did not believe and did not belong. These days, everything's mainstream; everyone loves everything."
One can easily imagine Hickey in the '60s and '70s scene he so fondly and frequently speaks about — a freewheeling time when he whittled away chunks of the week in New York hanging out at Max's Kansas City with Andy Warhol and Lou Reed. The creative camaraderie he found in that community was a refuge from his rocky childhood — the art underground was the only real family he knew.
Hickey was born in Fort Worth, Texas, the oldest of three, but grew up, he says, "all over the place," attending 13 different grammar schools in Texas, Oklahoma, Louisiana and California.
His father was a musician who played in big bands and bebop groups by night and worked at a Chevy dealership by day; his mother was a painter and teacher. The family moved to Los Angeles after he finished third grade, and Hickey spent roughly half his childhood in Santa Monica and Pacific Palisades. He'd skip school, he says, to surf and hang out in the legendary custom car shop of George Barris. But those are among his only fond memories of that time.
PHOTOS: Faces to watch 2014 | Theater
"I had a very unhappy and violent and chaotic childhood," he says. " So I blocked a lot out."
When he was 11, Hickey's father committed suicide. "My mom blamed me — we were both named Dave. I moved out of the house and was on my own after that."
In Austin, Hickey opened the art gallery A Clean Well-Lighted Place, where he showed countercultural works by Zap Comix artists such as R. Crumb and Gilbert Shelton. He ran New York's Reese Paley Gallery after that, but quit when his boss insisted on showing the work of Yoko Ono.
"I said, 'Oh, no, not me!' She's pushy and noisy and not any good!'"
Even so, Hickey insists that he's a champion of work by women artists.
He wrote "25 Women," he says, "because I couldn't find one book of collected essays out there about women artists. There's a lot of books about menopause, and a lot about how you get a gallery, but nothing seriously addressing the work women make."
L.A.-based artist Alexis Smith says the book, which collects Hickey's previously published essays on such artists as Elizabeth Peyton, Karen Carson, Joan Mitchell and Smith herself, is deeply needed.
PHOTOS: Faces to watch 2014 | Classical music
"As a long-term female artist, I think what it'll add is a little bit of parity," Smith says. "I don't think women artists are taken as seriously as men. This book — and his unique point of view and style — it's a big deal."
He's now happily married to his second wife, 20 years so far, though he still regrets the mistakes of his first marriage.
"I screwed it up," he says, getting visibly teary-eyed. "I was sleeping with everybody I could lay my hands on. Cocaine. Trashy living. It's the only thing I ever did that I feel sorry about."
The hotel room patio is now dark but for flashes of neon and street lights. Hickey plans to spend the night watching basketball on TV in his room and later polish an essay. He has no desire to check out clubs or gallery openings this visit.
"L.A.'s become all dinner party culture, anyway," he says. "You go out to these [art events] and there's all this twittering and complaining, it's a nightmare."
He leads the way to the door, a cigarette still wedged in his mouth and a gentle smile on his face.
"Love ya, darlin'," he says. And then the door slowly swings shut.
---
Get our L.A. Goes Out newsletter, with the week's best events, to help you explore and experience our city.
You may occasionally receive promotional content from the Los Angeles Times.