World premiere of opera 'Fallujah' in Long Beach may be among former Marine's most difficult missions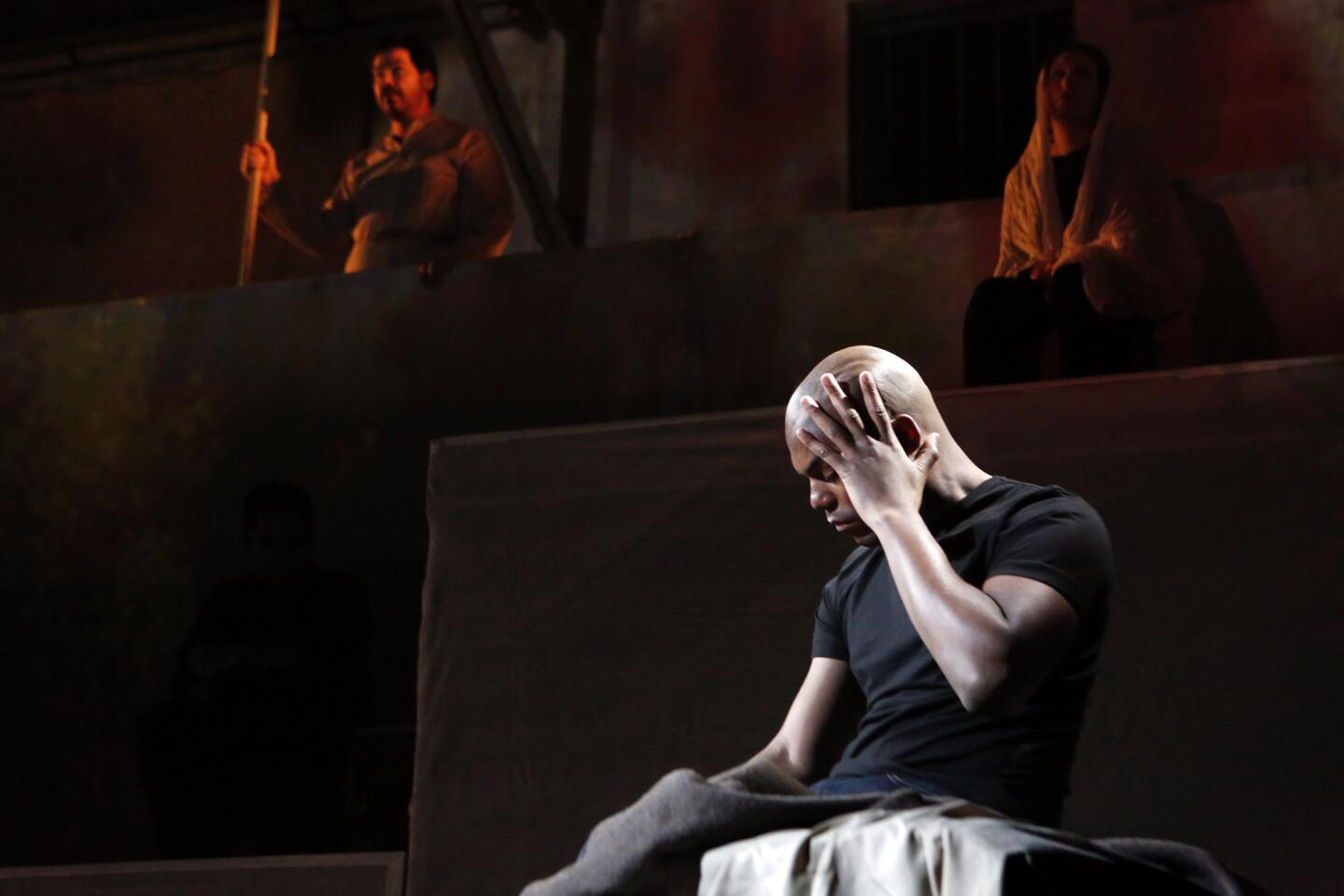 LaMarcus Miller, foreground, Zeffin Quinn Hollis, left, and Ani Maldjian perform a scene from the opera "Fallujah" at the Army National Guard in Long Beach.
(Genaro Molina / Los Angeles Times)
Former Marine Christian Ellis, left, fixes actor Todd Strange's vest before rehearsals of the opera "Fallujah," based on Ellis' experiences.
(Genaro Molina / Los Angeles Times)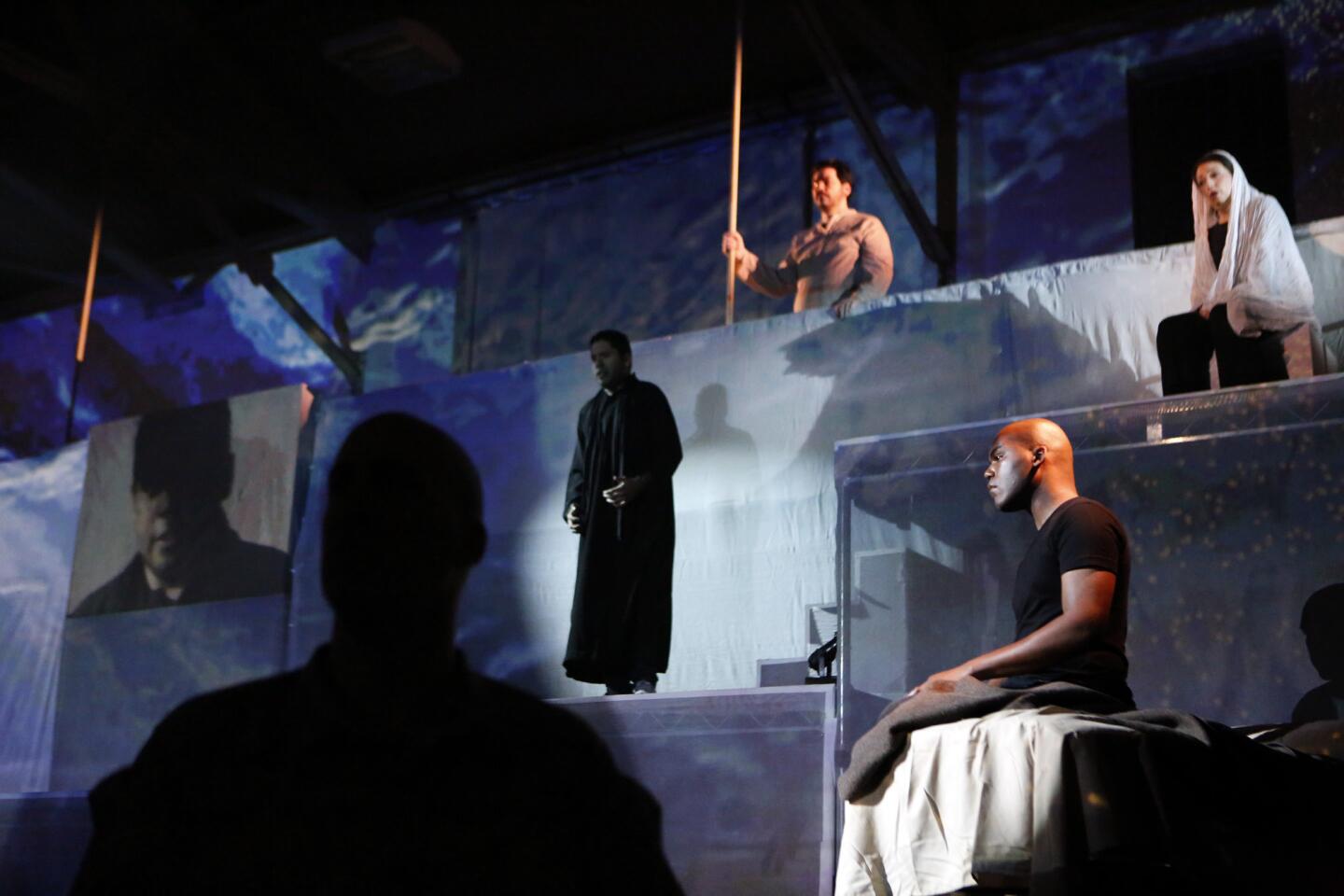 Clockwise from top, Zeffin Quinn Hollis, Ani Maldjian, LaMarcus Miller, Jason Switzer and Jonathan Lacayo perform a scene from the opera "Fallujah" at the Army National Guard in Long Beach.
(Genaro Molina / Los Angeles Times)
LaMarcus Miller and Suzan Hanson in a scene from "Fallujah."
(Genaro Molina / Los Angeles Times)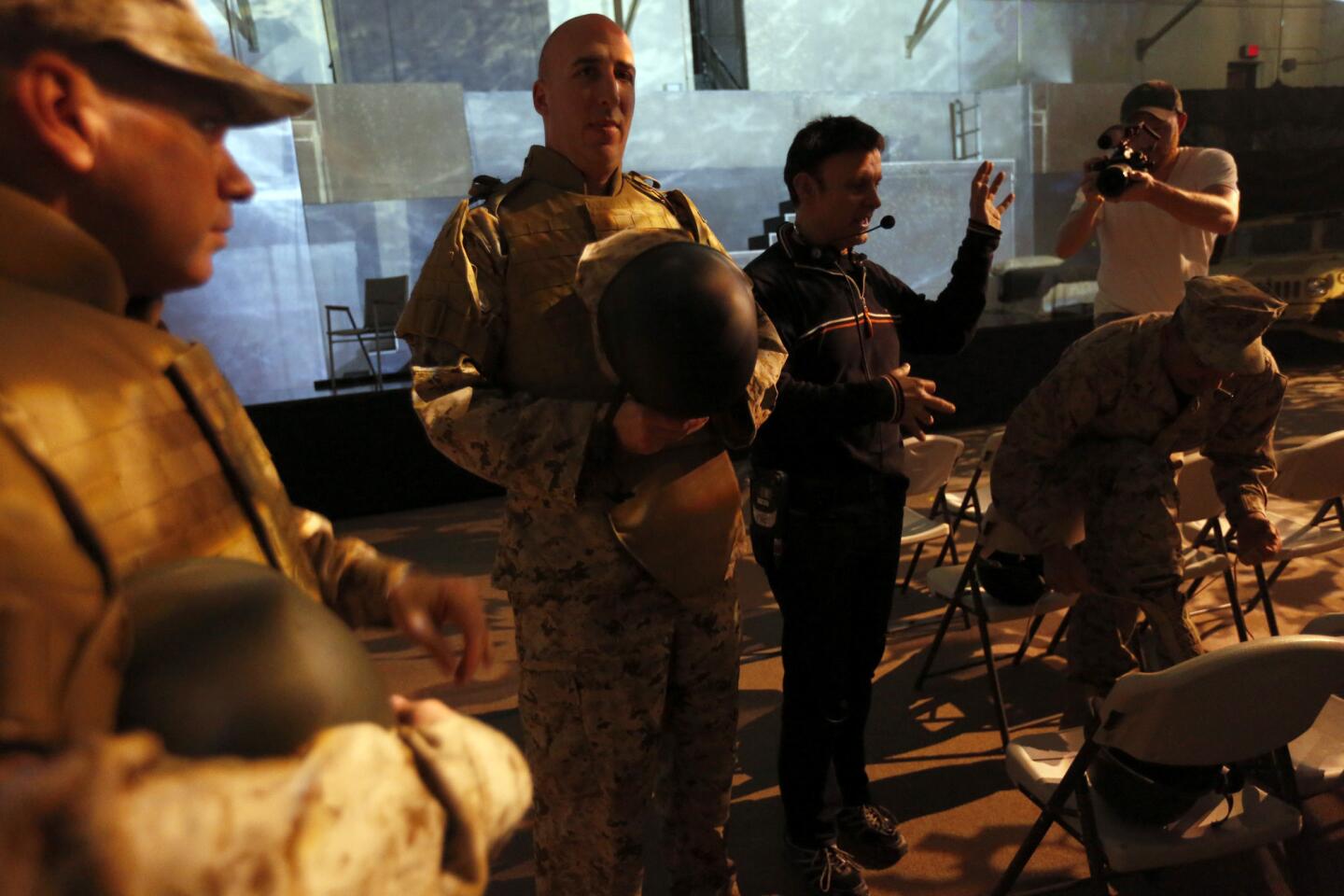 Stage director Andreas Mitisek, second from right, prepares to direct a scene for "Fallujah."
(Genaro Molina / Los Angeles Times)
The creative spirits behind the opera "Fallujah" are, from left, stage director Andreas Mitisek, play composer Tobin Stokes, libretto by Heather Raffo and story consultant Christian Ellis.
(Genaro Molina / Los Angeles Times)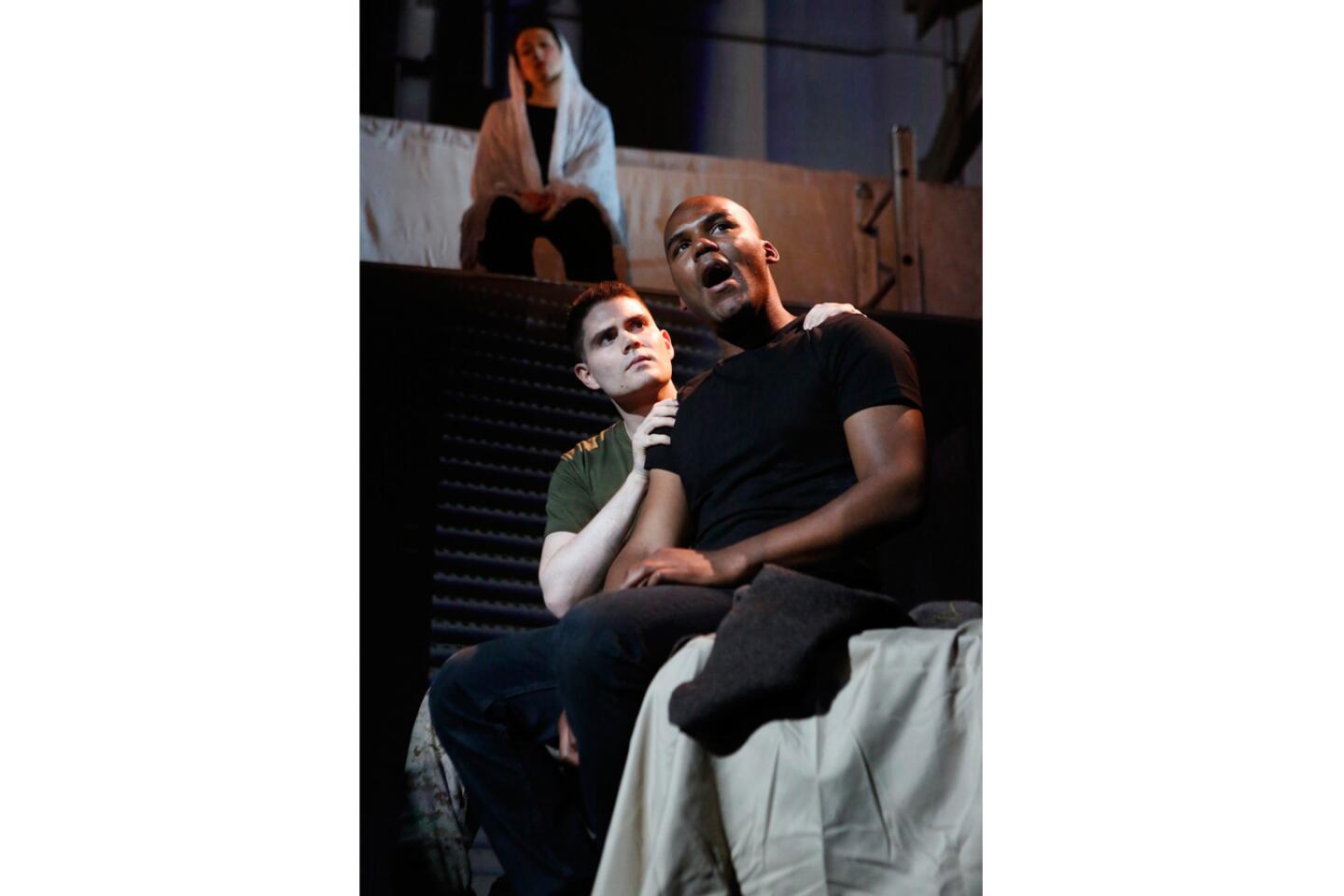 LaMarcus Miller and Arnold Livingston, left, in "Fallujah."
(Genaro Molina / Los Angeles Times)
During his tour of duty as a gunner in Iraq, former Marine Sgt. Christian Ellis experienced his share of trauma — the battles, the killings, an assault that left him with a spinal injury. But there were good memories too — the gung-ho Marine spirit, the camaraderie, even the sunsets in the Iraqi desert.
"They were incredible," he recalled, almost wistfully. "You've never seen anything like them."
Ellis was standing near a stage at the Army National Guard in Long Beach, looking at a wall-size photo of an orange sun descending on a desolate Iraqi landscape, a backdrop that will serve as a setting for the new opera inspired by his life.
That moment — where he seemed content, even happy, to bask in the image's beauty — quickly passed, however, as he began to speak about the post-traumatic stress disorder that has dominated his world since his return home. His psychological problems, including his attempted suicides, form the core of "Fallujah," which has its world premiere Saturday by Long Beach Opera after years of development.
"Fallujah" incorporates elements of Ellis' story into a fictional protagonist, Marine Lance Cpl. Philip Houston. As the intimate opera opens, he is sitting in isolation at a VA hospital after a suicide attempt. The nonlinear story jumps between the embattled Iraqi city and the home front as it explores the tormented hero's inner life.
With his shaved head, tattooed arms and a torso of solid muscle, Ellis, 33, doesn't fit the stereotype of an opera fan. But he enjoys it more than any other kind of music — a taste he developed as a kid studying voice as well as trumpet and piano.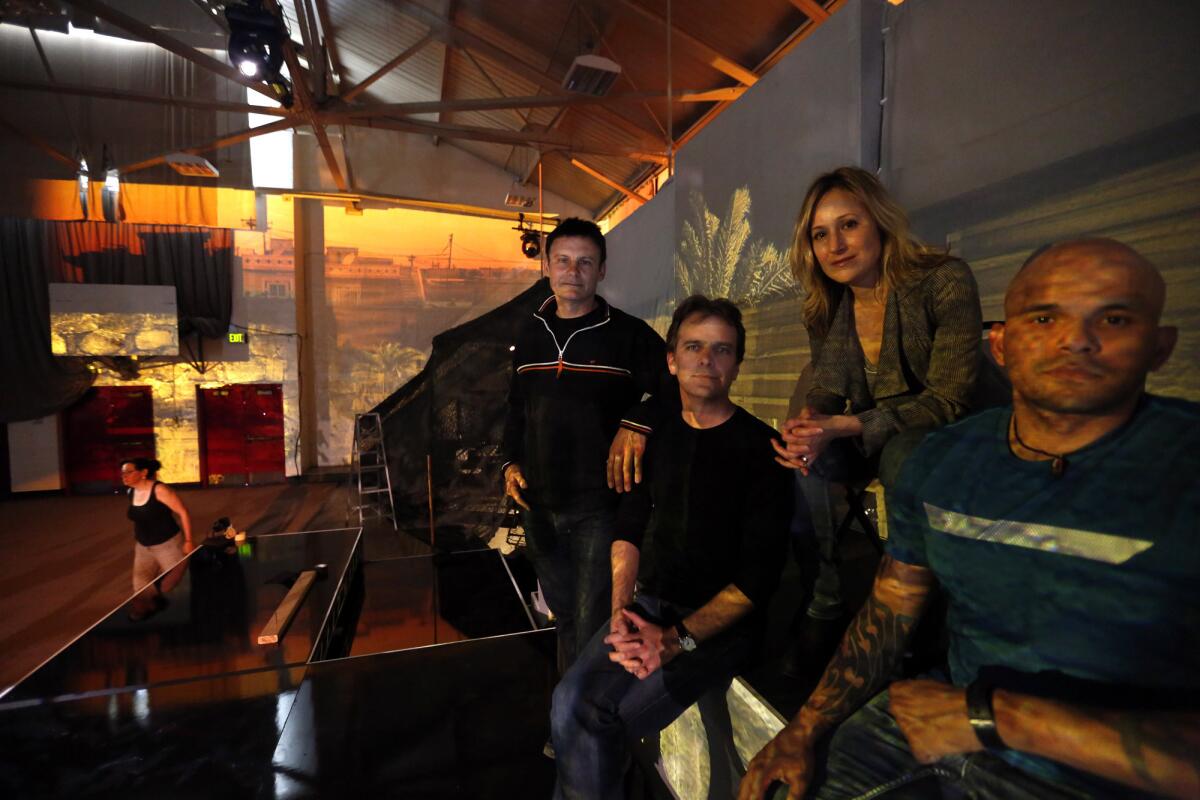 "I'm a tenor. I have a high upper range," he said, adding that his mother and grandfather were musicians. When he wasn't singing, he was wrestling, swimming and competing in track while growing up in Arizona. His physical prowess helped pave the way for his enlistment in the Marines. Based out of Camp Pendleton, he saw action in the first and second battles of Fallujah in 2004.
The idea for the opera originated after his return from the war. While at an Idaho retreat for veterans, he struck up a friendship with Charles Annenberg Weingarten, the son of Los Angeles philanthropist Wallis Annenberg, who was shooting a documentary on veterans.
The odd-couple nature of their relationship was hard to miss: Ellis, who is of Mexican descent, was put up for adoption at a young age and spent years in foster homes before being adopted at 8 by a middle-class couple. Weingarten is a scion from a family of vast wealth.
"Over a few days we bonded," Weingarten said in a separate interview. "We were having lunch on a bench, and I was like, 'Christian, before all this happened, when you were a kid, what were your aspirations?' "
Ellis told him that he wanted to be an opera singer. Weingarten said his knowledge of opera was limited to the helicopter sequence from "Apocalypse Now," but that didn't stop him from connecting with an acquaintance at City Opera Vancouver, a chamber opera company that started a project in 2010 about the former Marine's life.
See more of Entertainment's top stories on Facebook >>
Weingarten bankrolled the opera while Ellis wrote a three-page treatment about a Marine who served in Fallujah but died in battle trying to save an Iraqi boy. The story was extensively revised by librettist Heather Raffo, a New York playwright of Iraqi descent who was hired to work with Ellis on the piece.
"I felt strongly that it's harder to return from battle than to die a hero," she said.
The opera now focuses more on the hero's struggle with PTSD, but the Iraqi boy, based on a child Ellis met in Iraq, remains a key supporting character.
"Fallujah" features a traditional chamber orchestra playing music influenced by Western and Eastern cultures, said Canadian composer Tobin Stokes. "It's not a pastiche. You're not going to hear rock music or Middle Eastern folk music. But I used both of those to build a vocabulary."
The opera was workshopped in Vancouver and was expected to premiere four years ago, but not enough money could be raised for a full production, said Charles Barber, head of City Opera Vancouver. The company had committed to a separate opera with novelist Margaret Atwood around the same time "and we could not do both at once."
Ellis said he was emotionally crushed by the cancellation, and he left the project. "So much of this has destroyed my life — not just the participation with the creation of 'Fallujah,' but also my actual participation in Fallujah," he said.
The opera was workshopped without him in multiple cities, including Washington and Tampa, Fla., before Long Beach Opera decided to mount the world premiere.
"Christian had tried to move on from it, and move on with this life. Bringing it back was hard emotionally," Weingarten said.
For the world premiere, Ellis has served as a consultant, advising the crew on details of Marine protocol and life. (If you want him angry fast, call him a soldier. A Marine is called a Marine, and Army personnel are soldiers.)
In the opening scene, the protagonist sits in the hospital ward facing the door because a Marine never turns his back on a possible attack.
"In my opinion, it's that important," Ellis said. "Veterans can tell the moment you're faking it and it's not authentic."
Ellis said he has recovered from the spinal injury he sustained during an ambush in Iraq.
"We got into an area we shouldn't have been in," he recalled. "We were ambushed, and the next thing I knew, I was coming to."
At his lowest point, he experienced severe anxiety and stress and would sometimes act out physically. He had a run-in with the law, though he preferred not to delve into details. He said his PTSD was "pretty up there."
Ellis said his problems have been compounded by the VA hospital system, which he described as bureaucratic and disorganized.
"I want to seek help, but I've met various indirect forms of resistance," he said, adding that one of his counselors realized she had too much work only after she had taken him as a patient. "Now that means they have to refer me to someone else, which is a few weeks away."
He added: "It's gotten to the point that I want to withdraw from my participation and seek private care."
Ellis said his personal finances remain precarious — he's just "scraping by" — but he has achieved a degree of emotional stability thanks to his partner, Shaun Collins, with whom he lives in Phoenix. Ellis has returned to school and is working toward a degree in intelligence, with the hope of landing a job in counterintelligence with the government or private sector.
To help his back stay strong, he works out two hours a day, six days a week.
His injury still gives him problems, "but I have nothing to complain about," he said. "Ten fingers, 10 toes. I'm alive. That's how I look at it."
------------
'Fallujah' at Long Beach Opera
Where: Army National Guard, 854 E. 7th St., Long Beach.
When: 8 p.m. Saturday, 2:30 p.m. Sunday, 8 p.m. Thursday, 8 p.m. March 18, 2:30 and 8 p.m. March 19, 2:30 p.m. March 20
Tickets: $67.25-$137.25
Info: (562) 432-5934 or www.longbeachopera.org
Get our L.A. Goes Out newsletter, with the week's best events, to help you explore and experience our city.
You may occasionally receive promotional content from the Los Angeles Times.