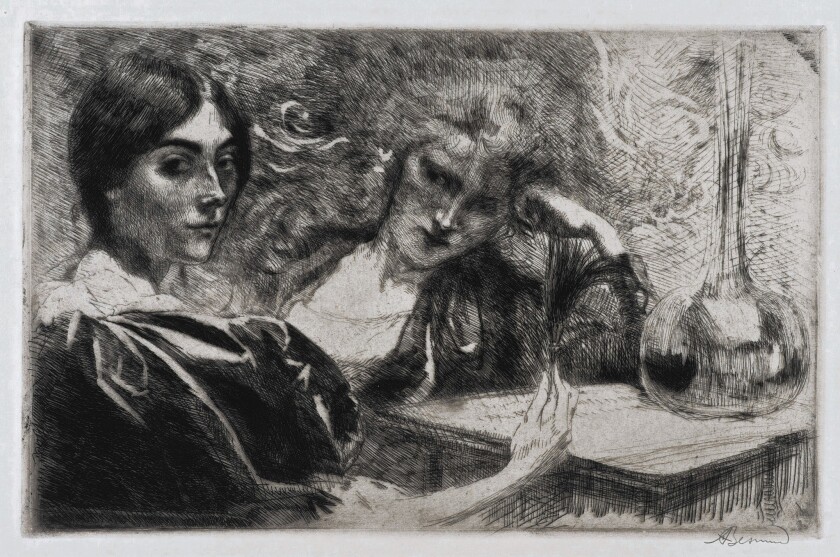 Forget about tea and sympathy. How about tea and morphine?
Each of the opium wars launched by France and Britain in 19th century China was less a war on drugs than a war for drugs. The imperialist adventurers were after tea and morphine, and they got what they were after.
Morphine is an opiate, tea is loaded with caffeine. The thirst for both was strong in the West, and the East was their common source.
A modest but absorbing print exhibition drawn from a promised gift to the UCLA Grunwald Center for the Graphic Arts and newly opened at the Hammer Museum pictures one set of unintended consequences that arose in those drug wars' wake.
"Tea and Morphine: Women in Paris, 1880 to 1914" assembles six-dozen prints (mostly lithographs and etchings) plus a selection of related ephemera — theater programs, postcards, sheet music, advertisements and the like — from belle époque Paris.
PHOTOS: Arts and culture in pictures by The Times
On one level it demonstrates the fallout on a disenfranchised class, since women had almost no standing in the French legal and political system. Drugs, hard or soft, might provide temporary escape or solace.
In another way, the show tells part of the back story of the emergence of Symbolist art at the turn of the last century. Symbolist subjectivity was a bohemian refuge from competing artistic strains, including high-minded rationalism and gritty materialism.
And while the images focus on the lives of women, it is worth remembering that almost all of these prints were made by men, for men. The show features work by 43 artists, but the only woman among them is American expatriate Mary Cassatt.
Near the entry, a color lithograph in buttery yellow, black and white by Georges de Feure (1868-1943) is emblematic. The centerpiece of "The Favorite Oyster" is a billowy silhouette of a lovely young woman wearing a white dress with enormous, puffy sleeves. She's something of an ephemeral ghost — an evanescent figure described by a sinuous contour line drawn around a body chiefly composed of the negative space left by blank paper.
Like a victor raising a glorious trophy, she holds an opened oyster in an elegantly upraised hand. Inside, a pearl necklace or bracelet is the evident gift of the dapper, top-hatted gentleman standing behind her at the side. He is largely a dark gray silhouette, and while she is young, he is not.
PHOTOS: Best art moments of 2013 | Christopher Knight
It takes a moment to notice that the woman's puffy sleeves visually merge with enormous pillows on a bed in the background. And because the upright, crisply articulated negative space between the gentleman's splayed feet and legs describes an erect phallus, the matter of just what the favorite oyster might be soon comes into sharper focus.
This refined picture of genteel prostitution is a very long way from "The Morphine Addict," another color lithograph dating from a year later (1897) by Eugène Grasset, a Swiss artist who helped pioneer the decorative Parisian style of art nouveau. That style's rhythmic floral patterns are often thought of as a fusion of art and nature; here, however, the sinuous curves are likely to put you in mind of steam rising from a teacup or smoke from an opium pipe.
"The Morphine Addict" also shows a prostitute — the sex trade was legally regulated, if socially demeaned — here dressed in a rumpled chemise. A small vial rests on a table beside her as she jabs a needle into her thigh, just above a garter and rolled black stocking. Seated on a bilious green chair, she is surrounded by acrid colors.
If the yellow in De Feure's upscale oyster print is buttery, the yellow of the wall behind the downscale morphine addict is a rancid hue. The print's color scheme is as demonstrative of her desperate situation as the grimace crumpling her face and the disheveled, Medusa-like hair that frames it.
PHOTOS: Faces to watch 2014 | Art
As a matter of fact, a sub-theme winding through the show is the widespread introduction of color into late-19th century printmaking. It was partly inspired by the fashion for imported Japanese prints, new technologies like mass-produced chromolithography and the controversial chromatic experiments of Impressionist and Postimpressionist painters.
Another De Feure print, "The Source of Evil," pushes color toward psychedelic limits. He takes a typically sexist subject — woman as the source of worldly ruin, starting with biblical Eve — and explodes it within an almost hallucinatory swirl of red, yellow, green, orange and violet hues.
Between tea and morphine, responses within a body's central nervous system range from mild to wild. On the mild side is Cassatt's contemplative dry-point etching of a languorous, sleepy-eyed woman with a fan, seated in a comfortably upholstered chair. A Chinese tea pot and drinking bowl rest on an adjacent tabletop.
Rather like the woman, the tabletop virtually floats in space; it has no legs, and neither does she. Chinese tea and morphine burrowed into the city's social life — above ground and below — amid the peace and prosperity of the day.
In addition to Cassatt, the show's well-known artists include Henri de Toulouse-Lautrec, Pierre Bonnard and Odilon Redon, the latter a quintessential Symbolist. Redon's "The Shulamite" is a barely there sleeping head, sketched in the empty space of a blank sheet within a cloud of blue above a faint yellow blur. Morpheus, for whom morphine was named, was the god of sleep. An exquisite Symbolist dream, Redon's sleeping head anticipates Brancusi.
CRITICS' PICKS: What to watch, where to go, what to eat
Yet, it's minor artists such as Grasset and De Feure that dominate the selection (at least 30 of the 43). That makes a certain sense, since social history is often best understood when the fullest range of pictorial production during a given period is considered. After all, a journeyman artist like Grasset comes along more often than a genius like Redon.
Many of the prints in the exhibition come from the roughly 900 assembled since the 1980s by California collector Elisabeth Dean, which focuses on artists working in Paris at the end of the 19th century and the beginning of the 20th. The Dean Collection is a promised, very welcome gift to the Grunwald, whose director, Cynthia Burlingham, co-organized the exhibition with independent curator (and longtime Dean advisor) Victoria Dailey. Unfortunately there is no catalog, although an informative brochure does accompany the show.
Prints are also a good way to get inside a world that might not be as widely probed in paintings and sculptures. Kept tucked away in drawers at least as often as framed and hung on walls for general public display, prints lend themselves to private thoughts and sotto voce considerations. There's a reason that "come up and see my etchings" became code for an intimate invitation, and "Tea and Morphine" shows how.
christopher.knight@latimes.com
------------------
'Tea and Morphine: Women in Paris, 1880-1914'
Where: UCLA Hammer Museum, 10899 Wilshire Blvd., Westwood
When: Through May 18. Closed Monday.
Contact: (310-443-7000), https://www.hammer.ucla.edu
---