Contrarian Mat Gleason joins L.A.'s establishment art club, kind of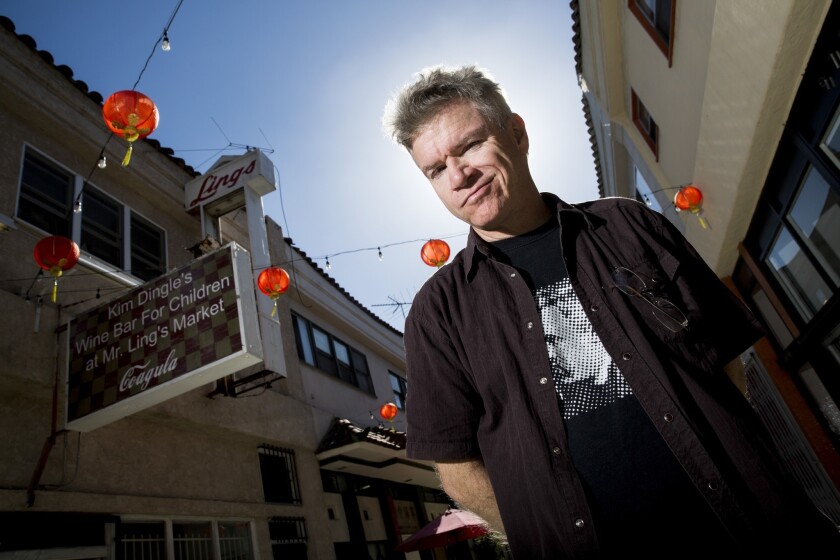 Mat Gleason, in a black Smiths T-shirt and black jeans, a point-and-shoot camera swinging from his neck, surveys the chaos inside his Chinatown art gallery, Coagula Curatorial. Hammers pound, a buzz saw whines and two workmen weld metal braces onto a baby-crib spring that will eventually become part of a speak-easy bar top.
"Cool, right?" he says as a Mark Dutcher painting from Coagula's most recent show comes off the wall and a new installation by artist Kim Dingle goes up.
Sawdust floats through the air as Dingle, a past Whitney Biennial participant who has pieces in the permanent collection of Los Angeles' Museum of Contemporary Art and has had work exhibited at the Smithsonian, carefully unpacks wooden crates of wine bottles that she's painted with the naughty-girl characters she's known for.
CRITICS' PICKS: What to watch, where to go, what to eat
This is Dingle's first solo show in Los Angeles in six years. She's kept busy running her Eagle Rock vegetarian restaurant Fatty's and showing at her New York gallery, Sperone Westwater. Her former Los Angeles gallery was the venerated Blum & Poe, and she had a 2007 exhibition at Culver City's Kim Light, but she went with Gleason's Coagula Curatorial when she came up with the installation idea she calls "Wine Bar for Children at Mr. Ling's Market."
"Mat's gallery, it's edgy, you're free," Dingle says, wiping her brow of dust. "This is what it must've been like in the artists' scene in the late '60s, early '70s in New York, the early days of conceptual art; no pressure, just do what you want. Mat's really is an artist's gallerist."
This is not a sentiment shared by everyone in the art world.
Gleason is best known as a divisive, outsider voice who used his irreverent art zine-turned-website, the 21-year-old Coagula, to tear down what he sees as an insular, pretension-heavy art scene. Coagula's mix of often-scathing reviews and no-holds-barred art world gossip earned Gleason a reputation as a trouble-making, rude contrarian.
So it's interesting that, with the 2012 opening of Coagula Curatorial, the iconoclastic publisher now finds himself on the other side of the art-gallery fence, promoting artists instead of critiquing them.
The Dutcher show, which debuted in September, received positive reviews ("lovely," said The Times' Christopher Knight of the paintings), and Gleason sold all but one of the works. He even bought a full-page color ad in ArtForum's December issue to promote his gallery. One might say Gleason, 49, his spiky hot-pink hair now benignly salt and pepper, has become part of the art establishment he's made a career out of flaming.
"I'm mainstream art world now, there's just no way around it," he laughs over lunch at his favorite Chinatown restaurant, Chego. "I used to crash the parties and get kicked out; now I get invited and don't go!"
But Gleason doesn't want anyone to think he's gone soft.
PHOTOS: Google Doodles of 2013
"The brand of Coagula is still truth telling, which is still real scary in the art world," he insists. "People don't want the real price [of art] revealed or anyone to know their process. It's a cesspool of secrets; I still want to be an aesthetic truth teller — if I show an artist, I believe in them."
Gleason's so-called truth telling in art writing, however, has repeatedly gotten him into hot water.
At Coagula's height in the late 1990s, when the newsprint bimonthly reached about 80 pages, it ran intentionally shocking covers. On the occasion of Barbara Kruger's 1999 MOCA retrospective, the cover read "Kruger: You Can't Teach an Old Dog to Stop Making Bad Art." Another cover, "Matthew Barney's Rubble," trashed the artist's five-film "Cremaster Cycle." Such print plays led many to dismiss Gleason.
"There's a place for real criticism, including criticism that really tackles when and why something doesn't work," says artist and interim Art Center chair of undergraduate fine art, Tom Knechtel. "But Coagula, back then, really published negative things about people and their personal lives, and that's not acceptable. It made me stop looking at it early on."
Others found the publication inspiring.
"Mat had as many enemies as friends; it wasn't a magazine the entire L.A. art world embraced," says Tulsa Kinney, editor of the bimonthly art magazine Artillery. The year Kinney spent guest-editing Coagula in 2001 prompted her to start her own publication. "I loved the magazine. I thought it was hilarious and funny, and he's real smart with a silver tongue."
"Look," says Gleason, over his rice bowl at Chego. "I started Coagula to push at power in the art world, because so much of it is the illusion of power. I'm not afraid to be honest, but there's no desire to hurt people."
Press him on those coverlines and Gleason adds, "Coagula has never gone any meaner than the average editorial cartoon. To me, it's satire. The art world is just shockingly thin skinned."
Love him, hate him or ignore him, Gleason has achieved longevity with the Coagula brand by remaining ever-pliable in a shifting media landscape. Having switched from print to online in 2009, he now only occasionally publishes special hard-copy editions of Coagula. The limited run of about 4,000 print copies is often planned for distribution at big art world events, such as this year's PULSE Contemporary Art Fair in New York and, like the Coagula website, seems mainly to promote the artists Gleason represents at his gallery or serve as a megaphone for his signature rants.
ART: Can you guess the high price?
In the most recent print edition, Gleason recounted a Facebook argument he had with ArtForum writer David Rimanelli. Ever eager to get in the last word, Gleason reprinted on Coagula's cover a screen shot of a vitriolic private email that Gleason says Rimanelli sent to him on Facebook.
It read, in part, "You ought to die in a grotesque and frightening way. People like you ruin the world."
Gleason says he reprinted Rimanelli's comment "as proof that it really happened. The establishment — they make it too easy to be anti-establishment."
Rimanelli, reached by email, declined to comment on the exchange. Others contacted about Gleason either wouldn't talk about him or declined to go on the record with their views that Coagula has been a negative force in the always-struggling art world.
"I have noticed that some of the things he's been showing lately sound interesting," one art writer says, "but I don't forgive that easily."
Many others, however, seem to have put the past aside. Artists Llyn Foulkes, Anthony Ausgang and Gisela Colon were among the crowd of about 100 friends who came to a summer potluck celebration at Coagula Curatorial's original Chung King Road location after Gleason married his longtime girlfriend, artist Leigh Salgado, in a surprise (to her) proposal/wedding/honeymoon in Las Vegas.
There was a guileless, almost blissed-out smile planted across Gleason's face as he watched his friends suck Trader Joe's strawberry pops under a canopy of multicolored paper lanterns outside the gallery, not to mention a networky lightheartedness, as if he were working the crowd at one of his openings.
Growing up in La Mirada in an Irish Catholic family of seven kids — his father owned a factory manufacturing metal balls for the aerospace industry — Gleason was a nerdy, often-sickly child who suffered from a heart condition. Often confined to bed, he devoured Rolling Stone and Mad Magazine.
Much of his desire to stir the pot and push boundaries comes from his heart condition — he says he simply never thought he'd live this long.
"My thinking has always been: 'Get it now, go all in every time,' " Gleason says. "Coagula was like: 'I'm a failed artist, and I'm gonna have my say.' But then recently, I finally got to the point where I had my say. 'Now what do I wanna do?!"
PHOTOS: Arts and culture in pictures by The Times
Gleason set out to become a priest at Divine Word College in Iowa — "to please my parents," he says — but was kicked out his first year in seminary. "It was for missing morning prayers, a technicality. Obviously I wasn't a match."
On a 1983 trip to the Art Institute of Chicago, Gleason stumbled on the work of French painter Georges Mathieu. Art became Gleason's new religion. He eventually enrolled at Cal State L.A. but quickly discovered he was more suited to writing about art than making it. He started an underground publication on campus, the Student Independent. Launching Coagula in 1992 with help from Max Estenger, a friend in New York, was a natural offshoot.
"I knew how to run a newspaper, I was already doing one for Cal State L.A., so why not for the art world?" says Gleason, who lives south of downtown L.A. in Huntington Park. "It was the perfect vacuum to walk into. We sold ads, it started making money, so I left and did that full time."
PHOTOS: LA Opera through the years
Exposing people to new art through his gallery rather than a magazine is where Gleason's heart is these days. Last December, while in the hospital getting a pacemaker, Gleason says he had an epiphany that punctuated his vision for his gallery — not to mention his life.
"I was laying in that hospital bed on Christmas, going: 'You know what? I'm gonna marry my girlfriend and no more art-world art! If I could just live, that's what I'm gonna do.' "
As Gleason describes it, "non-art-world art" is work that isn't overly academic or self-referential. "So much of art now, to have validity, has to reference some other art-world act," he says. "But I want artists that make art about life."
In January, Coagula Curatorial will put up "Two Johns and a Whore," an 11-person group show of paintings and photography curated by artist Lisa Derrick and featuring performances by artists John Fleck and John Roecker.
INTERACTIVE: Tour Los Angeles' boulevards
Gleason is also headed to Nebraska in March with artist Tim Youd, who will stage one of his site-specific endurance performances, retyping a Weldon Kees novel, word for word, at the Sheldon Museum of Art.
After Dingle's "Wine Bar for Children at Mr. Ling's Market" comes down in early January, she will "curate" a permanent wine and craft beer shop in the back of the gallery, which is located in the former Ling's Market.
"Technically," Gleason says, chuckling like a clever kid who's duped the system, "I'm just managing Ling's Market and running a gallery here too."
---
Get our daily Entertainment newsletter
Get the day's top stories on Hollywood, film, television, music, arts, culture and more.
You may occasionally receive promotional content from the Los Angeles Times.