Nelson Mandela dies: A photo showed the world the fury of South Africa
The life story of
Nelson Mandela
- a powerful tale of a charismatic lawyer and human rights activist working to dismantle apartheid, only to land in prison for 27 years and ultimately become country's first democratically elected president - has been told time and time again. Most recently, British star Idris Elba portrays the anti-apartheid figure on screen. Click through to see a sampling of actors who've depicted the revolutionary in film.
By Christy Khoshaba
(Debbi Yazbek / AFP / Getty Images)
The narrative:
In his first term as the South African President, Nelson Mandela uses the nation's appetite for sports as a pivot point to unite the apartheid-torn land. He enlists the national rugby team - a group and sport many black South Africans once perceived as the game of their oppressors - to win the 1995 Rugby World Cup. The result electrifies South Africa with what Mandela calls its moment of greatness.
Actor's push:
At a 1994 press conference for Mandela's memoir "Long Walk to Freedom," Mandela appointed Morgan Freeman as the actor to portray him in film. "It sounds arrogant," Freeman said, "but my thinking was, 'Of course. Who else? and I can do it."
Director's pull:
"Morgan is great," said the film's director Clint Eastwood of "Flags of Our Fathers" and "Million Dollar Baby." "I could not imagine anyone else in the role of Mandela. They have the same stature and same kind of charismatic nature. Morgan also has a similar vocal quality, and he worked very hard to capture Mandela's inflections. I think he did it quite well."
Did he meet Mr. Mandela?
Very much so. Freeman spent time with Mandela to replicate the way he walked and talked. The pair eventually sat down to watch the film together. "I was sitting right next to him," Freeman said. "He pointed at the screen and said 'I know that fella.' So, yeah, I think he liked it."
(Keith Bernstein / AP)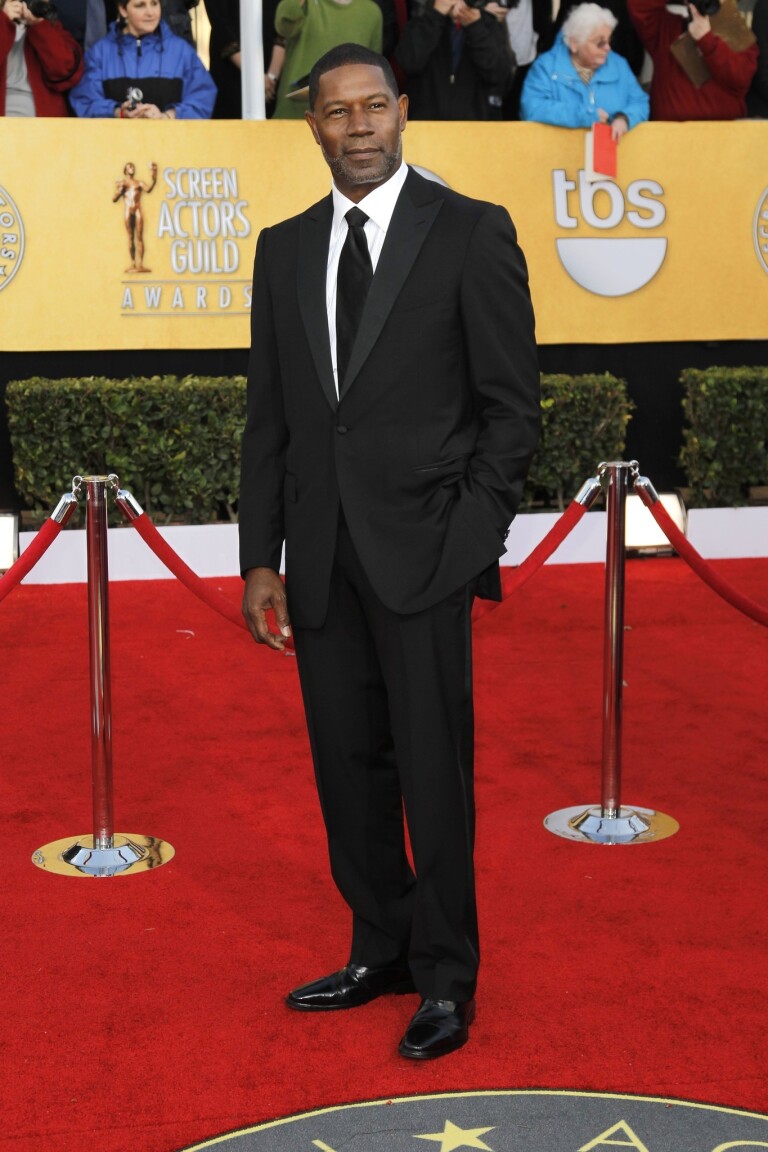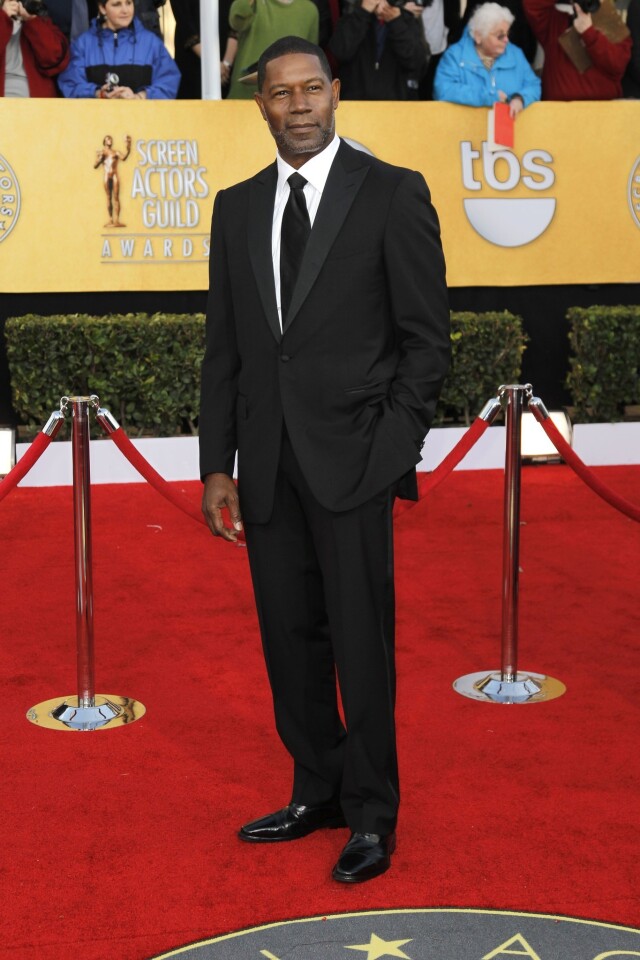 The narrative:
Based on the memoirs written by James Gregory, who was the censor officer and prison guard to Nelson Mandela, the film recounts the intense effect Mandela had on the white South African guard, and the relationship the pair developed during Mandela's 18-year stay in prison on Robben Island, before he moved to Pollsmoor Prison.
Actor's push:
Haysbert admitted the role was "daunting" and "intimidating." "Every night I went home, I would have a glass of wine and just cry," he said. "The sacrifices he made were profoundly sad to me."
Director's pull:
"I had to find an actor who has his size and [is of] the same age as Mandela," said the film's director Billie August of "The House of Spirits" and "Les Miserables." "The choice of Dennis Haysbert seemed obvious. I had spotted him in the series "24."
(Jay L. Clendenin / Los Angeles Times)
The narrative:
The film tells the tale of Nelson Mandela's wife, Winnie Mandela, and her tumultuous outing from a shy country girl to a dogged revolutionary, as the world watched her relationship with her husband transform.
Actor's push:
"I was terrified," said David Harewood. "Then I started doing my research. And the more I read, the more I understood that he's a man, a very vulnerable man, a man in love, a man who was incredibly strong and intelligent."
(Jeff Vespa / WireImage)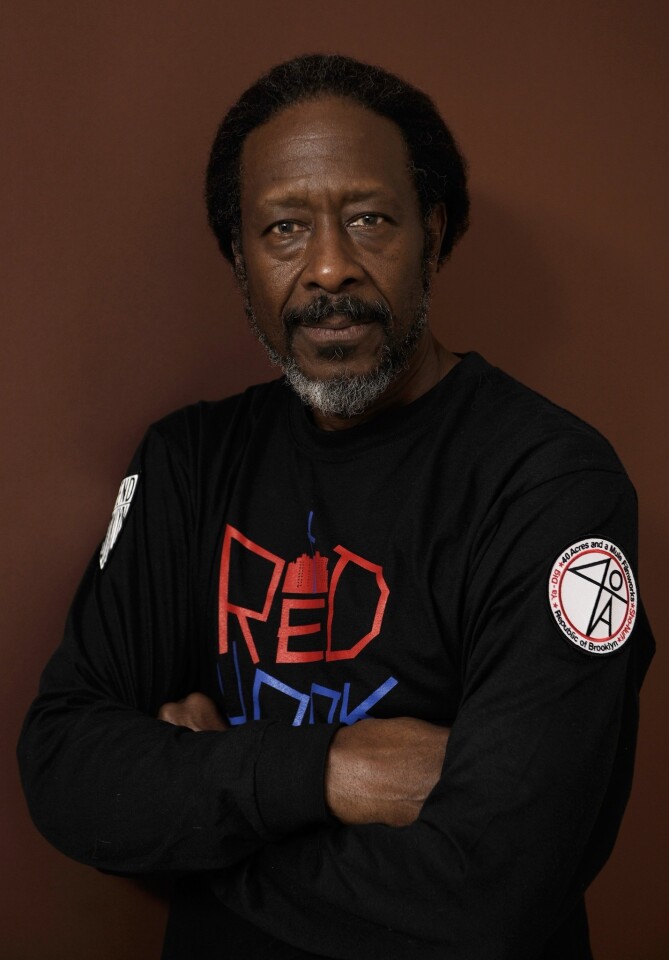 The narrative:
Honing in on the final days of apartheid in South Africa, the film brings to light the secret high-risk talks and negotiations held between the African National Congress and the Afrikaner National Party in an English country house, which brought an end to apartheid and led the release of Nelson Mandela.
Actor's push:
"For years I didn't eat South African food,"Peters said. "I didn't go to South Africa when I was invited there. I was counting on the whole world to bring pressure to bear to help end apartheid." When Clarke was offered the role, he likened it something of royal stature. "I was absolutely overawed. Wouldn¿t you be? How would you like to play the Queen?"
Director's pull:
"What really struck me is that it's a story about now," said the film's director Pete Travis of "Vantage Point"and "Dredd." "Seemingly intractable political situations transformed by seemingly impossible things, like people having hope. That's the story that feels totally about today to me."
Did he meet Mr. Mandela?
Peters met Mandela's inmate on Robben Island, who told him when Mandela heard his son died, he stood at his cell window for four days, avoiding human contact and food. "When he turned away from the window he was a changed man," said Peters. "I think he was having a very deep conversation with God - that God imbued him with that extra bit of wisdom, that extra bit of patience."
(Larry Busacca / Getty Images)
South Africa was in chaos on Feb. 11, 1990, when Nelson Mandela was released from incarceration after 27 years as a political prisoner.
Perhaps no image encapsulates more powerfully the turmoil into which he was thrust than a brutal photograph shot seven short months later by Greg Marinovich. The picture was taken in the Soweto area of Johannesburg where Mandela lived.
Mandela, 95, died having attained the vaunted stature of "father of his country." Marinovich was just 28 when he took the indelible picture, an awful image that was seared into the pages of hundreds of newspapers around the world, including the Los Angeles Times. It earned the 1991 Pulitzer Prize for Spot Photography.
FULL COVERAGE: Nelson Mandela (1918-2013)
The photograph shows the murder of Lindsaye Tshabalala, an innocent but suspected Zulu spy for the Inkatha Freedom Party, by an unidentified supporter of the African National Congress, which Mandela would soon lead.
Police that day had unveiled Operation Iron Fist, mounting machine guns on armored cars and sealing off volatile areas with razor wire. The white-minority government claimed the plan was an effort to curb a month-long war among factions in black townships.
Mandela, who opposed political domination based on any race, condemned Operation Iron Fist as a plan to protect white police officers more than black township residents. By encouraging friction between the Inkatha and the ANC, the apartheid regime could use the violence to justify keeping power.
PHOTOS: Actors who've portrayed Nelson Mandela on screen

The police "have not addressed the issue as it affects blacks, but as it affects the lives of whites," he told reporters.
Marinovich's photograph, taken the same day and at roughly the same time that Mandela spoke at a news conference in his Soweto home, virtually pictured Mandela's assertion. Four figures in an indistinct landscape dramatize what was at stake.
At the center is Tshabalala, a crouched silhouette engulfed within an orange ball of flames. He had been set on fire.
OBITUARY: Nelson Mandela, anti-apartheid icon, dies
To the left, an unidentified ANC supporter brings a weapon down on the burning man's head. The pictured instrument is a long, blunt shadow, either a club or a machete, adding viciousness to an already unspeakable barbarism. Kill meets overkill. The fearsome if unnecessary force is italicized by the slayer's one-legged stance, which adds leverage to the blow.
In the foreground to the right, a young boy flees the savage scene. While layering the gruesome narrative, he lends an incongruous, delicate balance to the formal composition. Slipping outside the photograph's confining frame he visually speaks for us, relieved to be witnessing the shocking carnage only from a distance.
The fourth and final figure is not shown, except insofar as we have a photograph at which to look. Marinovich is an actor in the unfolding event. The white South African photojournalist records the deadly chaos into which his black neighbors have been plunged. For him, distance is not an option.
PHOTOS: Nelson Mandela through the years
Could he have intervened in the mob-driven murder taking place in front of his camera's lens? The moral clarity with which apartheid's racism could be condemned collides with the myriad ambiguities surrounding daily episodes in the struggle to end its official sanction.
Marinovich knew that conflicted situation all too well. As a journalist, he was one of four principal members of an ad hoc group of photographers that came to be known as the Bang-Bang Club. They chronicled the period between Mandela's release from prison and his 1994 election as South Africa's first black president.
Work by the group was included in "War/Photography," the engrossing traveling exhibition at the Annenberg Space for Photography in Century City last summer. (Marinovich's Pulitzer image is included in the catalog of the show, organized by the Museum of Fine Arts Houston.) With fellow photographer João Silva, he co-authored the 2000 book "The Bang-Bang Club: Snapshots from a Hidden War."
Of the killing the photographer later explained: "This was without doubt the worst day of my life, and the trauma remains with me, despite some 20 years and a lot of coming to terms with the incident, my role and what it means to be involved in murder."
The apartheid government, which he opposed, used the sort of horror captured in his photograph as evidence that South Africa could not be governed by the ANC.
Soon, Mandela's revolutionary presidency would give the lie to that claim too.
ALSO:
10 essential anti-apartheid songs

Nelson Mandela, anti-apartheid icon, dies
Zuma asks country to realize Mandela's vision
---
Get our daily Entertainment newsletter
Get the day's top stories on Hollywood, film, television, music, arts, culture and more.
You may occasionally receive promotional content from the Los Angeles Times.