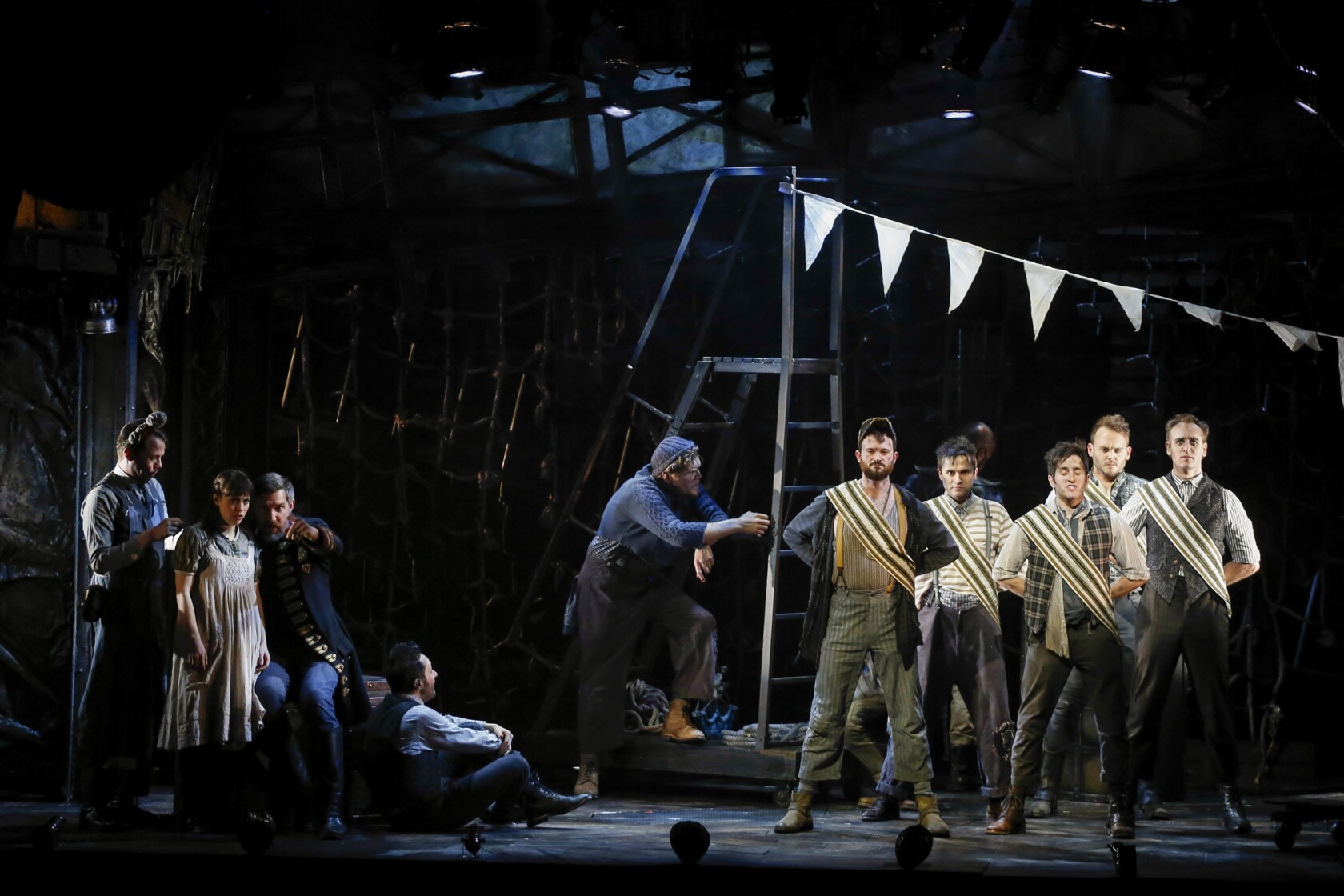 Nathan Hosner as Lord Astor talks to Megan Stern, left, who plays his daughter Molly, Center Theatre Group's "Peter and the Star Catcher" at the Ahmanson Theatre.
(Jay L. Clendenin / Los Angeles Times)
Megan Stern as Molly, center, gets her first glimpse of Joey deBettencourt's "boy," who will become "Peter."
(Jay L. Clendenin / Los Angeles Times)
Megan Stern, left, as Molly, Benjamin Schrader as Mrs. Bumbrake, and Harter Clingman as Alf.
(Jay L. Clendenin / Los Angeles Times)
Megan Stern, left, as Molly shows Joey deBettencourt's Peter one of her attributes as an apprentice "star catcher."
(Jay L. Clendenin / Los Angeles Times)
John Sanders stars as the villain Black Stache, center, with feet up.
(Jay L. Clendenin / Los Angeles Times)
Megan Stern as Molly talks with orphan boys Ted, played by Edward Tournier, left, Peter, played by Joey deBettencourt, and Prentiss, played by Carl Howell.
(Jay L. Clendenin / Los Angeles Times)
John Sanders as Black Stache," holding bucket.
(Jay L. Clendenin / Los Angeles Times)
These days it seems as though every time I turn around there's another installment of the Peter Pan story. Next stop for that flighty green-garbed spotlight-chaser: his own reality TV series, "The Real Lost Boys of Neverland," followed by a special edition of "Celebrity Rehab" for perennial pubescents.
In the meantime, there's "Peter and the Starcatcher" at the Ahmanson Theatre to satisfy our co-dependent need for the Boy Who Wouldn't Grow Up. Try as I did to resist this touring Broadway production — story theater for adults about a character as overexposed as Kim Kardashian? — I confess I eventually succumbed to the show's handcrafted magic.
Based on a novel by Dave Barry and Ridley Pearson, "Peter and the Starcatcher" does for J.M. Barrie's classic what "Wicked" does for "The Wizard of Oz" — namely, imagine the back story of the characters in an irreverent manner that still manages to honor what is so enduringly captivating about the tale.
PHOTOS: Arts and culture in pictures by The Times
This cheeky prequel is co-directed by the esteemed classical actor Roger Rees and the pop culture- friendly director Alex Timbers ("Bloody Bloody Andrew Jackson," "The Pee-wee Herman Show"). The conceit of their production is simplicity: a rope, a couple of toy ships and trunks, a few sticks and some recycled odds and ends colorfully redeployed by an ingenious design team are all that's needed to launch this voyage of the audience's imagination.
Rick Elice (who co-authored the books for "Jersey Boys" and "The Addams Family" with Marshall Brickman) is responsible for the play, a lively adventure tale chock full of low gags, groaningly silly puns and snarky commentary.
The spirit of the production occasionally evokes the freewheeling amateurism of the rude mechanicals from Shakespeare's "A Midsummer Night's Dream." The difference is that the bumbling horseplay in "Peter and the Starcatcher" is calibrated within an inch of its life.
Steven Hoggett, the resourceful, in-demand choreographer for musicals and straight plays alike, sets the cast in motion with his usual stylized fluidity. Wayne Barker provides music to keep the high jinks of this play cheerfully afloat.
PHOTOS: Hollywood stars on stage
In the scheme of scenic designer Donyale Werle, there's no effort to conceal the backstage machinery. Illusion is a collective effort here. The old-fashioned red curtain is our joint cue to transform jerrybuilt props into instruments of enchantment.
The story revolves around a precocious motherless and friendless girl, Molly (Megan Stern), who is avid for adventure and gets more than her share when she takes part in a royal mission that her father, Lord Aster (Nathan Hosner), is charged with carrying out.
Act I — worrisomely sketchy at the start — is set on two ships in the high seas, one containing precious cargo belonging to the queen, the other a decoy filled with sand. Pirates, orphan boys and a treasure trove of magical "starstuff" keep our young heroine and her unflappable nanny, Mrs. Bumbrake (Benjamin Schrader), frenetically busy.
Much of the fun is figuring out who these characters will become. Black Stache (John Sanders), the role that won Christian Borle a Tony, still has both hands. But it's clear from his flamboyant piratical snarl (if not from his incessant malapropisms) that he'll devolve into Captain Hook.
The scene in the second act in which Stache loses his hand (punctuated by about 10,000 cries of "omigod") is one of the most hilarious bits I've seen all season. A good deal of the comedy in this production is puerile. Elice's verbal wit has a scatological schoolyard style that begs for our indulgence, but this farcical amputation is comic gold.
PHOTOS: LA Opera through the years
Of course Boy (Joey deBettencourt), one of the weepy urchins being held by the sinister Slank (Jimonn Cole) in the bilge dungeon of the ship Molly is traveling on, is destined to transform into Peter Pan. Longing for the mothering he never had, Boy can't help being drawn to Molly, who can apparently do anything she sets her mind to, including telling bedtime stories that lull the unruly orphans to sleep.
"Something about the boy makes Molly feel like she just grew up," Stern, the show's excellent Molly, says in an aside to the audience. (The performers regularly step out of character to comment on the story itself.) Boy feels the same way about her, except that growing up is a bit more complicated for a lad who has an understandable loathing for hypocritical adults.
The second act, set on an island replete with mermaids and mystical conjurations, is visually enlivened by the breathtakingly colorful dioramic design. Against this vivid backdrop, Molly and the newly christened Peter discover the depth of their courage and affection for each other.
The play grows increasingly sentimental, but because everything is handled with a conspiratorial wink, it hardly matters. The game cast of this enjoyable production helps us believe what we'd like to believe — that the most wrenching losses are only temporary and a tap on the window one windy night can reignite the fantasies of our youth.
---------------------------------
"Peter and the Starcatcher"
Where: Ahmanson Theatre, 135 N. Grand Ave., L.A.
When: 8 p.m. Tuesdays through Fridays, 2 and 8 p.m. Saturdays, 1 and 6:30 p.m. Sundays. (Please call for exceptions.) Ends Jan. 12.
Price: $20 to $110 (Subject to change.)
Contact: (213) 972-4400 or https://www.centertheatregroup.org
Running time: 2 hours, 30 minutes
---