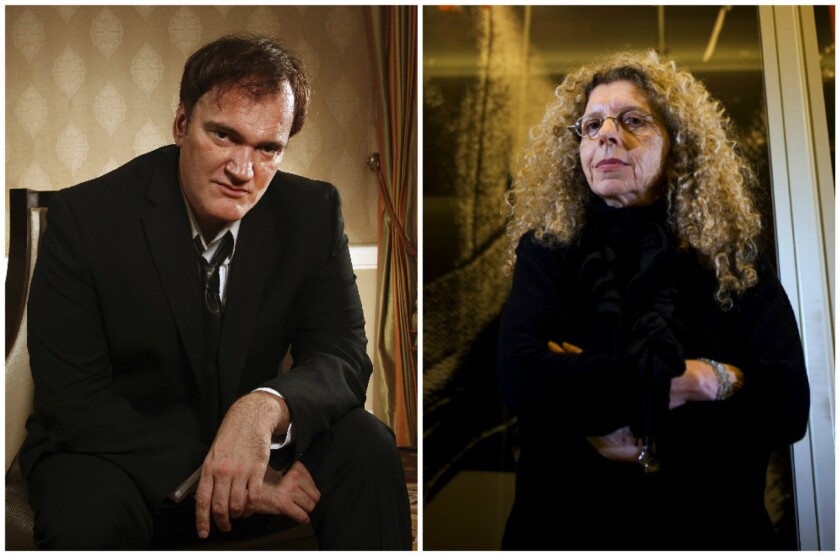 Quentin Tarantino will share the spotlight with visual artist Barbara Kruger as the honorees at the Los Angeles County Museum of Art's Art + Film gala in November.
The fourth annual event is once again being chaired by museum trustee Eva Chow and actor Leonardo DiCaprio, the latter of whom worked with Tarantino on "Django Unchained."
LACMA said on Monday that the gala is scheduled to take place Nov. 1 and that proceeds will go toward the museum's efforts to bring art and film to the public. Last year's gala brought in a little more than $4.1 million, according to the museum.
Michael Govan, LACMA's CEO and director, said in a release that both honorees have "created indelible, unforgettable images which will spark imaginations for years to come."
In certain respects, Tarantino and Kruger share a similar artistic appetite for wordplay. Tarantino's movies -- including "Pulp Fiction," "Kill Bill, Vols. 1 and 2" and "Inglourious Basterds" -- are filled with loquacious characters prone to creative speechifying, while Kruger's body of work has contained numerous examples of text-based art in which words carry visual and syntactical importance.
Kruger provided the art that is featured in the main elevator bank of LACMA's Broad Contemporary Art Museum.
Past LACMA gala honorees have included Martin Scorsese and David Hockney in 2013; the late Stanley Kubrick and Ed Ruscha in 2012; and Clint Eastwood and John Baldessari in 2011. The museum said that the fashion house of Gucci is again serving as the event's presenting sponsor.
This fall, LACMA will present the film-themed exhibition "Haunted Screens: German Cinema in the 1920s," which will focus on movies by directors including Fritz Lang, F.W. Murnau and Robert Wiene. The show is scheduled to run Sept. 21 to April 26.
Twitter: @DavidNgLAT
---