Virgin Mary apparitions are said to be miracles. For this artist, they're casualties of gentrification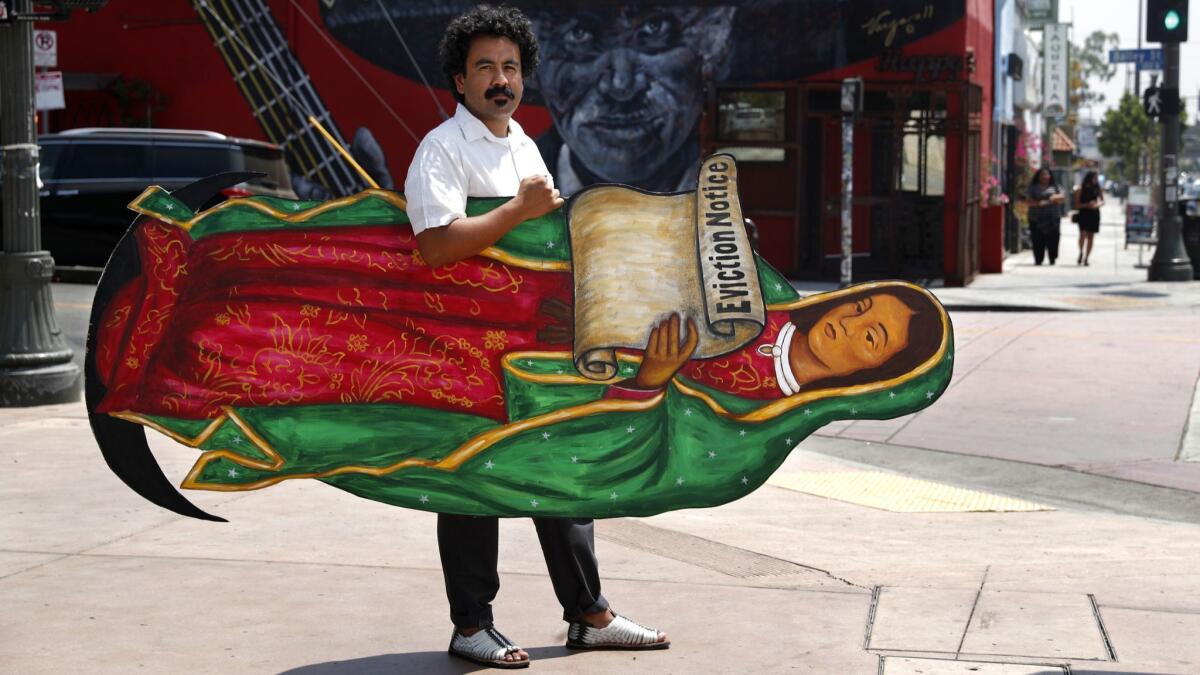 The red dress and long veil are instantly familiar. It's what this 7-1/2-foot Virgin Mary is holding that's surprising: an eviction notice.
"When you do look at the Virgen, her hands are already to her chest," says Nico Avina, the artist who painted the plywood figure. "She's looking down and she's reading this eviction notice like she just got served."
Why is the Virgin Mary being evicted from Boyle Heights? Gentrification, Avina says. If the demographics of the neighborhood keep changing, "then she's not going to be around here as much as she has been."
Virgin Mary murals are prominent in Latino neighborhoods, but as longtime residents get displaced, he says, so do signs of their culture.
"You would see them on every corner," says Avina, 44, who grew up in Boyle Heights. "It's talking about the community that believes so much in la Virgen de Guadalupe. And how it's used in the barrio. How it's used as a symbol of respect."
Avina grew up with murals by the likes of Judy Baca, Paul Botello and Willie Heron. He cites "El Corrido de Boyle Heights" (The Ballad of Boyle Heights), the mural painted by East Los Streetscapers and recently at the center of another gentrification discussion. "It's not just art for art's sake," Avina says. "There's a story behind it."
If murals are the stories that the community tells itself, Avina says, who or what will tell the stories when the murals are gone?
"As the people get displaced, so does their art," he says. "The Virgen was a reflection of that. She's also getting displaced."
His Virgen artwork, titled "Lupita Was Displaced," had been showcased at the store Espacio 1839 but has since been taken down. Avina is planning to place the piece at different locations in Boyle Heights hit hard by gentrification — places like the sites of the Brooklyn Theater and JonSons Market, both now gone.
Avina also wants to set up the artwork at the site of the demolished Pico Aliso housing project, among other locations.
By making the Virgin Mary appear on the streets, Avina hopes to speak out for those who can't.
The painted Virgin is a form of resistance, he says — a protest for those who can't otherwise say, "We can no longer live here, the rent has gone up, and we're just going to move. We can't fight. We can't afford a fight."
Get our L.A. Goes Out newsletter, with the week's best events, to help you explore and experience our city.
You may occasionally receive promotional content from the Los Angeles Times.