From UC Davis to the National Mall: Key architecture projects this fall
Some promising works to read and watch for this fall, including a pleasant discovery at UC Davis:
Sept. 22
"Eyes on the Street: The Life of Jane Jacobs"
Robert Kanigel's new biography of the pioneering social critic and author Jane Jacobs takes its title from the phrase most closely associated with her life and work — one suggesting that the most crowded city blocks, those with the most "eyes" on them, tend thanks to that collective attention to be the safest and liveliest. Arriving near the end of Jacobs' centenary year, the book explores her theories on what makes neighborhoods and cities successful — theories that helped topple the leading Modernist dogmas of postwar American urban theory, including those advanced by her longtime nemesis, New York planning czar Robert Moses.
$35, Alfred A. Knopf
SIGN UP for the free Essential Arts & Culture newsletter »
Sept. 23
"Irving J. Gill: New Architecture for a Great Country"
This exhibition at the San Diego History Center is but one part of an ambitious, sprawling tribute to the pioneering California architect; it also includes shows at the Oceanside Museum of Art, the La Jolla Historical Society and the Barona Cultural Center & Museum, among others. Despite a fair amount of scholarly and critical attention over the years — including a fine 2000 biography by the architectural historian Thomas Hines, who will be lecturing on the architect at UC Santa Barbara on Sept. 17 — Gill remains hugely underappreciated, a figure who was producing ruthlessly spare, flat-roofed modern houses and apartment blocks as early (and expertly) as any member of the more famous Bauhaus school in Germany. You could even say he is the architect most directly responsible — more than R.M. Schindler, Richard Neutra or any of the Case Study crowd — for the character of Southern California modernism.
Through March 31. 1649 El Prado, Suite No. 3, Balboa Park, San Diego. $6-$10. (619) 232- 6203, sandiegohistory.org, Information on the series of exhibitions and events at irvingjgill.org.
FULL COVERAGE: Your fall arts and culture guide to L.A.
Sept. 24
National Museum of African American History and Culture
The newest of the Smithsonian museums and the 19th overall — and the deeply fraught product of a dream pursued by African American cultural and political leaders for a full century — the NMAAHC occupies a fittingly prominent spot near the center of the National Mall in Washington, D.C. Designed by a team of architects led by David Adjaye, who was born in Tanzania to Ghanian parents and lives and works in London, the dramatic rectangular building is wrapped in latticed bronze panels, a feature Adjaye has said is drawn from Yoruba artwork of West Africa.
(844) 750-3012, nmaahc.si.edu
Nov. 5
"Louis Kahn: The Power of Architecture"
A show on arguably the most important figure in postwar American architecture lands at the San Diego Museum of Art after stints in Germany and Bellevue, Wash. Organized for its Southern California run by SDMA's Ariel Plotek, it includes models, drawings and photographs of Kahn's most important works, including the Kimbell Art Museum in Fort Worth, the National Assembly Building in Dhaka, Bangladesh, and the Salk Institute in La Jolla. A Nov. 5 symposium marking the opening of the show will include Plotek, the Salk's Claire Grezemkovsky and Wendy Lesser, whose biography of Kahn will be published next year.
Through Jan. 31. 1450 El Prado, Balboa Park, San Diego. $10-$15. (619) 232-7931, www.sdmart.org
Nov. 13
Jan Shrem and Maria Manetti Shrem Museum of Art
Designed by the New York firm SO-IL, founded in 2008 by the architects Jing Liu and Florian Idenburg, the new art museum for UC Davis has flown somewhat under the radar in California, obscured by the high-profile recent openings of the Broad museum in L.A. and the San Francisco Museum of Modern Art. But it has a chance to be the most significant work of architecture of the three, a low-slung building that spreads beneath a dramatic canopy of white aluminum.
(530) 752-8500, manettishremmuseum.ucdavis.edu
Los Angeles Times Ideas Exchange: Christopher Hawthorne in conversation with Frank Gehry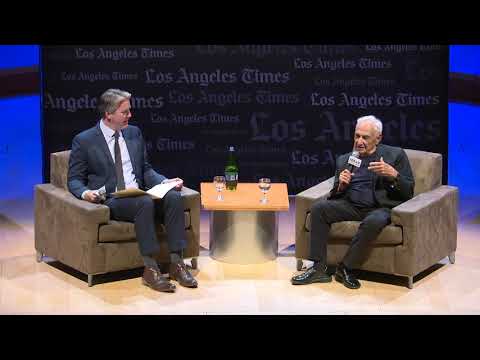 On Now
Frank Gehry's thoughts on the Broad? Watch his hilarious groan
On Now
Watch Frank Gehry in conversation with architecture critic Christopher Hawthorne
On Now
Why Frank Gehry never showed up to work for Richard Neutra
On Now
Frank Gehry recalls Rudolph Schindler style: Rough, raw and unpredictable
On Now
How Frank Gehry defended his Santa Monica home against a critical neighbor
On Now
Frank Gehry wants the L.A. River Revitalization project to help the neighboring communities
On Now
Frank Gehry's approach to the L.A. River – a lot of collaborators
christopher.hawthorne@latimes.com
Twitter: @HawthorneLAT
ALSO:
Plácido Domingo on playing Macbeth in L.A. Opera's season opener
Jeffrey Kahane to end 20-year run as LACO conductor with his most ambitious project
A classical critic's picks for fall: 'Breaking the Waves,' John Adams' 70th, Philip Glass' 'Akhnaten'
Get our L.A. Goes Out newsletter, with the week's best events, to help you explore and experience our city.
You may occasionally receive promotional content from the Los Angeles Times.