Critic's Notebook: A 'Hamilton' backlash? Why none of that matters with this history-making tour
Theater Critic
Jumping on bandwagons is my least favorite activity. Don't force me to tell you all the must-see movies I've skipped ("Forrest Gump" is all you'll get out of me), the No. 1 bestsellers I've bypassed (I discovered the world of "Harry Potter" only after it became a play) or the platinum records I've turned a deaf ear to (Bieber who?).
Some might interpret this as snobbery, but I see it as a form of self-protection. You are what you culturally consume, and I treasure the freedom of serendipitous discovery. Emily Brontë, in the poem "Stanzas," speaks for many of us who instinctively steer clear from the madding crowd: "I'll walk where my own nature would be leading:/ It vexes me to choose another guide."
As a critic compelled to review shows I probably wouldn't have bothered with as a civilian, I can't help bringing a gimlet eye to blockbusters. "The Producers" and "The Book of Mormon" were fun, but they didn't convert me. All those jukebox musicals — "Jersey Boys," "Mamma Mia!" — that have enticed baby boomers to siphon funds from retirement accounts have yet to turn this Gen Xer into a prodigal.
But "Hamilton" has somehow eluded my natural defenses. I've seen the show in three locations (Off-Broadway, Broadway and San Francisco) and can't wait to see it a fourth time at the Hollywood Pantages, where the musical has its much-anticipated Los Angeles premiere on Wednesday.
This doesn't mean that I think the show is above criticism or can withstand some of the hyperbolic comparisons that have been thrown its way. Creator Lin-Manuel Miranda is a prodigiously gifted musical theater artist, but "Hamilton," which impresses most in its musical storytelling audacity, in the way it translates into a modern idiom the tale of America's birth, isn't helped by claims that it represents the second coming of Shakespeare. (To be fair, Shakespeare is no Miranda when it comes to rap musicals.)
I have quibbles with the book, which suffers a few minor dips in its retreading of Alexander Hamilton's revolutionary life story. And I've questioned the relative gentleness of Miranda's take on Hamilton's complicated economic legacy and the founding fathers' personal relationship to slavery.
"Hamilton" could probably have done more to connect the framers' partisan squabbles with our own. But each time I see the show, I admire Miranda's achievement more. The power of the musical's grand political point about America as a country built on the backs and minds of immigrants is conveyed as much by the content of the show as by its mode of presentation.
The casting of actors of color as the founding fathers is liberating. The driving hip-hop and R&B score energizes the book musical with the intensity of a concert in which Beyoncé and Jay-Z might very well be swaying in the audience. And the show's inclusive embrace feels like an act of love at a time when politicians are working malignly to exploit differences and resentments.
One of the unfortunate aspects of the success of "Hamilton" is that it has made tickets formidably expensive. For those on the lower end of the income scale, the show exists as a tantalizing yet elusive dream. The drowning media coverage and the chart-busting popularity of the cast recording (the album went triple platinum this year) have attracted interest well beyond Broadway's customary audience. But many of the show's new fans are growing frustrated that they are unable to experience the work in the theater.
I know this because I've been getting mail from readers who are upset that a show that speaks directly to them has been priced beyond their reach. "Hamilton" has a $10 lottery, but the details were being worked out when I contacted a press representative at the Pantages — and a lottery usually involves a wish and a prayer.
A musical can't be expected to save the world, but I've seen the way 'Hamilton' is able to open hearts and minds.
Particularly galling to some is the existence of premium seats that can run as high as $750, with prices on the secondary ticket markets more than double that amount. I'm of two minds about the issue. On the one hand, I'm glad to see an artist like Miranda getting his shot at "making bank," as the kids back in the day used to say. Matt Stone, Trey Parker and Robert Lopez are still printing money from "The Book of Mormon." Why shouldn't a show with a sharper social conscience enjoy the financial rewards of such a rare artistic triumph?
On the other hand, I can also relate to those who complain that "Hamilton" exemplifies the economic inequality of our society. It would be unduly harsh to call it a musical for the 1% that pays neoliberal lip service to democratic values , but the rhetoric can get heated when ticket prices soar above the $200 threshold.
Economic fairness matters to Miranda. He was instrumental in an agreement that led to the original cast and several other participants getting a share of the show's profits. He has been outspoken on the issue of the secondary ticket market in which insane sums end up in the coffers of ticket agents who have nothing to do with the creation of the work. He made the daily lottery of $10 tickets a communal event in the theater district in New York. And he has fostered an alliance with the Rockefeller Foundation, other donors, and the Gilder Lehrman Institute of American History that will bring 250,000 school kids around the country (including L.A.) to "Hamilton."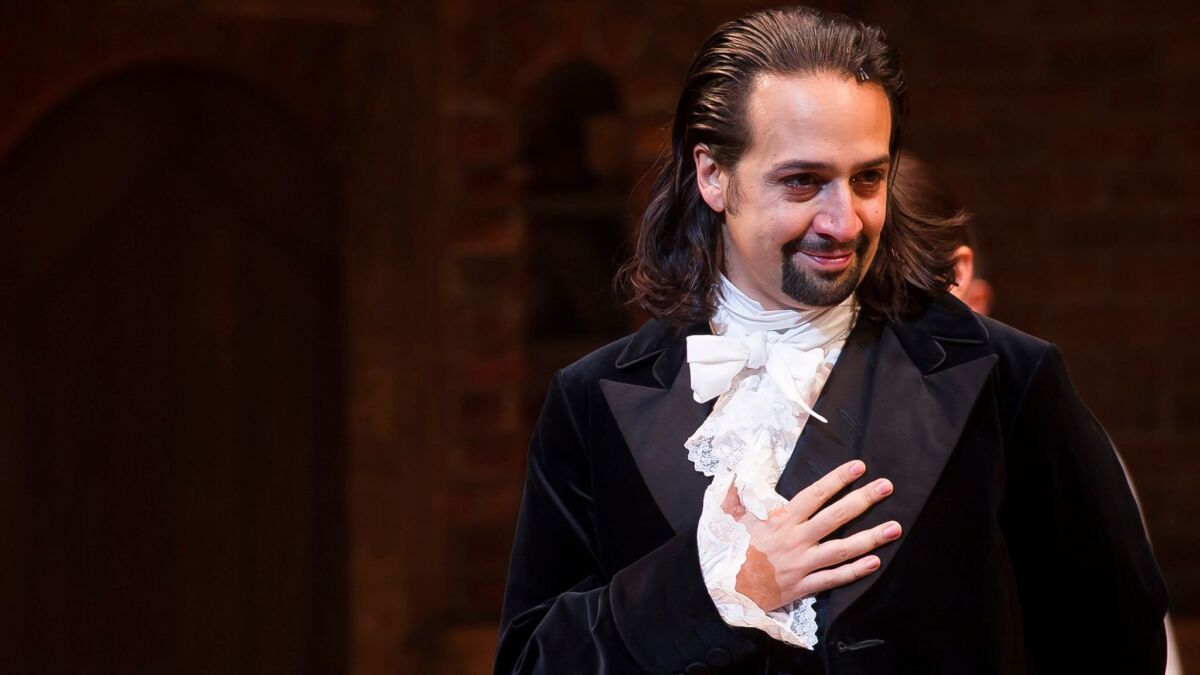 SIGN UP for the free Essential Arts & Culture newsletter »
I shared with Miranda an email I received from an administrative assistant who was sad and upset that "Hamilton" was in L.A. but ticket prices were making the show seem as distant as the moon. I felt bad about adding to his store of guilt but wondered how he'd respond to a note from someone who would seem to be the kind of theatergoer the work was written for in the first place. Considerate as always, he wrote back:
"Charles, thanks for reaching out. The difficulty of obtaining tickets to Hamilton for the average theatergoer is of course my greatest source of frustration. The honest answer is we fight the battle on as many fronts we can. I wrote an op-ed in the New York Times and met with Congress to fight against BOTS, which is an electronic tool scalpers used to scoop up scores of tickets while hard working folks are still typing in their CAPTCHA codes. We were able to pass legislation to this effect in New York and Congress also passed anti-BOTS legislation that President Obama signed into law in 2016. We continue to prioritize students through our EduHam initiative on every tour stop and over 25,000 students have participated thus far. We've doubled the number of $10 tickets available through the lottery on Broadway, and now offer approximately 45 tickets at that price for every performance in every city we play in. We can't control the secondary market, which is the source of that staggering $1500 ticket price in the letter you received. That's not what we charge. This is a long way of saying I share your reader's frustration. But we're chipping away at it in all the ways we can, all the time. Siempre, Lin-Manuel"
A musical can't be expected to save capitalism from its worst excesses, but I've seen the way "Hamilton" is able to open hearts and minds. Not everyone who wants to attend this first L.A. run will be fortunate enough to obtain a ticket, but the musical has already extended its reach through streaming music services, the documentary "Hamilton's America" that was shown on PBS, "Hamilton: The Revolution" (the impressive book Miranda co-wrote with Jeremy McCarter annotating the libretto and documenting the production's creation) and of course all those thrilling award-show numbers.
When I was at the opening of this national tour production at San Francisco's SHN Orpheum Theatre in March, I was astonished that nearly everyone around me knew most of the words to the songs. The joy that was in the house was like an electric current transforming a commercial show palace into a communal nexus.
"Hamilton" will no doubt be one of those musicals that return regularly like a favorite old friend. My reflex reaction to runaway hits of this magnitude is to duck and cover, but I am proud to join the chorus welcoming this landmark show to L.A.
Find all of our latest "Hamilton" coverage at latimes.com/hamilton.
Follow me @charlesmcnulty
MORE 'HAMILTON':
Oskar Eustis on how a YouTube video went on to change theater history
Behind the scenes of the national tour
Meet Aaron Burr: Why 'Hamilton' brings actor Joshua Henry to tears
Meet Angelica Schuyler: How Emmy Raver-Lampman rose into the spotlight
Tickets: The $10 lottery and other ways to score seats
Get our L.A. Goes Out newsletter, with the week's best events, to help you explore and experience our city.
You may occasionally receive promotional content from the Los Angeles Times.