Arts Preview: At the theater, eager anticipation for Manville, Irons, 'Soft Power' and more
Theater Critic
The best shows I've seen in 2018, Michael Michetti's (still running) production of Tennessee Williams' "A Streetcar Named Desire" at Boston Court Performing Arts Center and Richard Nelson's production of Anton Chekhov's "Uncle Vanya" at the Old Globe, were classic plays treated as though they were hot off their authors' typewriters.
Will Bedlam, a New York company devoted to exploring the immediacy of the actor-audience relationship, work similar revivifying miracles when it brings its pared productions of "Hamlet" and "Saint Joan" to the Broad Stage? Great acting is of course the most reliable rejuvenator of old masterpieces, so there's reason to be excited about yet another revival of "Long Day's Journey Into Night" starring two of Britain's best, Lesley Manville and Jeremy Irons.
There's no shortage of talent in the new generation of American playwriting, and a great sampling of their work will be on offer in the coming months, including Joshua Harmon's "Significant Other," Amy Herzog's "Belleville," Dominique Morisseau's "Skeleton Crew" and Stephen Karam's "The Humans." But perhaps the biggest opening in L.A. this spring is a work by two veterans that defies categorization — playwright David Henry Hwang and composer Jeanine Tesori's "Soft Power," which blazes its own trail between musical and dramatic genres.
Unanticipated pleasures can sometimes be the most delightful. John Doyle's transfiguring Broadway revival of "The Color Purple," a musical I foolishly gave up on, taught me never to underestimate the power of a director to reveal overlooked brilliance. In the theater, wonder lurks as much in the familiar past as in the unpredictable present.
---
Amy Freed ("The Monster Builder") has a gift for renovating classics with fiendish wit, and here, working again with director Art Manke, she tackles Shakespeare's problematic "The Taming of the Shrew," a comedy desperately in need of her kind of female-centered farcical rehabilitation. South Coast Repertory, Segerstrom Stage, 655 Town Center Drive, Costa Mesa. $22 and up. (714) 708-5555. www.scr.org
This play by Joshua Harmon, author of the caustic comedy "Bad Jews," made it to Broadway, attracting a millennial following to this by turns stingingly comic and touching tale about a single gay man who one by one loses his straight female BFFs to marriage. Geffen Playhouse, Gil Cates Theater, 10886 Le Conte Ave., Westwood. $25-$90. (310) 208-5454. www.geffenplayhouse.com
Bedlam, an adventurous New York company, performs in repertory two classics — William Shakespeare's supreme revenge tragedy and George Bernard Shaw's brilliantly disputatious chronicle — with four actors assuming nearly 50 roles with a brisk resourcefulness that won the company glowing reviews. The Broad Stage, 1310 11th St., Santa Monica. $45 and up. (310) 434-3200. www.thebroadstage.com
Amy Herzog's freshly inventive drama, about a young American couple in Paris grappling with a marriage that is beginning to reveal cracks, combines exquisite behavioral observation with chilling Hitchcockian suspense in a production starring two superb actors, Anna Camp and Thomas Sadoski. Pasadena Playhouse, 39 S. El Molino Ave., Pasadena. $25 and up. (626) 356-7529. www.pasadenaplayhouse.org
"the theater is a blank page"
Anne Bogart and the innovative SITI Company join forces with visual artist Ann Hamilton (renowned for her large scale sensory installations) in this immersive theater piece that incorporates the sinuous beauty of Virginia Woolf's prose from "To the Lighthouse." Presented by Center for the Art of Performance at UCLA. Royce Hall, UCLA, 340 Royce Drive, Westwood. $119. (310) 825-2101. www.cap.ucla.edu
The world premiere of this collaboration between David Henry Hwang ("M. Butterfly," "Yellow Face") and Jeanine Tesori ("Caroline, or Change," "Fun Home") is described as a "play with a musical." So expect the unexpected from a comedy that apparently gives way to a romantic fantasia taking note of the shifting balance of power between East and West. Ahmanson Theatre, 135 N. Grand Ave., L.A. $30-$130. (213) 972-4400. www.CenterTheatreGroup.org
Culture Clash revisits an old hit about the Southern border, a subject that has obviously only grown in political heat. Diane Rodriguez directs this "reimagined, remixed and full reloaded" production. Pasadena Playhouse, 39 S. El Molino Ave., Pasadena. $28 and up. (626) 356-7529. www.pasadenaplayhouse.org
May 29-June 17, June 19-24
John Doyle's Tony-winning revival, which radically distills the musical based on Alice Walker's novel into a singing spiritual parable, converted critics like me who had resisted the show in its original Broadway outing. Hollywood Pantages, 6233 Hollywood Blvd., Hollywood. $35 and up; children under 5 not admitted. (800) 982-2787. www.HollywoodPantages.com. Also at Segerstrom Hall, Segerstrom Center for the Arts, 600 Town Center Drive, Costa Mesa. $29 and up. (714) 556-2787. www.scfta.org
The final work in talented playwright Dominique Morisseau's three-play "Detroit Projects" series looks at the increasingly stressed relationships of employees at an auto-plant whose days appear to be numbered. Ethical dilemmas become painfully personal in a drama that recognizes the economics of destiny. Geffen Playhouse, Gil Cates Theater, 10886 Le Conte Ave., Westwood. $25-$90. (310) 208-5454. www.geffenplayhouse.com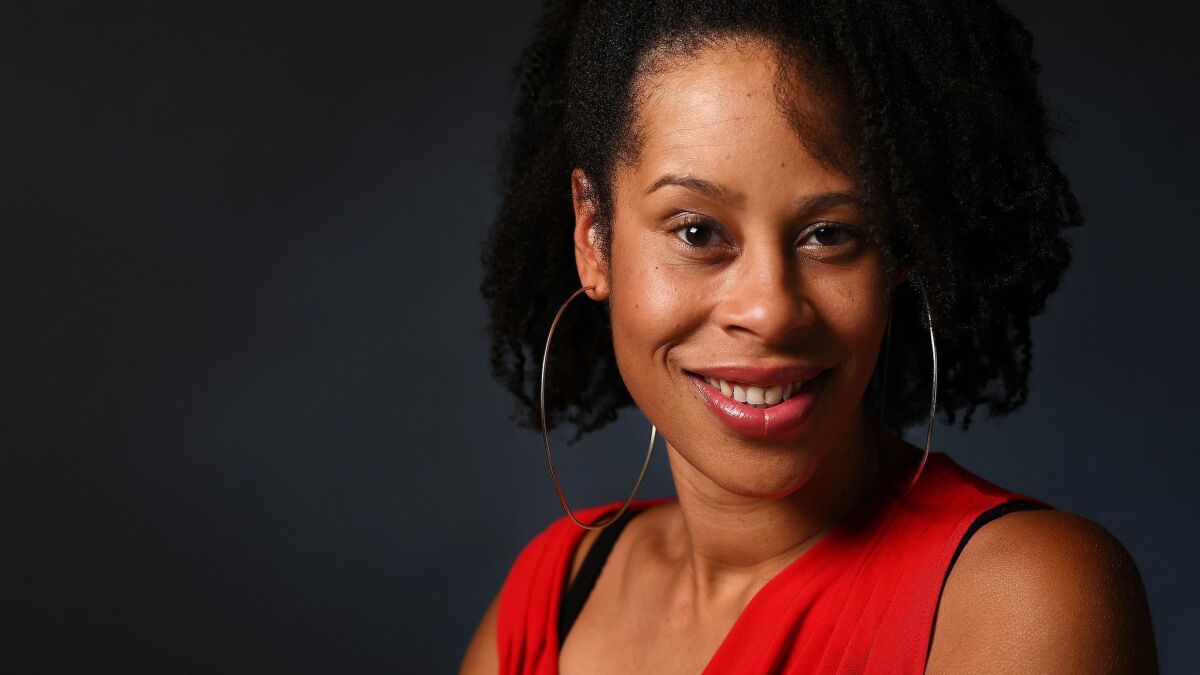 Stephen Karam's breathtakingly honest family drama, winner of the 2016 Tony Award for best play, takes place around the Thanksgiving dinner table, but the conversation ranges far and wide, from the fading reality of the American dream to the mounting existential terrors of modern life. Ahmanson Theatre, 135 N. Grand Ave., L.A. $30-$130. (213) 972-4400. www.CenterTheatreGroup.org
"Long Day's Journey Into Night"
Lesley Manville (nominated for an Oscar for her stunningly austere performance in "Phantom Thread") takes on the role of Mary Tyrone, the drug-addled matriarch of Eugene O'Neill's autobiographical masterpiece in this heralded Bristol Old Vic production starring the dependably (and often disturbingly) suave Jeremy Irons. Wallis Annenberg Center for the Performing Arts, Bram Goldsmith Theater, 9390 N. Santa Monica Blvd., Beverly Hills. $35-$125. (310) 746-4000. www.thewallis.org
Follow me @charlesmcnulty
MORE SPRING PREVIEW:
Art: Times critic Christopher Knight's picks
Classical: Times critic Mark Swed's picks
Broadway, the L.A. way: 'Waitress,' 'Hamilton' and more
Dance: A Bowie-themed 'StarDust,' an angry 'Giselle' and plus ...
Chamber music: 15 groups to know on a more intimate scale
An art exhibition that aims to go 'Beyond the Streets'
Get our L.A. Goes Out newsletter, with the week's best events, to help you explore and experience our city.
You may occasionally receive promotional content from the Los Angeles Times.