Best theater in 2017: Our critic's top picks, including Midler, Metcalf and Bruuuuce
Theater Critic
The power of individual performers redeemed 2017, a theatrical year overrun with flotsam and jetsam but one that at least gave us Bette Midler and Bruce Springsteen in unforgettable form on Broadway.
Star charisma is nothing to be sneezed at. But how rare it is when actors and singers find roles that draw out the secrets of their trade.
In Springsteen's rock confessional, Bruuuce (as his fans adoringly call him) naturally plays himself in a cabaret reckoning with his soul that's more intimately revealing than any bio-musical could be. For Midler, it's the yenta of Jerry Herman-Michael Stewart's forever bubbly "Hello, Dolly!" that requires her to synthesize all her many gifts in a musical comedy cocktail that has been leaving audiences drunk with pleasure.
FULL COVERAGE: Year-end entertainment 2018 »
Other performances, though missing from my list, continue to haunt me. Nathan Lane's Roy Cohn in the National Theatre's revival of Tony Kushner's "Angels in America" that will open on Broadway in the new year etched a masterpiece portrait in comic wrath. In the role of a strung out actress battling addiction in Duncan Macmillan's "People, Places & Things" at St. Ann's Warehouse in Brooklyn, Denise Gough communicated raw truths about the roller coaster of recovery. And as a grieving mother wrestling with God in Tarell Alvin McCraney's "Head of Passes," Phylicia Rashad turned play into furious prayer.
The year wasn't lacking in ambition. New dramas by Annie Baker ("The Antipodes") and Rajiv Joseph ("Archduke") were welcome even if they fell short of the authors' previous highs. Amy Herzog's "Mary Jane," which premiered at New York Theatre Workshop with Carrie Coon delivering an impeccable performance in the title role, kept unfolding in my mind long after it was as over. It was a reminder that one's first reaction to a work of art is only the beginning of a developing acquaintance.
These year-end lists are subjective to a fault. The version of me that prepared this highlight reel is locked in a debate with another Charles McNulty fellow who's wondering how I could leave out Christopher Chen's "Caught," which received such an ingenious immersive production at Think Tank Gallery under the direction of Ed Sylvanus Iskandar. (For the accounting sticklers wondering why I have 11 top shows, I made "Hamilton," the musical that has dominated the American theater since it debuted at the Public Theater in 2015, the wildcard in the pack.)
The absence of productions from the 99-seat network in this recap makes me wonder whether intimate theaters are still finding their footing after the controversial Actors' Equity contract changes. But I'd like to salute Rogue Machine (Lorraine Hansberry's "Les Blancs"), Sacred Fools (Anne Washburn's "Mr. Burns, A Post-Electric Play") and Hero Theater (María Irene Fornés' "The Conduct of Life") for tackling drama too daring for the timorous larger theaters. And kudos again to the Fountain Theatre for allowing us to huddle as a community to contemplate, through Michael Michetti's scrupulous staging of Robert Schenkkan's "Building the Wall," the dangers of the Trump administration's anti-immigrant sentiments and policies.
Politics were unavoidable after last year's election shocker, but thrilling performances made it a little easier to collectively cope.
"A Doll's House, Part 2," South Coast Repertory and Broadway. Two productions of Lucas Hnath's whip-smart sequel to Ibsen's emancipatory drama revealed different colors of this serious comedy of ideas. The laughter was more crackling in New York, but the pathos remained and Laurie Metcalf's defiant Nora returning to the scene of the marital crime was a Tony-winning turn for the ages.
"The Band's Visit," Broadway. The year's best new musical, adapted from the screenplay for the 2007 Israeli film about an Egyptian orchestra getting stuck in an Israeli backwater, had the delicacy of a poem set to music. Middle East politics took a backseat to the human comedy in a show that bridged divides through its sly multicultural score by David Yazbek and the graceful modesty of its book by Itamar Moses.
"Every Brilliant Thing," the Broad Stage. This touching show about the legacy of mental illness in a family audaciously invited members of the audience to become ensemble players. Performed by British comedian Jonny Donahoe, who collaborated with Duncan Macmillan on the script, the production (buoyantly directed by George Perrin) miraculously turned a group of anonymous theatergoers into an emotionally bonded troupe.
"Fun Home," Ahmanson Theatre. Based on Alison Bechdel's graphic memoir about growing up as a lesbian with a closeted gay father, this Tony-winning musical by Lisa Kron and Jeanine Tesori was as achingly poignant as it was dazzling original — a Proustian expedition in memory, staged with a hallucinatory glow by Sam Gold.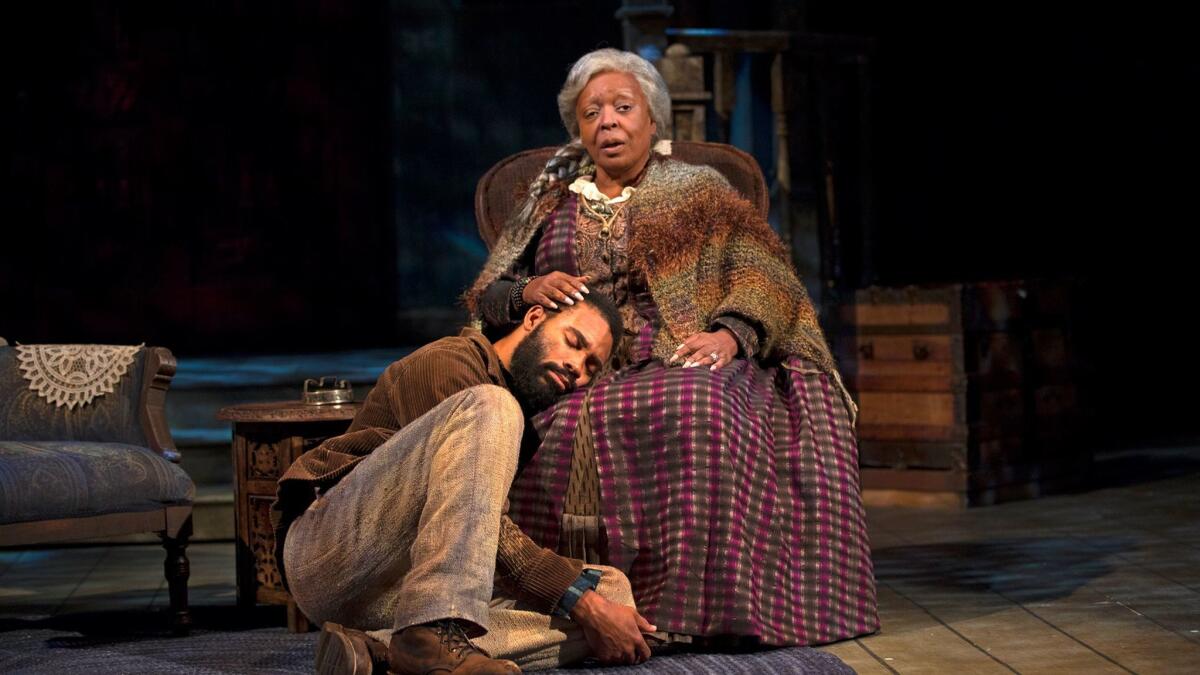 "Gem of the Ocean," South Coast Repertory. Director Kent Gash rendered with scorching immediacy August Wilson's drama exploring the first decade in his 10-play cycle on 20th century African American life. L. Scott Caldwell's incantatory Aunt Ester, the former slave who mends the broken and guides the lost, took the audience on a spiritual journey through our nation's painful history, a pilgrimage made all the more soul-stirring by Cleavant Derricks' Solly Two Kings.
"Hamilton," Hollywood Pantages Theatre. The moment Lin-Manuel Miranda's blockbuster musical arrived in Los Angeles, theater became the coolest kid at school.
"Hello, Dolly!" Broadway. Bette Midler's entire career prepared her for the role of Dolly Gallagher Levi, and Jerry Zaks' ecstatic revival brought out the vamping, wisecracking best in the Divine Miss M, who added a Tony to her trophy case.
"King Charles III," Pasadena Playhouse. Michael Michetti's superlative production of Mike Bartlett's "future history play" about turmoil in Buckingham Palace after the death of Queen Elizabeth II combined politics and poetry with neo-Shakespearean panache. In a first-rate ensemble, Jim Abele set himself apart in the play's title role, turning Charles into a prisoner of conscience among royals whose survival depends on the careful manipulation of public opinion.
SIGN UP for the free Essential Arts & Culture newsletter »
"Springsteen on Broadway," Broadway. In the year's most unexpected theatrical smash, Bruce Springsteen, legendary rocker and accomplished memoirist, found an ideal vehicle for his Broadway debut: A show stripped of everything but the singer, his story and his spiritual communion with the music.
"The Town Hall Affair," REDCAT. In re-creating one of the wackier public spectacles in second wave feminism, a 1971 debate at New York's Town Hall moderated by the reliably immoderate Norman Mailer, the Wooster Group managed to sample the styles and sensibilities of leading thinkers in the revolution in sexual politics. Eternal conflicts between men and women may not have been sorted out, but postmodern performance, a giddy showcase for human messiness, notched a victory over ideology.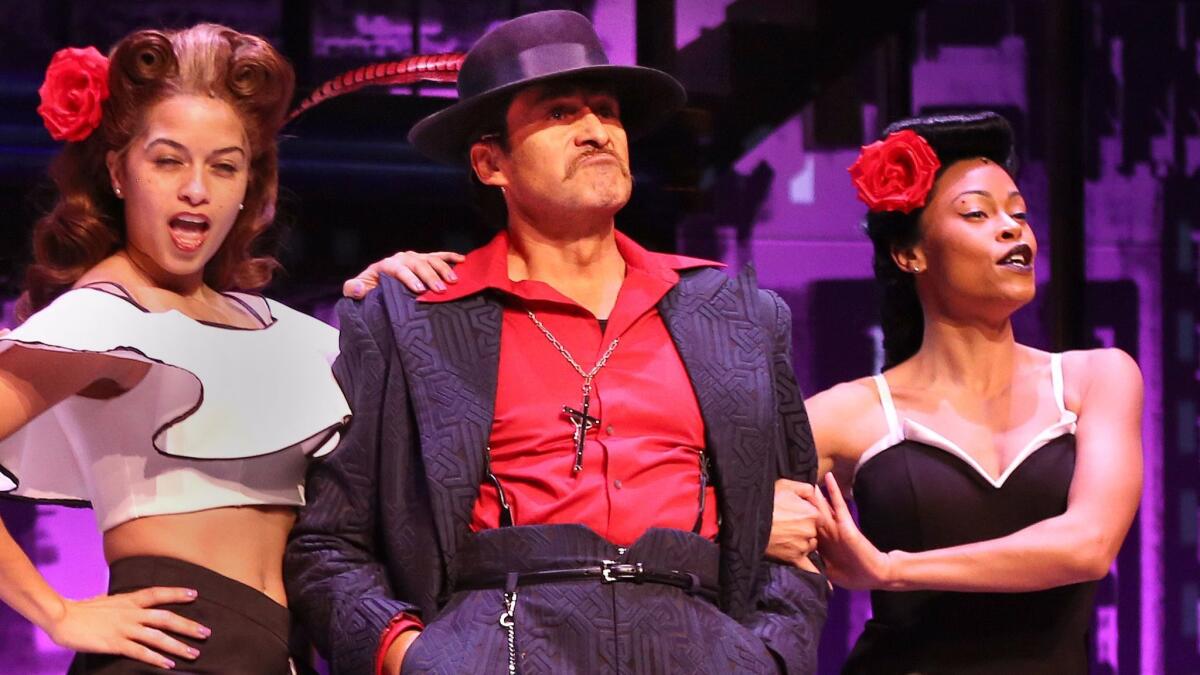 "Zoot Suit," Mark Taper Forum. Luis Valdez's landmark drama returned to the Mark Taper Forum in an exhilarating revival that felt as urgent in 2017 as it must have in 1978. Confronting racial justice and the crude politicization of law enforcement concerns in the media, the play brought vibrant theatricality, open-hearted advocacy and strutting fashion sense to societal flashpoints that are still radioactive today.
One lamentable trend. Theaters that charge top dollar for star-driven "workshop" productions that are not open for review. Pasadena Playhouse didn't invite critics to "God Looked Away," Dotson Rader's fumbling tell-all, so I bought a ticket to see Al Pacino in full jambon mode airing poor Tennessee Williams' dirty laundry and took it upon myself to warn potential ticket-buyers about this travesty.
Follow me @charlesmcnulty
Get our L.A. Goes Out newsletter, with the week's best events, to help you explore and experience our city.
You may occasionally receive promotional content from the Los Angeles Times.