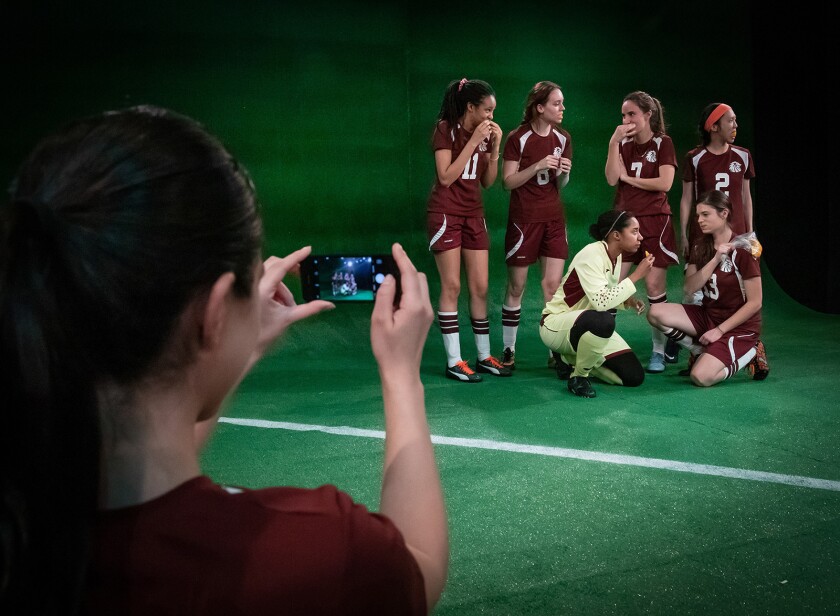 Capsule reviews are by Charles McNulty (C.M.), Philip Brandes (P.B.), F. Kathleen Foley (F.K.F.), Margaret Gray (M.G.) and Daryl H. Miller (D.H.M.).
Openings
Sister Act The Musical Stage adaptation of the 1992 Whoopi Goldberg about a lounge singer who hides out in a convent after witnessing a murder. Casa 0101 Theater, 2102 E. 1st St., Boyle Heights. Sun.-next Sun., 4 p.m.; Fri., 8 p.m.; Sat., 2 and 8 p.m.; ends May 19. $35-$50. (323) 263-7684. www.casa0101.org
A Grand Night "Glee's" Lea Michele and Darren Criss and others take part in this benefit for Center Theater Group. Mark Taper Forum, 135 N. Grand Ave., L.A. Mon., 7 p.m. $100 and up. (213) 628-2772. www.centertheatregroup.org
Side Man Staged reading of Warren Leight's jazz-themed dysfunctional-family memory play. Sierra Madre Playhouse, 87 W. Sierra Madre Blvd., Sierra Madre. Mon., 7 p.m. $5 suggested donation. (626) 355-4318. www.sierramadreplayhouse.org
Homeward LA Citywide event features monologues based on stories of people who have experienced homelessness. Various locations, times and prices. Starts Tue.; ends May 5. www.homewardla.org
Erich Bergen in Concert The "Jersey Boys" star performs. Catalina Bar & Grill, 6725 W. Sunset Blvd., Hollywood. Wed.-Thu., 8:30 p.m. $25-$35; food and drink minimums apply. (866) 468-3399. www.TicketWeb.com
Transistor Radio The Trans Chorus of Los Angeles and Celebration Theatre present an evening of song, dance, spoken word, etc., spotlighting the trans experience. A Noise Within, 3352 E Foothill Blvd., Pasadena. Wed., 7 p.m. $10-$40. (626) 356-3121. www.anoisewithin.org
John Kelly: Time No Line The veteran New York performance artist looks back on his life and career in this multimedia-enhanced show. REDCAT, 631 W. 2nd St., L.A. Thu.-Sat., 8:30 p.m. $14-$20. (213) 237-2800. www.redcat.org
Old Jews Telling Jokes Celebration of Jewish humor features classic gags, routines, skits, songs and stories; for ages 21 and up. The Colony Theatre, 555 N. 3rd St., Burbank. Thu.-Fri., 8 p.m.; Sat., 3 and 8 p.m.; next Sun., 3 and 7 p.m.; ends June 16. $45–$65. (855) 448-7469. www.playhouseinfo.com
Amaluna Cirque du Soleil returns with this female-centric big-top fantasy inspired by classic myths, Shakespeare's "The Tempest" and Mozart's "The Magic Flute." L.A. Waterfront, 250 S. Harbor Blvd., San Pedro. Fri., 8 p.m.; Sat., 4:30 and 8 p.m.; next Sun., 4:30 p.m.; ends May 26. $45 and up. (800) 745-3000. www.cirquedusoleil.com
Black Beauty Family-friendly retelling of Anna Sewell's classic novel about the life and times of a horse in 19th-century England; for ages 5 and up. Wallis Annenberg Center for the Performing Arts, Lovelace Studio Theater, 9390 N. Santa Monica Blvd., Beverly Hills. Fri., 7 p.m.; Sat.-next Sun., 2 and 5 p.m.; ends May 5. $25. (310) 746-4000. www.TheWallis.org
Boxing Lessons The family and friends of a famous writer who died under mysterious circumstances gather to pack up his personal effects in John Bunzel's dark comedy. The New American Theatre, 1312 N. Wilton Place, Hollywood. Fri.-Sat., 8 p.m.; next Sun., 3 p.m.; ends June 2. $35. (310) 424-2980. www.newamericantheatre.com
Brain Problems A cynical man retreats into his imagination following a dire diagnosis in Ammunition Theatre Company's staging of Malcolm Barrett's new comedy. The Pico, 10508 W. Pico Blvd., L.A. Fri.-Sat., 8 p.m.; next Sun., 7 p.m.; ends May 19. $35. (323) 798–5389. www.ammotheatre.com
A Closer Walk With Patsy Cline Michele McRae portrays the country-music legend in this bio-drama. Simi Valley Cultural Arts Center, 3050 Los Angeles Ave., Simi Valley. Fri.-Sat., 8 p.m.; next Sun., 2 p.m.; ends May 19. $20-$28. (805) 583-7900. www.simi-arts.org
Doctor Nympho vs The Sex Zombies A pathologist with a shady past must save humanity in this burlesque-style rock musical. Celebration Theatre, 6760 Lexington Ave., L.A. Fri.-Sat., 8 p.m.; next Sun., 7 p.m.; ends May 26. $20-$30. (323) 957-1884. www.celebrationtheatre.com
The End of Sex A woman begins to question the balance of power in her marriage in Gay Walch's new drama. The Big Victory Theatre, 3326 W. Victory Blvd., Burbank. Fri.-Sat., 8 p.m.; next Sun., 4 p.m.; ends June 2. $28, $40. (818) 841-5421. www.thevictorytheatrecenter.org
The Factz of Life Drag artists Jackie Beat, Drew Droege, et al., send up the classic 1980s sitcom. Cavern Club Celebrity Theater at Casita del Campo, 1920 Hyperion Ave., L.A. Fri.-Sat., 8 and 10 p.m.; next Sun., 7 and 9 p.m. $35. (800) 838-3006. www.cavernclubtheater.com
Hairspray Tony-winning musical based on John Waters' 1988 comedy about a full-figured, dance-obsessed teen in 1960s Baltimore. Norris Theater, 27570 Norris Center Drive, Palos Verdes Peninsula. Fri., 7:30 p.m.; Sat., 2 and 7:30 p.m.; next Sun., 2 p.m.; ends May 12. $30-$80. (310) 544-0403. www.PalosVerdesPerformingArts.com
Miss Coco Peru: Have You Heard? The drag artist shares songs and stories. Los Angeles LGBT Center's Renberg Theatre, 1125 N. McCadden Place, Hollywood. Fri.-Sat., 8 p.m. $35. (323) 860-7300. www.lalgbtcenter.org
A Small Group An aspiring comic wakes up in rehab with no memory of how he got there in Taylor Gregory's new play. The Hudson Theatre, 6539 Santa Monica Blvd., Hollywood. April 26-May 18.Fri.-Sat., 8 p.m.; ends May 18. $18. (323) 960–7773. www.onstage411.com
Tomas Kubinek: Certified Lunatic and Master of the Impossible The vaudeville-style performer mixes theater, magic and circus arts. Irvine Barclay Theatre, 4242 Campus Drive, Irvine. Fri., 7:30 p.m. $30. (949) 854-4646. www.thebarclay.org
2019 Pacific Playwrights Festival Readings of new plays by Adam Bock, Melissa Ross, Chisa Hutchinson and Ana Nogueira, plus a musical adaptation of Craig Lucas' "Prelude to a Kiss"; schedules at www.scr.org. South Coast Repertory, 655 Town Center Drive, Costa Mesa. Fri., 1, 4 and 8 p.m.; Sat., 10:30 a.m. and 8 p.m.; next Sun., 10:30 a.m. and 2:30 p.m. $18; passes, $75. (714) 708-5555.
Crime and Punishment "The Vampire Diaries' " Michael Trevino plays the murderer Raskolnikov in this two-actor adaptation of the Dostoevsky novel. Edgemar Center for the Arts, 2437 Main St., Santa Monica. Sat., 8 p.m.; next Sun., 4 p.m.; ends May 26. $25. (323) 960-7822. www.OnStage411.com
Exit, Pursued by a Bear A woman and two accomplices tie her abusive husband to a chair and then reenact scenes from the couple's unhappy marriage in Lauren Gunderson's Shakespeare-inspired dark comedy. Long Beach Playhouse, Studio Theatre (upstairs), 5021 E. Anaheim St., Long Beach. Sat., 8 p.m.; ends May 25. $14-$27. (562) 494-1014. www.lbplayhouse.org
Grand Park's Our L.A. Voices: A Pop-up Arts+Culture Fest Family-friendly two-day festival showcases local theater, music, dance, film and visual arts; with Playwrights Arena, Viver Brasil and others. Sat.-next Sun., 11 a.m. to 5 p.m. Free. www.grandparkla.org
Night Vale Presents Live podcast episodes; with guest star Mara Wilson. Largo at the Coronet, 366 N. La Cienega Blvd., L.A. Sat., 8 p.m. $35. (310) 855-0350. www.largo-la.com
Rex and Bob's Excellent Misadventure "My Fair Lady's" Henry Higgins and "The Music Man's" Harold Hill become trapped in each other's shows in this new musical comedy. Glendale Centre Theatre, 324 N. Orange St., Glendale. Sat.-next Sun., 2 and 7:30 p.m.; ends May 11. $20-$34. (818) 244-8481. www.glendalecentretheatre.com
The Siren Song of the Silver Screen Iris Rose and special guests perform in this cabaret show. The Found Theatre, 599 Long Beach Blvd., Long Beach. Sat., 7 p.m. $20. (562) 433-3363. www.foundtheatre.org
Skylight A London schoolteacher and her former lover, a widowed restaurateur, try to rekindle their romance in David Hare's drama; contains adult language; for ages 13 and up. Chance Theater, 5522 E. La Palma Ave., Anaheim. Sat., 8 p.m.; next Sun., 3 p.m.; ends May 19. $20-$39; discounts available. (888) 455-4212. www.ChanceTheater.com
Swing! A female factory worker in the 1940s develops feelings for another woman just as her husband returns from WWII in this new musical. Write Act Repertory, the Brickhouse Theatre, 10950 Peach Grove St., North Hollywood. Sat., 8 p.m.; next Sun., 2 p.m.; ends May 19. $20, $25. (800) 838-3006. www.brownpapertickets.com
Uncle Vanya "Xena's" Renee O'Connor takes part in a benefit reading of Chekhov's classic drama. Little Fish Theatre, 777 Centre St., San Pedro. Sat., 2 p.m. $100. (310) 512-6030. www.littlefishtheatre.org
Women Beyond Borders New play inspired by the stories of the California-based artists who founded the non-profit of the same name; with Meredith Baxter, Michael Learned, Sandra Tsing Loh, et al. Rubicon Theatre, 1006 E. Main St., Ventura. Sat., 7 p.m.; next Sun., 2 p.m.; ends June 2. $20-$55; opening night only, $150. (805) 667-2900. www.rubicontheatre.org
In These Times Folk singer and activist Noel Paul Stookey of Peter, Paul and Mary fame performs. Rubicon Theatre, 1006 E. Main St., Ventura. Next Sun.-Mon., 7 p.m. $65. (805) 667-2900. www.rubicontheatre.org
Love's Labour's Lost Staged reading of the Bard's romantic fable. The Shakespeare Center of Los Angeles, 1238 W. 1st St., L.A. Next Sun., 3 p.m. $30, $40. (213) 481-2273. www.shakespearecenter.org
The One Day Plays IAMA Theatre Company presents new plays created and performed within a 23-hour period. Greenway Court Theatre, 544 N. Fairfax Ave., L.A. Next Sun., 7 p.m. $40, $100. (323) 380-8843. www.iamatheatre.com
Wild Son: The Testimony of Christian Brando John Mese portrays the troubled offspring of Hollywood icon Marlon Brando in Champ Clark's solo drama. Santa Monica Playhouse, Main Stage, 1211 4th St., Santa Monica. Next Sun., 5:30 p.m.; ends May 26. $20. (800) 838-3006. www.brownpapertickets.com
Critics' Choices
Argonautika Mary Zimmerman, known for her compilation of Ovid's tales in "Metamorphoses," isn't on hand to stage her 2006 take on the myth of Jason and the Argonauts, but as directed by Julia Rodriguez-Elliott, the show generates the eye-widening, gasp-inducing excitement that is characteristic of Zimmerman's work. Everyday objects are repurposed as building blocks of the fantastical worlds encountered by Jason and his intrepid adventurers. In this enduring story, we see our own challenges, temptations, fears and transforming loves. (D.H.M.) A Noise Within, 3352 E. Foothill Blvd., Pasadena. Sun., 2 and 7 p.m.; Sat., 2 and 8 p.m.; ends May 5. $25 and up; student rush, $20. (626) 356-3121. www.anoisewithin.org
Friends With Guns Although it may be misconstrued as a defense of gun ownership, Second Amendment issues are peripheral to Stephanie Alison Walker's remarkable new play, which is actually a savage feminist parable, a cautionary tale of the peril that may await women who dare to venture outside their accepted roles. When an apparently stable, politically liberal couple splits over the question of gun ownership, the deceptively genial husband cannot handle his perceived loss of control over his wife. The progression from the initially humorous to the terrifying is so subtly charted by director Randee Trabitz and her superb cast that you are emotionally floored before you know it. (F.K.F.) The Road on Magnolia, 10747 Magnolia Blvd., North Hollywood. Sun., 2 and 7 p.m.; Fri.-Sat., 8 p.m.; next Sun., 2 p.m.; ends May 11. $15, $34. (818) 761-8838. www.roadtheatre.org
Lackawanna Blues Ruben Santiago-Hudson's theatrical memoir, about being raised by the big-hearted proprietor of a boardinghouse for castaways and strays in an industrial upstate New York city near Buffalo, was turned into a TV movie that won S. Epatha Merkerson an Emmy Award. But the compact stage version at the Mark Taper Forum — written, directed and performed by a harmonica-wielding Santiago-Hudson, who's accompanied by Chris Thomas King on guitar — is still the most potent way of experiencing this beautiful story of gratitude. (C.M.) Mark Taper Forum, 135 N. Grand Ave., L.A. Ends Sun., 6:30 p.m. $30-$99. (213) 628-2772. www.centertheatregroup.org
Native Son As profound as it is disturbing, Nambi E. Kelley's adaptation of Richard Wright's groundbreaking 1940 novel features a stellar cast in a surreal descent into a violent criminal protagonist's internal consciousness, revealing the fractured black identity that remains an enduring tragic legacy of racism. This encore Antaeus Theatre Company production is presented as part of Center Theatre Group's "Block Party" series. (P.B.) Kirk Douglas Theatre, 9820 Washington Blvd., Culver City. Sun., next Sun., 6:30 p.m.; Tue.-Fri., 8 p.m.; Sat., 2 and 8 p.m.; ends April 28. $25-$77. (213) 628-2772. www.CenterTheatreGroup.org
Smart Love Fine performances and a strikingly original premise elevate a witty but at times convoluted comedy about romantic possibilities afforded by the brave new world of ever-accelerating technology. (P.B.) Pacific Resident Theatre, 703 Venice Blvd., Venice. Sun., 5 p.m.; Sat., 8 p.m.; next Sun., 3 p.m.; ends May 5. $25-$34; discounts available. (310) 822-8392. www.pacificresidenttheatre.com
The Wolves Sarah DeLappe's stunning debut drama, a Pulitzer Prize finalist, presents the world through the prism of girls soccer. In this superb Echo Theater Company production directed by Alana Dietze, the play revolves around the overlapping exchanges during the pre-match warm-up sessions of a group of high school juniors who play for the Wolves. The talk is fast and fragmentary — routine banter of girls confronting the same social pressures as their minds and bodies transition into adulthood. By the end of the season, each of the girls is given a rigorous Chekhovian education in life. (C.M.) Atwater Village Theatre, 3269 Casitas Ave., L.A. Sun., next Sun., 4 p.m.; Mon., Thu.-Sat., 8 p.m.; ends May 6. $20-$50; Mondays and Thursdays, pay-what-you-want at the door (subject to availability). (310) 307-3753. www.echotheatercompany.com
---