Review: 'Lackawanna Blues' is potent as live memoir, an actor's tribute to the woman who rescued him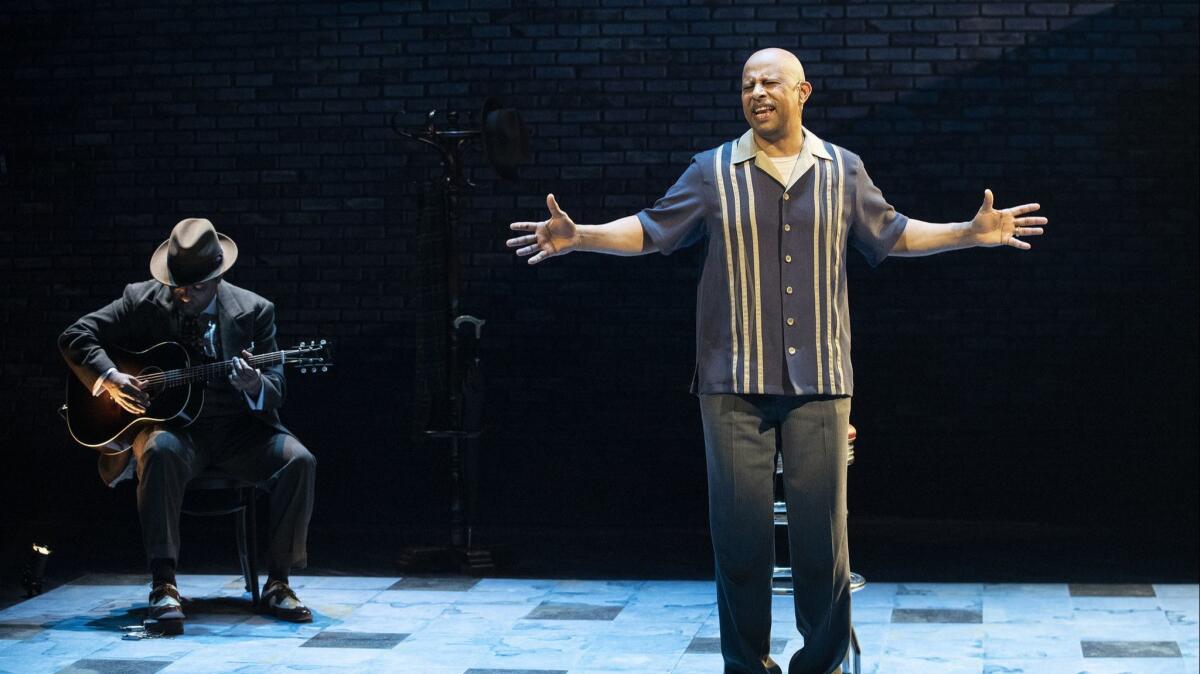 Theater Critic
"Lackawanna Blues," Ruben Santiago-Hudson's theatrical memoir about being raised by a big-hearted proprietor of a boardinghouse for castaways and strays in an industrial upstate New York city near Buffalo, was turned into a TV movie that won S. Epatha Merkerson an Emmy Award. But the compact stage version at the Mark Taper Forum — written, directed and performed by Santiago-Hudson — is still the most potent way of experiencing the story.
Santiago-Hudson, a Tony-winning actor and talented stage director who's one of the foremost interpreters of August Wilson's plays, beautifully merges his autobiographical narrative with music. Standing onstage with a harmonica in hand and accompanied by Chris Thomas King on guitar, he takes us back to his beginnings with a blues-infused portrait of the surrogate parent he found in Rachel Crosby, a radiant soul who more than earned the nickname of "Nanny."
Young Santiago-Hudson came under her care once she learned that his mother was leaving him alone in one of her rooming houses. It was the best thing that had ever happened to him.
Nanny, who he says was "like the government if it really worked," combined softness with steel. Her inexhaustible kindness drew customers to her boardinghouses, restaurant and after-hours club, but it was her indomitable strength and discipline that allowed her businesses to flourish. She'd cook, console and hand out cash, but she didn't play.
A safety net for those who had fallen through the cracks, she took in crazies, drunks and other so-called hopeless cases. But she had rules of conduct that she embodied so completely that those who were the recipients of her generosity would feel too ashamed not to at least try to live up to her example.
Santiago-Hudson loved her so much as boy, he worried that, at 63, she could die before he could handle such a loss. "Come here, give me a hug … with both arms," she told him, explaining that death "is just part of the deal you make when you're born." She prayed that when the time came she would kneel at the feet of Jesus and hear him say, "Well done." But she made sure she stayed around long enough to give her "son" everything he needed first.
'BE MORE CHILL': Adolescent angst of "Dear Evan Hansen" gets a wacky (and loud) A.I. twist »
"Lackawanna Blues," originally produced by New York's Public Theater in 2001, is populated with "characters" that Santiago-Hudson animates with his storytelling prowess. The army of bedraggled eccentrics includes Ol' Po Carl, a 79-year-old former Negro Leagues baseball player, who says his doctor told him to give up whiskey because of "roaches of the liver," and "orthodontically challenged" Sweet Tooth Sam, who was as intimidatingly large as he was unhinged.
Occasionally, Santiago-Hudson taps the oddball extremes for easy laughs. The brawl between one-legged Lemuel Taylor, whom Nanny rescued from a mental hospital, and Numb Finger Peter, who lost his fingers after drunkenly falling asleep in the Buffalo snow, is presented as the "numb-fingered, one-legged fight of the century."
But even when the story gets broad, the language has the lyrical rhythm of song. Santiago-Hudson rattles off names in the old neighborhood (Cockeyed Shakey, Bo-Jack, Finger Willy, Lackawanna Smitty) in a riff that's part rap, part bebop.
When I first saw "Lackawanna Blues" at the Public, Bill Sims Jr., who composed the original musical, was onstage next to Santiago-Hudson. Sims died earlier this year, and King, who has contributed additional music, is now smoothly at Santiago-Hudson's side.
'DIANA,' THE MUSICAL: British princess seems as American as Broadway song and dance »
The new production preserves the old synergy, but Santiago-Hudson's performance has grown only more relaxed and assured. Standing before a re-creation of the boardinghouse façade in vintage 1950s garb evoking the period of his youth, he conjures multitudes with his rich memory and malleable voice. But more than his gift for portraiture, it's his talent for vividly conjuring a way of life that enthralls.
Part of Wilson's mission in his magisterial 10-play cycle chronicling the African American experience in the 20th century was to fulfill James Baldwin's call for a "profound articulation of the black tradition." Taking a page from Wilson, Santiago-Hudson lovingly captures the customs of the community (the famous fish sandwiches with the wilted lettuce and special sauce, the late-night letting-it-all-hang-out dancing, the joys of scalp greasing) that formed not only his own character but his artistic appreciation of "character."
Nanny taught him to see the humanity that difference and difficulty could conceal. In return, he has brought her formidable dignity back to life and with it the Lackawanna community she helped raise and raise up with the force of her goodness.
♦ ♦ ♦ ♦ ♦ ♦ ♦ ♦ ♦ ♦ ♦
'Lackawanna Blues'
Where: Mark Taper Forum, 135 N. Grand Ave., L.A.
When: 8 p.m. Tuesdays-Fridays, 2:30 and 8 p.m. Saturdays, 1 p.m. Sundays; ends April 21 (call for exceptions)
Tickets: $30-$109 (subject to change)
Information: (213) 628-2772 or centertheatregroup.org
Running time: 85 minutes, no intermission
Get our L.A. Goes Out newsletter, with the week's best events, to help you explore and experience our city.
You may occasionally receive promotional content from the Los Angeles Times.