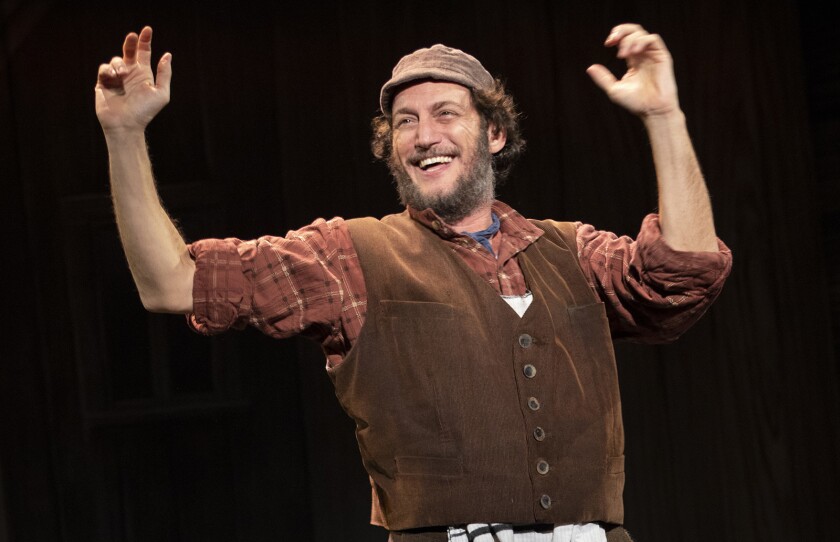 Capsule reviews are by Charles McNulty (C.M.), Philip Brandes (P.B.), F. Kathleen Foley (F.K.F.), Margaret Gray (M.G.) and Daryl H. Miller (D.H.M.).
Openings
And Then There Were None Ten strangers are summoned to a remote island only to be murdered one by one in Agatha Christie's classic whodunit. Morgan-Wixson Theatre, 2627 Pico Blvd., Santa Monica. Sun., next Sun., 2 p.m.; Fri.-Sat., 8 p.m.; ends May 26. $20, $23. (310) 828-7519. www.morgan-wixson.org
Sunday in the Park With George Musical Theatre Guild closes its season with a concert-staged reading of this Stephen Sondheim musical inspired by the life of French pointillist painter George Seurat. The Alex Theatre, 216 N. Brand Blvd., Glendale. Sun., 7 p.m. $45. (818) 243-2539. www.musicaltheatreguild.com
The Living Room Series Staged reading of James La Bella's "American Ant Motel." The Blank's 2nd Stage Theatre, 6500 Santa Monica Blvd., Hollywood. Mon., 8 p.m. $15 suggested donation. (323) 661-9827. www.theblank.com
Fiddler on the Roof Classic musical about a tradition-loving Jewish milkman raising five daughters in a shtetl in czarist Russia. Segerstrom Center for the Arts, Segerstrom Hall, 600 Town Center Drive, Costa Mesa. Tue.-Fri., 7:30 p.m.; Sat., 2 and 7:30 p.m.; next Sun., 1 and 6:30 p.m.; ends May 19. $29 and up. (714) 556-2787. www.scfta.org
Interfaith: The Musical A showcase of songs celebrating diversity. The Pico Union Project, 1153 Valencia St., L.A. Thu., 7 p.m. $20, $27. www.eventbrite.com
The Pack at the Pico Monthly reading series features original short comedies by Eugene Pack. The Pico, 10508 W. Pico Blvd., L.A. Tue., 7:30 p.m. $5 suggested donation. (310) 204-4440.
Tammie Brown Walking Ongina In Nature The two drag artists share the stage in this comedy show. The Cavern Club @ Casita Del Campo, 1920 Hyperion Ave., L.A. Tue., 8 p.m.; also May 21. $20. (800) 838-3006. www.brownpapertickets.com
Creep Staged reading of John Glore's new drama with music adapted from stories by Edgar Allan Poe. Chance Theater, Cripe Stage, 5522 E. La Palma Ave., Anaheim. Wed., 7:30 p.m. $15. (888) 455-4212. www.ChanceTheater.com
Hershey Felder: A Paris Love Story Felder explores the life and work of legendary French composer Claude Debussy in this new show. Laguna Playhouse, 606 Laguna Canyon Road, Laguna Beach. Wed.-Thu., 3 and 7:30 p.m.; Fri., 7:30 p.m.; Sat., 3 and 7:30 p.m.; next Sun., 2 and 6 p.m.; ends May 19. $85-$125. (949) 497-2787. www.lagunaplayhouse.com (Also at the Wallis, May 24-June 9)
Melinda Doolittle: Great American Soul Book The former "American Idol" contestant performs in this cabaret show. Catalina Bar & Grill, 6725 W. Sunset Blvd., Hollywood. Wed., 8:30 p.m. $25-$50; food and drink minimums apply. (866) 468-3399. www.ticketweb.com
Hot Flashin' Five women of a certain age are picked for a reality TV show in Gina Jourard's new musical comedy. Odyssey Theatre, 2055 S. Sepulveda Blvd., West L.A. Thu.-Sat., 8 p.m.; next Sun., 2 p.m.; ends May 19. $33.75, $37.50. www.hotflashinmusical.com
Les Misérables International hit musical based on the Victor Hugo novel about an ex-convict fighting for redemption and others caught up in revolution in early 19th-century France. Hollywood Pantages, 6233 Hollywood Blvd., Hollywood. Thu.-Fri., 8 p.m.; Sat., 2 and 8 p.m.; next Sun., 1 and 6:30 p.m.; ends June 2. $49 and up. (800) 982-2787. www.hollywoodpantages.com
Mach 33: The Caltech / Pasadena Playhouse Festival of New Science-Driven Plays Staged readings of three new works. The Pasadena Playhouse, 39 S. El Molino Ave., Pasadena. Thu.-Sat., 7 p.m. $15. (626) 356-7529. www.PasadenaPlayhouse.org
Rapid Development Series, Round 2 Audience members choose between two new plays, with the winning work getting a staged reading on May-30. The Fountain Theatre, 5060 Fountain Ave., L.A. Thu., 8 p.m. Free. (323) 663-1525. www.FountainTheatre.com
Solo Creation Festival Sixth-annual showcase presents nine original solo works over the course of three weeks. Son of Semele Theater, 3301 Beverly Blvd. L.A. Thu.-Sat., 8 p.m.; next Sun., 5 p.m.; ends May 26. $15. (213) 351-3507. www.sonofsemele.org
Captivated: You Concluding installment of Eric Blair's immersive three-part psychological thriller. Warehouse, address provided to ticket holders, Silver Lake. Fri.-next Sun., 8, 9:30 and 11 p.m.; ends May 19. $60. www.theyplayed.com
The Christians A megachurch pastor finds himself at odds with his congregation in Lucas Hnath's drama. Actors Co-op, Crossley Theatre. 1760 N. Gower St., Hollywood. Fri.-Sat., 8 p.m.; next Sun., 2:30 p.m.; ends June 16. $25-$35. (323) 462-8460. www.ActorsCo-op.org
Fellowship! Musical parody of J.R.R. Tolkien's fantasy tale "The Fellowship of the Ring." Maverick Theater, 110 E. Walnut, Fullerton. Sat., 8 p.m.; next Sun., 6 p.m.; ends June 30. $15, $30. (714) 526-7070. www.mavericktheater.com
Julius Weezer Troubadour Theater Company's latest mashup combines Shakespeare's tragedy of the ill-fated Roman ruler with the songs of the veteran alt-rock band. El Portal Theatre, 5269 Lankershim Blvd., North Hollywood. Fri., 8 p.m.; Sat., 4 and 8 p.m.; next Sun., 4 p.m.; ends May 19. $50-$65. (866) 811-4111. www.elportaltheatre.com
Nunsense Musical farce about nuns staging a talent show. Stage Door Repertory Theatre, 1045 N. Armando St., Anaheim Hills. Fri.-Sat., 8 p.m.; next Sun., 5 p.m.; ends May 26. $20, $25. (714) 630-7378. www.stagedoorrep.org
The Price Two estranged brothers come together to sort through their late father's effects in Arthur Miller's classic drama. International City Theatre, Long Beach Performing Arts Center, 330 E. Seaside Way, Long Beach. Fri.-Sat., 8 p.m.; next Sun., 2 p.m.; ends May 26. $47-$55. (562) 436-4610. www.InternationalCityTheatre.org
12 Angry Men — 12 Impassioned Women An all-female cast performs the classic courtroom drama. Promenade Playhouse, 1404 3rd St. Promenade, Santa Monica. Fri.-Sat., 8 p.m.; ends June 15. $20, $28. (310) 656-8070. www.promenadeplayhouse.com
The 25th Annual Putnam County Spelling Bee Long Beach Landmark Theatre Company stages the hit musical comedy. First Congregational Church of Long Beach, 241 Cedar Ave., Long Beach. Fri.-Sat., 8 p.m.; next Sun., 7 p.m.; ends May 19. $15-$50. (562) 366-0085. www.lblandmark.org
Don't Tell My Mother! Nikki Levy's storytelling series returns with a Mother's Day-themed show. Café Fais Do Do, 5257 W. Adams Blvd., L.A. Sat., 8 p.m. $20. www.dtmm-show.com
The Heart (Réparer les vivants) Writer-performer Emmanuel Noblet's solo drama about organ donation; in French with English subtitles. Théâtre Raymond Kabbaz, Le Lycée Francais de Los Angeles, 10361 W. Pico Blvd., L.A. Sat., 7:30 p.m. $20, $30. (310) 286-0553. www.trk.us.com
Samsara Coeurage Theatre Company stages the L.A. premiere of Lauren Yee's drama about a couple having a baby via a surrogate in India. The Met Theatre, 1089 N. Oxford Ave., L.A. Sat., 8:30 p.m.; ends June 1. Pay what you want. (323) 944-2165. www.coeurage.org
Spring Awakening Teen-directed production of the coming-of-age rock musical; contains adult language, mature themes, sexual content. Stella Adler Theatre, 6773 Hollywood Blvd., Hollywood. Sat., 2 and 8 p.m.; next Sun., 2 p.m.; ends May 18. $25. www.eventbrite.com
Story Pirates Musical sketch comedy show for ages 5 and up. Wallis Annenberg Center for the Performing Arts, Lovelace Studio Theater, 9390 N. Santa Monica Blvd., Beverly Hills. Sat., 2 p.m. $25. (310) 746-4000. www.TheWallis.org
Tigers Be Still Regional premiere of Kim Rosenstock's dark comedy about a young female art teacher trying to stay optimistic in the face of challenges at home and work; contains adult language; for ages 13 and up. Chance Theater, Cripe Stage, 5522 E. La Palma Ave., Anaheim. Sat., 7:45 p.m.; next Sun., 2:45 p.m.; ends June 2. $20-$39. (888) 455-4212. www.ChanceTheater.com
Violence: The Misadventures of Spike Spangle, Farmer A struggling farmer finds himself a pawn in a nefarious plot in Tim Robbins and Adam Simon's satire of the media and militarism. The Actors' Gang Theatre, 9070 Venice Blvd., Culver City. Sat., 8 p.m.; ends June 22. $25-$34.99; Thursdays, pay what you can. (310) 838-4264. www.TheActorsGang.com
MOMentum Place Annual Mother's Day celebration features aerialists, circus performers, dancers and musicians. Will Geer's Theatricum Botanicum, 1419 N. Topanga Canyon Blvd., Topanga. Next Sun.; brunch, noon; performance, 2 p.m. $10-$40; brunch, $30. (310) 455-2322. www.theatricum.com
Mother's Day with Elvis Tribute artist Raymond Michael salutes the King of Rock and Roll. Simi Valley Cultural Arts Center, 3050 E. Los Angeles Ave., Simi Valley. Next Sun., 7:30 p.m. $22-$29. (805) 583-7900. www.simi-arts.org
StoryTime The Group Rep presents personal stories of joy, sadness and humor; for ages 18 and up. Lonny Chapman Theatre, 10900 Burbank Blvd., North Hollywood. Next Sun., 7 p.m. $12. (818) 763-5990. www.thegrouprep.com
Critics' Choices
Argonautika Mary Zimmerman, known for her compilation of Ovid's tales in "Metamorphoses," isn't on hand to stage her 2006 take on the myth of Jason and the Argonauts, but as directed by Julia Rodriguez-Elliott, the show generates the eye-widening, gasp-inducing excitement that is characteristic of Zimmerman's work. Everyday objects are repurposed as building blocks of the fantastical worlds encountered by Jason and his intrepid adventurers. In this enduring story, we see our own challenges, temptations, fears and transforming loves. (D.H.M.) A Noise Within, 3352 E. Foothill Blvd., Pasadena. Ends Sun., 2 p.m. $25 and up; student rush, $20. (626) 356-3121. www.anoisewithin.org
Falsettos William Finn's musical, set in 1979 and 1981, celebrates the resilience of family. Marvin leaves his wife and son to live with a man, but although their relationships keep rearranging, they remain, resolutely, a family. This is a series of songs with no connecting dialogue, so the storytelling is elliptical. Truth be told, the show can be a challenge. But James Lapine's playful direction and resonant performances (note to "Wicked" fans: Eden Espinosa plays the wife) carry the audience through laughter and tears. (D.H.M.) Ahmanson Theatre, 135 N. Grand Ave., L.A. Sun., next Sun., 1 and 6:30 p.m.; Tue.-Fri., 8 p.m.; Sat., 2 and 8 p.m.; ends May 19. $30-$135. $30-$135. (213) 972-4400. www.centertheatregroup.org
Friends With Guns Although it may be misconstrued as a defense of gun ownership, Second Amendment issues are peripheral to Stephanie Alison Walker's remarkable new play, which is actually a savage feminist parable, a cautionary tale of the peril that may await women who dare to venture outside their accepted roles. When an apparently stable, politically liberal couple splits over the question of gun ownership, the deceptively genial husband cannot handle his perceived loss of control over his wife. The progression from the initially humorous to the terrifying is so subtly charted by director Randee Trabitz and her superb cast that you are emotionally floored before you know it. (F.K.F.) The Road on Magnolia, 10747 Magnolia Blvd., North Hollywood. Sun., Fri.-Sat., 8 p.m.; ends May 11. $15, $34. (818) 761-8838. www.roadtheatre.org
Smart Love Fine performances and a strikingly original premise elevate a witty but at times convoluted comedy about romantic possibilities afforded by the brave new world of ever-accelerating technology. (P.B.) Pacific Resident Theatre, 703 Venice Blvd., Venice. Sun., 3 p.m.; Sat., 8 p.m.; next Sun., 5 p.m. $30, $34; discounts available. (310) 822-8392. www.pacificresidenttheatre.com
The Wolves Sarah DeLappe's stunning debut drama, a Pulitzer Prize finalist, presents the world through the prism of girls soccer. In this superb Echo Theater Company production directed by Alana Dietze, the play revolves around the overlapping exchanges during the pre-match warm-up sessions of a group of high school juniors who play for the Wolves. The talk is fast and fragmentary — routine banter of girls confronting the same social pressures as their minds and bodies transition into adulthood. By the end of the season, each of the girls is given a rigorous Chekhovian education in life. (C.M.) Atwater Village Theatre, 3269 Casitas Ave., L.A. Sun., 4 p.m.; Mon., 8 p.m.; ends May 6. $20-$50; Mondays, pay-what-you-want at the door (subject to availability). (310) 307-3753. www.echotheatercompany.com
---