'Back Back Back' at the Old Globe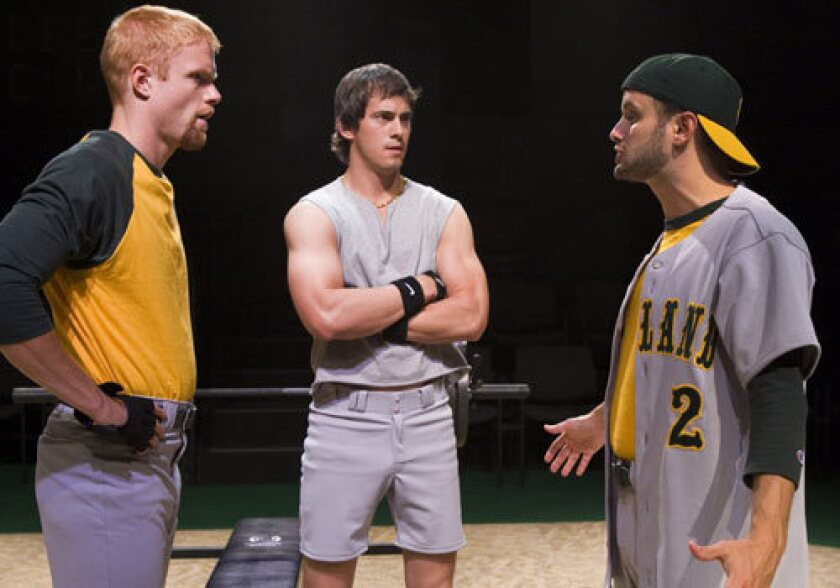 Times Theater Critic
SAN DIEGO -- Stepping up to the plate and hitting one out of the park is the consummate American fantasy. Our entire system is built on such a dream -- from schnook to big cheese with one swing of the bat.
This obsession with home runs, and the pharmaceutical lengths to which players will go to rack up fat numbers, is the subject of Itamar Moses' "Back Back Back." Directed by Davis McCallum, this Old Globe world premiere offers a fresh encounter with a playwright who cartwheeled into national view a few years ago with the Stoppardesque "Bach at Leipzig," followed by the tamer though more carefully observed "The Four of Us."
Neither play was a runaway success, but both demonstrated tantalizing promise. "Back Back Back," however, might get Moses sent to the minor leagues for a tune-up.
The title mimics the roar of baseball announcers when a batter sends one soaring over the fence. That fiendish excitement, however, is rarely captured by the play itself.
Structured as a series of ethically revealing moments in the up-and-down careers of three major leaguers, the work attempts to capture their compromises with one another -- and their own consciences -- as steroids become a larger and larger locker room reality.
As a jock ventriloquist, Moses doesn't always find the right voice. One minute a character mutters like his IQ is in the double digits, the next he sounds as though he's just finished law school. The slips in diction suggest Moses is still getting to know these men.
An even bigger problem is the way scenes start and stop abruptly, leaving us scrambling to fill in details that aren't so interesting to begin with. Moses' habit of cutting off the action before it has the chance to significantly progress proves to be as frustrating as watching a game in which inning after inning men are left stranded on base.
Raul (Joaquin Perez-Campbell), the not-very-bright slugger (think José Canseco, several sizes smaller), and Kent (Brendan Griffin), the golden boy who knows how to speak in full sentences (imagine Ron Howard as an Ivy League athlete), come from different sides of the tracks, but they share a few things in common. Both are prized for their exceptional potential, and both have taken to injecting themselves with banned substances to realize it.
Adam (Nick Mills), the new guy on the team, is another rising talent who has a chance of following in Raul and Kent's rookie-of-the-year footsteps. But not as cocky as the others, Adam is content to be an also-ran among all-stars. At the start of his first World Series game, all he can obsess about is the girlfriend who just dumped him.
Kent hates not living up to his own standards and wants to protect Adam from Raul's influence. Raul, who's already resentful of Kent's superiority, doesn't appreciate the holier-than-thou attitude. He may be less idealistic, but at least he doesn't put up an honors student facade. Moses builds his drama on these not-so-earth-shattering distinctions.
Scoreboard updates track the leaps in time as the plot moves forward. If only we had a reason to care about the characters' relationships, which are more or less reduced to a single issue. To call them friends would be a bit of a stretch. They're merely the personification of a topical concern Moses is determined to spin a play out of.
Steroid use could have served as an incisive metaphor for contemporary America. If you think about the current financial crisis, in which Wall Street pirates trashed the ground rules of capitalism for the sake of their own multimillion-dollar condos, or the deceit politicians routinely resort to for votes, you can't help wishing that Moses had made more meaningful connections between what's happening inside and outside the sport.
Perhaps a better-acted production would have demonstrated the acuity of Moses' tight focus. But right now the riffs and arias that Moses feeds his characters seem like playwriting exercises detached from an urgently held vision. The monotonously abstract staging certainly doesn't help, but it would take a Herculean directorial intervention to lift this material.
When it comes to America's favorite pastime, the devil is always camped out in a box seat munching on a hot dog, as "Damn Yankees" revealed half a century ago. Moses doesn't have much more to add to this story, but maybe in his next outing he'll be able to string together something more impressive than a series of psychological bunts.
"Back Back Back," Old Globe Arena Theatre, James S. Copley Auditorium, San Diego Museum of Art, Balboa Park, San Diego. 7 p.m. Tuesdays- Wednesdays, 8 p.m. Thursdays- Fridays, 2 and 8 p.m. Saturdays, 2 and 7 p.m. Sundays. Ends Oct. 26. $53 - $59. (619) 23-GLOBE or www.TheOldGlobe.org. Running time, 1 hour, 40 minutes.
---
Your essential guide to the arts in L.A.
Get Carolina A. Miranda's weekly newsletter for what's happening, plus openings, critics' picks and more.
You may occasionally receive promotional content from the Los Angeles Times.