Column: Investigating Carmen Miranda and fighting the 'biennial effect': Two Latin American artists in L.A. prepare for Pacific Standard Time
Carla Zaccagnini had never been to Los Angeles when she landed in the city for a residency at Santa Monica's 18th Street Arts Center in mid-April. Yet many aspects of the city felt strikingly familiar.
"The other day, we saw the L.A. River," she says, "the dry river, which I've seen before in the movies."
"It's impossible to come to Los Angeles with a blank slate," adds her husband, Runo Lagomarsino, who is also an artist. "It's L.A., the city with the most production of images in the world. The city is part of the narrative of so many things."
Zaccagnini and Lagomarsino, two conceptual artists with ties to Argentina and Brazil, are in Los Angeles exploring the city and conducting research in advance of the Pacific Standard Time series of exhibitions next year. PST LA/LA (for Los Angeles/Latin America), as the series is called, will consist of shows devoted to Latino and Latin American art in almost four dozen institutions around the Southland.
The artists, who are in town for six-week residencies, will have their work featured in next year's "A Universal History of Infamy," a PST LA/LA show of genre-bending contemporary Latin American artists that will go on view at the L.A. County Museum of Art, the 18th Street Arts Center and LACMA's satellite space at Charles White Elementary in Westlake.
Though the pair are married (and have their 2½-year-old son in tow), they work independently. Yet they are united intellectually by their interest in creating works inspired by historical research: Lagomarsino into issues of colonialism, and Zaccagnini into how Brazil has been portrayed abroad. (Though she was born in Argentina, she grew up in Brazil, where she and Lagomarsino live much of the year.)
Rita Gonzalez, curator of contemporary art at LACMA and one of the three curators organizing "Universal History," says the residency program, supported in part by a grant from the Getty Foundation, offers artists and curators an opportunity to work together more intimately and in more interesting ways.
"There's a lot of writing about the 'biennial effect' of curators helicoptering in," she says. "You travel around. You helicopter into Sao Paulo, then you helicopter out. You pick the artists, you pick the work and that's the deal. This has afforded us the opposite — the possibility to bring artists here and spend time with them."
The purpose isn't necessarily for the artists — of which there are more than a dozen in the show, including three from Los Angeles — to make work about their experiences or Los Angeles. Instead, it's about allowing artists from abroad to make use of the region's academic and archival resources for their work.
"It's a platform where artists can dialogue with a historical archive, with historical materials in an archive," says Gonzalez.
In addition to Lagomarsino and Zaccagnini, a dozen other artists have also spent time in this way in the city.
Zaccagnini has been using her residency to pore over materials related to Walt Disney's 1941 travels through Latin America, a topic that fascinates her. She also has a long-running interest in how entertainer Carmen Miranda came to be the embodiment of all things Brazilian for North American audiences in the 1940s — not to mention a friendly face of the U.S.' Good Neighbor Policy (in which the U.S. agreed not to unilaterally intervene in Latin American politics.)
With the assistance of Betty Marín, a PST researcher at the 18th Street Arts Center, she was able to track down correspondence between the singer's representatives and Nelson Rockefeller, who had funded a performance by the star at a San Francisco yacht club in 1945, for a conference that launched the charter for the United Nations.
"She stayed at this hotel and there is this correspondence between her agent and Rockefeller's secretary over who would pay for clothes and some fake jewelry she had bought at the hotel boutique," says Zaccagnini. "It was this interesting information that Betty helped me find in the Rockefeller Foundation Archives."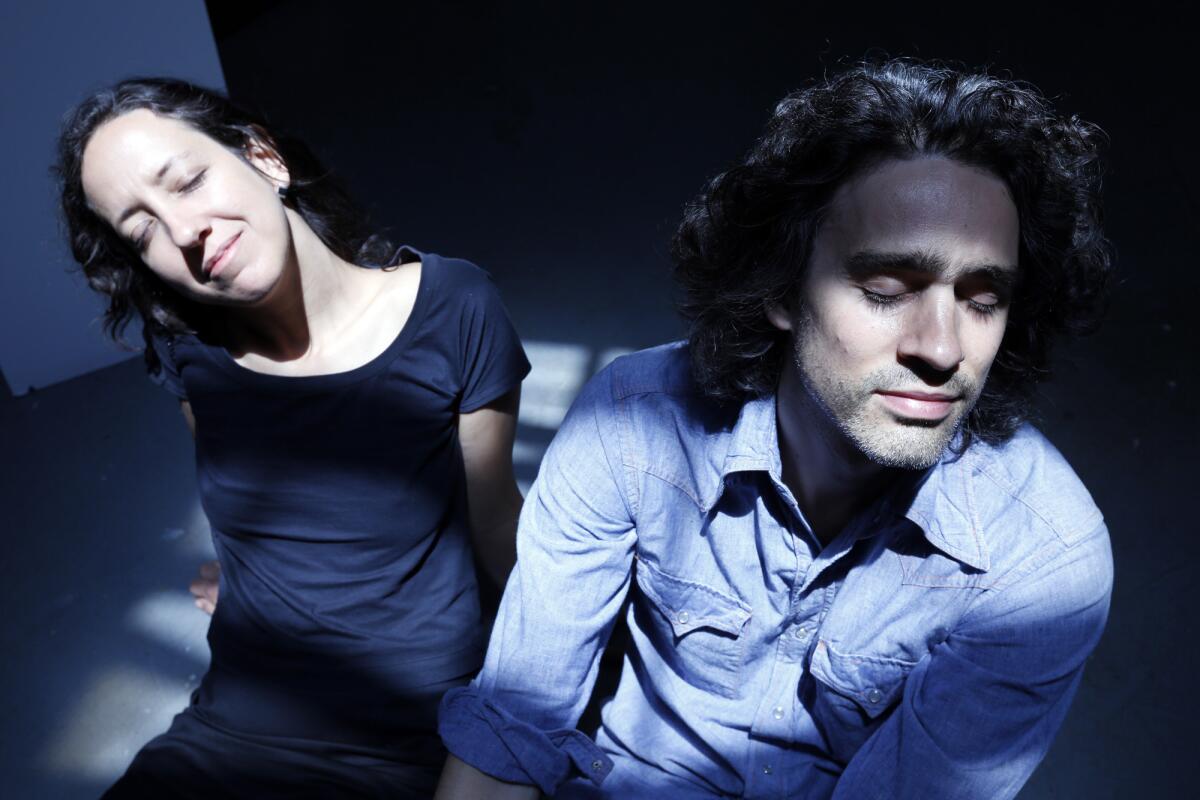 Lagomarsino, in the meantime, has been knee-deep in colonialism, a subject he has examined regularly throughout his career. The artist once pelted a statue of Christopher Columbus in Spain with raw eggs he transported all the way from Argentina — an action he has described as both "pathetic and glorious."
In Los Angeles, he has been studying the city's connection to the legacy of Spanish colonialism and soaking up LACMA's pre-Columbian and colonial collections. The artist says he has been particularly intrigued by the museum's Latin American casta paintings — 18th century colonial depictions of racial types and mixes.
"It's both anthropology and art in one," says Lagomarsino, who was born in Sweden to Argentine parents. "It's interesting to think of them as possible positions of struggle, these ideas of mestizaje [the mixing of races] that are depicted."
The artists haven't yet figured out what exactly they will do with their research. That will come later, as they synthesize their ideas, incorporate what they have found into prior research and prepare their pieces for next year's show.
But the process has changed any preconceived notions they might have had about Los Angeles.
"It's so clear that this is a place where Latin American is so present," says Lagomarsino. "The language is everywhere. That's something you know, but it's not something you absorb until you get here."
ALSO
Casta paintings were weird racial documents that broke stereotypes
Getty Foundation to issue $8.5 million in grants for Latino and Latin American-themed shows across SoCal
Venice Architecture Biennale, Day 1: Govan and Zumthor make their LACMA pitch
Artist Rodrigo Valenzuela's shrines of disillusionment
Find me on Twitter @cmonstah.
Get our L.A. Goes Out newsletter, with the week's best events, to help you explore and experience our city.
You may occasionally receive promotional content from the Los Angeles Times.