Review: 29Rooms: Bummed that the DTLA event is sold out? Don't be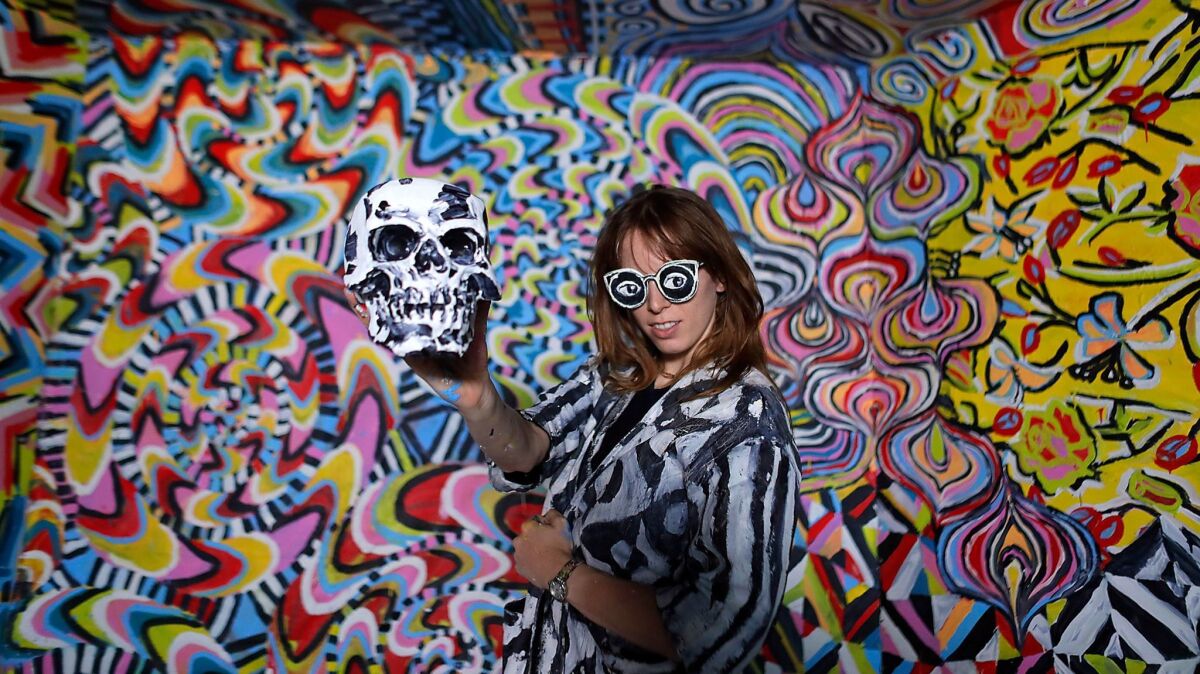 At a time when the Supreme Court is willing to debate whether a gay wedding cake is free speech, it's easy to hear about 29Rooms and not know what it is.
Housed in a gigantic tent in a parking lot in downtown Los Angeles, the conglomeration of 29 installations is a conflicted mishmash of art, marketing and corporate sponsorship — with a whiff of socially conscious activism — all massaged into branded content by Refinery29.
The digital media company, founded in 2005 in New York City, does for millennials what lifestyle magazines did for baby boomers: provide fashion tips, shopping suggestions and advice about relationships along with celebrity gossip and recommendations about what's not to be missed in music, movies and politics, especially as they relate to the interests of young women.
That's how it works online, across platforms visited by a worldwide audience numbering upward of 500 million.
In the flesh, it's less impressive.
This weekend and next, visitors are paying $19 each to stroll among 29 installations and four auxiliary displays, popping into bedroom-size rooms that line the long oval tent's flanks, like the offices of mid-level managers or the front window of high-end retail outlets. Larger, more elaborate installations fill the central area, like the corridors of malls.
Music pulsates, as it does in nightclubs. Spotlights shine, as they do at concerts. Sample products are distributed, as at sales events. Pay $85 and cocktails and "lite bites" are served. Headphones are everywhere, inviting visitors to escape the chaos and listen to a song or a story.
So are phones, which seem to be the real point and purpose of 29Rooms. Sometimes it seems as if the phones brought to the sold-out event are the real guests — and that the people who gaze at their screens are the supporting cast in tightly scripted drama.
The installations fall into four categories:
1. Collaborations between artists (who work perfectly well on their own) and Refinery29 (a company all about publicity, otherwise known as speech).
2. Collaborations between corporate sponsors (Adidas, SheaMoisture, Dyson and Victoria's Secret, among others) and Refinery29.
3. Collaborations among artists, corporate sponsors (Google and Perrier) and Refinery29.
4. Collaborations between nonprofits (Planned Parenthood, the Art of Elysium and Women's March) and Refinery29.
The collaborations between the corporate sponsors and Refinery29 are thinly disguised advertisements for shoes, beauty products and more.
"Portraits of Self-Expression," designed by Refinery29 for Urban Decay cosmetics, invites visitors to pose behind glitter-coated pictures frames. The Netflix, Toyota and Marc Jacobs installations let you pose under giant crowns (in anticipation of "The Crown"), sit in a new car (while special effects take place around you) and loll among big plastic daisies (as if in a badly crafted rendition of a Takashi Murakami painting).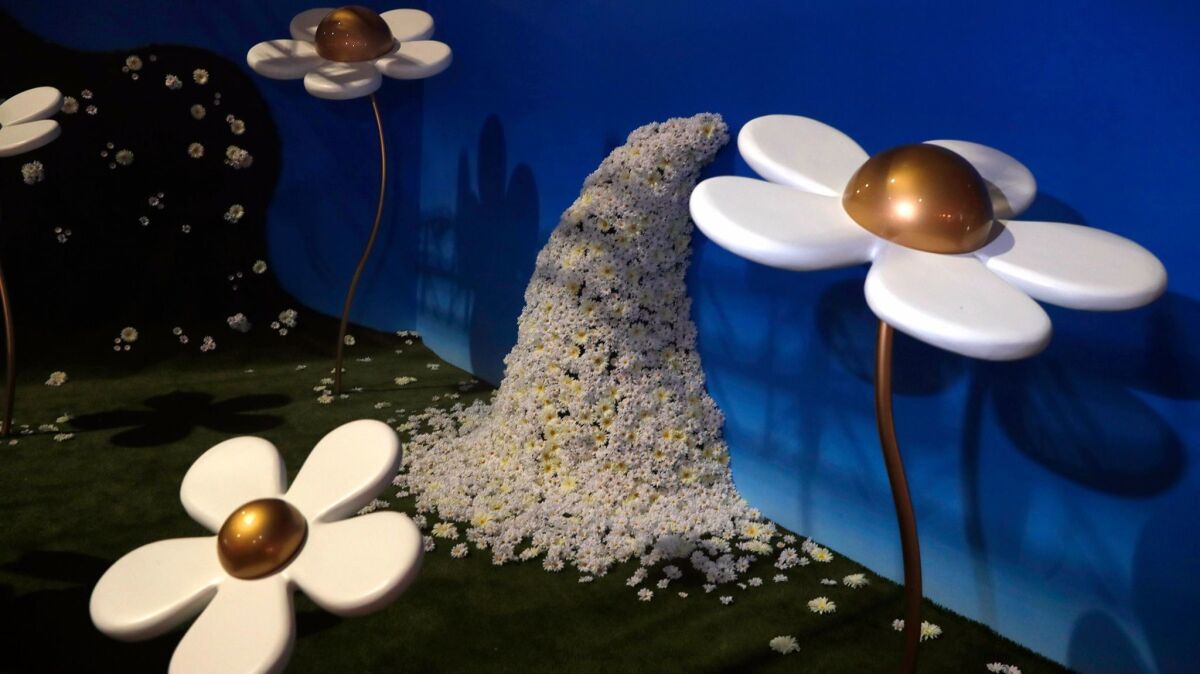 The same is true when artists are added. Nina Chanel Abney's "Fair Grounds," in collaboration with Google Pixel 2, is an oversize, color-coordinated cluster of playground equipment that makes grown-ups look like kids when their pictures are taken.
To snap a selfie in front of any of these installations is to provide free advertising to companies far more powerful than you. But it's not really free advertising.
The corporate sponsors have paid Refinery29 to get their products into your pictures. So you're actually working for Refinery29. And you have paid, rather handsomely, for the privilege.
Whatever the aesthetic shortcomings of 29Rooms, the middleman goes to the bank. P.T. Barnum would grin like a chimp. Visitors get the short end of the stick.
The majority of the collaborations between the artists and Refinery29 come off as silly sideshows. Like the corporate collaborations, too many invite visitors to do little more than play dress up or let's pretend — games my grade-schoolers outgrew years ago.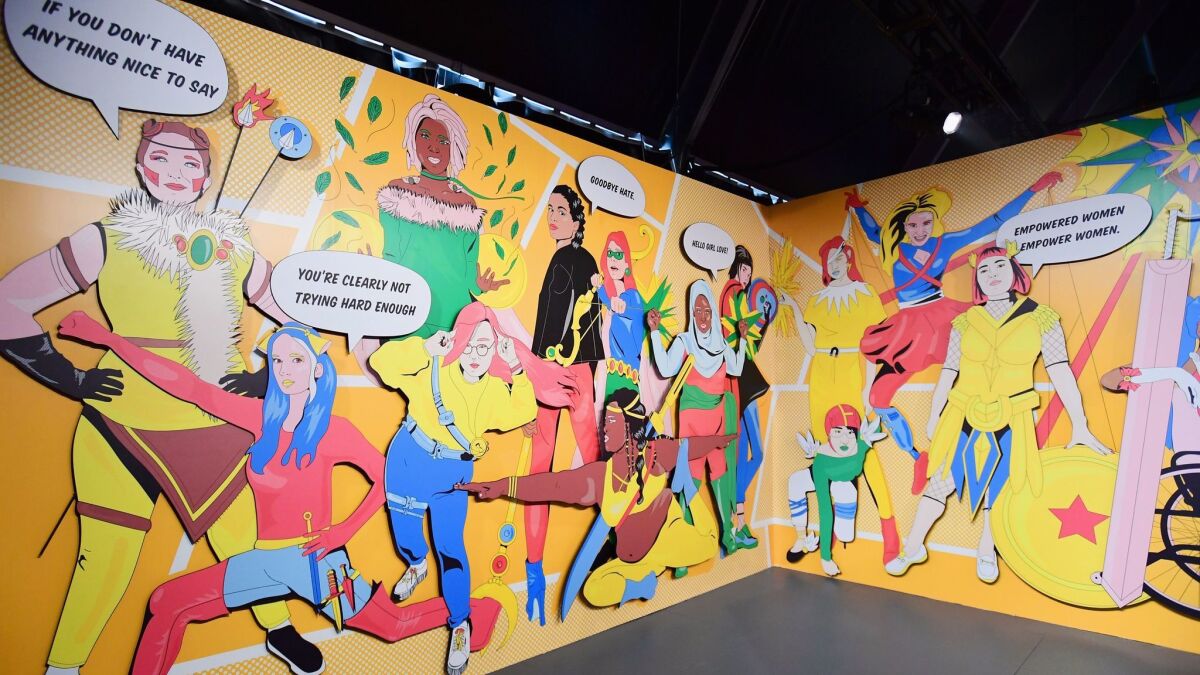 SIGN UP for the free Essential Arts & Culture newsletter »
In Alexa Meade's "Become the Masterpiece," you can put on an outfit painted to match the similarly painted backdrops you stand in front of. Lilly Singh's "Girl Love" provides capes and a pink phone booth so you can play the role of a cartoon superhero. It's the only installation where the backdrop holds its own, its parade of sharply rendered female superheroes packing enough punch to make you want to look at it without anyone in front of it.
In contrast, Jee Young Lee's "Oceans of Creativity," Juco's "Seen and Unseen" and Lizzo's "Move and Be Moved" treat art as nothing more than a backdrop for photo ops.
A few bright spots stand out. These include Maisie Cousins' "Erotica in Bloom," a cascade of plastic flowers that encircles a trio of helmet-like enclosures you stick your head into to watch sensual videos. The dynamic — of private refuge in public space — intensifies the vulnerability of the flesh while heightening fantasies of escape.
A similar tension energizes "Just Be." The installation by Ashlee Haze, Jonathan Rosen and Wallplay gives you plenty of room to contemplate just what it is that separates people — and holds us together.
The least photogenic installation is also the most introspective. Cleo Wade's "The Womb" looks nothing like the real thing but provides calm and quiet amid the hyper-stimulated spectacle.
"Dreamer's Den" steals the show. In a room with walls painted by Juno Calypso, visitors are invited to take a seat, write a dream on a sheet of paper and hand it to Darby Parker. Almost instantly, she turns it into an improvised song, her rich, lilting voice giving your dream depth and resonance and, most important, another way of understanding it.
The intimacy of that give-and-take — of real conversation — is rare today. It is nowhere to be found at an event engineered to get people to take pictures of themselves before branded backdrops.
At a time when cakes are mistaken for free speech, it's important to comprehend the differences between products and conversation.
See all of our latest arts news and reviews at latimes.com/arts.
MORE:
Coca-Cola BlāK? Apple's Newton? Six big flops at the Museum of Failure
Misty Copeland comes home for the holidays
---
Get our L.A. Goes Out newsletter, with the week's best events, to help you explore and experience our city.
You may occasionally receive promotional content from the Los Angeles Times.