Judith Jamison joined Alvin Ailey Dance 54 years ago. She's still protecting a legacy of inclusion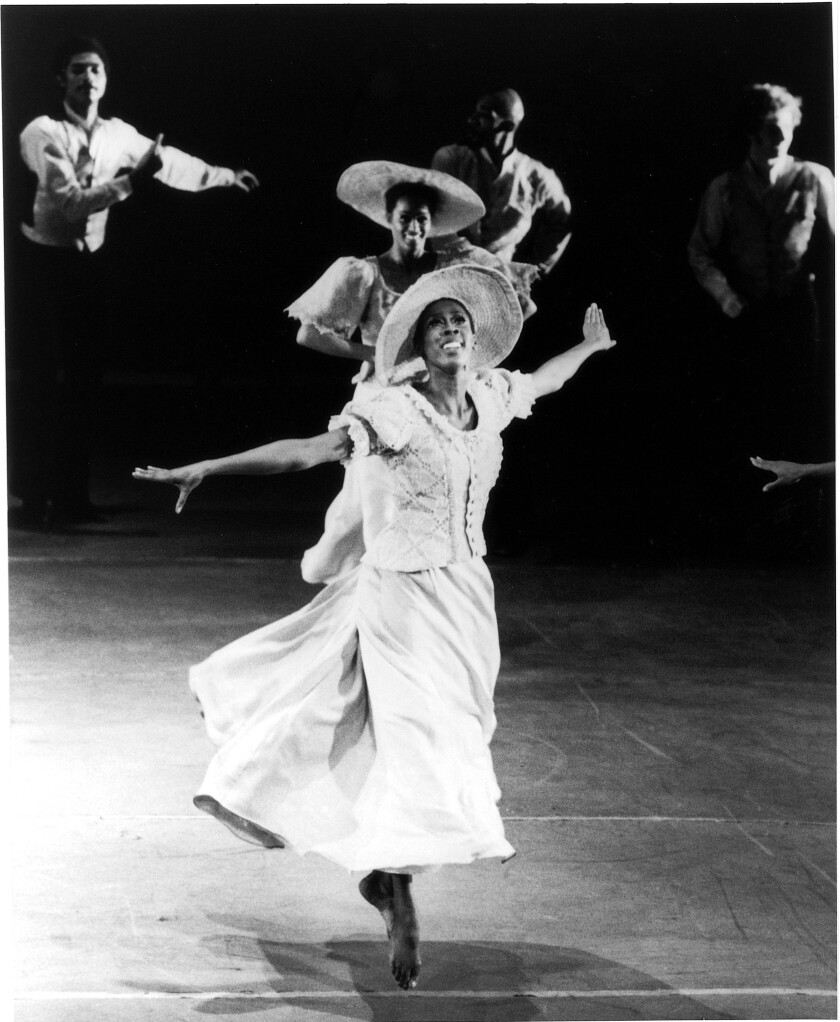 Judith Jamison has devoted most of her adult life to the Alvin Ailey American Dance Theater: She performed with the company for 15 years, led it as artistic director for more than two decades, and now at age 75 serves as the artistic director emerita — and one of the few remaining links to the late Ailey himself.
"When it becomes necessary," Jamison said, she goes in "to nip and tuck, to make sure that if we're doing Mr. Ailey's classic works, that we stay true to his integrity."
One such work is Ailey's signature "Revelations," a suite of spirituals expressing the trials of black people in the U.S., which the company will perform as part of the 60th anniversary celebration tour coming to the Dorothy Chandler Pavilion on Wednesday.
FROM THE ARCHIVE: What makes Alvin Ailey's 'Revelations' an American classic? »
The West Coast premiere of the company's first two-act ballet, "Lazarus," is part of four distinct programs to be presented through Sunday. Created by street-dance choreographer Rennie Harris, "Lazarus" is inspired by the life of Ailey and the struggles of the civil rights movement. Other works include Wayne McGregor's "Kairos," set to a reimagined "The Four Seasons" by composer Max Richter, and Ronald K. Brown's "The Call."
The thread running through all these works is the message of shared humanity, Jamison said. It's the type of work Ailey choreographed after founding the company in 1958 to create opportunities for black dancers on the concert stage.
If you're a member of the Alvin Ailey American Dance Theater, it's always going to be for bodies that can move exquisitely.
Judith Jamison
At nearly 6 feet tall and graced with long limbs and a magnetic presence, Jamison caught the attention of Ailey during an audition for a TV spot. Even though she didn't land the role, Ailey offered her a position in the company just days later.
Jamison joined the company in 1965, and the fledgling modern troupe had already graduated from what its founder called "station wagon tours." The group toured the country in buses filled with costumes, props, lighting, luggage and dancers. Jamison's L.A. memories with Ailey: performances at UCLA's Royce Hall and the Wiltern, and staying in a "very funny little motel" on Wilshire Boulevard.
Although the company received early critical acclaim, in some cities dancers faced blatant racism. "We couldn't actually get decent food because it wasn't being served to us," she said. "And it was being served with attitude … you know, like sour milk and cold coffee."
Despite the rampant discrimination in the outside world, Jamison said, within the company Ailey created a welcoming space for dancers of all ethnicities. "Everybody calls us a black dance company … but this company has always been a multicultural, mixed company.
"Mr. Ailey used to say, 'I don't care if you're green with polka dots. If you can dance, if you love what you're doing, if you are committed to this, you are welcome.' "
Jamison became the company's star dancer, rocketing to fame with "Cry," a solo choreographed by Ailey in 1971 dedicated to black women. Ailey created other works for the modern dancer including 1976's "Pas de Duke," showcasing Jamison with ballet star Mikhail Baryshnikov. She danced with the company until 1980, leaving to perform on Broadway and pursue her own choreographic projects.
Before his death in 1989, Ailey asked Jamison to take over. She led the company through a 50-city global tour celebrating its 50th anniversary and passed the torch to her successor, Robert Battle, in 2011.
More than 50 years after joining the dance company, Jamison says it's still challenging to be a black dancer. But instead of being treated poorly in restaurants, "it happens more subtly," she said. "There are still ways black dancers are slighted. The sense of non-recognition is still pervasive.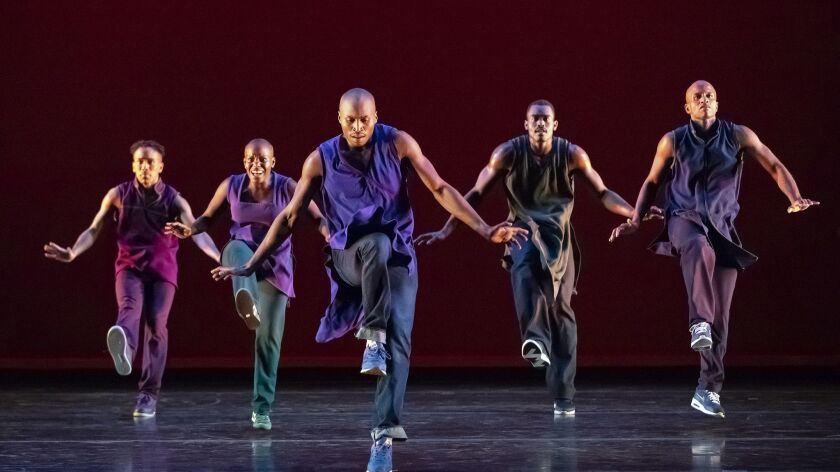 "It's always very difficult to get our history straight as African Americans, as black dancers. That's part of what's so important about celebrating 60 years of Alvin Ailey, because we're still here to tell the truth about what was in his mind."
No matter the decade, dance will always be tough, she said. "If you're a member of the Alvin Ailey American Dance Theater, it's always going to be for bodies that can move exquisitely. What's beautiful about the repertory is it engages everyone."
That's the quality Battle attributes to the company's longevity: accessibility.
Battle's vision for the company is maintaining Ailey's legacy through honoring iconic repertory and presenting fresh work.
"Modern dance can be a hard thing for some people," he said. "Alvin Ailey in his choreography, in his vision is very much about accessibility, and so people who come to see the Ailey company may not go to see dance all year round."
MARK YOUR CALENDAR: Eifman Ballet, 'Night of 100 Solos' and more spring dance picks »
Jamison finds joy in the new class of Ailey dancers and leadership and in her new role. "Now I can actually sit back and observe, which I do without twitching," she said. "I don't have to carry the burden of the artistic directorship because Robert's doing such a fabulous job."
If Ailey were still alive, Jamison believes he would be pleased with his company, particularly its extensive outreach and community programming. "We didn't call it outreach back then," Jamison said. "But way back in the day when the company started, we were always doing what he had done all along … going out into the communities that you serve, because you're not dancing in a vacuum."
People now flock to Ailey's 87,000-square-foot building in New York because they feel that openness, she said. It's the heart of Ailey.
"Those of us who actually knew him know that this is what he was always about," she said. "We are an extension of his brilliant vision."
♦ ♦ ♦ ♦ ♦ ♦ ♦ ♦ ♦ ♦
Alvin Ailey American Dance Theater
Where: Dorothy Chandler Pavilion, 135 N. Grand Ave., Los Angeles
When: Seven performances Wednesday-Sunday
Tickets: $34-$138
Info: (213) 972-7211, musiccenter.org
---
Your essential guide to the arts in L.A.
Get Carolina A. Miranda's weekly newsletter for what's happening, plus openings, critics' picks and more.
You may occasionally receive promotional content from the Los Angeles Times.