Review: From packaging material to modern totem: The wry art of An Te Liu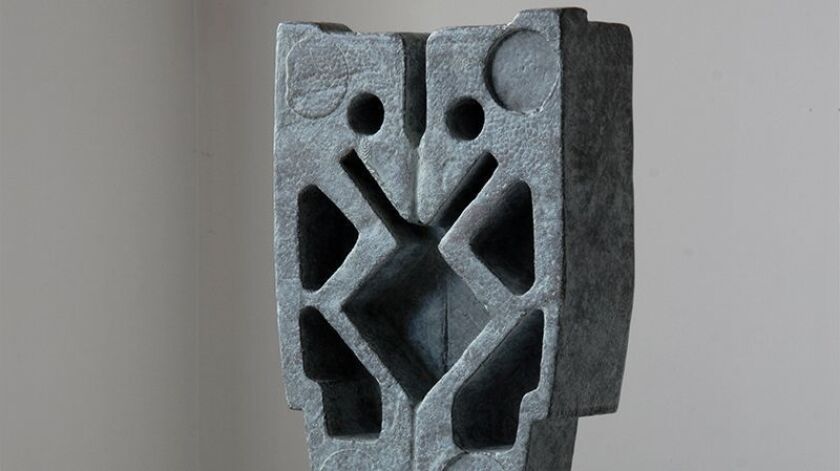 An Te Liu has used all sorts of consumer products — T-shirts, air purifiers, kitchen sponges — as source material in the past. For his pensive show at Anat Ebgi gallery, bronze pieces are mostly cast from the plastic foam packaging materials designed to cushion electronics and other goods. Their curves and hollows, industrially produced to perform a particular function, read here as pure mass and void, shaped by the hand.
"Transmission," as the show is titled, prompts a stimulating meditation on objecthood and time, on the aesthetic legacy the Toronto artist has inherited as well as the problematic material legacy that our consumerist culture leaves for the next generation. For his part, Liu has given some castoffs an afterlife and a perceptual promotion — from invisibility to grace.
"The Party's Over," suspended from the ceiling here, started as a broken disco ball and now hangs as both bronzed artifact and emblem of a damaged planet. Elsewhere, the sculptures' origins are not always evident, though their surfaces often retain the packaging material's tell-tale dotted pattern.
There are 18 sculptures here, but in another sense, there is only one. The gallery has been rendered a single immersive sculpture, its proportions and materials adroitly calculated to deliver a unified, time- and distance-warping effect. We step into an abbreviation of the modern museum, a pristine display of what resembles mid-20th-century abstraction.
A low, white platform runs the length of the gallery, a raised stage upon which Liu's bronzes present themselves frontally — unusual for a sculpture show, contributing to the formality of the installation. One with a burnished silver patina recalls a twisted torso or an enlarged nub of bone. Another, standing tall as a human, echoes Brancusi's "Endless Column" in its stack of repeated, rotated modules. A smaller piece nearby, with a stone-gray patina, riffs on the intimacy of abutted, mirrored forms in Brancusi's "Kiss."
The installation, elegant both visually and conceptually, sets Liu's work slightly apart from our physical space, the better to consider it as idea. Though endowed with the aura of art historical touchstones or even older relics, Liu's forms are inescapably of the present.
Anat Ebgi, 2660 S. La Cienega Blvd., (310) 838-2770, through July 15. Closed Sunday and Monday. www.anatebgi.com
SIGN UP for the free Essential Arts & Culture newsletter »
Support coverage of the arts. Share this article.
MORE FROM L.A.'S GALLERIES AND MUSEUMS:
Her quilts are made of 16-mm film. Here's what they reveal, frame by frame
Turning rhyme for the ears into rhythm for the eyes: It's 'Concrete Poetry' at the Getty
The Underdog on Post-it notes and other nostalgic bits, revived with a twist
A lowrider piñata bounces into the Petersen Automotive Museum
---
Inside the business of entertainment
The Wide Shot brings you news, analysis and insights on everything from streaming wars to production — and what it all means for the future.
You may occasionally receive promotional content from the Los Angeles Times.