Review: Latina choreographers lead the way at Ballet Hispánico in Santa Monica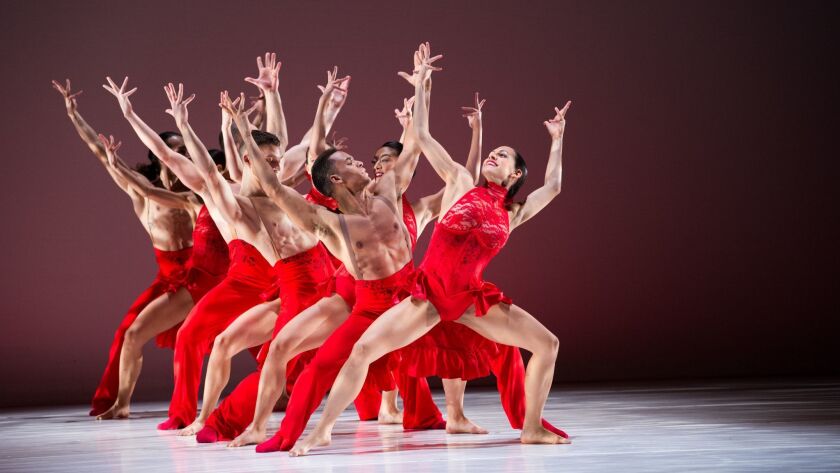 Some day, female choreographers will get their due. And eventually a program of dances made exclusively by women will cease to be an anomaly. Until then, here's a warm nod to Ballet Hispánico.
The company's repertory night Friday at the Broad Stage in Santa Monica (repeating Saturday night) was devoted to thoughtful and acclaimed choreographers you might not have heard of: Annabelle Lopez Ochoa, Michelle Manzanales and Tania Pérez-Salas. But what made it truly wonderful was how good each piece was, with Manzanales' "Con Brazos Abiertos" an exceptional, heart-tugging beauty.

For the record:
10:50 PM, Apr. 06, 2019An earlier version of this review stated the title of one dance as "Catorce Dieciséis." The compete title is "3. Catorce Dieciséis."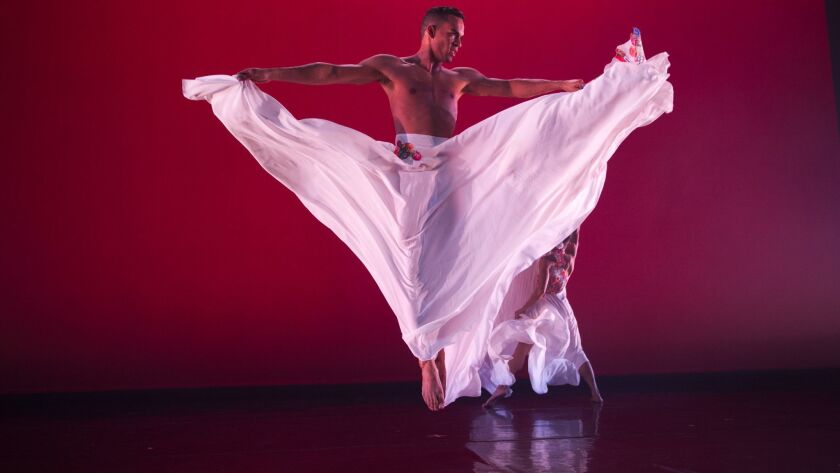 SPRING DANCE PICKS: Spring dance picks: Alvin Ailey, Eifman Ballet, 'Night of 100 Solos' and more »
Ten years ago, former Ballet Hispánico dancer Eduardo Vilaro succeeded founder Tina Ramirez as the group's artistic director, and though past programs haven't always been stellar, the performance Friday indicated that the Manhattan company — committed to exploring the Latino experience through movement — is flourishing. It has a small group of powerful dancers from multinational backgrounds, bound together by intense focus and distinctive clarity.
In "Línea Recta" from 2016, Lopez Ochoa takes pages from the flamenco rulebook and rewrites them in a balletic way. She pairs snakelike arms, ever-twisting hands and that lordly torso with classicism's lightness, long legs and pointed feet.
Eric Vaarzon Morel's stunning recorded guitar music underscored the Spanish influence and atmosphere as did curvilinear projections on the white background (lighting by Michael Mazzola) and costume designer Danielle Truss' red leotards with a ruffled bustle and the men's slim high-waist pants. Truss dressed soloist Eila Valls in a floor-dragging train for a fanciful opening quintet with four male partners, the piece's most striking section.
"Línea Recta" was simultaneously sexy and staccato, teasing and sincere. Lopez Ochoa, who this past week received the prestigious Jacob's Pillow Dance Award, kept her four couples shifting between extremes.
L.A. DANCE: 12 companies to know and see »
Manzanales brought us back home for an examination of self and identity in her 2017 work "Con Brazos Abiertos" (With Open Arms). Who are you if you straddle two cultures, in this case Mexico and America? This fascinating piece that so cleverly pulls from cultural touchstones began like a dream, with dancers blown across the stage one by one, each repeating the same flowing phrase, in a kinetic round. Maybe it wasn't a dream at all, but a birthing — the men wearing white boxer shorts while the women had on lacy halter tops and briefs (costumes by Diana Ruettiger).
In each subsequent number, the songs shifted and the cast put on different outfits suggesting different people and stereotypes, such as the skirt-waving folkloric dancer from Veracruz (with men and women in shimmering white silk skirts).
Manzanales takes a straightforward approach to some familiar dances and exaggerates others, such as a foot-stamping, head-down number with sombreros. With a deft touch, she inserted a humorous recording from Cheech & Chong and a narrated excerpt from the movie "Selena," in which Edward James Olmos complains that it's exhausting to have to be more Mexican than the Mexicans and more American that the Americans.
Dancers Melissa Verdecia and Lyvan Verdecia portrayed a troubled couple locked in the duality of love and hate. Manzanales' work was terrifically musical and infectiously rhythmic. As the dancers paraded to the electronic spoken word of "Mexico," by Mexican Institute of Sound, it was hard not to spring up and march along.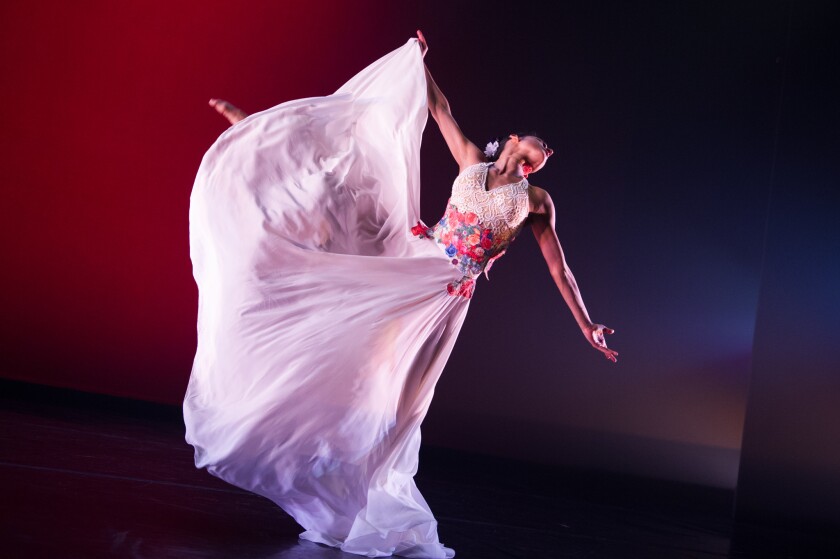 MICAELA TAYLOR: How the L.A. choreographer became a hot name in dance »
Pérez-Salas' 2017 dance "3. Catorce Dieciséis" (3. Fourteen Sixteen) was pictorial, almost an illustration of the various instrumental and choral works from Baroque master composers. The choreographer, from Mexico, draws the eye across complex patterns and shapes through a kind of drill-team manipulation of the dancers.
Pérez-Salas apparently began this piece by thinking about the number pi (3.14, and the 16th letter in the Greek alphabet, perhaps explaining the title). The takeaway, though, was of beautiful bodies in kaleidoscopic display, which was a fine enough image to take home.
Support our coverage of local artists and the local arts scene by becoming a digital subscriber.
See all of our latest arts news and reviews at latimes.com/arts.
---
Inside the business of entertainment
The Wide Shot brings you news, analysis and insights on everything from streaming wars to production — and what it all means for the future.
You may occasionally receive promotional content from the Los Angeles Times.